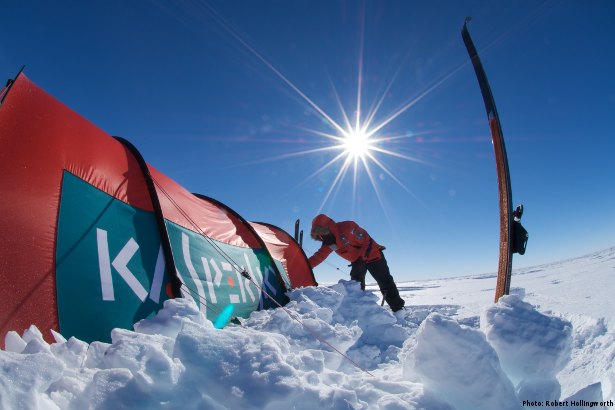 THIS ARTICLE:  Details how you can complete an expedition to the South Pole. It gives a brief history of Antarctic exploration, explains the four different South Poles and how you find the 'coast' of Antarctic. It explores different options for getting there from the South Pole Race and Ice Marathon to Last Degree, skiing and kite expeditions. The difficulties faced are broken down, costs are detailed and first steps given.
How to Get to the South Pole
ebook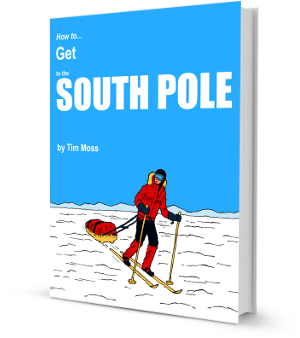 "The perfect resource" – Bear Grylls
"An excellent book" – Sir Ranulph Fiennes
"The bible for polar planning" – Conrad Dickinson, Polar Explorer
Background
Captain Robert Falcon Scott arrived at the South Pole on 17 January 1912 to find a Norwegian flag flapping in the wind, planted by Norwegian Roald Amundsen a month earlier. Scott never made it back.
The 'Heroic Age of Antarctic Exploration' drew to an end. The pole was reached by American planes in 1956 and the Amundsen-Scott base was established. Sir Vivian Fuchs and Edmund Hilary crossed Antarctica using vehicles, Robert Swan later got to the pole without dogs or motors, Erling Kagge got their solo, and Reinhold Messner and Avred Fuchs completed a crossing on foot.
Nowadays there are commercial camps in the summer and it's possible to fly wherever you want and ski whatever distance you like.
Start/Finish – The Coast and Poles
Magnetic, Geomagnetic, Geographic and Southern Pole of Inaccessibility
For a South Pole expedition, the finish line is obvious: the South Pole. There are four different poles which I will define here briefly but the vast majority of expeditions aim for the Geographic South Pole.
Geographic South Pole: The bottom of the world, where Scott and Amundsen skied, where the South Pole station is located and home of the famous barber's pole.
Magnetic South Pole: Where your compass points. Ever moving over time, it currently lies somewhere off the coast of Antarctica.
Geomagnetic South Pole: Located where the earth's magnetic dipole touches the planet's surface (more detail in the North Pole article). Like the Magnetic Pole, this one also moves and is currently located near the Russian Vostok research station, best known for the lowest ever recorded temperature: -89.2C.
Southern Pole of Inaccessibility: This is the point in Antarctica which is furthest from the sea. The exact location depends on your definition of coast (see below) but all the estimates are in the same region. The only thing remaining of an old Soviet station – the head of a statue of Lenin – is often used as the finish line in the expedition world, even though it's no longer that accurate a location.
So those are your options for the finish. But, in Antarctica, it's actually the start line which is a little more complicated to work out.
Where is the coast of Antarctica?
A country's coast is normally defined as the point at which land meets sea. This is complicated in Antarctica because, in most places, the "land" which touches the sea is in fact part of a giant ice cap. The land beneath the ice can be several kilometres down and some way below sea level. An alternative definition for the coast, therefore, is the point at which the land mass beneath that ice, drops below sea level. This inevitably leads to a "coast" which can be tens or hundreds of miles from sea.
Even if they had the technology to find such a scientifically defined coast, early explorers did not have the luxury of starting from one. They would simply sail until their boats hit a solid mass then start skiing to the pole from there.
However, after Reinhold Messner declared his 1989 traverse complete upon reaching one of these "inland coasts", with the sea nowhere to be seen, something of a precedent was set and it is now commonplace to use such points as legitimate starting positions.
It's up to you to choose where you start: the "true coast" with the sea lapping at your feet, or a "technical coast" with no visible ocean but notably more convenient to reach (i.e. cheaper) and closer to the South Pole.
(For more details and a map, see Alex Hibbert's excellent article on the matter)
Options
Fly to Antarctica
Departures tend to go from the southernmost points of each continent. Most popular is Punta Arenas in Chile followed by Cape Town in South Africa, but flights also go from New Zealand and Australia.
Planes arriving in Antarctica land on blue ice runways, invariably located next to permanent research stations or temporary seasonal camps such as:
Enter a Race
Organised events are a good, easy way to get your foot in the freezer door:
Extreme World Races: 500-mile race to the South Pole for £60,000.
Antarctic Ice Marathon: 26-mile and 100km options for around £8,000. You'll have to pay extra if you actually want to visit the South Pole though.
Foot, ski, snow shoes and kites
Travelling on foot is the simplest method of reaching the pole, though certainly not the easiest. "On foot" generally means walking using skis, occasionally taking them off for trickier terrain. Skis are faster and spread your weight across a larger area which makes life easier on softer snow and reduces the chances of falling into a crevasse. Some people have used just snow shoes which tend to be slower. An option for speeding up a return journey (the wind consistently blows away from the pole) is to use a kite whilst skiing.
Last Degree
A popular expedition format is to be dropped at the 89th parallel, around 60 miles from the South Pole. This is obviously a very short trip, perhaps 7-10 days, but a great way to get a guided taster. Typically costs £30,000 all inclusive.
Technical coastal starts
Starting from the "technical coast" (see intro above) is often cheaper than going from the true coast because they're easier to reach by plane. They tend to be shorter too:
Hercules Inlet: 730 miles to the pole. Recognised by record keepers as an official start point.
Messner Start: 580 miles. Not recognised by the record keepers but makes for the shortest "coastal" start.
Full distance true coastal starts
For the puritan or glutton for punishment, starting from the true coast will be the only option, even if it means more skiing and higher costs:
McMurdo Sound: 800 miles. Shackleton had a base here.
Berkner Island or Cape Evans: 900 miles (Scott started at the latter in 1911).
When To Go
The southern hemisphere obviously has the opposite seasons from the north so the Antarctica summer is our winter. The vast majority of expeditions visit during the Austral summer because you get 24-hour daylight (rather than 24-hour darkness), the temperatures are much more amenable and the commercial bases usually only operate in the summer. November to February are most common, with the Christmas and New Year period the peak. Winter journeys are possible.
Difficulties
The cold and wind
In the summer, you might expect temperatures down to around -40C at the lowest. Katabatic winds, bring down cold air from the South Pole, strengthened by gravity, will typically be blowing against you most of the way.
Altitude sickness
The South Pole is at an altitude of around 2,800-metres which means decreased atmospheric pressure and all the ill effects that come with it (the cold exaggerates the problem too). If you ski slowly from the coast then hopefully it will just be some shortness of breath and a bit of a headache. If you fly straight to the pole or a Last Degree start then you need to be prepared for worse. It's one the highest causes of evacuation so don't ignore.
For further details, read my Advice for Climbing at Altitude article.
Crevasses
Heavily crevassed areas of Antarctica tend to be identified with satellite images and aeroplane fly-bys each year so you should be able to avoid them or at least know you're entering them. Using skis helps reduce the risk, as does skiing single file. Staying roped to team-mates is standard practice when mountaineering but generally deemed impractical for long skiing expeditions, only used when in known danger areas.
Sastrugi
Sastrugi are the rock hard, snowy equivalent of sand dunes. At best they can make skiing slow and frustrating as you jerk over endless rows of hard, sharp-edged lumps. At worst they can be metres high and require lengthy route finding to wiggle your way between them, haul your pulk (sled) over or jump awkwardly between them.
Costs
Flights: £9,000 for a return to Antarctic camp and £25,000 for a return to the South Pole.
Hercules Inlet or Messner Start: £30,000-£35,000+ per person. Includes good, guide, re-supplies and pick up from pole.
Berkner Island or McMurdo Sound: £60,000-150,000. Includes pick up from pole but for these longer trips you pay for a plane, not per person.
Kit: £2,500-£6,000+. Skis, pulks, tent, stove, EPIRB and satellite phone can be hired but are expensive otherwise.
Food and fuel: £300-£1,000+. Varies based on trip length and whether you take prepared rations or combine with supermarket food.
Lowest total cost: £36,000. All inclusive Messner Start with ALE, hiring kit.
More typical total cost: £70,000 each. Self-guided trip from Berkner Island without re-supplies, splitting costs with team mates.
First Steps
Spend a winter's day dragging a tyre around a field and camp out in the snow to see if you enjoy it.
If you want to join a guided trip or organised event then you can sign-up right away and follow their guidance on training and preparation. If you want to go your own way, focus on fitness and dealing with the cold…
Go ski touring in Scandinavia or Scotland to get used to travelling on skis in a cold environment.
Build up to multi-day trips, ideally dragging a pulk.
Repeat. Antarctica will just be a longer, colder version of what you've already done so keep at it.
Further Reading
DOWNLOAD THE COMPLETE EBOOK NOW
How to Get to the South Pole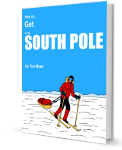 "The perfect resource" – Bear Grylls
"An excellent book" – Sir Ranulph Fiennes
"The bible for polar planning" – Conrad Dickinson, Polar Explorer
(Photo courtesy of Robert Hollingworth)