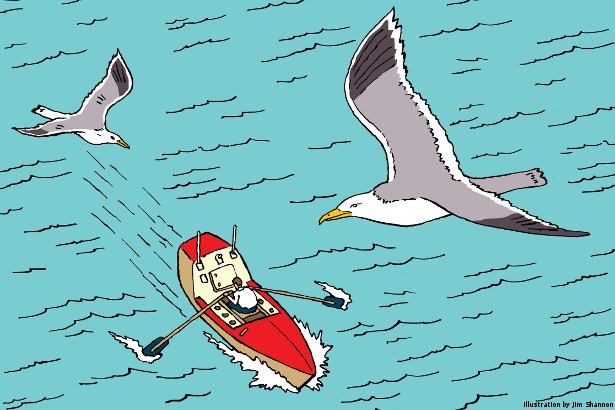 THIS ARTICLE: Will explain how you can row across an ocean. It details different approaches such as entering a race, joining a team or going solo, and explains the different routes available. There is information about the difficulties you will face, the costs of undertaking such a project and the first steps to get you started.
This short article is based on extracts from the How To Row An Ocean eBook.
Background
The first recorded row was completed in 1896 when two Norwegians rowed across the Atlantic from New York to the Scilly Isles. They did so without GPS, satellite phone, emergency beacon, a life raft or any means of making fresh water. Fast forward 100 years or so and the technology has improved somewhat. There are regular rowing races, there is a good body of knowledge and a market in second-hand boats, the Atlantic has been crossed a few hundred times, and the Indian and Pacific Oceans have been crossed a handful of times too.
How To Row An Ocean EBOOK

The only ocean rowing guide book.
"The perfect resource" – Bear Grylls
"An excellent book" – Sir Ranulph Fiennes
Options
Enter an organised race
A comparatively easy way to get into a rowing boat for an ocean crossing is to sign up for an event where much of the planning and safety will be organised for you. Woodvale are by far the most prolific and long-running event organisers with lots of races including across the Atlantic and Indian Oceans. Their entry fees are typically from £13,000 for a single up to £18,000 for a team of four. Boat, equipment and supplies are added on top of that.
Other events include:
Join a team
An alternative to signing up for an event yourself is to join an existing team. A few adverts crop up most year from people either looking for team-mates or filling a last-minute drop-out. This can share some of the organisational and fundraising efforts although, of course, you are signing up to spend weeks and months at sea on a tiny boat with strangers. The Ocean Rowing Society is a good place to look.
Row independently
The toughest route but with the most potential for reward is surely organising your own row. This will involve sourcing your own boat, picking suitable start and finish locations and making arrangements for departure and arrival, organising the shipping of your boat to/fro the start/finish, obtaining permissions and researching timings, currents and weather. No mean feat but although there will be more work to do, you will learn a lot more as a result and hopefully draw more satisfaction.
Ocean Rowing Routes
You can row a boat between any two points you want but there are certain routes that are more common than others. Specifically:
Atlantic Ocean east-west, 3,000-3,500 miles, from the Canary Islands and North Africa to the top of South America.
Pacific Ocean east-west, 5,000-6,000 miles, from North America, Peru or Chile to Papau New Guinea or North Australia.
Indian Ocean east-west, 3,600-4,000 miles, from Western Australia to Mauritius, Madagascar or the Seychelles.
For more details, see Routes for Ocean Rowing.
Difficulties
Getting caught in bad weather
The weather will have a significant impact on your experience of rowing an ocean. It may push you off-course or backwards, and make it unpleasant or impossible to row for days at a time. This can become a problem if it pushes you so far off course that you are unable to get back, it delays you for too long and you run out of supplies, or it damages your boat. Unlike sailing and motorboats, there is little opportunity to outrun approaching storms in a row boat so you just have to make the most of good weather and ride out the bad.
Capsizing the boat
Ocean rowing boats are designed to self-right in the event of a capsize. The risks, however, are that you are caught off guard and tossed out of your boat (hopefully you'll be leashed to the deck), an open hatch allows your cabins to fill with water, or you boat sustains damage.
For more details about this, see How does a tiny boat survive in a big ocean?
Equipment failure
You typically need to generate power on your boat for navigation equipment, communications kit, radar reflector and making water. You could be in serious trouble without any one of these things to it pays to have more than one source of power,  plenty of batteries to charge and a means of creating drinking water manually.
Colliding with other vessels
Being such a small ship on a big ocean, it's important to use an active radar reflector to broadcast your position to other ships and Automatic Identification System (AIS) which shares information with other vessels by VHF radio. Even with this, other boats might not see you so make sure you hail anything that appears on your radar.
Buying a Boat
Getting a boat built
There is nowhere that keeps a ready stock of pre-built ocean rowing boats. As such, you can either get a boat built from an existing design or commission one to your own specifications. Here are some boat builders in the UK that make ocean rowing boats:
Buying second-hand
Since most people tend to just row one ocean, there is a growing market in second hand boats. Some are listed online at:
Self-built boats
It is possible to buy flat-packed kits or plans for building your own boats. Try the following:
Costs
Some typical rough guideline pricing:
DIY boat kit: £5,000 – £10,000. less if you're confident and just work from a plan.
Second-hand: £8,000 – £40,000+. Multiple crossings and owners desperate for a sale will reduce the price. Lots of onboard equipment included will increase it.
New build: £15,000 – £40,000+. Woodvale's standard designs will be cheaper. Customised carbon or kevlar will cost more.
Equipment: £10,000 – £20,000. There is a lot of expensive equipment necessary to keep you safe at sea.
Shipping: £2,000 – £6,000. Freighting your boat to the start and transporting it by trailer.
Flights, supplies, insurance: £1,000 – £3,000+.
Lowest total cost: £30,000 (£15,000 each). Two of you scoring a cheap second-hand boat, avoiding long haul shipping and flights.
Typical total cost: £60,000 solo, £70,000 pair. Buying a standard boat design with bog standard fittings and entering a race.
What next?
Join a rowing club to test the water and spend some long periods on a rowing machine to experience the monotony.
Take a small boat with oars along a river or across a lake to get a taste for a rowing journey.
Get some sea experience by volunteering as crew on a sailing boat.
The next step is committing to buying a rowing boat, whether on your own or with a group.
Now just pick your ocean or event then start planning, fundraising and training.
Further Reading
Your two ports of call from here could be either my Ocean Rowing Resources section or my ebook How to Row an Ocean.
The following extracts from the book are available online for free: Routes for Ocean Rowing, Human Powered Circumnavigations, and Where Do You Sleep on an Ocean Rowing Boat?.
DOWNLOAD THE COMPLETE EBOOK NOW
How To Row An Ocean


The only ocean rowing guide book.
"The perfect resource" – Bear Grylls
"An excellent book" – Sir Ranulph Fiennes