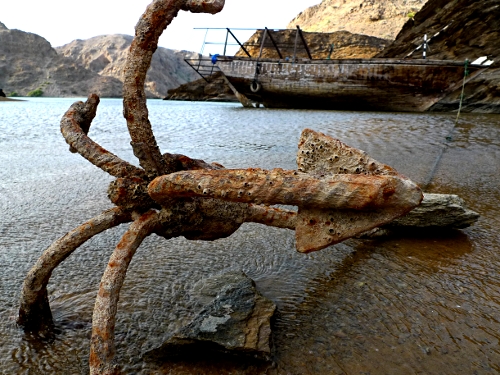 In three weeks' time I will be back in the UK after five glorious months in Oman.
I will be very sad to leave. It is a truly beautiful country with some of the most stunning scenery I have seen anywhere on my travels so far. I would recommend it highly to anyone with an appreciation of the natural world (and that doesn't mean you have to be a mountain climber, you can just as easily enjoy it from the comfort of a 4×4).
It has also been a great education for me, as travel should be. Before I arrived I had almost no concept of Oman beyond "generic Middle East" and even the views I associated with that were quite far off the mark.
Take the recent unrest as an example.
You may have seen Oman mentioned in the papers recently, most likely at the end of a sentence along the lines of:
"Protests have now spread to Bahrain, Yemen, Iran and Oman".
Reading that, it would be easy to lump the Sultanate in with the rest of the region (just as I did before coming here) and assume that the country's fate was the same as Egypt's and Tunisia's: "tear gas", "rubber bullets", "two dead". These are terrible things to happen, of course, but from the small amount that I know about the country and from what I've heard on the ground, it is a misleading picture. (There's a better piece here if you're interested).
Last year Oman celebrated 40 years under the leadership of Sultan Qaboos. There were parades in the streets, National Holidays and a whole string of celebratory events. As I said, I'm no expert, but by all accounts he is both a popular leader and a strong, open minded and forward thinking one. Although the protesters are clearly angry about many things, the leadership of Sultan Qaboos is not one of them. Some even apologised to the Sultan afterwards.
Laura cycled through a nearby rally in Muscat yesterday and found nothing but the familiar smiling faces and honking horns of Omanis waving giant portraits of their leader. Reports from elsewhere in the country, like Sohar, are that the vast majority of the protests are peaceful. Undoubtedly there are problems but not necessarily of the same sort or scale as elsewhere. Although, of course, it would be hypocritical to assume I knew what was going on in other countries when I know very little about them.
I write this for two reasons: One, because I'm living in Oman, a country that has been good to me these past few months, and it saddens me to think that its friendly people and much-loved leader could be tarnished with the wrong brush. Two, as a reminder that as well as being fun, travel can and should be educational.
In three weeks' time I will be back in the UK, in a pub, telling my friends what Oman was like. I look forward to the focus of those conversations not being political unrest but the beautiful mountains, wadis, deserts and people.