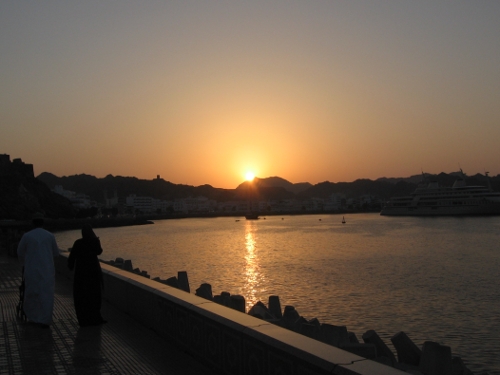 As of last weekend I am now based in Muscat, Oman, for the next few months.
I've never been anywhere in the Middle East before (unless you count Baku airport) or lived in country whose first language isn't English (or which is quite so hot).
It already seems like a warm and welcoming place, and I'm enjoying the close proximity to the beach (I can run there) and mountains (I can see them from my window).
I'll be continuing work on the same old projects – trying to get three athletes to the South Pole and a girl called Sarah around the world – as well as trying a few things in my new environment – becoming a stronger swimmer  with an eye on some sea journeys (shoulder injury allowing), helping the British Schools Exploring Society plan their first expedition here and having a go at something adventurous in the desert to name a few.
Lastly, I don't know many people here on the Arabian Peninsular. If you or anyone you know is in the neighbourhood then it would be great to hear from you (comment below or contact form). Or if you're thinking about an expedition or trip out this way then let me know if there is anything I can help with.