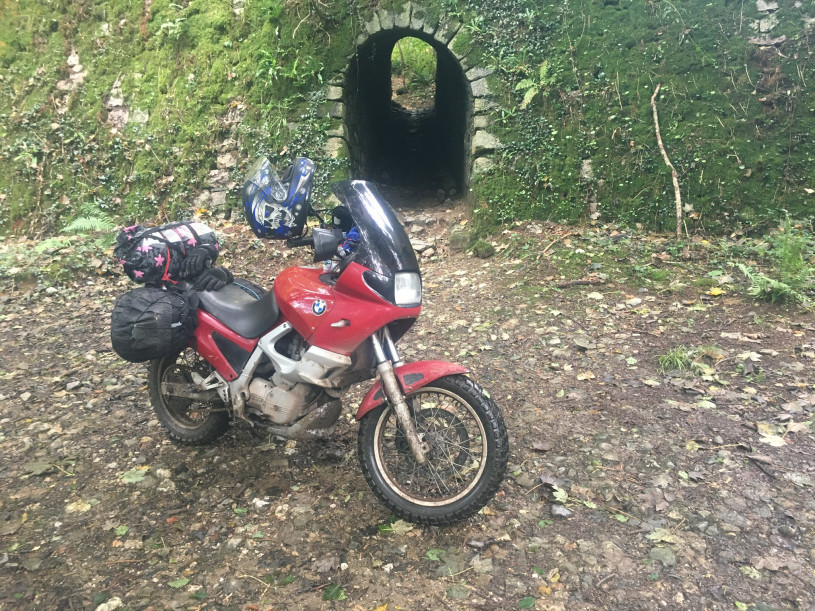 Charity worker Bethany and music producer Alasdair won a Next Challenge Grant to complete the Great Western Trail on a motorcycle, riding "2UP" (i.e. two people on one bike).
The Great Western Trail stretches across the south of England from Alasdair and Bethany's home in Haslemere to Lands End, and their round trip covered some 1,300km.
The Next Challenge Grant is open for applications until 31st January. You do not need any experience to apply and it is particularly aimed at small, home-grown adventures. Read more and apply here.
---
Riding the Great Western Trail on a 2UP Off-Road Motorbike
by Alasdair Gorniak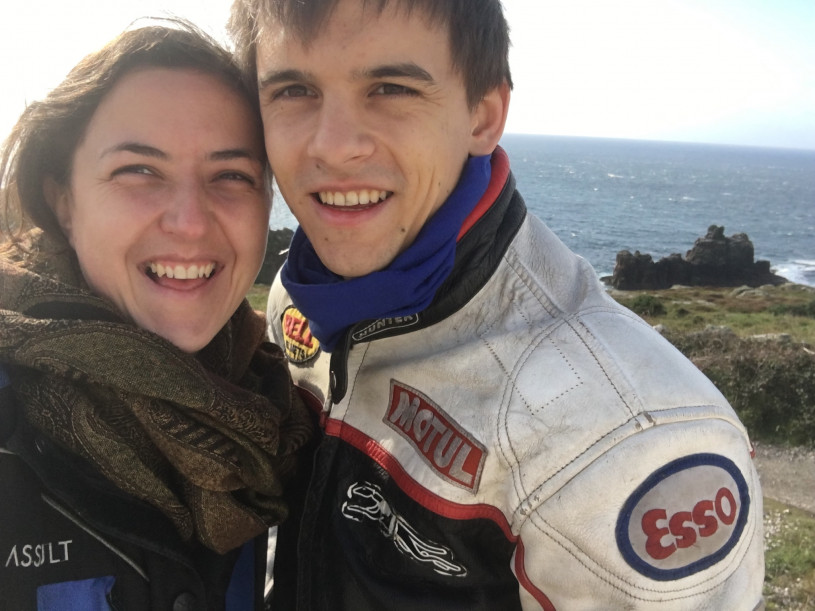 Day 1, 4th Oct
We set off from Surrey with all the waterproof gear we could muster. We would join the Great Western Trail at the Salisbury Plains, arriving dryer that we could have hoped for.
We were first met by a mix of mud and gravel tracks, with lots of puddles and undulations, flying up and down in the saddle as we laughed to ourselves. Ali had to knuckle down and focus as the puddles grew in number, dodging this way and that, and then ploughing through them when they stretched the full width of the track. Bethany was hopping on and off the bike, checking water depth, prodding hopefully with the odd stick.
A sudden left turn took us both by surprise and after backtracking we ventured down a winding path with a narrow rut down the centre which caused all sort of mischief. Eventually resulting with the bike taking a slip onto its side. There was quite the struggle as we untangled ourselves from each other and the bike.
After some rejigging of the luggage, we were off again, taking it pretty slow. By half past five, with light fading and some near misses sliding in the mud, we decided to call it there and jump back onto the road to get to our BnB.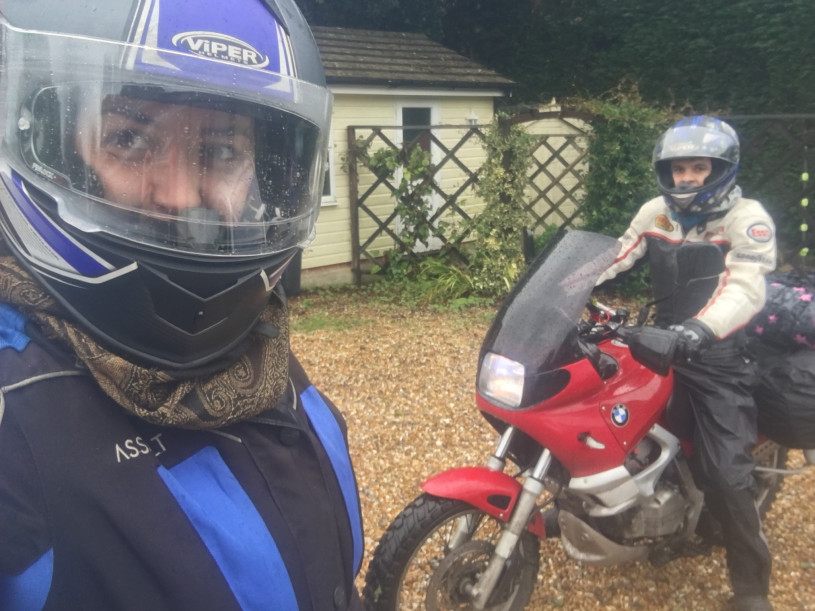 Day 2, 5th
The next morning after a bacon butty and some tea we were revived and ready for round two.
We were thrust straight into the dirt tracks that morning, battling with the thick layer of sludge that coated what felt like every surface. Ali gunned it up the track, with us both bouncing all over the place, but eventually it was too much and the bike once again toppled onto its side.
This time we landed in a lot of mud, completely caking our waterproofs, gloves, jackets and boots. Bethany pushed and rocked the bike with Ali trying to get the tyres to find purchase. We finally managed to get the bike to the top of the hill. We threw off all our gear and lay unashamedly on the filthy ground to cool off and catch our breath. The rest of the day felt like a breeze after that and we went to bed at the next BnB completely shattered.
Day 3, 6th
We got an early start that morning, knowing we had a long day of riding ahead before our next destination, Plymouth. We packed up the bike with new precision and care, heading off with the best set up so far!
As we set off the sun was shining and we started the day with some friendly short off-road sections, mostly gravel and then back on the road we crossed a glorious bridge, showing us our first glimpse of the sea. We then headed up big hills, following the coast and veered off into narrow paths between farming fields.
Some of these were kind to us, whilst others had the now familiar rut down the centre, forcing us into it and demanding a slow pace. We ended up heading down a steep hill that was more like rubble than anything else. Bethany dismounting once more to give Ali better balance and control.
Once we reached the main road to Plymouth, we said goodbye to the mud and kept to the road, heading for our next stop and a well deserved rest day.
Day 4, 7th Rest Day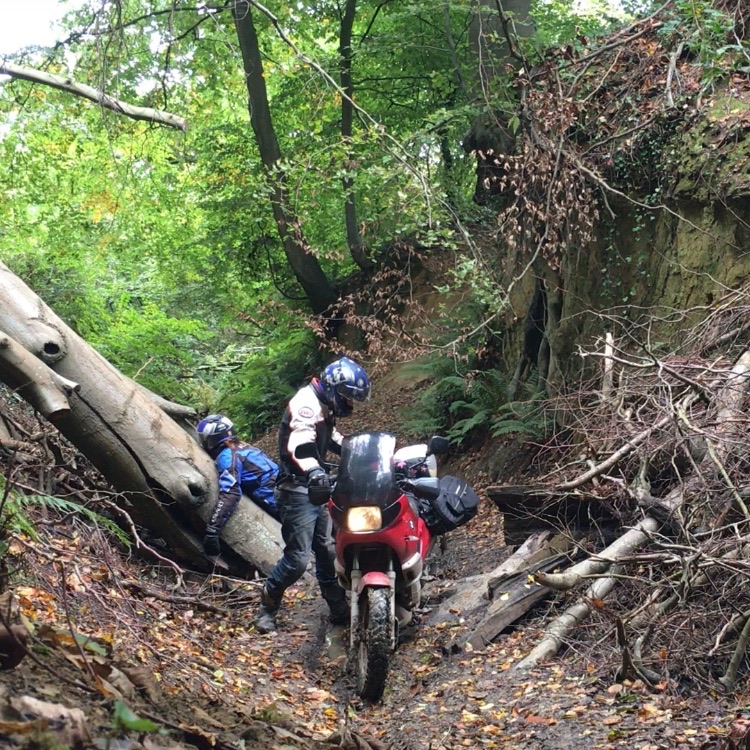 Day 5, 8th
We awoke to light rain on our window. After a brilliant cereal sesh with a coffee, we said goodbye to our friend Andy, packed and left Plymouth.
Today was going to be a drop-free day, we could feel it! It turned out to be a challenging one, with lots of wet slate and steep descents as we went along. After navigating a particularly steep descent and with no chance of turning back, we realised we were stuck at the bottom of a muddy valley, with a seemingly impassable slate fest ahead.
Ali spotted a track to the right and we headed that way, hoping for the best but with nothing in the map to reassure us. The track wound up and up through such incredibly beautiful forest scenery. Though we weren't sure where we might end up, we felt completely calm, reassured that it must come out somewhere and enjoying it so much that the prospect of having to turn around and try the other way would be a joy in itself.
It was glorious riding on comfortable gravel. Bliss. We eventually found our way out and enjoyed some beautiful road scenery before ending at the next BnB.
We enjoyed a short walk to a local farm shop where we had the most generous dinner portions of our lives, and a choice of over 30 deserts. A good evening. #dropfreeday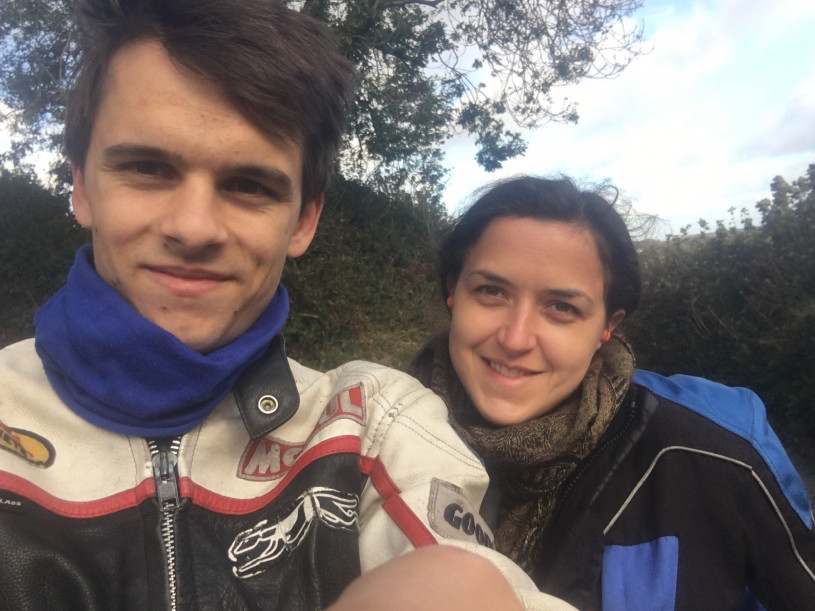 Day 6, 9th
We had a lovely lie in that day at the house of a really kind solul called Pat. She made a great reviving breakfast for us which we consumed eagerly before heading straight off to Lands End by road. Some of the best coastal scenery awaited us and the sun even came out for us!
This day has the most beautiful and enjoyable motorbike tracks, nice and wide byways with plenty of hardpacked gravel and views galore. Premier Inn in the evening. #dropfreeday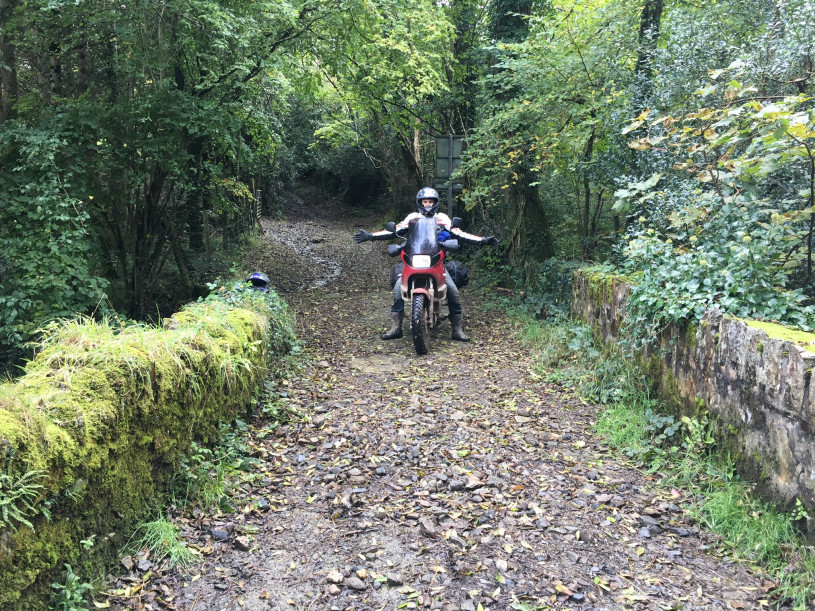 Day 7, 10th
Lie in (again), left about 11:30. Patchy weather was the order of the day and before long we were both wet and very muddy.
Wet slate + heavy bike = some heartstopping riding and skating tyres.
Eventually, we found some more enjoyable off-roading after that. Lots of little bridges. Stayed at a lovely air BnB with fun wee doggies. A lovely pizza dinner to end!. #dropfreeday

Day 8, 11th
Another lie-in and breakfast included. One final blast of rocky, scrambling track. Ali gunned it all the way and crushed it! So exciting.
#dropfreeday and one more beautiful BnB to await us. Our host, Julian, has crossed the Morroco deserts in a two-wheel drive vintage car, what a legend!
Day 9, 12th
Not much to report today apart from a bodge repair job on some broken straps!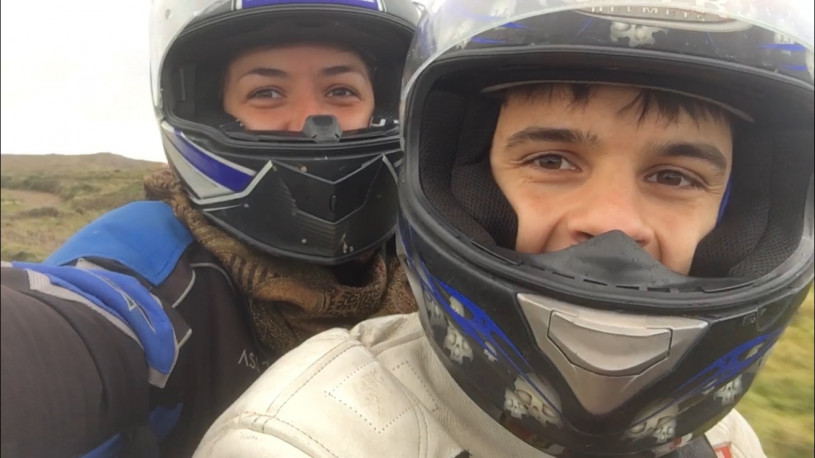 Day 10, 13th
Got straight onto the off-road. Some sick bits that Ali had anticipated from reviews.
Riding through a valley was amazing even when we got very stuck as shown in pictures. With lots of teamwork, we finally moved on and enjoyed some awesome tunnel-like routes.
Feeling pumped so we tried a few more bits. One route was slow going as there was thick mud… We went very slow, the tyres filling up with mud and getting jammed! That tired us out a lot but was good fun.
After that, it was mostly roads until we got to Salisbury where we stopped for food before finally gunning it home to Haslemere! What an adventure!
---
The Next Challenge Grant is open for just six more days. Don't delay. Apply now.