I am delighted, and a little bit nervous, to announce that my new book – With the Sun on Our Right – is now available for pre-order.
---
Orders placed now will be delivered in May.
---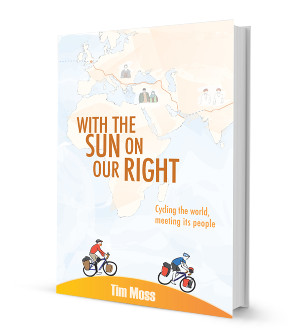 The book has taken three years to complete. It is over 330 pages and 100,000 words long.
I finished writing most of the content this time last year and have spent the last year editing and improving it. The book is now out for final review by friends and family, all checking for those last few typos.
Once that is done, the book will be sent to the printers in the middle of April, for delivery at the start of May (in time for the Cycle Touring Festival, on the first May Bank Holiday).
All orders placed before then will be posted (or emailed) in May. I'm offering free postage and packing on all such pre-orders.
I have no idea how many copies I will sell so taking pre-orders will give me a rough idea of how many I should get printed. I am deliberately not going with a publisher this time – something I will write more about next month – so will be paying in advance to get the books printed.
Here is how I've summarised the story on the back cover:
Tim and Laura Moss quit their London jobs to cycle 13,000 miles around the world. Riding across deserts, over mountains and through jungles, they braved climatic extremes from sub-zero blizzards to the sweltering tropics.

But this is not a book about cycling. It is a book about the world and its people.

On their travels, Tim and Laura met a fascinating array of people and were repeatedly overwhelmed by the hospitality they received. From Turkey to Thailand and Oman to Japan, complete strangers invited these two grubby cyclists into their homes at the drop of a hat, offering the pair a unique and privileged insight into the lives of people from all walks of life.

Follow Tim and Laura around the world as they meet a gun toting sheriff on the Mexican border, a Taksim Square protester who makes a mean kebab and the Albanians who say yes when they really mean no. Join them as they stay with Buddhist monks, Georgian nuns, Turkish imams and Southern Baptists. And come along for the ride as they see behind the sanctions in Iran, hear about life after Hurricane Rita and experience hospitality even in the wake of violence and despair.

In a world filled with negative headlines and countries turning in on themselves, this life affirming story is a timely reminder of the common humanity that links people the world over.
(For those interested in the final cover design, please see here).
I'm not sure what else to say except… please buy my book!