Today I am releasing the official video from our around-the-world cycling trip.
Laura and I spent 16 months, cycling 13,000 miles through 24 different countries, filming ourselves as we went.
The story is told in full in my new book, With the Sun on Our Right, and now you can see it in a short, five-minute montage.
It was filmed using a GoPro camera and has been edited by EpicMakers.
EpicMakers take the footage from your adventure and turn it into a film, so you don't have to spend hours trying to do it yourself.
It was an ideal service for us because we would never have got round to doing it and would never have produced anything as good as this on our own. A big thank you to everyone at EpicMakers for working so hard on this.
---
With the Sun on Our Right
Now available for pre-order!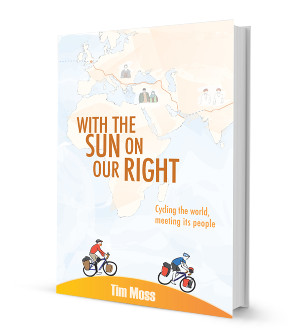 ---
The full story of Tim and Laura's 13,000-mile round-the-world cycle
330 pages plus 8 pages of colour photographs
Order now for delivery in May
---
---
Around the World Cycle Video
---
My new book about cycling around the world is now available to order – Read more here
---