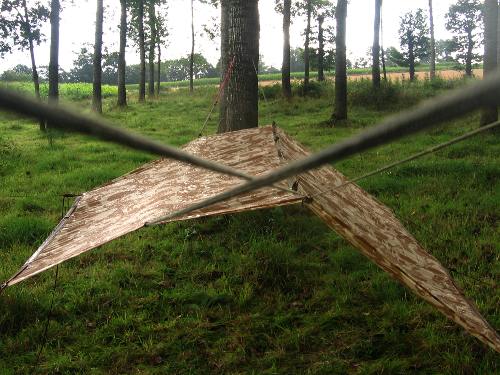 'Tarp' is an abbreviation for the word 'tarpaulin' and is the preferred term of its advocates in the outdoor world.
They are typically rectangular sheets of nylon which you tie above your head to provide shelter as an alternative to a tent. Ray Mears likes them. You might, for example, attach each of the corners to a tree at head height and then set up your camp underneath it. It is probably easier to get a sense of them from the photographs above and below.
I bought my first tarp two years ago before going cycling on my rickshaw and was quickly sold on the principles of it. Like bivi bags, I enjoy the tarp because it actually involves sleeping outside rather inside a tent, cut off from the world.
Some advantages:
They are smaller and lighter than tents
You get a lot more space than inside a tent
They are a lot cheaper than tents (mine was about £30 off eBay)
You will be outside and closer to nature
Some disadvantages:
You need something off which to pitch them e.g. trees, fences, walking poles
They are not as good in extreme weather (e.g. strong wind, horiztonal rain, extreme cold)
You might end up carrying a bivi bag as well which undermines the size/weight benefit
You are outside and closer to nature
If you enjoy the being-close-to-nature aspect of camping, don't have a tent or much money, or just fancy trying something new, then try looking on eBay for an ex-army tarp.
Any other tarp fans out there?
(P.S. Any of my friends reading this will no doubt be letting out a groan of frustration having A. listened to me wax lyrical about my tarp, and B. endured me attempting to pitch it in obscure locations where we really would have been better off without it. I know that deep down that they love and respect the tarp as I do.)