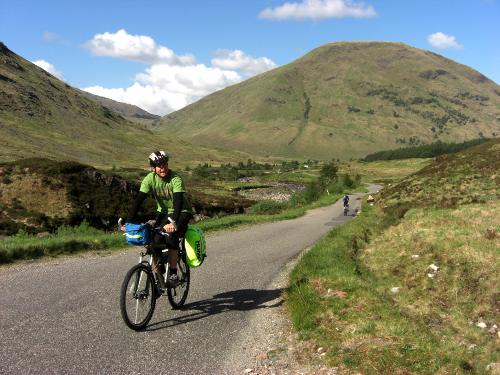 There are endless possibilities for original adventurous undertakings across the UK and around the world. Don't just cycle Lands End to John O'Groats by default.
Let me start by saying that I have no problem with "LEJOG", as it's known.
I would love to make the trip – be it by bicycle, on foot or otherwise – and part of me hopes that I one day will. But, every time I think about it, a larger part of me considers the hundreds of other journeys of equivalent distance that I could make for which there aren't guide books, record holders, museums, and a series of pubs and B&Bs that will greet you with "So, which way are you going?". All those other journeys that would follow a route entirely unique to me and ripe for my own exploration, and all just waiting for me to dream them up.
Of course, it would be narrow minded to focus simply on LEJOG. I would apply the same to climbing Kilimanjaro, skiing to the North or South Poles, swimming the Channel and entering an Iron Man amongst other things. The text book adventure destinations that roll off the tongue so easily.
It's not my place to poo poo these things. I have done none so don't speak from experience. If you want to do them or have already done so then good on you. You might offer in defence:
They are popular for a reason
They are attractive precisely because they are so well trodden and that gives a sense of being part of something bigger
You don't need a defence, you can do what you want and hopefully don't care enough about what I think to influence your plans
All entirely valid. Please don't let this put you off. BUT… do use this to make you think twice and consider your options. If you've thought about it and still want to do LEJOG or some other well rehearsed route then that's great. But don't just do it by default.
LEJOG looks like a great route but is it really any better than going south-east to north-west? No doubt Kilimanjaro offers some spectacular views but then so do many other thousands of mountains across Africa and the rest of the world. And whilst it would be great to tick the official Iron Man box, couldn't you organise something similar yourself on a more interesting route (like this or this)?
The opportunity to spend that long travelling or that much effort exploring is too rare, too precious, to be squandered lazily on the first thing that comes to mind. Give your next adventure some proper thought before signing up for the honeypot project.