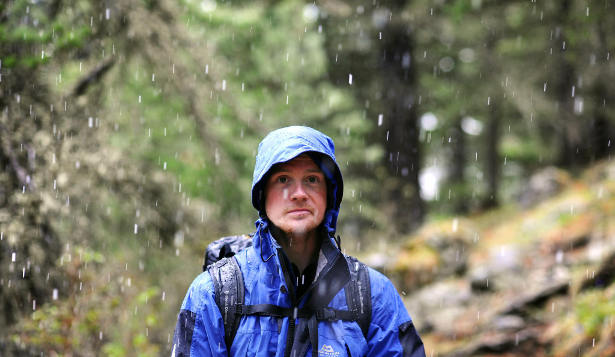 Berghaus have provided clothing for our trip and, in particular, waterproofs. Our jackets and Laura's trousers are made of the new fabric known as Goretex Active.
For many years prior to the release of Goretex Active, the de facto lightweight waterproof material was Goretex PacLite. PacLite is/was known for being the lightest form of Goretex, for being more breathable than most other types and for being very easy to rip/tear/wear out.
(You can see the rest of my kit articles here).
Goretex Active Shell
Goretex Active is, inch for square inch, lighter than Goretex PacLite. Its breathability is supposed to be a little better, and its degree of waterproofness also marginally improved. These are minor changes that you probably won't notice (except for a few grams knocked off the weight listings of popular jackets) but they indicate that Active Shell is at least as good as Paclite.
More importantly, however, Goretex Active is much robust. PacLite feels papery and thin, whilst Goretex Active feels tough and malleable, a little bit softer than the rest of the Goretex waterproof range and all the nicer for it. Expect much fewer rips in the seat of your pants or tears on the elbows.
We've been using our Active Shell waterproofs for 8 months now: Berhaus Vapour Storm men's and women's jackets, and women's Vapour trousers. I also have an old pair of Berghaus Paclite trousers with me.
Personally, I can't tell any difference in the breathability – you're always going to get sticky cycling uphill in waterproofs – but they are very light and perfect for this sort of trip where we can carry them for months at a time without them leaving our panniers (i.e. light) and then don them for reasonably high intensity exercise (i.e. breathable).
A revolutionary new fabric?
So, is Goretex Active a revolutionary new fabric? Probably not. Is it better than Paclite? Definitely. Lighter, more breathable, more waterproof and, crucially, much stronger, it is better in every aspect and thus I would glibly proclaim that Paclite is dead and long live Goretex Active.
The only reason to buy Paclite now, in my opinion, is if it's cheaper (i.e. in the sale). I have been out of the country for some months now but anticipate that Goretex Active will become the new standard, if it hasn't already.
New ultra-lightweight waterproof fabrics
As a final point, there has recently been a splurge of new non-Goretex "waterproof" fabrics that are extremely light for example (e.g. Polartec Neoshell and Pertex Shield). The quote marks are in place because there are varying degrees of waterproofing, usually measured by hydrostatic head, and these new fabrics are often some way below the level offered by typical waterproof materials (e.g. Goretex or eVent) so, for example, may be effective in light rain but fail in a downpour.
These are certainly worth keeping an eye on. They are notably lighter than the mainstream fabrics and usually a lot cheaper too. After my current trip, I'll write a comprehensive comparison of all the major waterproof fabrics comparing their mechanisms of operation and effectiveness. Until then, happy shopping.
Get a shiny new lightweight jacket
Browse for the latest Goretex Active products at Cotswold Outdoor >>
Check for old rippable Goretex Paclite in the sale >>
If you enjoyed this then you'll probably like the rest of my equipment articles here…