We all know about the British Three Peaks Challenge: climbing up the highest mountain in each of Scotland, England and Wales.
But what about a Three Lakes Challenge? Crossing the largest lake in each of the British nations.
Grant winner Jo Laird set out to do just that with a stand-up paddleboard (albeit without the 24-hour time limit and crazy driving through the night).
Here's how she got on…

---
The Next Challenge Grant
Jo's trip was supported by The Next Challenge Grant, an annual bursary for aspiring adventurers.
It's funded by me – Tim Moss – several other adventurers and crowdfunded public donations.
Since 2015 it has supported 50 different expeditions with awards from £50 to £800.
---
Three Lakes and an SUP
by Jo Laird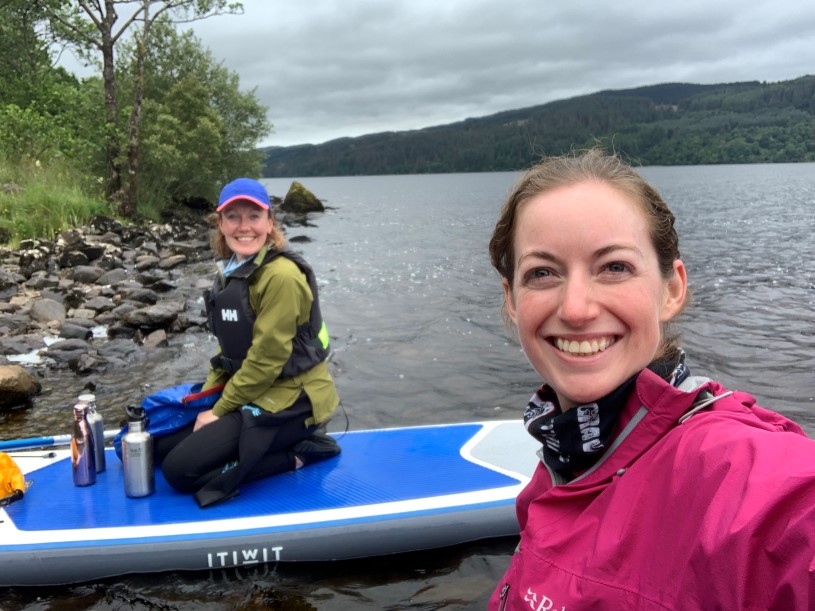 Well, to be more accurate it's 2.75 lakes and an SUP!
Lake Bala
My adventure started in April 2019 when I went up to North Wales and stayed on the edge of Lake Bala (Llyn Tegid). It was a beautiful day for a paddle: no wind and the lake surface looked like a mirror reflecting the blue sky and sunshine! I couldn't have asked for a better start. Up early and on the water by 7am I paddled to one end then to the other and then back to the campsite; a total of approx 7 miles. I was cheered on by a few of the others including Rick and his wife at the campsite who kindly took some photos.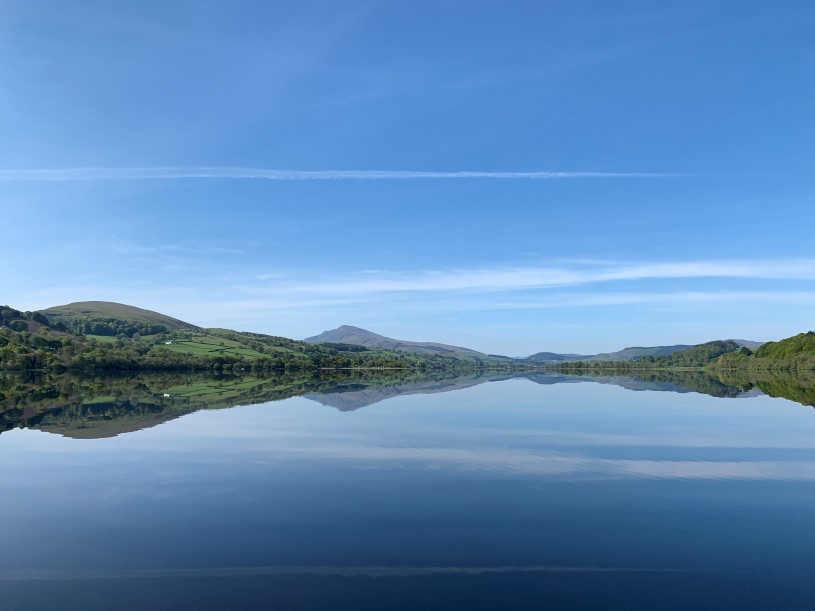 ---
Windermere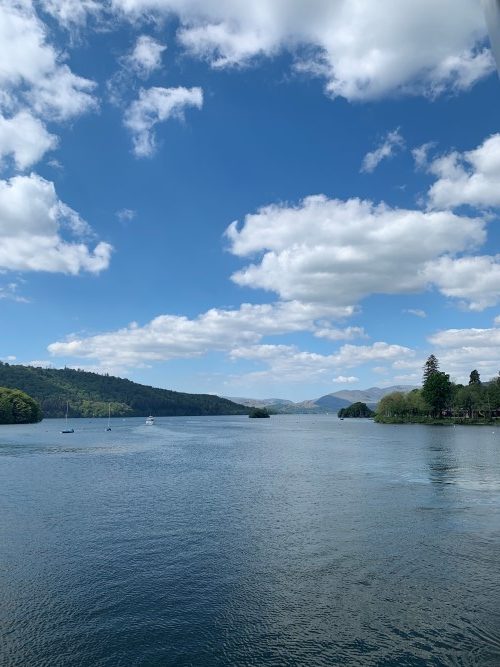 Then it was on to Lake Windermere, 11 miles long and quite a few ferries to dodge on the water! The evening before the paddle I went down to the National Trust launch site at the south of the lake and met a volunteer there called Jackie. Jackie kindly came down to wave me off in the morning and took some photos. She said to me that it was "good to see a girl having adventures" which has really stuck with me! A lovely tailwind helped me along and it took 3 hours 20 mins to reach the north end. I really enjoyed the paddle – saw a swan and two low flying chinook helicopters who were so low the aircrew waved back at me! The tailwind was a great help and I didn't expect to be almost surfing waves on the lake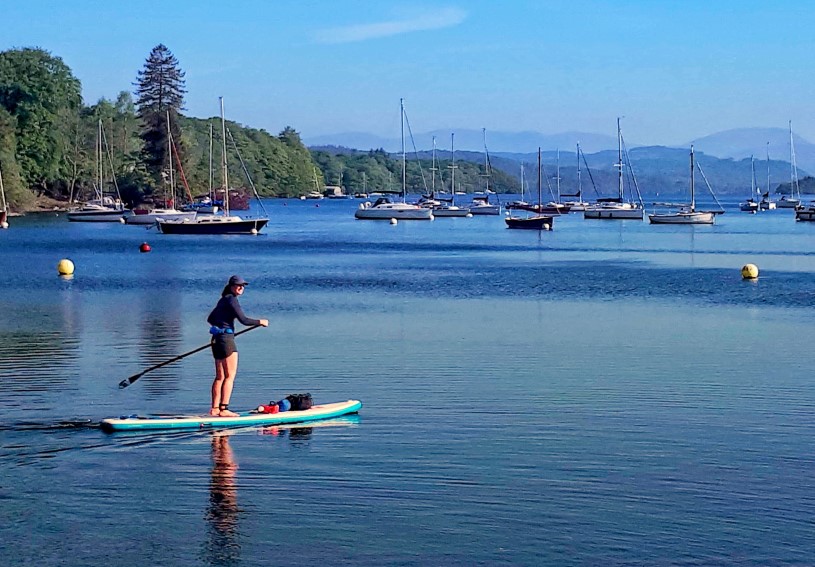 ---
Loch Awe
August arrived and with it came the final challenge lake: Loch Awe up in Scotland. My friend Nat joined me as it's quite remote and the risk assessment on the British Canoeing website advises a support crew. We didn't have a support crew but we positioned a vehicle at each end with food and water so we could return to the start. It was lucky for me that she was with me otherwise I wouldn't have even been able to get on the Loch as my SUP pump broke! We managed to use hers to finish pumping my board up to the correct pressure.
Checking the weather forecast the wind was predicted to be light 1-2mph initially from the north and then after 2 hours changing to 3-5mph ESE which would be behind us helping us on. We reasoned it would work better with the initial headwind for the benefit later in the day with it pushing us on when we were a bit more tired. Sadly the wind had other plans for us! The initial headwind was stronger than 1-2mph. Unable to stand up and make progress we battled onward kneeling and sitting to get lower wind resistance.
Then the forecasted wind direction change never came. We paddled most of the day into a headwind with occasional patches of no wind which we were ecstatic about! 7 hours and 45 minutes of paddling and we had made approximately 18 miles progress out of the 25 mile total. The weather worsened again with the rain and headwind increasing and we decided it would be unlikely we would make the finish before it got dark. We looked back at the way we had come and could see a hotel which it had taken us an hour to paddle from. A quick discussion between Nat and I and the decision was made: safety has to come first.
With the wind behind us now our way back to it would be a lot quicker and we were welcomed in and shown where we could change out of our wetsuit trousers, waterproof tops and life jackets before having some warm food and then waiting for a taxi to take us back to our kit dumps. All in all a very adventurous day!
So, what did I learn from my adventure…?
I learned about not giving up when things are tough initially
Set yourself goals you don't quite think are possible and then when someone (the next challenge grant!) says yes I think you can do this then go for it
Always have a backup plan for safety
It's better to turn back and be alive to adventure another day than to risk it and endanger yourself and others
Overall remember to keep smiling and create connections with other people. The people that I met at the first two lakes and then my friend who joined me for the final lake attempt will really stick in my memory.
I'm already working out when I can finish off the three lakes challenge – due to an imminent military deployment it will be 2020 but it's in the sights already!
Thank you to the Next Challenge Grant as without your support and encouragement I wouldn't have attempted this challenge!
---
The Next Challenge Grant
Jo received a £200 award from The Next Challenge Grant.
The money came from me, other adventurers and members of the public.
Do you have an adventure idea that you need help with?