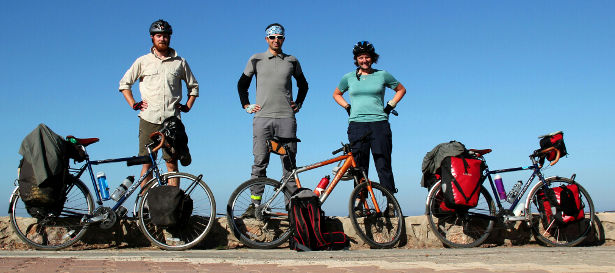 We've compiled kit lists from 37 different long distance cycle tourers and put them all in one place: here.

The cyclists all come from the Database of Long Distance Cycle Journeys (LDCJ)* . Of the 139 trips registered, 37 of them have detailed kit lists available online and they're all listed below.
I'm sure you're not going to read them all right now but hopefully this is a useful resource for anyone thinking about kit for their own round-the-world journey. You might also like Tom Allen's Essential Gear for Cycle Touring book.
You can view our own kit list here.
*LDCJ is probably the world's largest cycle touring data set. We've spent the last year collecting detailed information for some 200 cycle tourists who have literally cycled millions of miles between them. There are graphs, stats and figures for fastest journeys, average monthly costs, types of bike/tyre/handlebars used, which countries are most popular and more. Click here to visit Long Distance Cycle Journeys now >>
Riders' Names

Trip Name
Tagline
Link
Chris Gruar
cycling4cancer
43 000km across the world in aid of Worldwide Cancer Research, zigzagging via The Arctic Circle, The Balkans, The Silk Road and SE Asia.
View
Kit List >>
Alleykat – Alee Denham, Kat Webster
Alleykat Adventure 2012-2014 (Cycling About)
The Netherlands to Australia, spending an average of one month in each country.
View Kit List >>
Cinderella Servranckx
CyclingCindy
Feel the World on a Bicycle
View Kit List >>
Dean McMenamin
Ireland to Nepal (maybe to NZ)
8 months cycling from Ireland to India heading towards Nepal and maybe SE Asia and NZ in the new year.
N/A
Morgan Monchaud, Siphay Vera, Brian Mathé, Etienne Houlès & Bertrand Dolci
Solidream
Round the world trip of three years as a group of friends on all the continents
View Kit List >>
Tyler Kellen & Tara Alan
Going Slowly
A circuitous adventure from Scotland to Southeast Asia.
View Kit List >>
Helen Lloyd
Take On Africa
2 years cycling from home to Cape Town via West and Central Africa
View Kit List >>
Helen Lloyd, Lars Bengtsson
Take On The Americas
From Vancouver to Cancun. Cycling Canada, USA and Central America
View Kit List >>
Mark Beaumont
The Man Who Cycled The World
Around the world record attempt (successful)
N/A
Michael Haeuslmann, Hajar Sadeghinezhad
Cycling The World
Planned to see it all, fell in love while cycling through the Middle East, still going, but not alone anymore.
View Kit List >>
Thiago Ghilardi
Planet by Bike 2005
Solo world bicycle tour of approximately 16,000 miles in 26 countries and 5 continents.
View Kit List >>
Jilly Sherlock
Sherlock Tales
Cycling distractedly around the world in an easterly direction most of the time
View Kit List >>
Scott Stoll
Falling Uphill
One man's quest for happiness around the world on a bicycle.
View Kit List >>
Rebecca Holliday & Ryan Davies
World Cycling Tour
England to New Zealand
View Kit List >>
Henrik Frederiksen
World On Bike
4 years cycling around the world, dreaming about crossing the 6 continents but, eventually, going where life is taking me.
N/A
Rob Thomson
14 Degrees Off The Beaten Track
Cycling across the Eurasian Continent from Japan to Switzerland, via Central Asia.
View Kit List >>
Alastair Humphreys
Round the World by Bike
Round the world via the length of the Earth's three main landmasses – 4 years, 46,000 miles, 60 countries
View Kit List >>
Betzgi
Gone Riding
Started this trip with cycling across the African continent. Will continue in Asia (India) with no current plan when to finish.
View Kit List >>
Charlie Walker
 Charlie Walker Explore
UK to UK via Nordkapp, Singapore and Cape Town.
View Kit List >>
Stephen Fabes
Cycling The Six
The length of six continents
View Kit List >>
Thomas Andersen
Cycling The Globe
4 years, 40000 km, 40 countries around the world.
View Kit List >>
Kieran Rowley and Natasha von Memerty
Downhill from here
Travelling East from the UK until either the money or our legs run out.
View Kit List >>
James Desmond
Bike to the Future
21,000km through 27 countries London to Sydney.
View Kit List >>
Maarten Wagenmakers & Line van den Hout
Marcovelo
Op de fiets Marco Polo achterna | Cycling the Silk Road
N/A
Dominic Luther
OneBikeOneWorld
2.5 years into a who knows how long bike ride to somewhere
View Kit List >>
Peter and Ian
Pete and Ian Hit the Road
USA Pacific coast, New Zealand, Brisbane to Melbourne, USA Trans Am, Berlin to Leeds.
View Kit List >>
Heike Pirngruber
Let's go East – Cycling solo from Germany to Australia
Female cycling solo from Germany to Australia
View Kit List >>
Emma Philpott and Justin Hewitt
Rolling Tales
Cycling from London in a wiggly way towards New Zealand
View Kit List >>
Shane Little
Shane Cycles Africa and more…
One year cycling in Africa plus various other trips
View Kit List >>
Dave Conroy
Around the world since 2009
In 2009 I quit my job working with computers, sold everything I owned and bought a bicycle setting forth for a round the world journey.
View Kit List >>
David Piper
Tra-velo-gue
Making an around the world cycle accessible by riding in stages
N/A
Dave Gill
Vague Direction
A loop of North America by bicycle, meeting fascinating and unique people along the way and making a book about peoples lifestyle choices.
View Kit List >>
Andrew Welch
An intense, slow and winding personal quest through Eurasia, falling in love with Georgia along the way :)
N/A
Amaya Williams, Eric Schambion
World Biking
An ongoing quest to cycle every country on the planet. Since 2006, we've biked 96 countries on 6 continents.
View Kit List >>
Nicolai Bangsgaard
Worldtravellers
Solo RTW. 62.180 km. 1.413 days. 53 countries. 6 continents.
View Kit List >>
Matthew Blake
Four years round the world & Cycling to every Major League Baseball ballpark
Four years on a bike & 100 miles per day, trying to watch a game of baseball in 30 Major League Ballparks
View Kit List >>
Sean Conway
World Cycle 2012
Competed in first ever Global Bicycle Race with the intention of going for the world record for fasted circumnavigation by bike.
View Kit List >>
 View more data like this at the Database of Long Distance Cycle Journeys.