The Channel Islands might not be the first destination that springs to mind when planning an expedition but it is eactly where Next Challenge Grant winner, Amanda McDonnell, chose for her adventure earlier this year. She ran 110 miles across the five main islands over the course of a week. Her story is below.
In common with the two previous grant winners who have completed big runs – Tina Page and Elise Downing – Amanda only started running recently (2014). She had never tried a multi-day run before.
---
The Next Challenge Grant
Amanda's run was part funded by a Next Challenge Grant, an annual bursary for aspiring adventurers.
It's funded by me – Tim Moss – several other adventurers and crowdfunded public donations.
Since 2015 it has supported 40 different expeditions with awards from £50 to £800.
---
Running the Channel Islands
by Amanda McDonnell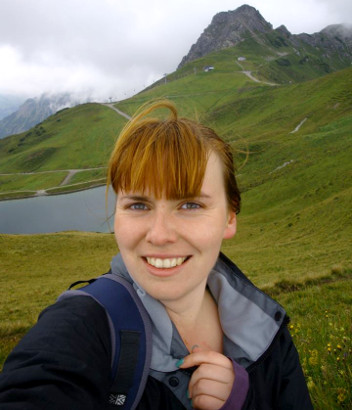 In May I ran around the five largest Channel Islands supported by the Next Challenge Grant. Camping and carrying my kit along the way, I ran 110 miles around the islands of Jersey, Guernsey, Sark, Herm and Alderney.
Jersey
I set off from the harbour in St Helier on Saturday 6th May and headed off clockwise around Jersey. I was excited to finally be running the route I had been planning and thinking about for so long but also nervous and unsure about whether I was actually capable of completing what I had set out to do.
It rained consistently all day and when I arrived at the campsite at around 5pm, I was completely soaked. After putting up my tent and preparing some food, I changed into some very welcome dry clothes.
When I awoke the next morning, it had thankfully stopped raining. However, my running clothes were still soaking wet. I packed my tent away and headed back towards the coast then east along the top of the island. At first, I was mostly running along roads and smooth paths. However, after a while, my route turned into a rocky costal path with lots of ascent and decent.The views were stunning but the terrain meant progress was slow and at times it felt like I was barely getting anywhere at all. Things were hampered further by heavy legs from the previous day making me unsure of my footing on uneven ground.
This was by far the hardest day – both mentally and physically – but I eventually made it to camp in the last of the days' warm sun and lay on the grass for a bit before putting up my tent.
After some sleep and a drier night of camping, I was feeling much better as I headed back towards St Helier. My legs appeared to have accepted their fate and, whilst far from feeling fresh, were able to happily keep going. Listening to audiobooks on my phone, I arrived in St Helier in plenty of time to catch the ferry to Guernsey. I must have looked quite odd trying to dry out my still damp kit in the terminal, wishing that I had had the foresight to pack a length of string to use as a makeshift washing line.
Guernsey
On day four I set off around Guernsey, along beautiful bays where scores of cyclists were taking advantage of the day off for Liberation Day. I felt like I was making great progress and was amazed by how I was holding up physically. I made it to my campsite for the day earlier than expected and spent the afternoon resting in the sunshine.
The next morning, I set off to complete the loop of Guernsey before catching the ferry to Sark. I quickly settled into a rhythm of run, walk, shuffle, look for snacks, repeat.
Sark
The boat to Sark was busy and appeared to be full of people returning from shopping trips to Guernsey. After disembarking on Sark I followed a steep forested path uphill to my camping spot for the night. Sark is a dark skies area and is known for its clear skies. Unfortunately, the sky was too cloudy to see any stars and the wild winds keeping me awake most of the night.
​
I was very tired the next morning when I set off. After a couple of wrong turns – only I could get lost on such a tiny island – I made it to the ferry just in time. I was headed back to Guernsey where, after waiting a couple of hours, I caught a ferry to Herm.
Herm
Herm was the smallest of the five Islands and was without a doubt my favourite. The breath-taking views, sandy beaches and winding paths left me with a feeling of gratitude and the sense that the months of hard training had been worthwhile. Stopping to take photographs meant that I missed the ferry back to Guernsey but I found a shop selling ice cream and happily passed the time waiting for the next one.
Alderney
On the last day I was up early to catch a little yellow boat to Alderney. When we arrived in the marina on Alderney, I set off on the final leg of my journey, feeling confident for the first time that I was going to finish. By this point my pace was slow but I was amazed by how my legs were still going and how little they had protested during the run.
This began to change in the last three kilometres when suddenly, perhaps sensing that the end was near, my right knee started to hurt, followed shortly after by a pain in my right hip and then my right foot. Every step was agony but in a strange way I no longer cared; I was going to finish. When I made it back to my starting point in the marina I sat on a wall and, before my phone battery died, managed to post an emotional Facebook status.
From the highs of taking in Herm to the lows of exhaustion and permanently damp running clothes, the trip was far harder than I had imagined, both physically and mentally. But I'm glad I did it. In the immediate, limping-shuffling aftermath I felt oddly vulnerable but as this faded I began to wonder what else I might be capable of.
I would like to sincerely thank Tim, The Next Challenge Grant, and all its lovely contributors for helping to make the trip possible.
I would also like to thank all the people who donated money through my Just Giving page and helped me raise over £500 for the mental health charity Mind.
---
The Next Challenge Grant
Amanda won a £100 award from The Next Challenge Grant.
The money came from me, other adventurers and members of the public.
Do you have an adventure idea that you need help with?