Next Challenge Grant winner Tina Page has just run the British Three Peaks: Snowden, Scafell Pike and Ben Nevis.
She didn't just run up them, she ran between them too: 500 miles in total.
And, to cap it all off, she only started running three years ago. That fact somehow makes her feat seem both more remarkable and more attainable at the same time.
I am not about to try running 500 miles myself but it makes me think that it might be possible.
Read her story below and see for yourself…
---
The Next Challenge Grant
Tina's run was part funded by a Next Challenge Grant, an annual bursary for aspiring adventurers.
It's funded by me – Tim Moss – several other adventurers and crowdfunded public donations.
Since 2015 it has supported 40 different expeditions with awards from £50 to £800.
---
3PeAksRun: 500 miles, 3 mountains and a lot of flapjack!
by Tina Page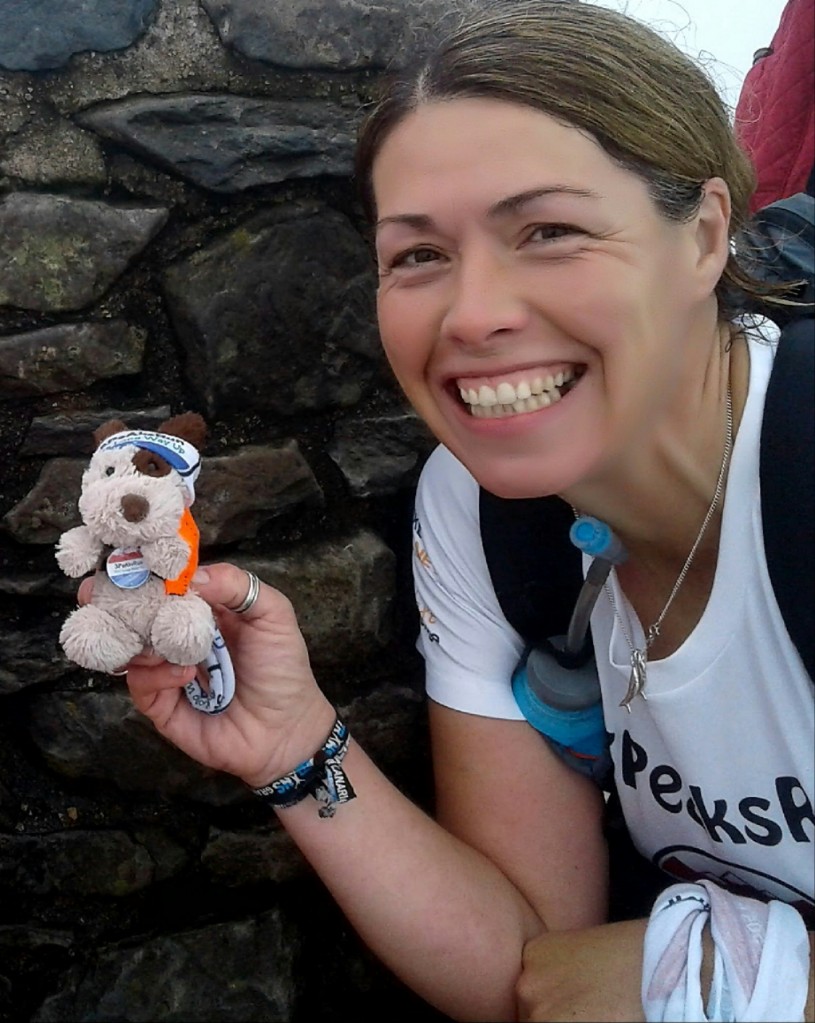 Is adventure just bad planning?
"Adventure is just bad planning", said Roald Amundsen, wiser and more intrepid than I. He made a good point but, outside of the meticulous planning crucial to safety, I think some healthy gaps in planning to allow for a dose of unexpected adventure is the perfect recipe for life changing and memorable experiences.
In my attempt to climb the highest mountain in Wales, England and Scotland – Snowdon, Scafell Pike and Ben Nevis, respectively – whilst running the entire distance between them, I created a route linking parts of 22 national and local trails, hiking paths and cycle ways to become a 500 mile trail run through Britain.
I spent a long time meticulously planning aspects of my challenge – a solo, unsupported National 3 Peaks Run – but I purposefully left gaps in the planning in the name of flexibility and to allow a little of that 'adventure' to sneak in. I did not plan my finish points each day or anywhere to sleep. This resulted in unexpected nights in a soggy bivvy bag, convivial meetings around a roaring fire in the hearth of a remote bothy, sharing wild camp spots and a bunkhouse stay on a railway platform. It even brought an invitation to the luxury of a bed-and-breakfast, with a hot bath, cooked breakfast and a kindly host who selflessly offered to wash all my wet and smelly clothing the very day I had had to wade through a river… they were pretty ripe by that point!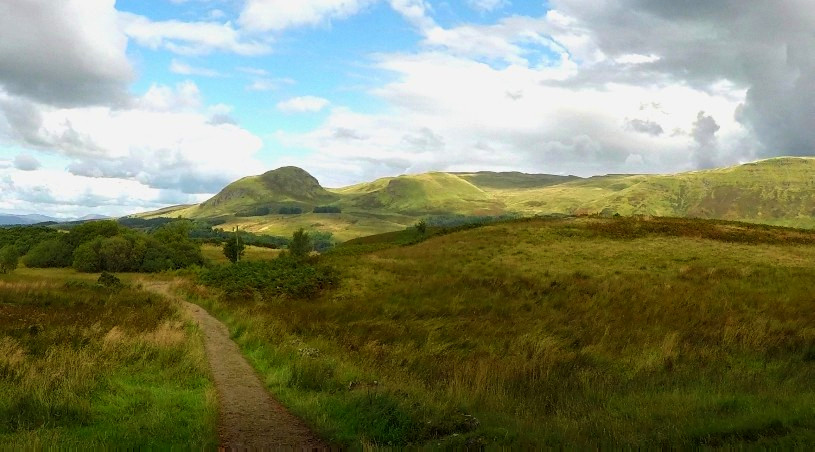 Starting running, aged 42
I only began running three years ago, at the age of 42, after being overwhelmingly inspired by ultra-marathoners in the Alps. I had never heard of this sport before and here were people of all ages, shapes and sizes achieving things I barely thought were humanly possible. I was so encouraged by the runners I saw there that it set me on a journey to explore my personal limits. I quickly realised we are all capable of so much more than we think and it was time to test some boundaries.
I also wanted to raise awareness and funds for the Mountain Rescue Teams in each of the peak regions (Ogwen Valley MRO, Wasdale MRT and Lochaber MRT), the Search And Rescue Dog Association England, and FixtheFells, a small group who work tirelessly building and maintaining footpaths and working to prevent erosion in the Lake District. I was privileged to spend time with some of these volunteers before my challenge and they were also a huge inspiration to me, such was their dedication and commitment to helping others stay safe and enjoy the outdoors. Our mountain rescue tradition dates back almost a hundred years and is something we should all be proud to support.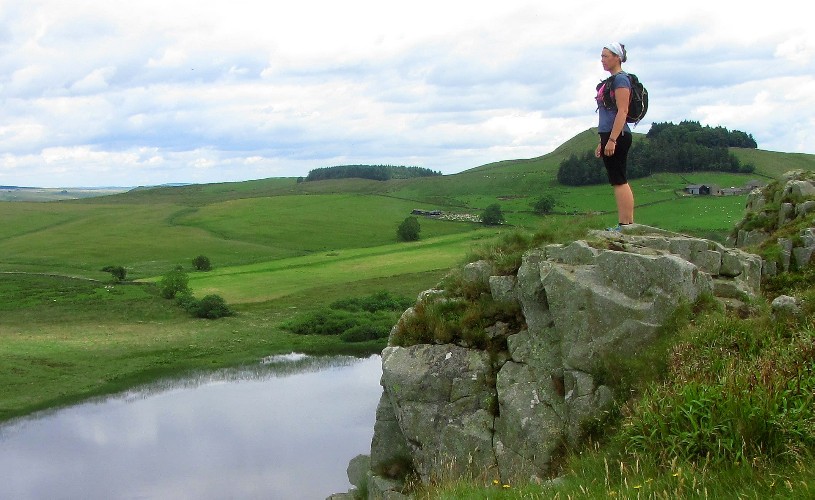 Day one of running 500 miles
The first day of my challenge dawned and, powering up to the cloud that engulfed the summit of Snowdon, I felt fit and strong. I wished that I would feel that way every day, but knew that I wouldn't.
Only two long, 50km, days of running later, my feet were a macerated mess and I was struggling to even shuffle in the evening. I questioned whether, perhaps, I had bitten off a bit more than I could proverbially chew. My endurance was strong, but I feared injuring myself, which was a fair possibility, not least given my natural flair for face planting on rocky trails. Multiday running with a pack puts a lot stress on joints, muscles and all those other little bits and pieces that can twang, pull or snap at some inopportune moment. But, as time went on, I began to feel stronger with each passing mile. I revelled in the simple act of forward motion through the varied scenery from lonely, boggy, windswept hills to bustling cities full of distractions.
Along with hefty gaps in planning, I think other essential ingredients of any good adventure are the ups and downs (figuratively as well as literally). There were wonderful moments of joy and times when I wanted to scream (or kick the stitching out of my overweight backpack!). But tough, character building times are often the most well and fondly remembered and my 3PeAksRun certainly had no shortage in that department.
Support along the way
I was humbled by the many people who came along to run a few miles, brought flapjack, donated to the worthy charities and sent messages of encouragement, which has been a precious part of my experience.
The wonderful support along the way all began with my application for a Next Challenge Grant and I can't begin to thank enough Tim Moss and the donors for this year's grant, inspirational adventurers all! Thanks too to all the kind supporters of that fantastic initiative, which has introduced me to other 'adventurees' and the opportunity to vicariously enjoy their challenges also.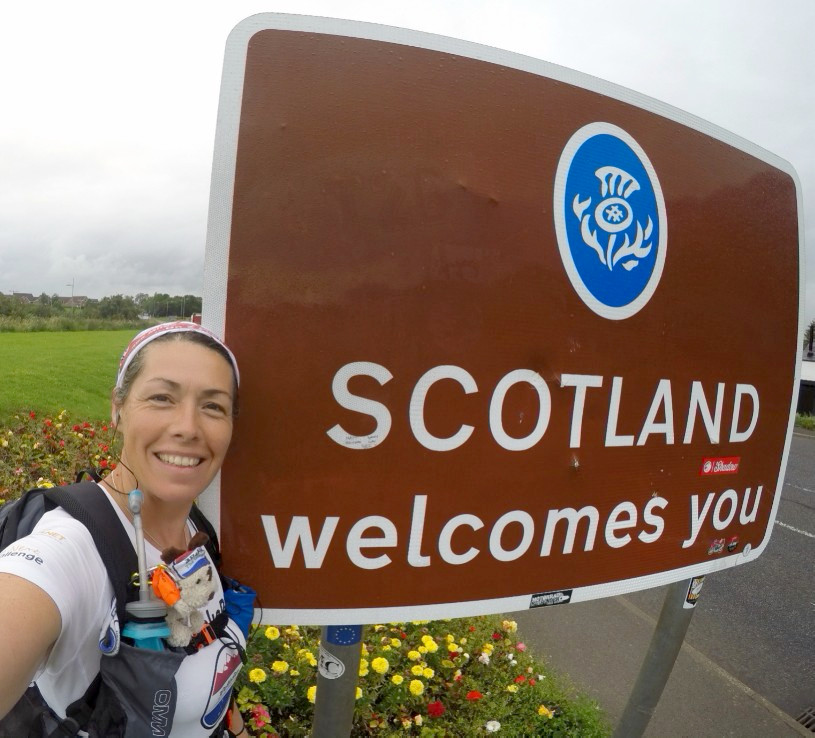 The final peak
Blessed with three glorious days of sunshine running along the West Highland Way in Scotland was an absolute highlight of the challenge. But the weather changed quite dramatically by the time I reached the foot of my final mountain, Ben Nevis. I arrived late at night, after a 56km day, and got tangled up in the forest trying to bushwhack through a forgotten trail, obliterated by fallen trees.
A dinner of crisps and five hours sleep did little to bolster my confidence of summiting in the foul conditions. But, step by step, battling strong winds and rain that sliced at my cheeks like glass shards, I reached the final goal of my adventure. I made it back off the mountain and basked in a zen-like state of accomplishment, my 3PeAksRun Challenge in the bag! 500 miles, 3 mountains and 12,889m (42,286 feet) of uphill in 19 days, 18 hours.
I hope others will take on this 'alternative' 3 Peaks Challenge after me and I look forward to the opportunity to encourage them.
Fancy giving it a go?
You can find out all the nitty gritty of the 3PeAksRun Challenge in full at http://adventurehobo.blog, on facebook at http://facebook.com/3PeAksRun, and on the fundraising page at http://virginmoneygiving.com/3PeAksRun.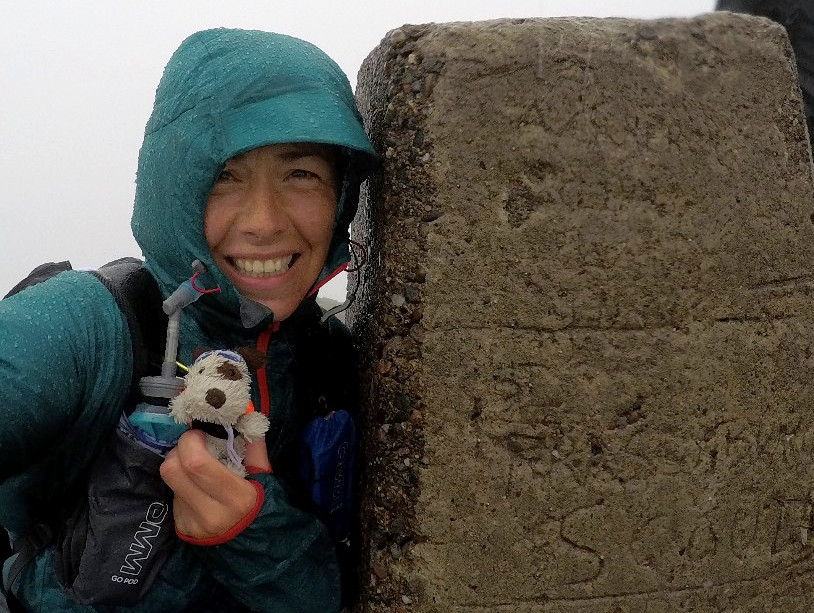 ---
The Next Challenge Grant
Tina won a £200 award from The Next Challenge Grant.
The money came from me, other adventurers and members of the public.
Do you have an adventure idea that you need help with?
---
The Next Challenge Grant re-opens for applications before the end of the year.