Last year, Next Challenge Grant winner Bex Band kicked a scooter 150 miles around the 'London LOOP'.
In her grant application, written in July 2016, she wrote:
Myself and my husband have never done anything like this before. We are very ordinary – I am a secondary school teacher and my husband is an account manager. We have always wanted to be more adventurous and decided this year that we would take the leap and do something different and exciting.
Now, if you visit the website www.theordinaryadventurer.com, you will see the following words written by the very same Bex Band:
Fed up with my 9-5 routine, I quit my job as a teacher to be what most people only dream of…an adventurer! It paid off. I now live a nomadic existence travelling from one adventure to the next – going on expeditions, carrying out conservation work and searching for cool new things to do along the way. This is now my job!
In other words, 'Scoot the Loop' was just the first adventure of what became many. You can read about her other trips, like walking the length of Israel, on her website but, first, here's how she got on with that scooter…
---
The Next Challenge Grant
Bex's trip was supported by The Next Challenge Grant, an annual bursary for aspiring adventurers.
It's funded by me – Tim Moss – several other adventurers and crowdfunded public donations.
Since 2015 it has supported 40 different expeditions with awards from £50 to £800.
---
Scoot the Loop
by Bex Band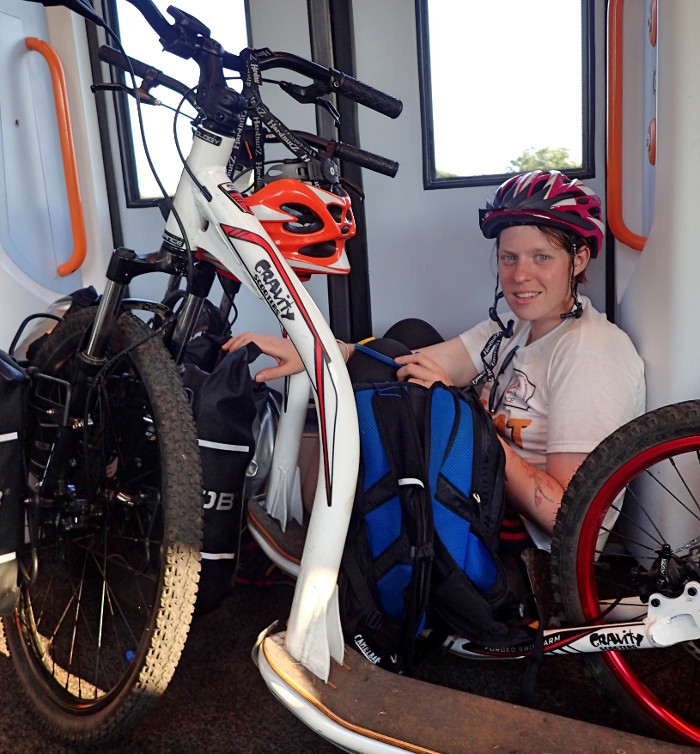 The adventure started long before the adventure started
Since as long as I can remember, I have been avidly following adventurers and spending my time wishing I was going on adventures myself.
My new year resolution was to finally make it happen. No more excuses!
The adventure world can seem very daunting with huge world record breaking challenges that take years to plan and cost thousands to make happen. But things are changing and with the inspiration of people like Tim Moss, Alastair Humphreys and Anna McNuff, I started to realise that, when it comes to adventure, thinking small can sometimes mean thinking big.
I was on the Tube heading to work one day when I spotted a business man in a suit, carrying an adult kick scooter. It was a light bulb moment.
I had already decided that I wanted my challenge to be in my hometown, London, and had been toying with the idea of completing the little known London Loop trail. This is a 240km trail that completes a full circle around the city.
Walking it didn't excite me, but scooting it – now that sounded like an adventure! I called my husband to tell him my idea and he loved it. After we came up with the name, Scoot the Loop, it felt like it was meant to be.
One small problem
The biggest problem, or so I thought, was that we didn't actually have kick scooters.
Working, or rather paying, to be a student teacher, I really couldn't afford to put lots of money towards making Scoot the Loop happen.
I called four scooter distributors to ask if we could borrow a couple for the challenge and within a week we had been sent a pair of shiny, new, hard core, off-road scooters that were ours for the keeping. All the company asked was that we share our photos with them.
We received more sponsorship-in-kind from a company that provided us with panniers that we could attach to the scooters. That meant we could carry enough gear to go wild camping each night on the challenge.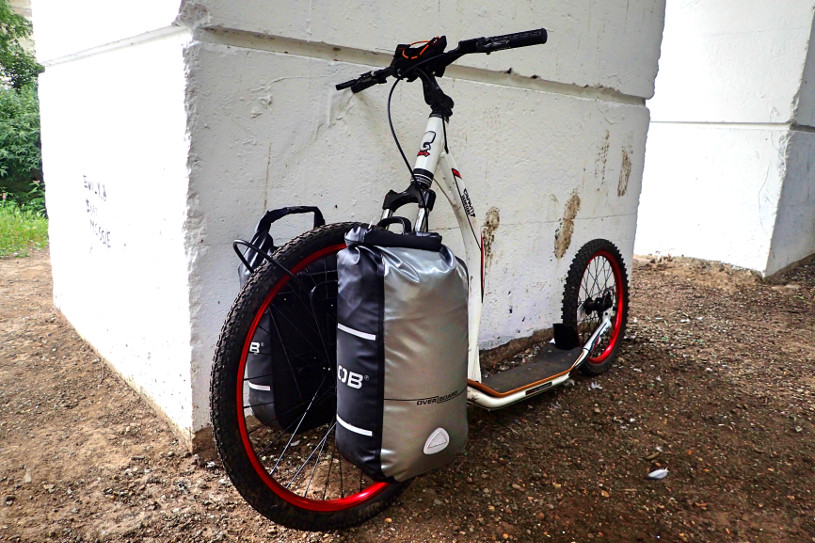 Our final help came from The Next Challenge Grant who provided financial help to put towards food and train tickets. There really is help out there, you just have to ask.
We decided to use the challenge to raise money for Africa's Children in Education and began putting on fundraising events to reach our £5,000 target.
These fundraising events, along with planning the actual trip, as well as working full time as a student teacher, left very little time for actually training on the scooters. It didn't matter though because I knew that working things out as you go and not being 100% ready was all part of the challenge.
The three months between initiating the idea and setting off on Scoot the Loop flew by in a whirlwind of excitement, preparation and anticipation. The adventure began for me long before the adventure actually started.
The first kick on the scooter
We stepped off the train at Surbiton on our kitted out scooters and off we went. It felt utterly strange that Scoot the Loop had started and, after months of planning, it was actually happening. 
We didn't have the best start to our trail as we managed to get lost on our very first turning… something that would become a very regular occurrence. The London Loop is signposted but very discreetly and the waymarks are often hidden, vandalised or missing altogether.
The trail took us through the hustle and bustle of Kingston and then suddenly into the quiet of Bushy Park. We were aiming for an average of 30 miles a day but, 10 miles in, I was already feeling really achey (I had never scooted past 10 miles previously in the little training we had done). I pushed through though, alternating legs and soon found my rhythm. Scooting was painful but I amazed myself at what my body was able to achieve if I just kept going.
By the afternoon we found ourselves in beautiful farmland. Can this really be London?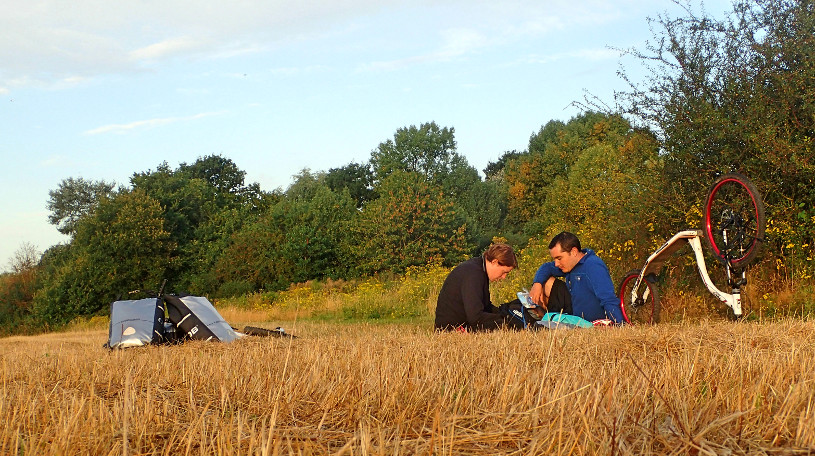 The unpopularity of the trail showed itself as the paths here were horrendously over grown, often with painful stingy nettles, and it was a nightmare pushing our scooters through it. This really slowed our progress down and meant that we ended up scooting at night (leading to even more chances of getting lost).
Our first night camping was in a rugby pitch in Hayes. Wild camping proved to be so much easier than I was expecting. Most people didn't notice us in our bivvy bags (or tarp if we were expecting rain) and the ones that did notice, just looked on curiously.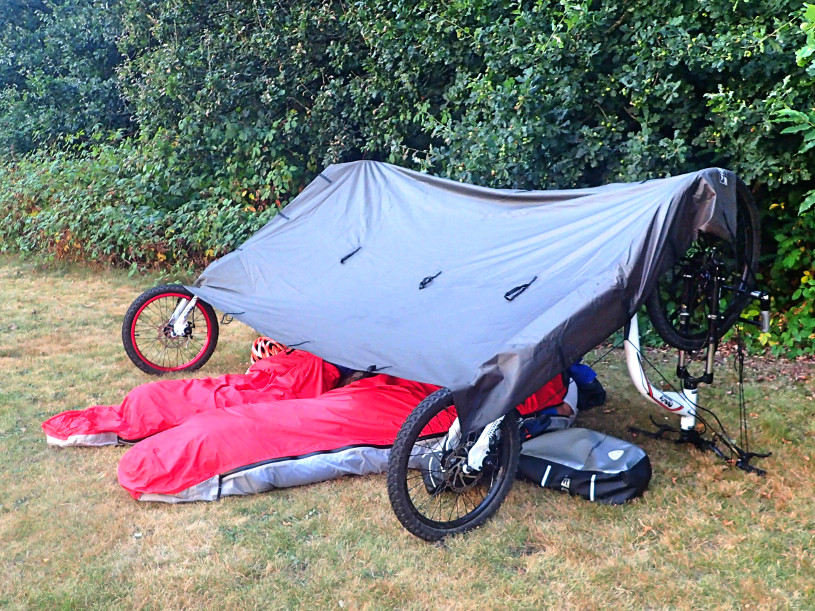 Things turned out differently than I expected
The next day we got ourselves back en route but a punctured tyre meant we had to leave the trail and walk our scooters to Cockfosters where we were rescued by a mobile bike repair man.
We were way behind schedule by this point so decided to follow road that ran adjacent to the route but which would be a lot quicker than going through the overgrown trail. We also had to make a big decision with the track when we reached Essex: the trail stops on the northern side of the Thames and continues on the southern side but there is no way to cross. We had been desperately trying to find a taxi that would take us and our scooters but the only one that would do it was asking for £85!
We made the decision not to go all the way out to the dead-end. Instead, we want into the centre of town, crossed the nearest bridge and then headed back out again to pick up the London Loop on the south side of the river. We would be doing the same distance, but it wouldn't be on the trail. This bothered me at first but I came to realise that the thing with real adventures is that they rarely go as you expect – adapting and making things work in whatever way possible is just part of the challenge that you sign up for.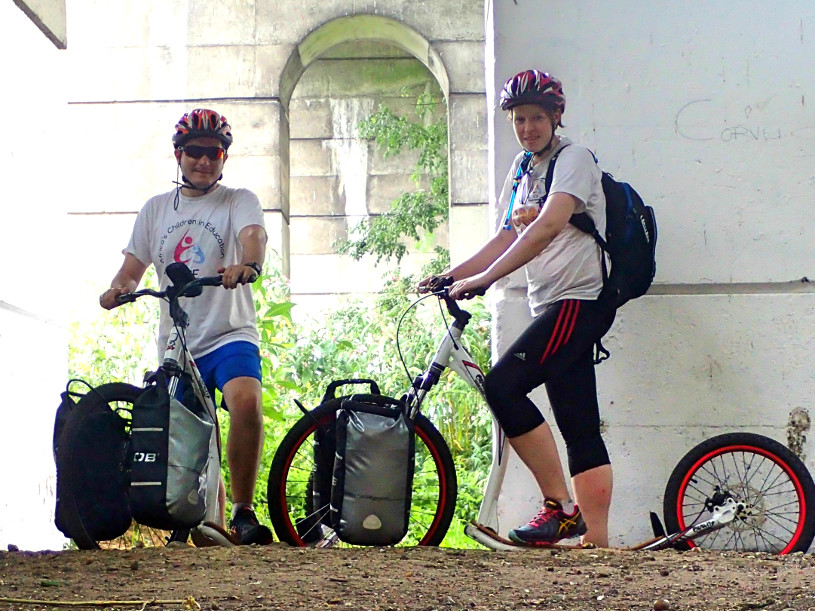 Completing the London Loop
When Surbiton station came into sight I got goosebumps. I had done it! I had been the first person ever to scoot the 240km full circle around London. What a feeling!
The journey had been a tough one. Physically and mentally, constantly pushing forward with the scooters in searing heat while keeping my patience when getting lost every half an hour.
The thing that absolutely made the adventure for me was the people we met along the way. So many stopped to speak with us. A kind cyclist, who we spoke with only briefly, later donated £50 on our sponsorship page. Another young guy, who stumbled across us wild camping, returned later that night with food.
So many well wishes and so many kind words sent our well. People are kind and good and want to help. You just have to ask.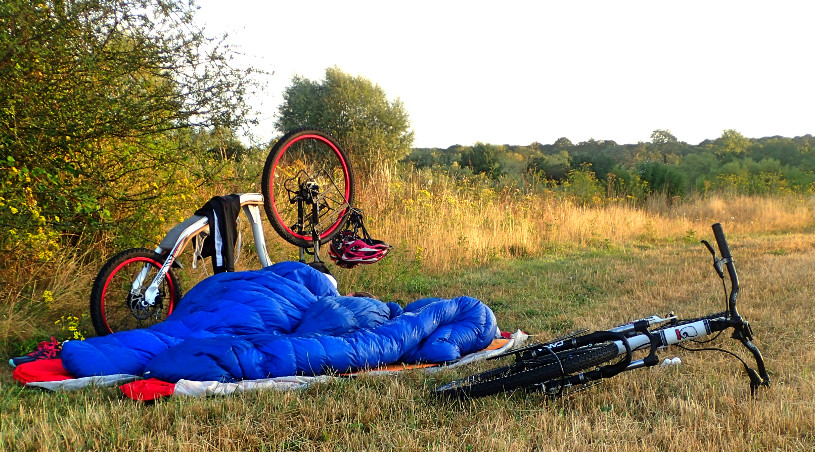 More adventure on the horizon
The hardest part of the entire adventure though was simply committing in the first place. Once I had made a decision to make it happen, the ball starting rolling and there was no going back.
The Next Challenge Grant gave me not only the financial support, but also the confidence to believe in myself and to make Scoot the Loop happen, I really can't thank everyone involved enough. This was a life changing adventure that has catapulted my life into a new direction. There's no going back… adventure is now in my blood.
---
Read about all of the adventures Bex has got up to since winning the grant at www.theordinaryadventurer.com.
The Next Challenge Grant
Bex won a £100 award from The Next Challenge Grant.
The money came from me, other adventurers and members of the public.
Do you have an adventure idea that you need help with?