This article explains how to find the warmest camping mat with the lowest weight.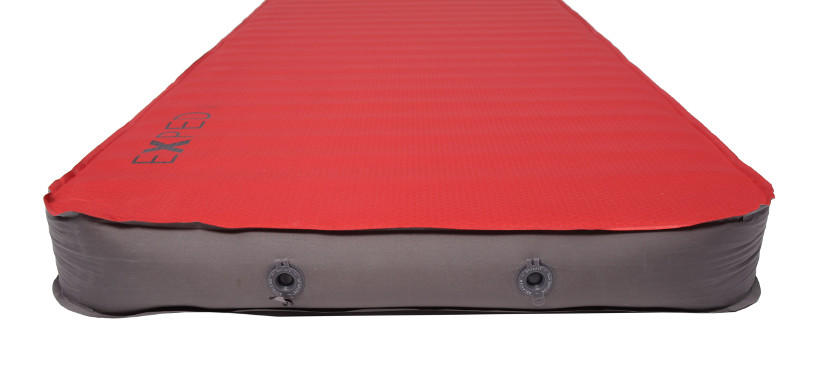 Finding the warmest sleeping pad is easy: it's probably the biggest and thickest one.
You can check the camping mat's warmth by looking for the one with the highest 'R-value', which measures how well insulated a mat is.
The warmest camping mats are the Exped MegaMat 10 LXW and Exped SIM Comfort 100 LW, both of which have an R-value of 9.5.
Here are the rest of the warmest sleeping pads:
Top 7 warmest camping mats
However, that only tells us so much.
Because, if you really wanted to stay warm, you could just buy two camping mats. Then you'd be twice as warm.
Or, alternatively, you could take the mattress off your bed at home and use that. That would keep you even warmer.
But you can't, obviously, because that would be too big and heavy to carry.
---
Taking weight into account
The warmest mat on the chart above, the MegaMat, has an R-value of 9.5. It is not as big or heavy as the mattress on your bed at home but it still weighs a whopping great 2.5kg (5lbs 10oz).
In contrast, the DownMat XP 9 – third place on the chart above with an R-value of 8.0 – only weighs 884g (1lb 15oz). Using two DownMat XP9's would be warmer than sleeping on one MegaMat and it would weight a lot less too.
In other words, the warmth of a mat (its R-Value) is not much use if you don't consider its weight at the same time.
---
Introducing T-values
To account for this, I have calculated my own measure: the T-value (Tim's Thermal Rating).
It measures the ratio of warmth-to-weight and answers the question: 'How much insulation do you get per pound?'
It is calculated by dividing the R-value by the weight (specifically, the R-value is divided by the weight in ounces then multiplied by 100).
Here are those same seven warmest camping mats, only now including their weights and T-value (warmth-to-weight ratio):
The MegaMat and SIM Comfort were king before with an R-value of 9.5 each (i.e. the warmest).
But, when we look at how efficiently we get that insulation for the weight we have to carry, we see that they score very poorly (T-values of 10 and 13, bottom of the pack).
In the list above, the Exped WinterLite and Thermarest NeoAir X Therm offer the best warmth for the weight (i.e. highest T-values, 41 and 38, respectively).
---
Which mat has the best warmth for its weight?
A more meaningful table of the warmest camping mats might be one ranked by T-values.
Here are the top seven mats for warmth-to-weight:
This list confirms that the Exped WinterLite and Thermarest NeoAir X Therm have the most insulation per gram. So, if you want the most warmth for the least weight, get one of those.
With one exception, the other mats with the highest T-value are all inflatable mats (or 'air mattresses'), made by either Exped or Thermarest. They are all very good mats (I've used most of them), well insulated and quite expensive (£100+).
The one exception is the Multimat Superlite: that is just a rectangular piece of foam that costs £18.
I suspect the R-value is probably a bit generous for the Superlite (see 'Notes on R-values' below) but it does show the merit of looking at the warmth for the weight: it's not just the expensive, well-insulated mats that score well. Sometimes, a cheap bit of foam will be an efficient insulator because it weighs so little.
---
T-values for every camping mat
I have calculated the T-values for every major camping mat in my Comparison of Camping Mats article.
They are compiled into sortable tables along with dimensions, weights, prices and R-values.
Beyond the top seven T-values listed above, other foam mats come into play. In contrast, self-inflating mats – the most common type of camping mat until a few years ago – offer the worst warmth-to-weight ratios.
---
Notes on R-values
All of these calculations rest on R-values (sometimes called 'R ratings' or 'TOG values').
The main caveats for using R-values are:
It's a slightly crude measure, originally devised for the construction industry. It was introduced for camping mats by Exped but some people (e.g. Alpkit) don't think it's a good metric.
There is no standardised test for measuring R-values in camping mats. Different companies may measure it differently and some just provide estimates.
As such, all of these measurements need to be taken with a slight pinch of salt. The measurements are not perfect but should at least give you a rough idea of how warm a mat is.
---
Further reading
If you enjoyed that then you will probably like my Comparison of Camping Mats article. I have compiled similar comparisons for bivvy bags, multi-fuel stoves, gas stoves and more.