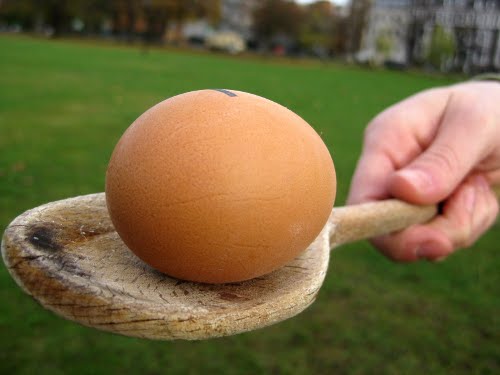 Heaven opens the sluice gates and eight pairs of knuckles turn white as they cling to poles in an attempt to keep the tent earthbound.
Someone breaches the silence with the words we had already heard all too loudly in our own heads:
"Should we abort?"
We're not at Advanced Base Camp on K2. Nor are we facing flash floods in a tropical storm on a remote Indonesian island. In fact, we've not even got caught out in bad weather in the Lake District. No, we're on Clapham Common and about to start an Egg & Spoon Race.
"Look!", someone shouts.
And we do. There is a short, bright streak of electric blue that sends of a brief charge through us all. We are on.
The aim is simple: Get people out of bed on a Sunday morning and into the fresh air of a London winter. Throw in some competitive silliness (that's the egg and spoon bit) and raise some money for charity (that would be SoundMix).
With registration closing in fifteen minutes and nobody here, however, it's hard not to feel a little disquiet. But the film crew don't seem bothered by the lack of participants and their confidence is well placed. Minutes later the tent is heaving with friends, family and some guys we've never seen before, one of whom has an egg cup stuck to his head.
"The rules just said the egg had to be on display at all times".
Spoons are handed out with hard-boiled and hand-decorated eggs for each team, number emblazoned on their shells. Race numbers are pinned to backs and rucksacks. Sheets of paper pass between hands with a map printed on one side and cryptic clues and questions on the other.
"We're starting in five minutes!"
Out front of the tents are four bamboo canes decorated in tinsel. They mark the route for the "Traditional Sprint Start". People gather around the start line.
"You know the rules: No touching the egg once the start whistle goes. Three laps of the course done in a relay with your team-mates. Once you've done your laps, you're free to roam the capital collecting check points and you no longer need to balance the egg on the spoon. But you must keep your eggs and spoons on display at all times. Oh, and you're supposed to enjoy yourselves!"
There's some jostling and the hurried whisper of tactics between team-mates.
"On your marks. Get set. Go!", and a whistle pierces the December air.
Within seconds the racers spread out. A girl with long dark hair takes pigeon steps at the back, her head tilted downwards, eyes boring holes through her egg's shell. A short guy out front holds his spoon at an angle, arm outstretched as he bounds his way forward. It may be for fun and charity but that detracts nothing from the competitive spirit. Eggs fly, eggs drop and eggs roll as participants battle for pole position. A blonde-haired chap in a hoodie is dedicated enough to scoop up his egg on the spoon without using his hands.
The final furlong sees a final surge as second place competes for first only to fling her prized possession over the finish line. But no matter, the adrenalin is coursing now and the main event is under way. Within moments the tent area is deserted once more. The only signs of the preceding events are the tiny figures disappearing across the Common in all directions, heads buried in a map or eyes fixed on a destination visible only to them.
They have some three hours to race around London on foot, bus and Tube, answering as many location-specific questions as possible and collecting photographs of their egg and spoon in front of landmarks. What happened next is anybody's guess. Perhaps the teams ran hard and non-stop for hours on end, relentlessly ticking boxes and pouring over an A-Z in search of the line of least resistance. Maybe they got around the corner, tore up their Challenge Sheets and sat down for a cup of tea and a slice of cake.
Time passed slowly.
We may not have done any running ourselves but that doesn't mean our heart rates didn't take time to settle. It had been a lot of time and emotion building up to this point. Not least of all the 3am session last night, frantically printing maps and boiling several dozen eggs. To see the evident enjoyment on people's faces as they ran ridiculously in a small circle around Clapham Common on a cold December morning had already made it worthwhile. But now we had tosit and wait in a tent with no walls on three sides.
Did I mention it was cold?
Convinced that people would not last the full one-hundred-and-eighty minutes, we were at first baffled and then a little concerned when, at five minutes to the finish, no one had turned up. But there he was. Yellow t-shirt and team-mate, running across the park. He'd obviously forgotten where the tent was because he was heading straight past us. No, he's doing it on purpose. There's barely four minutes left and he's going for more checkpoints!
He disappears and reappears (still running) and crosses the tape at the finish line, sweat beads trickling down a reddened face that speaks of commitment. Interviewed for the camera, he says, between heavy breaths:
"There was no way you could get them all. We tried. But we just couldn't do it."
The next team appeared from behind the fence. Another group jogged in from the far side of the park and then they were everywhere;  recreating the finishing tape for a photograph and handing in their eggs for inspection. Checking camera phones for images provoked the widest of smiles. Egg and spoon poses in front of London buses, the Gherkin, Big Ben and Tube stops throughout the capital. Better still were the bonus points gained through photographing your team-mate impersonating a chicken. Most impressive of all was the ground the teams had covered. Check points were scattered across Battersea Park, Covent Garden, The City, Hyde Park and beyond. We were concerned that enthusiasm would waiver and distances thwart but it was the opposite and people had risen to the challenge.
Prizes were distributed. Teams dispersed. The tent came down and eggs went back in boxes. The inaugural Egg & Spoon Race was over but as participants swapped stories over a hot meal in the cold air outside the pub, plans were already under way for a rematch at Easter.
–
This is an account of the Egg & Spoon Race I helped organise at the end of last year.