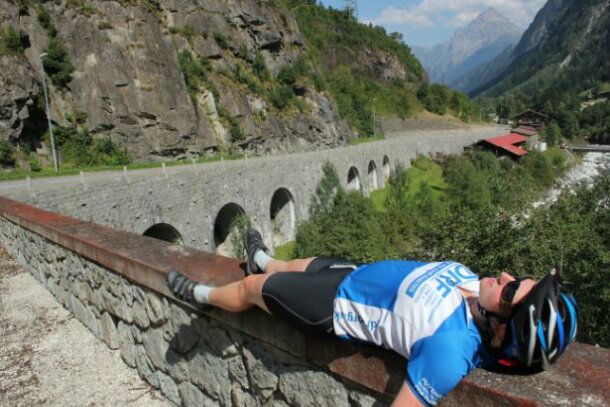 "It'll be easy", he said. "They manage the gradients over there. You just have to sit back and spin your feet round".
These were the wise words from our friend Dave, who had previously cycled through the Alps on a road bike, 'credit card touring'. He persuaded us that we would be fine on our beasts of burden, lugging everything we need for a year of cycling over the high Alpine passes. We would have the advantage of lower gears than Dave's road bike, and could afford to take our time, even if we were carrying a lot more weight.
Needless to say, on the first big hill, I was less convinced. Struggling up a steep incline, nauseous with the heat and effort, it didn't feel like my feet were spinning: on the contrary my knees were grinding. As I puffed and panted my way to the top, I could only take solace from the fact we had overtaken a party of school children, who had given up to push their bikes. The Swiss clearly take school trips seriously.
This day of pain did nothing to alleviate my anxiety about the challenge ahead. We planned to cross the Gotthard Pass, at just over 2,000m, and for days I worried about it. After all, if we couldn't get over a relatively minor Alpine pass, how would we manage the mountains of Turkey or central Asia? I raised my seat higher and higher to reduce the knee strain, Tim found somewhere we could stay half way up, and we loaded our handle bar (nose) bag with gummy bears, but we just needed to get it over with.
The morning of the climb arrived, and we began pedalling. As we wound higher and higher, I suddenly had a shock realisation. I was enjoying this. The vistas were incredible, I felt strong, and gummy bears were amazing. Even the heavy traffic couldn't dampen my spirits and as we climbed, we sang cheesy pop classics to keep ourselves entertained. Anytime it got too much, a short rest was all we needed, and with the mountains to gaze on, I was happy to stop frequently.
As often, the idea of the challenge had been the scary thing. Once you take the first step, or pedal stroke, and relax into a rhythm, the road disappears under your feet and slowly but surely you overcome whatever obstacle you are facing. Exploring your physical capabilities can be as much a mental struggle as anything, accepting that it may take time, but with patience and enough effort, you will make it.
Dave was right. We could sit back and spin, and let the Alps pass beneath us.