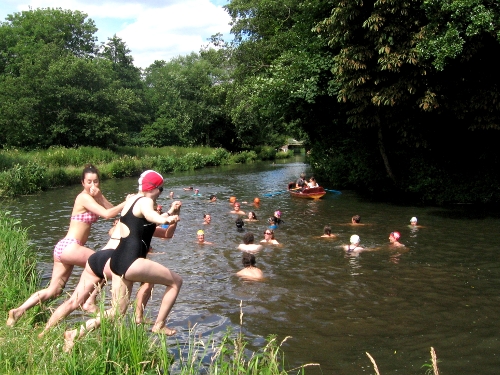 Following on from Running the Tube last year and as the second event in our Greater London Triathlon, Laura and I will be swimming the length of the Thames this summer.
The source is somewhere near Cirencester and we'll follow the river for as far as we can until the Harbour Master in London says otherwise. Assuming we're not allowed through Central London, it will be probably be about 150 miles (I haven't actually looked at a map yet so don't quote me).
As with the Tube, we'll be spreading this project over several weekends, fitting it in whenever we can. I still have a bad shoulder so my swimming ability is not up to much: a gentle breast stroke and some sculling are about the limit. But it's not a race and there aren't any rules so wetsuits, floats and fins will all be deployed as needed.
Unlike the Tube run, however, we won't be the first people to do this. Lewis Pugh makes that claim. Richard and Mark Walsh did it in a five day hit and David Walliams is planning it for September. More pertinently, people swim in the Thames every day and have done for years. There's nothing daring or extreme about this, it's just a nice big project to keep us entertained over the summer.
I think the thrill of something like this is obvious enough but here are a few specific reasons why we're doing it:
Promote outdoor swimming
Get to know our country's most iconic river
Show that big challenges don't require time (we'll do it on weekends), money (it's just transport), expertise (my technique's rubbish) or extreme fitness (I have a bad shoulder and will be pootling very slowly)
Complete the second event in our Greater London Triathlon
If you'd like to join us at any point (or bring us a cup of tea when we emerge!) then dates and destinations will be posted in advance nearer the time.
What do you think – is this a good project showcasing attainable adventure for all? Or a bit too easy and not that impressive?