From the hundreds of applications we received for our expedition grant last year, perhaps my favourite came from George Kefford.
His idea was wonderfully simple: take a boat to a desert island off the coast of Australia and then walk across it. Apparently it's the second largest sand island in the world and, apparently, no one's walked the length of it before.
And what makes the idea even better is that George, and his friend Jaxson Samuels who'll make the crossing with him, are only 14 years old. They depart this Thursday, 7th January.
Below George tells us a little about the island, how he got into adventure and how his granny found out he was related to Bear Grylls…
Crossing Stradbroke Island
by George Kefford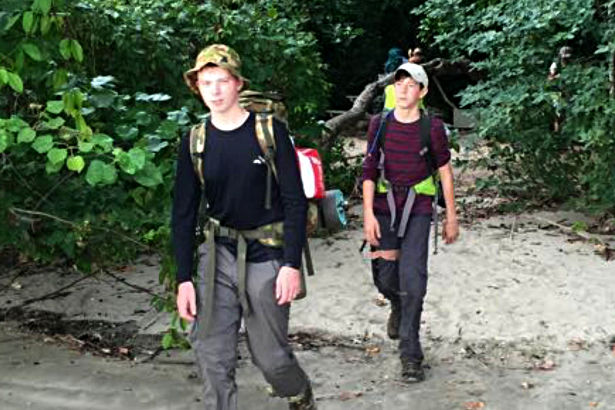 The expedition I'm doing is a world first crossing of North Stradbroke Island.
I've always had an interest for the outdoors. When I was a toddler, my parents moved from England to Germany. Whilst my family lived in Germany, we would quite often go for a walk to the top of the local hill, have a Bratwurst, and walk back down. I spent 6 years in Germany, and it was these walks that originally founded my interest in adventure.
However, that interest was not yet a passion. It wasn't until I was 11 that I really became passionate for expeditions. Funnily enough, this was because of Bear Grylls. It wasn't just because I loved Man vs Wild. My granny had told me that I was related to him, a fact she had discovered on the Ancestry website. I felt like it was now my destiny to end up as an explorer, not just because of interest or passion, but because of blood. Of course, now I see Bear as more of a TV presenter than an explorer but he still inspired me.
With an area of 275km squared, North Stradbroke Island is the second largest sand island in the world. When the picture of Sand Island comes to mind, you may think of a small island in the Pacific or Caribbean with a couple of scattered palm trees. Well, you are right that this is a sand island, however, North Stradbroke Island, or 'Straddie', looks no different on a satellite picture to any other island. You can't tell that the entire island is made of sand.
When I was in Year 4, I went on a school excursion to Straddie, and we were told that all of the trees on the island formed from partially digested seeds, which were then defecated on the island by birds. This creation through defecation turned into something remarkable. Straddie is a beautiful island.
On the 7th of January, Jaxson Samuels and I will be crossing Straddie. It is a 45km trek through sand, which will be tough, especially on the calves. However, this is to be embraced rather than feared. We will be leaving our houses at approximately 4:15am, and we will hopefully be at the southern tip no later than 7am which will give us about 11 hours to walk. If needed, we will run parts of it. The trip will finish at the Northern township of Amity. We will be following Main Beach most of the way, and then for the last 10 or so kilometres, we will be on a road.
This trip is trying to raise money for both of our World Challenge expeditions to North India in late 2016. You can donate with PayPal here.
I am also undertaking a couple of other journeys with Jaxson in 2016:
We'll be walking from the tallest mountain in South Queensland, Mt Superbus, to the Pacific Coast, a total of 150km.
We'll be walking and kayaking the entire 340km of the Brisbane River.
We are led to believe that these are also world firsts, but if not, then we'll still be the youngest.
Please follow my website to keep up with these.
I'd also like to thank these companies for sponsoring me
Osprey Packs
Keen Footwear
Kathmandu
Hampshire Flag
Barmah Hats
Bushman Repellent
Filipino Bolo
Also a big thanks to Tim and the rest of the team who are making this adventure possible.
Some links and further reading: