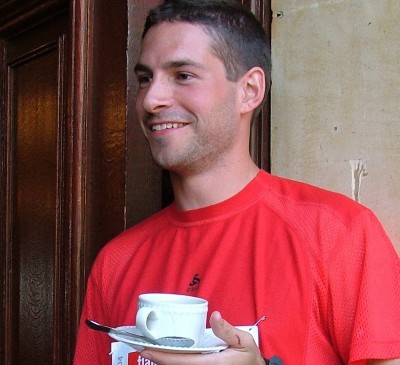 I was hosted this weekend by my good friend Rob Cousins who features on these pages under the almighty Arch-to-Arc Triathlon.
He's always an inspiration, not just because of the amazing things he puts his body through (photo above taken moments before starting a non-stop 145 mile foot race) but also because of his approach to life. For example, now in his late twenties, he is planning his second retirement so he can focus on the more enjoyable things in life.
The bad news is that after several months of colds interfering with his training, he no longer feels that it would be right and safe to continue with the triathlon he planned for this September. Isn't it a killer when something little like the common cold gets in the way of something so big?
The good news is that while his body recovers (N.B. he is still packing in silly hours of training) his mind is working on a new idea. One of his own this time and, if I've learnt anything about Rob over the last couple of years, I know that it will not be a disappointment.