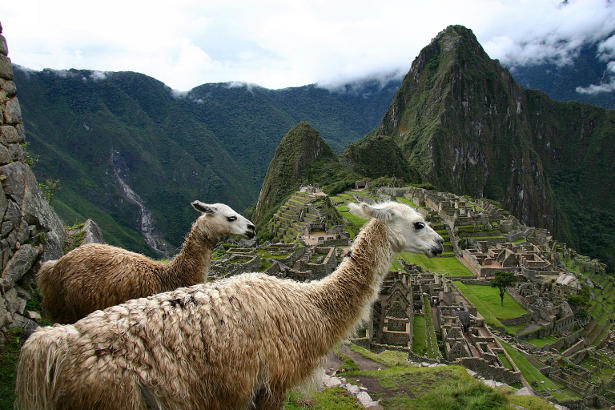 A guest post with advice for walking the Inca Trail courtesy of Helene from Dragoman.
Ten tips for trekking the Inca Trail
The Inca Trail is one of the world's most amazing treks, taking you across the unspoilt Peruvian Andes, through some of the globe's most beautiful mountainous terrain, stopping on the way to see a host of amazing ancient ruins before reaching the zenith that is Machu Picchu. This trek combines amazing adventure, endless historical discovery and an incredible amount of human spirit to create one of the richest travelling experiences on the planet. Here are some tips to ensure that you enjoy the very best expedition:
1. Visit in May-September
Although this is the busiest time, dry season will avoid the rain, which could really spoil your trip. Also make sure that you book your trek well in advance during peak season; you really don't want to arrive in Peru and be disappointed to have missed your chance. Government regulations restrict numbers on all Inca Trail bookings and once the daily allocation is gone, it's gone!
2. Adjust to the altitude
Altitude sickness is very unpleasant; make sure you give yourself a few days to adjust following your flight to Cuzco. Starting your trek straight away is likely to cause problems, so relax and enjoy some of the local sights before starting your long venture towards Machu Picchu!
[For acclimatisation tips, see my article: Advice for Climbing at Altitude – Tim]
3. Get off the beaten track
The Classic Inca Trail can get very crowded. Make sure you try a Community Inca Trek, which allows you to move away from the crowds and into relatively unchartered territory. Here you can camp with local families and communities and volunteer to help in schools and local projects. A percentage of proceeds of these treks goes back to the communities, providing a really rewarding experience which you will remember for a long time.
4. Try the local cuisine
Peruvian cuisine is very interesting, combining influences from Chinese, Italian, Spanish and German settlers and their respective cuisines. On the trail, opportunities to try things like ceviche may be few and far between, but local villagers will certainly let you try 'Cuy', or roasted Guinea pig; this local delicacy is served whole on a spit, succulent and piping hot, and has a strong gamey flavour.
5. Wrap up warm!
Warmihuañusca or "Dead Women's Pass" is the highest point of the trek, 13,900ft (4,200m) above sea level. The view here is incredible, but to enjoy it properly you need to make sure you wrap up really warm; it is incredibly cold, particularly at night – I wore socks on my hands!
6. Hire some help!
The trek is very tiring and will take its toll on your feet and legs. Porters are used on the Classic Inca Trail but on Community Trails your guide will organise mules or horses to help carry your equipment; these will help share the burden and allow you to enjoy the sites of the trek more freely and happily. In the event that you suffer from altitude sickness or exhaustion you can also swallow your pride and hitch a ride.
7. Take a detour for Sun Gate
The Community Trek will not take you through to the Sun Gate as with the Classic Inca Trail. However, you will still have an opportunity to walk up to Sun Gate from Machu Picchu and take in this famous view. Take it slow up the steep steps, overzealousness is natural but you want to make it in one piece. The view of Machu Picchu is one of the most magical sites you will ever encounter.
8. Take your camera
There are so many delightful things to see along the way, it would be a shame if you weren't able to capture them forever. You will meet lots of interesting people, particularly on the Community Trek, along with some of the most fantastic landscapes and views. Remember to pack your camera (and spare battery!) and place it in your sleeping-bag at night to stop the batteries from freezing.
9. Spend time at Písac
Písac is a beautiful village in the Sacred Valley on the Urubamba River. It has a nice local market three times a week which sells local produce and memorabilia. There is also a really pretty pisonay tree which towers over the central plaza. The Inca Písac ruins, which lay across a steep and sun-blushed hillside, are also amazing.
10. Wear decent boots
The trek is gruelling on your feet; make sure you wear a good set of hiking boots which are already worn in. A headtorch and water-purification tablets are a must too.
The Inca Trail is an experience which you will remember forever; just make sure you are prepared for what is a gruelling and eye-opening adventure!