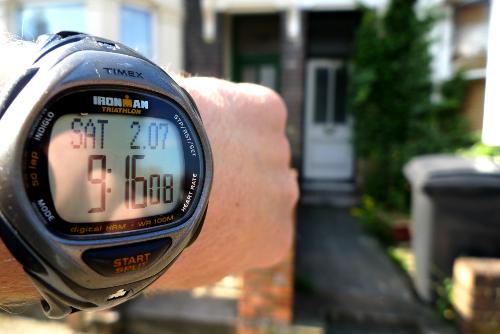 A brief overview of the kit we used on our Tube running challenge, as well as the food and drink we took:
What we wore
Running shoes – mine were old New Balance, Laura's were new Asics.
Socks – we each always used the same pair of running socks, both from Decathlon. They retained less moisture than other socks and rubbed less.  Laura's were double layered which is supposed to help avoid blisters.
Legs – Lycra shorts, three quarter length or full length leggings depending on the temperature.
Top – Cheap branded sports t-shirts from Decathlon with a long sleeve Helly Hansen wicking top underneath and/or a Pertex layer on top in colder weather.
When cold – I wore a thin fleece Windpro hat when it was cold and Laura used a buff as much to keep her hair out of her eyes. I also used cheap, thin woolen gloves, Laura had silk liner gloves.
Kit we carried
London Cycling Maps – Available for free, we marked out a route with a biro on the outward train journey for longer runs. When our route went outside the cycling maps, we either took Google Maps print outs or an A-Z.
Oyster cards – For transport and to provide a log of our runs.
HTC Smartphone – We sometimes used the GPS tracking facility but it was a bit patchy and the battery often died. The phone was either attached to the outside of Laura's running bag (contained in a small Ortlieb waterproof case) or fastened to her arm in an MP3 holder. We also used the phone to take photos.
Normal mobile phone – For Tweeting.
Loose change – For public toilets and corner shops.
Vaseline – a tiny tin of this saved my balls (literally) on a couple of occasions.
And sometimes… cash card for extra food, keys for bike locks (if we cycled to the start), sunglasses, baseball cap and a knee support (Laura).
All of this was carried between the two of us in tiny 2-litre running packs – CamelBak and Millets own brand.
What we drank
I carried up to two litres of water in a Camelback in my rucksack which we filled up from public toilets, pubs and kebab shops. On longer runs we also took a collapsible 2-litre Platypus water bladder. We would drink that on the outward journey to save depleting my Camelback and could do the same when we filled up if necessary.
In addition to water, we sometimes carried electrolyte tablets (e.g. Nuun) to add and often bought other liquids like juice and the occasional milkshake.
What we ate
Laura took the food in her pack. We usually set off with some combination of flapjack, Tunnocks Caramel wafers, fig rolls, chocolate, trail mix and bananas. This was then supplemented at whatever shops we passed with whatever our bodies demanded be that cheese and pickle sandwiches, scotch pancakes or, on one memorable occasion in South Kensington, a lamb samosa.
It was never too complicated and we didn't buy much (any?) extra kit for the project. We only bought t-shirts for the branding and were kindly given limited free Oyster cards by Transport For London.
I don't think there's anything I would change or improve if we did it again because we refined our system over time.