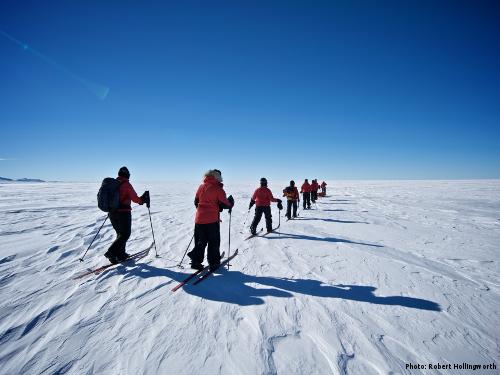 Ever since I started running The Next Challenge, I have been planning a South Pole expedition to coincide with the London 2012 Olympics. I've been pretty sure for some time that it was not going to happen and now that is quite certain.
The simple explanation – and the one I usually give when anyone asks – is that we didn't get the sponsorship (from memory, it would have cost upwards of £200,000). That is a true and accurate statement. If we had been given the money then we would probably be in Antarctica about now or at least packing our bags. But we weren't so we're not.
It would be a convenient excuse to hide behind – global recession, difficult time, a lot of money – but the root of the problem was really motivation and effort.
An Olympic, Paralympic and Special Olympics Athlete all skiing together to the South Pole during the build up to the London 2012 Olympic Games was a a great idea (not mine) but it needed someone to drive it. £200k was never going to fall into our laps. I had enough motivation to see the project through recruiting a team of good people, doing the research and spreading the word a bit but after that it stopped.
At first I blamed my team mates, silently, for not putting in the effort in trying to draw sponsorship but really it was my project and it should have been me leading the way. In truth, I fell out of love with it and stopped working at it.
I love expeditions and Antarctica is the number one destination on my list of places to visit. But I like my expeditions simple and without fuss, and I hate groping around for sponsorship. I would far rather complete a guaranteed expedition on a shoe string with crappy kit than gamble on a far flung one that may or may not happen. This, at least, is a lesson I have learned from the experience.
If I truly believed in a project then perhaps I would swallow pride and preference to bring it to fruition but, as an expedition, this one felt just a little bit too far removed from the core purpose of an expedition.
This was less an expedition for an expedition's sake, than an expedition to make a point. A good and worthwhile point perhaps but not one close enough to the reasons I work in the expedition world for me to put my all into it.
This is a roundabout way of saying that the '2012 Inspire Project' has been cancelled. It failed at the first hurdle because it never got sponsorship. It did that in large part because I, perhaps we, didn't put in the effort it required, and that was really because I didn't believe in it as much as a project of that scale needed to be believed in.
So should this be a warning to all those looking to finance big trips?
Only if you are not 100% committed to your goal. People get big sponsorship all the time. Don't go at it half-heartedly – as I did – then blame the recession or some other external factor. Just make sure it's something you truly believe in then give it your all.