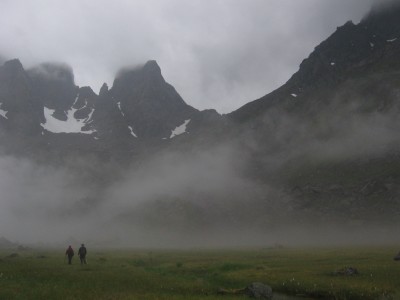 Sitting in hut at 1am on a Saturday night, I got picked up from the Finnmark Plateau this morning with a team of young explorers and some colleagues, and now sit at a laptop, reunited once again with the real world. We've been in the mountains for four weeks. The team is winding down before heading home. Some by plane and others by bike.
As with all good things and concords, this past month has flown by. It seems so recent a memory that we stepped off the ferry and onto the Loppa Peninsula, sat up until the early hours on our first evening, unaware that time had passed us by beneath the midnight sun. Sleeping outside our tents in the boulder fields at the base of the glacier and getting up early to sit atop the summit for lunchtime. Gathering round for "circle time" with our teenage accomplices, giving our highs and lows of the day, and cooking communal meals in giant pots over petrol stoves. Bracing against the cold of the fresh arctic waters each evening to wash off the day's exertion and swatting mosquitoes as we went.
For most, the journey ends here though I hope it will stay with them for some time to come. I know that it will be occupying my thoughts as I cycle southwards over the coming weeks. Although I won't be spending much more time in front of a computer, I do hope to post some entries here and will be updating daily through Twitter. You can also read my latest newsletter here.