The Next Challenge Grant is open to applicants of all ages but I especially like receiving applications from young people.
I never stop being impressed by the ambition and boldness of youth, and today's grant winner is no exception.
At first glance, a few days of walking in the UK may not immediately seem like a huge adventure. But when you consider doing it alone, navigating yourself and wild camping every night, and all at the age of 18, it suddenly seems like quite a remarkable feat.
Here is an account from 2019 Next Challenge Grant winner Natalie Insall, from her walk between the Lake District and Yorkshire Dales.
Special thanks to Ghyllside Cycles who gave Natalie a £150 equipment voucher as part of her grant.
---
The Next Challenge Grant
Natalie's trip was supported by The Next Challenge Grant, an annual bursary for aspiring adventurers.
It's funded by me – Tim Moss – several other adventurers and crowdfunded public donations.
Since 2015 it has supported 50 different expeditions with awards from £50 to £800.
---
A Solo Backpack from the Lakes to the Dales
by Natalie Insall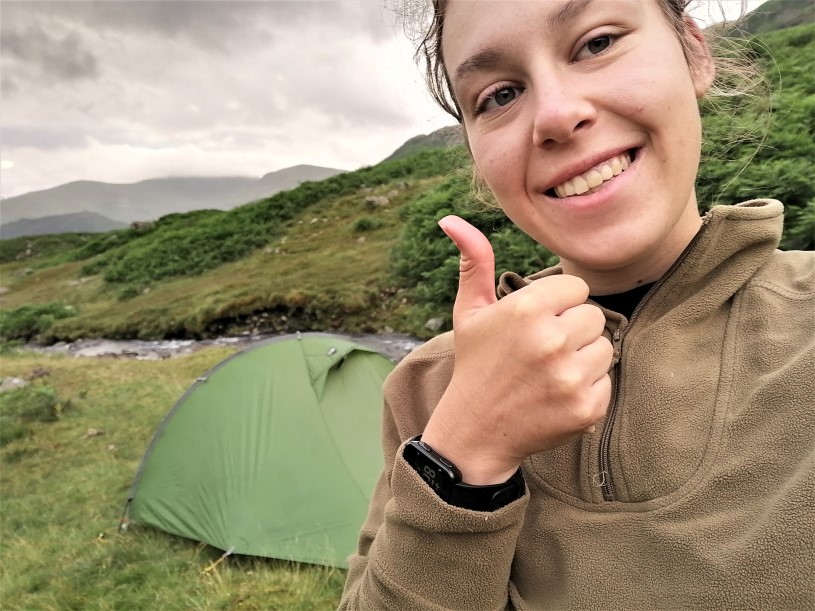 Walking from Eskdale to Horton-in-Ribblesdale all came about because throughout my A-Level year at college I was longing to get outside, yet stuck inside by revision. I would longingly look through mountain webcam images, thinking "if only…". So I decided that as soon as I could escape after exams, I would do something that would challenge me, and this would be my first ever solo multi-day walk accompanied by my first solo wild camps.
My issue was then that I didn't have a one man tent, and that it would also cost me a bit for food and for the campsite on the first night. Because of this I applied for The Next Challenge Grant and I was delighted to be successful! I received some money to help me through the week and also a tent from Ghyllside Cycles in Ambleside. I would like to say a massive thank you to everybody who donated and and an extra special thank you to Ghyllside Cycles.
The first day went fairly smoothly to begin with, until in the afternoon clouds closed in and it started to rain. After having to do a bit of fell running between two volunteers to avoid having a helicopter drop stones for path improvements on me, my navigation skills were tested on High Raise to figure out the way down. Eventually I did and had a rather pleasant night just up from Easedale Tarn.
Don't check the weather
The second day took me through Ambleside where I had a chat with Ghyllside Cycles and looked at the weather forecast (I wished I hadn't!). I had naïvely assumed that this day would be flatter, but I quickly learned that three 'little' ascents definitely added up. Especially hard was the long, straight Garburn Road that seemed to last forever, but I made it to Skeggles Water eventually.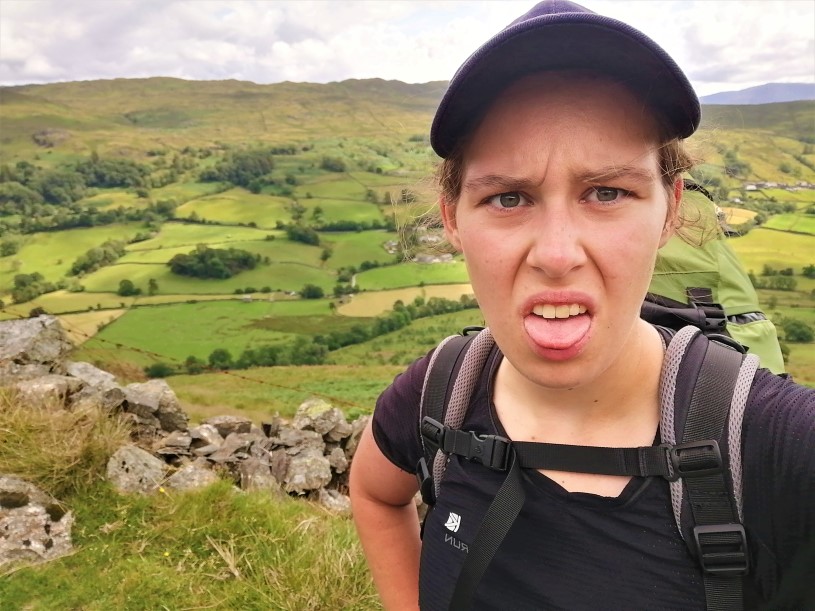 The next day saw me pretty hastily descending from my campsite out of some creepy mist, but then continuing past some lovely lakes suitable for camping next time. Then it was into the lowlands for a bit. Some dodgy signposting did finally lead me to a lane which I plodded happily along. This led to my 'climbing' for the day, on a half-inviting half-ominous looking path to the Bretherdale Valley. Here I found a nice place to camp next to a ruined building and hid from the rain.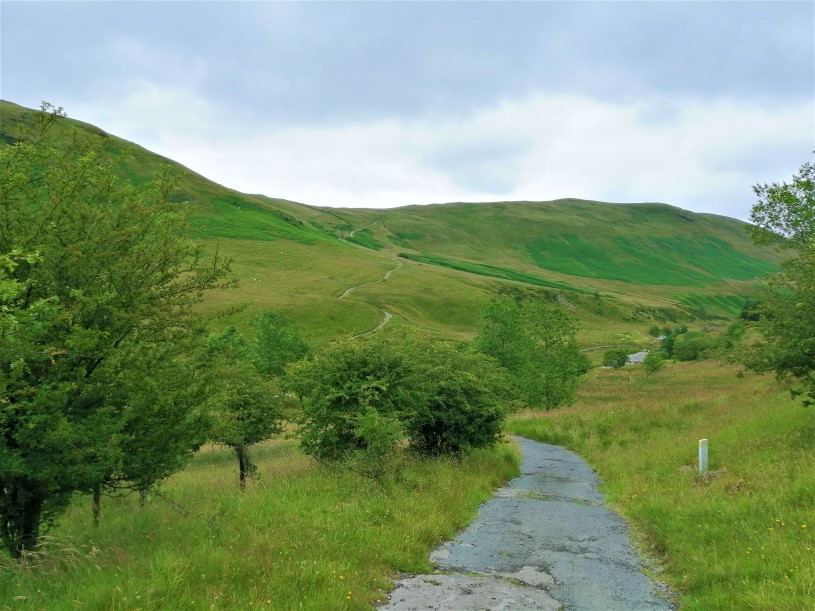 Wild camping and cafes
The forth day had me cross the M6 in what felt like a milestone in my walk. My original plan was to camp on the top of the Calf in the Howgills, however looking at how I was feeling I decided against this and instead wandered along Howgill Lane and then followed a footpath a short way into a valley. Here I had my favourite camp of my trip (mainly because it didn't rain…) and I was able to dry some kit on the stone wall of the sheepfold that was also sheltering my tent.
I also had my funniest experience that evening and the following morning. In the evening a group of five people cheerfully came past me, all saying hello. As I woke up the next morning, another man came past me who had also been camping. When I reached Sedburgh I decided to have breakfast in a cafe. I was surprised when I walked in and saw two men from the group of five already sat in there. I was even more surprised when the camper from that morning walked in, especially since I'd somehow beaten him there!
The rest of that day carried on fairly usually, I had a brief stop in Dentdale and had some encouraging conversations with a few couples walking the Dales Way. I found the Craven Way up Whernside similar to the Garburn Road in that it just went on for ages, and this time the views were not as good either, with miles of moreland, lowering my morale. I found somewhere to camp away from the Yorkshire Three Peaks path, but towards the end of the evening the winds picked up (I looked later and it said up to 45mph!) and the rain came down. This meant I only got to sleep at about 2am and I woke up at about 5:45 am.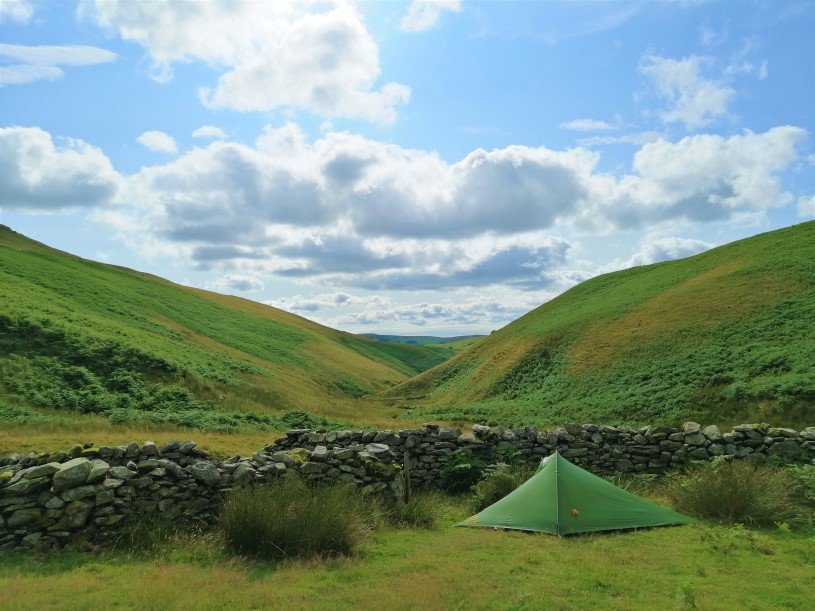 I decided to get going as soon as I woke up – it seemed pointless lying listening to the rain. As I walked down off Whernside I felt a weird sense of content and happiness – I seemed to be the only one out in the strong winds and mist, yet I felt completely at ease and was enjoying it.
I hopped around the bottom of Ingleborough and rejoined the end of the Three Peaks path to Horton-in-Ribblesdale. There, I saw approaching, a figure which gradually turned into my Dad! I was very excited to see him, and him me. Soon we were driving to the nearest Pizza Hut on our way home (something of a tradition), and I was left feeling tired but proud.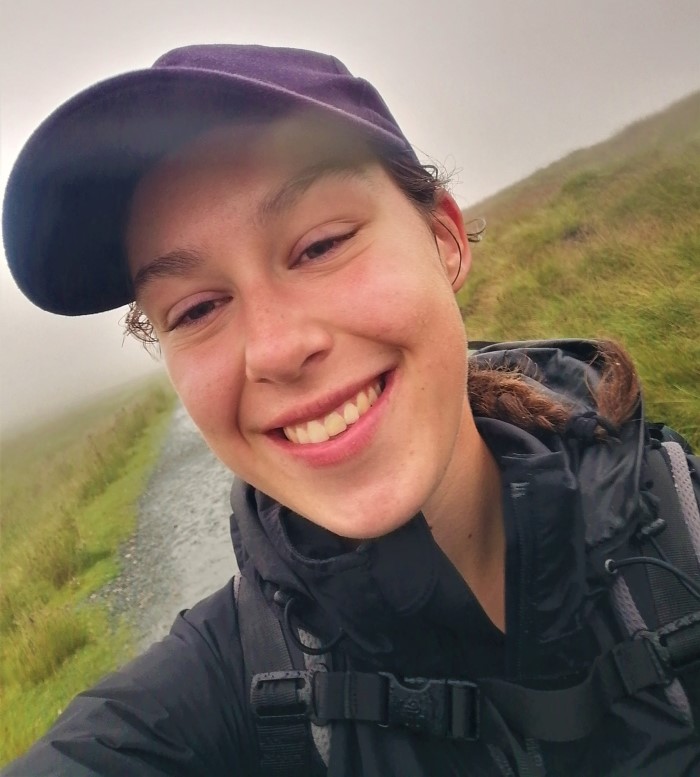 On reflection
The main aim of this trip was for me to gain experience and consolidate skills. I definitely managed to do both of those things, with the navigation on top of High Raise and camping in 45mph winds.
I also learned several things, the main one being that even when you love walking by yourself, two days with very limited human contact is probably a bit much. Next time I'd either take another person with me or do a more frequented trail so that I could continuously bump into other walkers.
I also learned to never underestimate 'little hills' if you are doing several of them in one day, especially with a big bag!
I'd like to finally thank Tim Moss for setting up The Next Challenge so that I was able to do this trip. Without his help it is very unlikely that I would have had these experiences. Thank you, Tim!
---
The Next Challenge Grant
Natalie received a £50 award from The Next Challenge Grant and a £150 equipment from Ghyllside Cycles.
The money came from me, other adventurers and members of the public.
Do you have an adventure idea that you need help with?