65 year old architect and Perthshire resident Sue Manning recently went walking in the mountains with her pack pony Kirsty.
She won a Next Challenge Grant in part because she wanted to show that it is possible to have an adventure at any age, travelling slowly and without going too far from home.
---
The Next Challenge Grant
Sue's trip was supported by The Next Challenge Grant, an annual bursary for aspiring adventurers.
It's funded by me – Tim Moss – several other adventurers and crowdfunded public donations.
Since 2015 it has supported 50 different expeditions with awards from £50 to £800.
---
Traveling with Kirsty the pack pony
by Sue Manning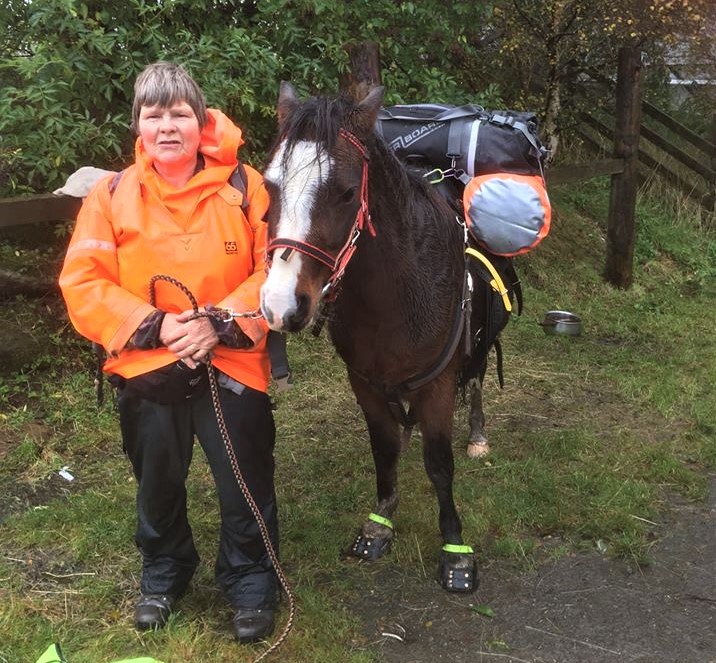 9th October
We set off in driving wind and rain, from home on Loch Tay over the hill road to Bridge of Balgie Glen Lyon.
The weather got worse and worse as the day progressed and I was completely wet through by days end. Fortunately the new waterproof kitbags kept most things dry. I stayed in a friend's camper van, with Kirsty in their field.
10th October
A second day of rain and we went over the 'Kirk' road from Innerwick to Loch Rannoch.
The first part of the track was very steep and stony and I had some problems persuading Kirsty up the hill. Too wet, too steep and too far!
Once at the top of the hill things got better and it even stopped raining for a while.  Walking down through Rannoch woods was lovely and the mood improved.
We camped at the forestry commission campsite at Loch Rannoch. My tent pole broke, so I was in a soggy mini-tent and Kirsty in a corral.  The corral I use is a portable electric fence using folding poles minus the electric energiser (in a bid to cut down on weight).
I made good use of the campsite kitchen facilities to cook and store the horse saddle etc. The warden came to collect my camp site fee and told me about a yellow weather warning!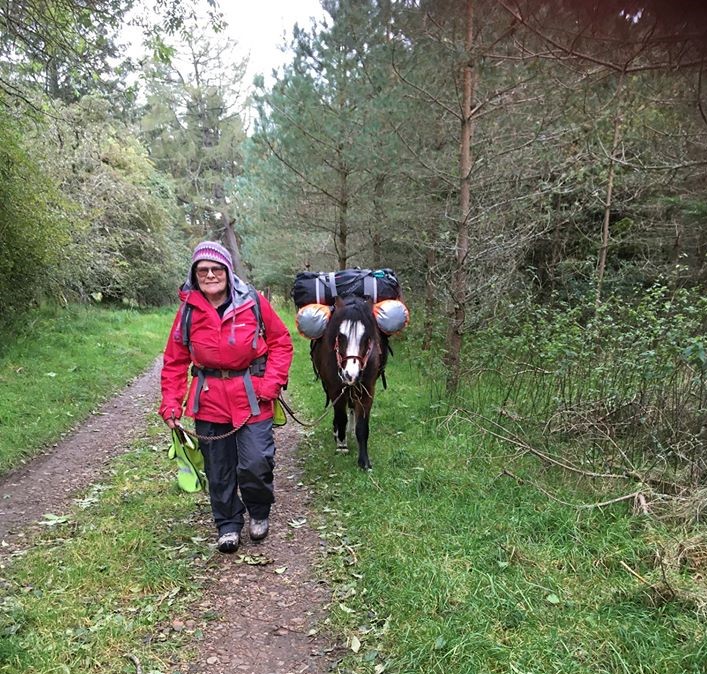 11th October
Rain all night and a damp morning.  Loaded up again and off to Kinloch Rannoch to meet up with Lindsay, an old friend and a great adventurer and extreme solo lightweight traveller.
I always feel over burdened beside him, although today he had some firewood and a bag of hay and apples for Kirsty.  After some slightly unnecessary shopping at the village store (didn't want to pass the opportunity by!) we headed into the hills and more rain.
We had a slight panic at a locked gate before we found the right way hHorses can't get over locked gates). That night we stayed in an estate hut/bothy where there was a big wood burning stove. Just the thing with the wind and rain howling around!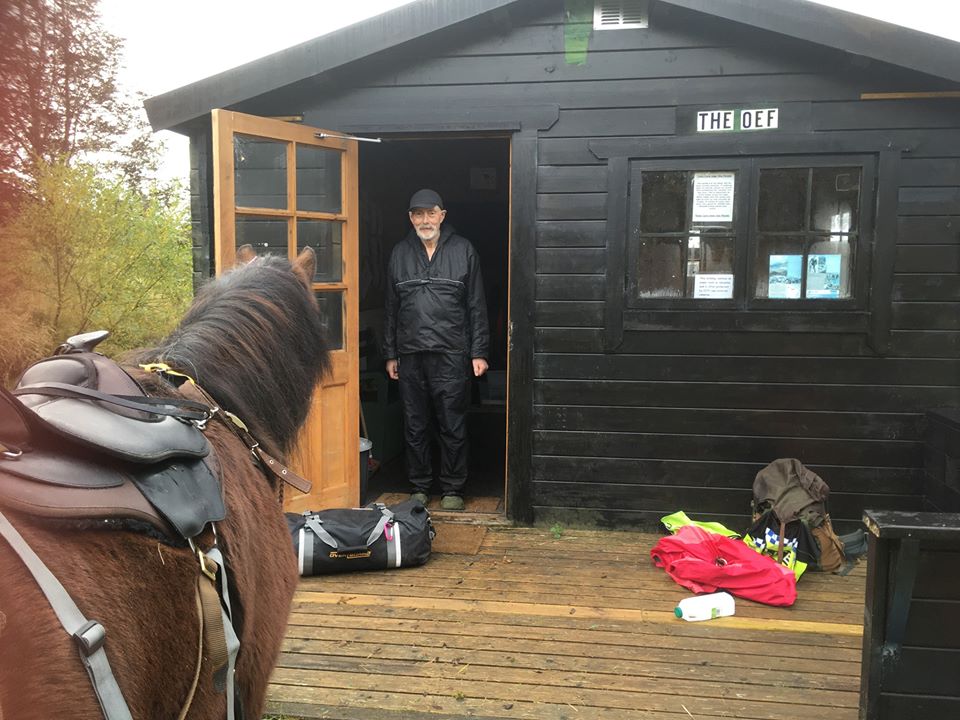 12th October
Although damp in the morning, the weather improved as the day went on with even some sunshine in the late afternoon.
We walked on track and road around Schehallion to the Braes of Foss car park, and into and around Dun Chollich Community Woodland.  But at nightfall we hit trouble.
Only 100 yards from our hut accommodation was a steep bank, a narrow gate, a metal bridge over a river and dodgy looking steps! Kirsty would go no further.
We unpacked the bags, took the saddle off, tried cajoling, but it made no difference. Too dark to look for an alternative we had to corral her where she was and hope for the best.  It was a cold night in the visitor hut, but at least we were dry.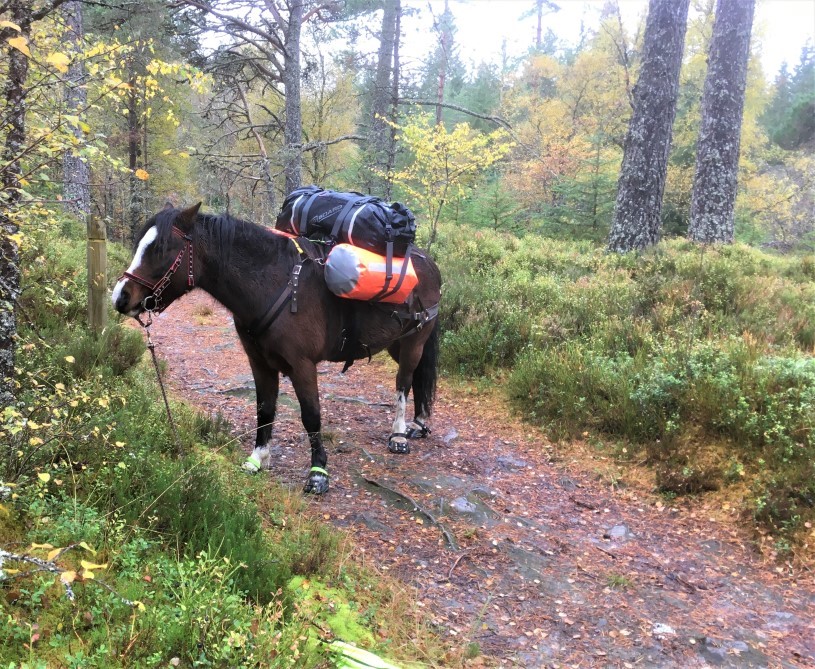 13th October
The next day I walked Kirsty across the river lower down, where we should have crossed the night before. My daughter Tasha joined us and took lots of photos.
We said goodbye to Lindsay at Keltneyburn, and had a lovely lunch stop by the river Lyon.  Then through Boreland Forest where it started raining again.
The last 4 miles were on the main road, and with dark fast approaching, and still more than a mile from home we were at risk from the traffic.  However, we called on a local farmer who kindly lent us a nice dry barn for Kirsty for the night, along with a big armful of hay!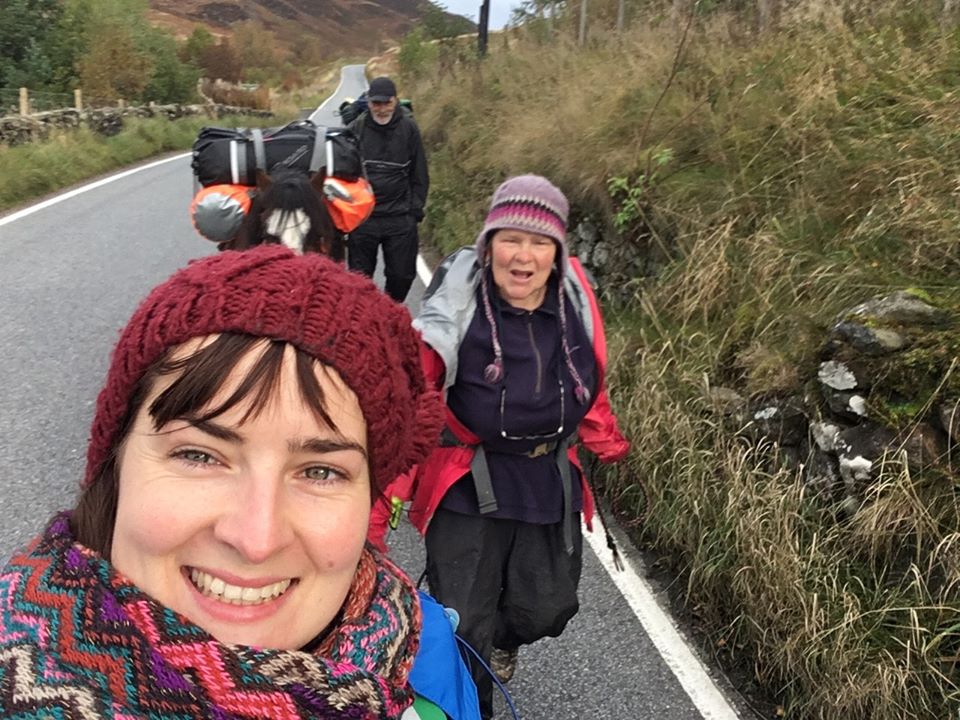 14th October
Finally the sun came out. I collected Kirsty from the neighbour and dried out the kit.
I can say that the trip was certainly a challenge and an adventure. There were times when I felt like giving up, but Kirsty was a wee trouper and kept going (most of the time!) the saddle and kitbags didn't give up, so how could I? Next time though, I'll go for better weather!
On refection it's good to experience the bad weather; there is less to fear next time! I have a few kit adjustments to make and a tent pole repair, but otherwise it's on to planning next years trip now!
Many thanks for the opportunity and thank you to everyone who donated.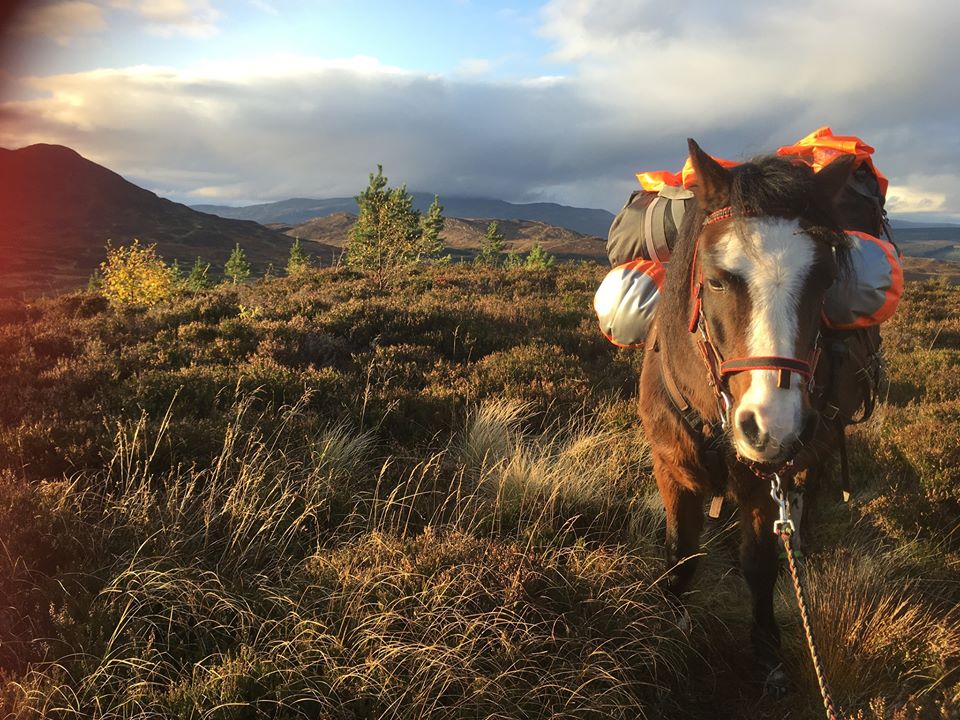 ---
The Next Challenge Grant
Sue received a £100 award from The Next Challenge Grant.
The money came from me, other adventurers and members of the public.
Do you have an adventure idea that you need help with?
---