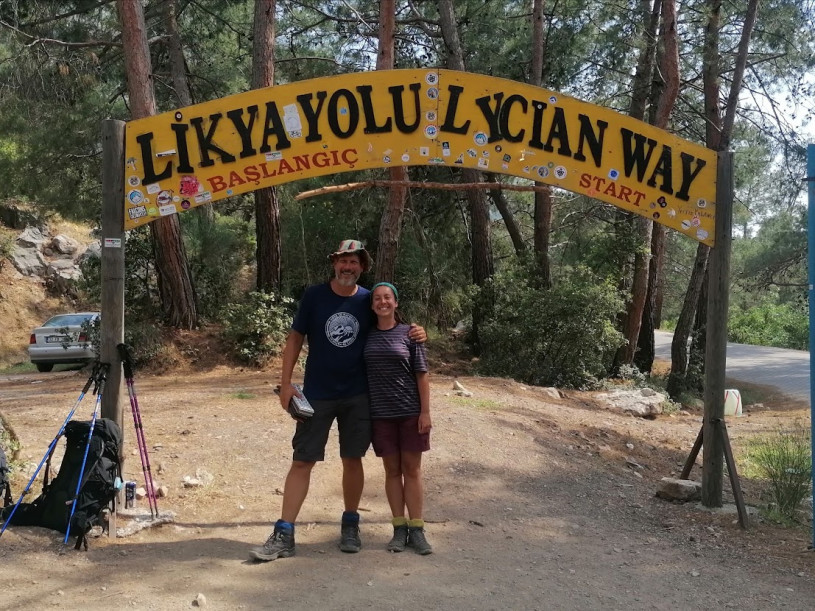 Jes and Pete won a Next Challenge Grant in 2022 to walk the Lycian Way in southern Turkey. This is the report from their adventure (caution: may provoke severe wanderlust).
The Next Challenge Grant is a crowd-funded adventure grant which has supported over 70 adventures since it was founded in 2015. Applications for 2023 are now closed, but you can read about past winners and donate here.
---
Walking the Lycian Way
by Jes Baikins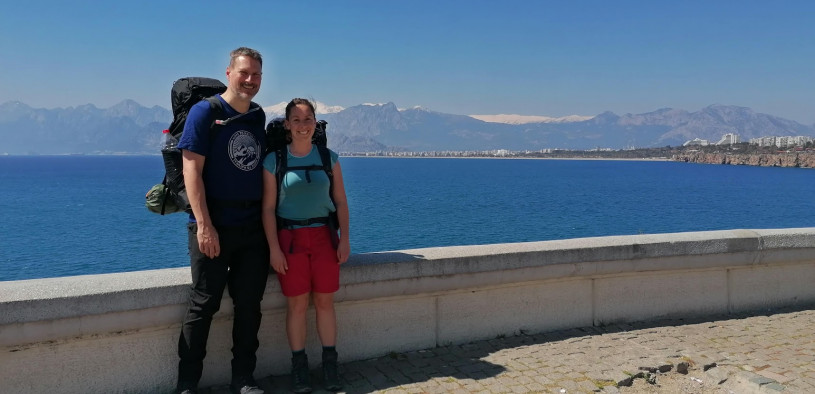 What is the Lycian Way? (in Turkish it is Lykia Yolu):
The first, and probably most famous of Turkey's long distance trails. The Lycian Way runs from Fethiye to Antalya, roughly following the coast. It is around 550km and goes up and around mountains and drops down to picturesque coves. It visits a mix of remote villages, tourist traps and ancient ruins. The route was created in 1989 by British expat Kate Clow to link cultural highlights from the ancient Lycian civilisation. The Lycian Way enables hikers to experience not just great views and nature but amazing history too.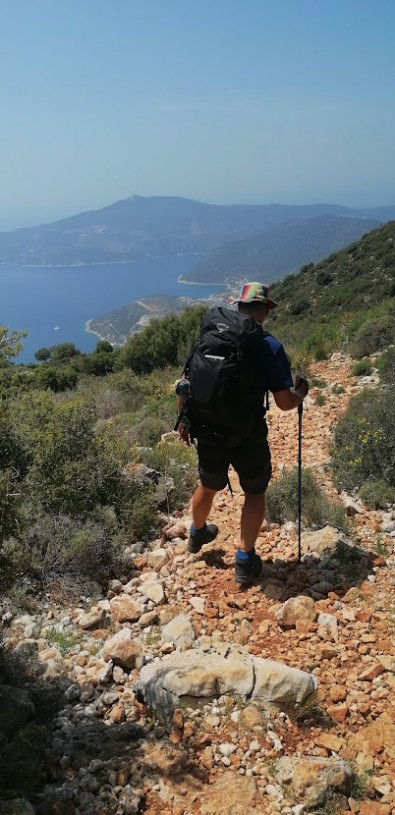 Why we chose the Lycian Way
For Jes, the desire to walk this trail started over 10 years ago as she used to work at one end of it. For years she saw the 'start' sign but never got round to walking it. 2022 felt like her last chance to walk the whole trail as she is starting a new career as a teacher (and teacher holidays, although long, have the wrong weather conditions for the hike).
Pete didn't realise he wanted to do a massive hike until Jes mentioned it. He had always wanted to take part in a big challenge though didn't know what it would be. The timing felt right as, after 22 years running his own business, he was feeling burned out with work. He wanted to support Jes and help her complete the trail. And, as a bonus he also loves hot countries and this seemed like a great way to spend lots of time in the warm.
We decided to walk the route in reverse (from Antalya to Fethiye) so that every day Jes could feel like she was getting closer to home.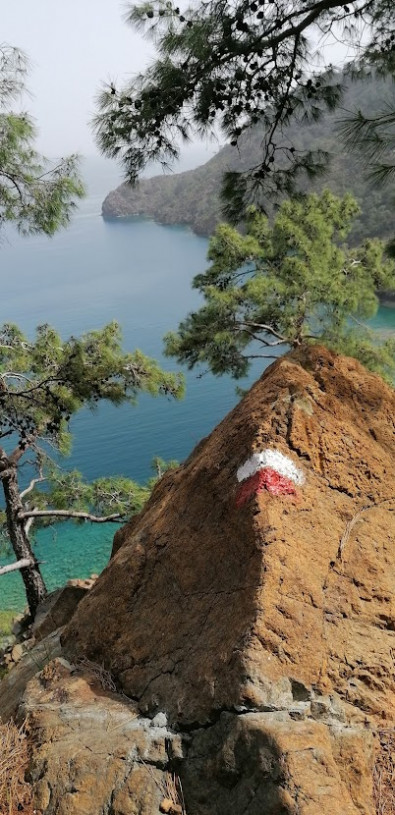 Our prep and research
We wanted to do the trek on our own schedule. We bought the official guide book and this gave us access to the Komoot app gpx files. We also gathered a spreadsheet of all the accommodation possibilities and contact details as we knew most of these accommodation options were just local families with spare rooms and were only contactable by phone.
Most importantly we watched a lot of YouTube videos from people who had hiked the Lycian Way already. We recommend watching Ellis Flipse on her At Home In Turkey channel and also Sarah Williams of the Tough Girl Podcast. These videos gave us the most useful insight into the terrain, weather, food, potential accommodation and more. They gave us the confidence to believe we could manage the trek. Though there were a few bits that had us feeling scared (rope bit near Kas we're looking at you!).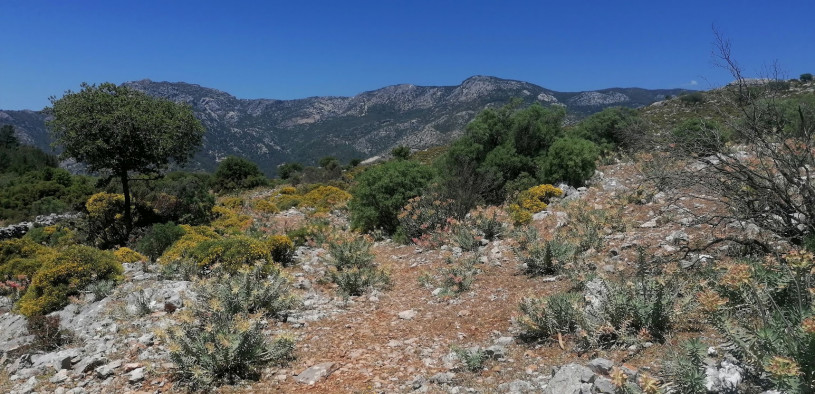 A few of our key highlights
We allowed ourselves two months to complete this one month of hiking and this truly made it a special experience. We were able to take our time and always stop and swim in secluded coves. We could choose to spend extra days enjoying the most beautiful and interesting places we visited (or just rest). We strongly recommend taking extra days around Ucagiz in order to kayak over the sunken city of Kekova. We really enjoyed both the ancient and modern local culture we found. As well as the sunken city of Kekova we visited five other ruined cities. Each was remarkably well preserved and truly fascinating, with distinct differences from each other. At the same time we enjoyed immersing ourselves in the Turkey of today. The best way to do this was by staying in family run pansiyons in the remote villages along the way. The food was incredibly tasty and all locally grown. Your new Turkish mum will happily point out to you the very walnut tree, bee hive or pen of goats that each element of your breakfast came from. At one place Jes even ended up being roped into feeding the baby goats.
Mostly the way is very dry and with scrubby vegetation, which makes it all the more amazing when you reach the top of a ridge and discover a true Shangri-la in a valley in the mountains. There really were countless stunning views on this route. Indeed, for the first few weeks (before we were engaged) Jes would say to Pete 'this is a proposal worthy spot' half a dozen times a day. He eventually got the hint and we got engaged while paddleboarding off the beautiful and very chill village of Cirali (another place we would recommend spending some rest days).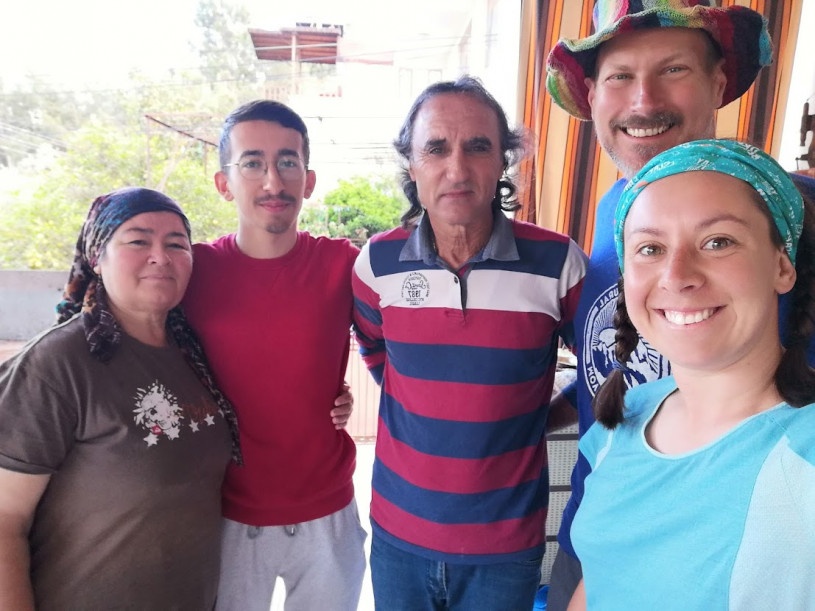 A few challenges we faced
On the 3rd day of our hike we climbed higher than Ben Nevis, above the snow line and had to traverse slopes of solid ice. Not what we had signed up for and definitely not what we were equipped for. At the top we even met a grumpy Swede coming the other way. He said he had just survived falling 200 metres down the ice on the next section we were due to walk.
On many occasions we were chased by dogs and even goats. They breed both of these very large in Turkey. The dogs you come across are either strays, packs of strays or guard dogs, and either way they tend to be loud and noisy. Though we are dog lovers we did struggle to stay calm and keep walking, especially when they were snarling and drooling at you.
For a couple of weeks we'd been looking forward to one 'easy' flat day of 25km which would take us into a town called Finike. But on that day we encountered headwinds of 40km and walked for 25km straight into a sandstorm. Even the easy days on this trail are out to get you!
The midway point of the hike is a very pretty town of Kas, another place we'd recommend taking some time to enjoy. Unfortunately Jes suffered from food poisoning (from soup!) here and we weren't able to explore and take advantage as much as we'd have liked. It also knocked us off schedule by a few days and we had to somehow take it easy for the first few days once we restarted our hike.
The lasting recollection of our hike is that nearly every day there was treacherous footing, sharp thorn bushes and precipitous drops. It was a masterclass in mindfulness as we had to concentrate on every step we took, as we felt it may well be our last. As a result we were often demoralised by how our walking pace felt so slow compared to what we were used to in the UK. On a few sections you're lucky if you are able to make 1 km an hour.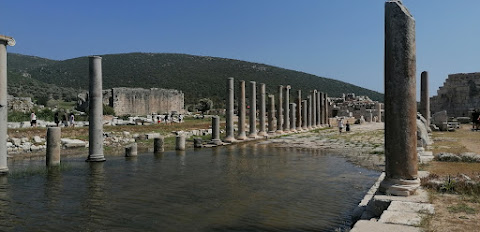 How we felt finishing it
Wow. Walking through the arch that Jes had seen so many times before was magical. Although physically exhausted and mentally drained, it was the best feeling ever. Especially as we had saved a beer to drink there!
Once that initial feeling had subsided, we realised we also felt physically stronger. Though we were insistent on no more walking for a few days! Mentally we were more mixed. We came out of this confident that we can tackle big challenges (particularly together) but also more nervous and scared than when we started. This hike was amazing but there was not enough recovery time between scares and dangerous events. A bit like walking on eggshells for 45 days continuously! We felt proud that we finished, as we didn't really believe we would succeed when we started. Pete no longer felt burned out! And Jes felt like she'd walked home.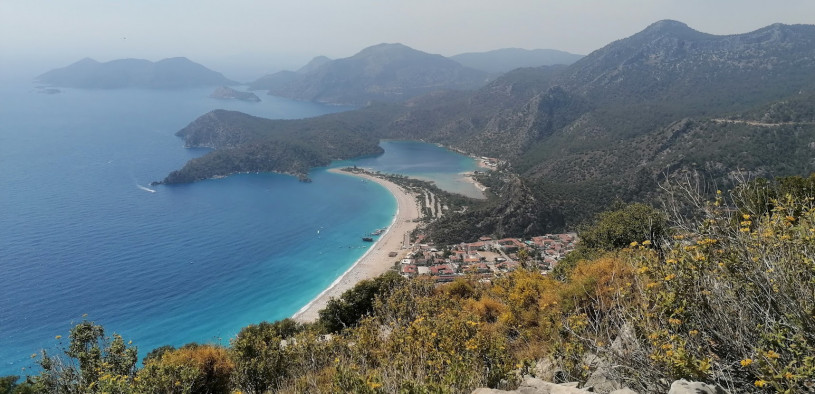 How we feel 6 months later
We are married now :D. We also find walks in the UK VERY easy in comparison to Turkey. The terrain here is safer, softer and less mountainous! We feel so happy to have completed our challenge and know that in the future there will be another challenge for us. Right now we are attempting to return to our normal lives and find the excitement and adventure in them. Though we still go out hiking at every opportunity. We enjoy cooking and eating Turkish food, listening to Turkish music, watching Turkish TV and providing advice to those looking to hike the Lycian Way in 2023.