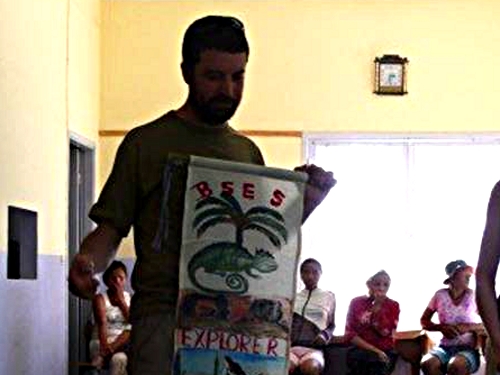 This is the first in what I hope will be a long line of a new feature entitled 'My Next Challenge'.
Each month we'll have a new person tell us about an upcoming adventure – what they're doing, why they're doing it, what they're worried about and why they're excited.
I first met Ewan when working for BSES and he got in touch with me last week to see if I would join him on his commute (very topical given this month's Everyday Adventure mission). I, of course, said yes.
Here's his plan…
I'm Ewan Laurie and my next challenge is to walk from Guildford to Wimbledon (25 miles), to raise money for Money For Madagascar, who support some of the world's poorest people. I was lucky enough to lead an expedition to Madagascar for BSES in 2007, and the generosity of even the poorest people there has remained with me since.

I'm a teacher in Wimbledon and we have our biennial "Make A Difference Day" on Friday the 5th of March and loads of things are happening for lots of different charities. It seemed like a good opportunity to raise money for Madagascar, but how?

Some of the staff are being sponsored to walk to work and I though I'd take that a step further and walk to Wimbledon from Haslemere, where I live, which is about 40 miles. Then I realised that I had a parents' evening the night before and wouldn't be able to start early enough to make it on time, so I'm starting in Guldford instead (hopefully our only compromise).

If you think this is something you think you'd like to support, please point your browser at the following link and write "MADD Walk" in the "special instructions" box, so they know you're supporting our walk:

http://www.moneyformadagascar.org/howtod.htm

I haven't had much time to put the idea together, so I'm extra pleased that Tim's going to join me (we go back a few years, but we've never done something like this together). Hopefully Roy, the Spanish Assistant is going to come too, which should add a cultural dimension.

I need to get to work roughly on time, so the plan is to drive from Wimbledon straight after the parents evening, grab a bite to eat and start trundling through the night.

You can plan a rough walking route on Google Maps by typing in two postcodes and selecting the "walking" option from the drop down menu in the "get directions" function. It's slightly worrying that the website then warns you that there might not actually be a footpath along sections of the route, so torches are going to be important!
We'll be setting off on Thursday evening and you can follow our progress on Twitter (the updates are visible on the right hand side of this web page).
What's your next challenge?

If you've got an adventure planned or an idea in your head and you think it's something I can help with or which might make a good feature like the one above, why not drop me a line?