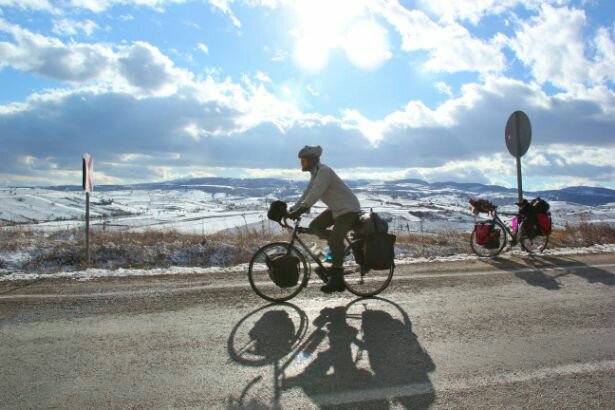 Over the last few weeks I have sent a lot of emails.
1,300 people applied for our expedition grant and I've been in contact with them all.
Crudely, my emails have either said 'Congratulations, you have won' or 'I'm very sorry but your application wasn't successful'.
And, as you'd imagine, I've had quite a range of responses.
The negative ones really stood out at the time. But it's been great to read through them all again because it's highlighted that the vast majority were really positive.
A sample of them are below. The hug, 'make hope for people' and last one are probably my favourites.
---
Emails I received in response to my expedition grant
Thank you! Definitely one of the best emails I've ever received.
---
Whatever. You are gonna take the idea for you advantage. I wouldnt Go to London to do it. I have a job here at Malta and I will Go back to Madrid to work at a different job. Im afraid you make a big mistake with my idea. Im gonna do it for free at Madrid. Good luck.
---
Thanks for you're reply. It means a lot and I appreciate being considered. I love what you're doing and can't wait to follow who was successful with the grant.
All the best and thanks again:)
---
Thanks very much for considering  me. I realise that there were a lot of great ideas out there and I wouldn't envy your job of deciding the winner.
Please pass my best regards onto the winner and wish him/her the best of luck.
---
It's great to hear back from you :) I look forward to seeing the trips you will fund!
I'm not 100% surprised you decided not to fund me. It is expensive and I'd planned self funding it anyway, I just saw your grant and thought I'd give it a go. It's great to get as far as I did; really helps the motivation for 'yeah, it's a great idea!', so I can't thank you enough for that anyway.
---
Obviously it's a bummer that you don't have an endless pool of money to fund all 1000 of our ideas ;P Still, this is such an awesome concept! I can't wait to hear about who won the grant and see the outcome of their expedition.
Since you offered advice, it would be silly of me not to take you up on it!
[Exchange of emails]
Thanks so much for your response. I really appreciate taking the time out of your day to get back to me in depth like that – I know you're probably so busy!
---
Wow!  Thank you so much!  I'm extremely happy and excited to accept!  I'll get all details to you once my feet touch the ground again.
Thank you once again for helping me realise this dream adventure.
---
Hello, thank you for sending the mail, but I know I was not lucky this time I'll keep trying. from Costa Rica will send a big hug.
---
Thanks for getting back to me, I understand it must have been a tough decision.
Being shortlisted made me happy, It felt good to have been acknowledged for my journey.
I know it will be tough and dangerous and possibly beyond my abilities. But for me that makes me want to achieve it even more.
---
I think you can't remember me because you are so busy.
I even registered for your grant. But when you said no, I did not lose my hope. I did not have anything specialy money. But I just wanted to do my trip. And now I'm in that.
Its about 10 days that I have a bike, but it is about a week that I'm im my bicycle trip.
Here are some photos, I'm pedaling in Iran. I really did not have nothing. Make hope for people by my photos.
---
yeah help & ideas & advice always
but shame you dont explain WHY our ideas got rejected – making it a bit suspicious & question the criteria you picked,.
it sadly seems to me sometimes the adventurer /cyclist group of people is a small circle of self adoring friends & if one dares to question it or try to enter it (as it s supppsedly so open..) all one gets is closed door like in a mayfair gents club
---
Thanks for the email. Can I ask why my application fell short (apart from the vast number of applications you received)? I'm trying to make it a reality, but it's taking months of work, savings and soul searching. Any advice or contacts would be great!
Thanks a mill!
---
Thanks Tim, it´s ok, i definitely will make this trip next year, i can send you some photos if you want, thanks a lot.
---
Thanks for your email. I'd like to formally reply with the requested info in a moment, but first…
WOOOOOHOOOOOO!