Last month we awarded a series of small grants to some people with great adventure ideas. Over the coming months, we'll hear more about each of those adventures in the winners' own words as I host guest blogs from them all.
One of the winners was Elise Downing. She started her challenge of running around the coast of the UK a few days ago so she's up first.
Here she tells us about how she came up with her idea in the first place and shares a little secret: she's not really done that much running before.
---
Running the UK Coastline
by Elise Downing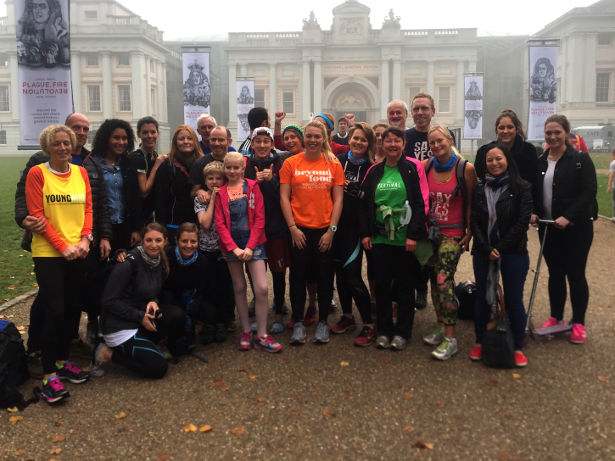 It's the morning of Day 3 of my run around the UK coast and I'm sitting in a café in Gravesend.  I ran 24 miles to get here and I have another 4,976 to go before I reach the finish line back in Greenwich next August.
I've noticed that when I tell people what I'm doing, they start to assume I know a lot about running.  They think I'm an experienced runner.  They think I'm fast and competent and have been doing this forever.  Without sounding too rude, they're wrong. Completely wrong.
On New Year's Day 2013, I sat in my tiny apartment with my cousin and made a long list of resolutions.  One of mine was to run a half marathon.  The next day I set off to start training. I had no idea what I was doing and my kit was laughably low-tech.  I was running in an old sweatshirt and carrying my very cheap phone to use as a stop watch.  There was something about running that I instantly loved though.  It was so self-reliant, just me and my legs, and it made previously impossible seeming things become possible.  Running a mile, running 5k, running a half marathon… they had all felt impossible once.  Now they weren't and I began to wonder: what else can I do?
Skip to the beginning of this year and I was working in London, doing a job that I definitely didn't hate and having a reasonable amount of fun eating and drinking my way around the city.  Yet, I wasn't quite happy.  Life was okay but not amazing and I wasn't excited.  And perhaps I'm intolerant or perhaps my expectations are too high, but I just can't put up with only feeling okay forever more.
The idea of running around the coast of the UK mainland came to me on a gloomy weekday evening in February and it was an idea that I just couldn't shake.  That gloriously triumphant feeling of sweat and dirt and exhaustion that I'd briefly glimpsed at various times– could I feel like that for ten whole months?  Was that an option?
There wasn't much to lose by trying, I figured. I told my boss, I told my friends and I set a date.  Thinking about this trip made me feel so alive, so excited and so much more than just okay.  It hadn't really occurred to me that anybody else would be interested in it.  The more people I spoke to though, and the more people I met, the more it seemed that they were, in fact, interested.
Gradually, the idea of getting people to come outside and run with me became pretty central to the whole run.  Being outdoors is magical and important and, frankly, it would just be selfish to keep that wonderful sweaty-dirty-exhausted feeling to myself if there's any hope that I can share it.
I'll be sharing as much about my journey as I can, both online and hopefully in person too.  If you want to come for a run, or if you live by the coast and want to eat cake with me, or if you just want to say hello then, honestly, I would love to speak to you.  You don't have to fly across the world to have an adventure and I can't wait to explore all the nooks and crannies of this country I call home.
---
You can follow Elise on her blog, her Facebook Page, on Twitter and on Instagram. Wish her luck!