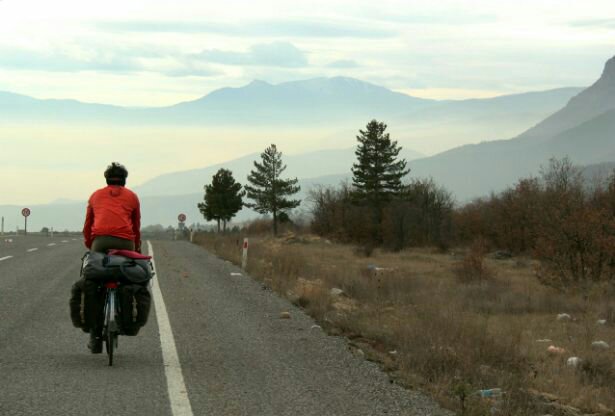 The story below is ironic/self-parodying/not serious!
I hoped that was clear but some of the comments suggested otherwise so I have added this introduction.
The purpose of the piece was to pillory the self-satisfied tone that "adventurers" occasionally adopt (I'm living the dream while you're wasting your life) and highlight the evident flaws of taking such a position (e.g. it's selfish and doesn't contribute much to society).
I hate it when "adventurers" make it sound as if what they are doing is somehow better than what others do and I've expressed similar sentiments several times before (for example in my article Expeditions Are No Better Than Offices).
I hope this piece conveys a similar message.
What have you done while I've cycled the world?
While I've cycled the world what have you done with your time?
Have you lived your life as I have lived mine?
I've been to countries, new places, met people, new faces,
I've camped out in mountains and wide open spaces,
Yes, I sleep where my hat is whilst you're stuck at home,
Trapped indoors while I'm free to roam,
I don't mean to insult ya,
But I've experienced culture,
The likes of which you'll never see,
(unless it's on wide screen TV).
A jaw hits the floor as I gaze out in awe,
At sights of such beauty never seen before,
And eyes look back, wide with amazement,
As I wheel my bike up onto the pavement,
They love me these people and I love them too,
I am an adventure, I'm a trip to the zoo.
You love your family, probably see them today,
I've not seen mine once since I've been away,
You've been out with your mates and had lively debates,
While I'm stuck in Neverland using Google Translate,
And if truth be told,
Conversation gets old,
When most of the time,
You talk in mime.
You work hard each day to pay your way,
While I just play at making hay,
You contribute taxes and cover the bills,
All I do is cycle up hills.
Sometimes I miss them, family and friends,
But there's just one thing on which this depends,
The problem is that life never tends,
To tell you what's around the next bends.
So, while I've cycled the world what have you done with your time?
You have lived your life,
And I have lived mine.