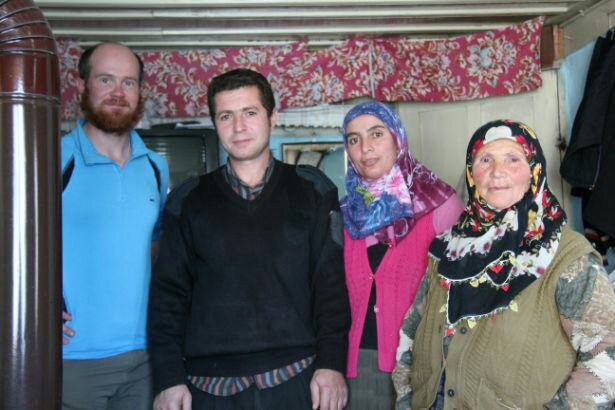 The morning was dirt tracks, hills and pot holes. As evening encroached, the road widened and the sky turned orange as we sailed onwards under a headwind.
We knew the next town could not be far away and soon its approach was signalled by the glowing yellow rectangles of inhabited buildings and by the barking of dogs, too slow to catch our flying wheels on that particular evening. Men huddled in heavy coats around small round tables, sipping hot tea from tiny glasses and we took that as our cue to stop.
I ducked under the low door frame and entered a room that could have been from any period in the last 100 years. I scanned the room, searching for the proprietor (no "BARISTA – My name is Brad" badges here).
Tall, heavy set, thick moustache. I handed him the Turkish version of The Magic Letter.
(Hello, we are Tim & Laura. We have cycled here from the UK. Is there somewhere safe we can camp…)
Sit, he motioned. And sit we did.
Chai? He asked. And chai we accepted.
From his days in Austria and Laura's lessons in school, it was communicated in German that his friend with whom we were sat ("Marhaba", we nodded to the friend) had a niece who taught English and would help us.
We drunk the tea and were then led with our bikes down a series of unlit back alleys. Trust can be gained quickly in some circumstances.
What we were presented with was so ideal that we wondered if there would be a charge attached (there was not). A downstairs flat all to ourselves with beds made up, a bathroom and a kitchen. The English teacher told us to make ourselves at home then come up for dinner. We did. Dinner was excellent and shared with three generations of family. We went to bed sated in both body and mind.
Morning came and, the kitchen devoid of water and gas, I heated water from my bike bottle on our camping stove to make a huge pan of semolina. We scoffed it down, packed our bags and made our way to the door when a knock came from it.
"Good morning! Would you like to come upstairs for some breakfast?"
Oh. We've actually just had breakfast and should probably get cycling. We have a long day ahead.
"But we've prepared a breakfast for you upstairs", the English teacher replied. Was that a little bit of hurt in her voice?
Had she heard us? Did she realise we'd already eaten? Well, what else to do but…
"That's very kind of you. We would love to join you for breakfast."
We exchanged a look of moderate desperation (more food?), smiled, shook our heads, steeled our stomachs and followed her upstairs…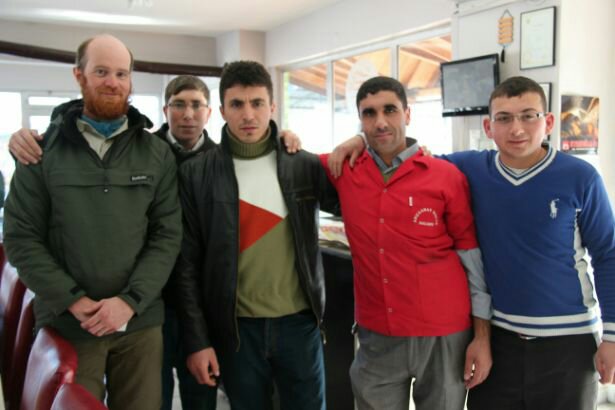 A week later we were welcomed at a kofte restaurant like rock stars: sat pride of place by the wood burner, given the full works – soup, bread, meat, salad – and posed for group photos uploaded immediately to Facebook.
It was welcomed, of course, the alternative being packet pasta cooked on a gas stove in the porch of a tent pitched in horizontal snow.
When we stood up to leave and pitch our tent they looked genuinely concerned. Maybe these tourists don't realise that it's -5 outside?
We tried to explain that we camp most nights (the truth in every country until this one) and were prepared for much worse but we were soon shown to a dusty store room that stank of paint fumes. It was welcomed, of course, the alternative being that snow I mentioned.
Morning came and so did the semolina and the packing. We loaded our bikes to wave goodbye and…
"Come", the manager gestured inside.
We were invited to join him and his colleagues at a table loaded with bread, eggs, olives and tomatoes, and encouraged to eat. What else to do but avoid offence and over eat once more?
Another week and a campsite invaded by locals.
Yes, we are OK.
No, it's not too cold.
Yes, we have food.
No, we don't need anywhere to sleep.
All useless. We packed up our entire tent, sleeping bags, mats, stove and half cooked soup, re-loaded our bikes and wheeled everything through the icy darkness to be shown better accommodation.
And better it was. No need for a tent, sheltered from the elements, with LED lamp provided and fresh baked bread for tea. Thank you.
Morning. Semolina. Pack. Go.
No chance. Last night's invader accosted us as we exited the empty building in which we slept and guided us back through the village.
We knew where it was going and you do too.
We smiled and shook hands with various family members inside the drastically over-heated home but the furnace was not the only thing bringing sweat to our brows. Plate after plate of food presented with a kindness of spirit and consumed out of thanks and from a recognition of duty.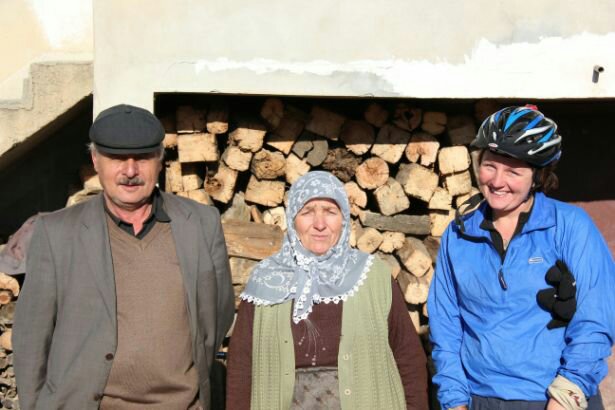 After several such occurrences, our stomachs may have taken a regular beating but so far, we appeared to have avoided any offence by revealing that we had already eaten.
Even the English teacher who at first sounded mildly affronted, we began to suspect had not heard us mention having had breakfast already. She made no reference to it, heaped food onto our plate as normal and we left stuffed to the hilt.
In fact, we had exchanged email addresses with the teacher so that she could write to us about a project she was working on and for a few weeks we held onto our belief in the perfect crime. Until, that is, some time later when the teacher wrote to us.
The title of her email?
"Second Breakfast".