In 2006 Dave Cornthwaite became the first person to skateboard the length of Britain. His 900-mile journey from John O'Groats to Lands End was a warm-up for a much more ambitious skate, a 3618 mile crossing of Australia from Perth to Brisbane, which at the time was the longest journey ever travelled by skateboard.
Here are Dave's Top Ten tips for anyone thinking of embarking on their own skateboard journey.
1.Board
The longboard is your best friend on a long-distance skate and the right choices will save you energy, pain and time. The standard factors for a long-distance board are generic: low standing deck, large wheels, and a lightweight set-up. I skated both journeys using a Carbon Kevlar board made by rollsrolls, but there are plenty of other brands out there to do the job. Ultimately, we all skate differently and no matter what the advice from others, you should make sure you're comfortable on your board before choosing it as a travel partner.
2.Route
Antarctica may be the only continent left to push across, such has been the frequency of distant skate journeys in recent years. Whatever your country(ies) of preference, a decent network of tarmac/ bitumen roads is preferable to mud or sand! At times you'll be forced to take a main highway alongside a torrent of speeding vehicles, but where possible avoid heavy traffic and take quieter roads, it's more enjoyable. If only there was a guide that told you how to get from A to B on the smoothest roads possible, even Google Earth falls short on this one.
3.Supported or Unsupported?
Deciding the base reasons for your journey will quickly help you decide whether to go solo, or take on the added responsibility of having a support vehicle and team. I decided early on that I wanted to raise as much money for charity as possible on my skate journeys, and it stood to reason that a team could do more than just one, tired man. Undoubtedly, my journeys made more of a splash because I had a team behind me, but the glorious simplicity of solo, unsupported travel was lost to a bigger picture.
Pros of a support vehicle: protection from traffic, less for you to carry on your board/ shoulders, someone to help you promote your journey and causes (if indeed, you want this), having friends around.
Cons of a support vehicle: expense, finding a suitable (and patient) driver/ team, arguably a lesser personal experience.
4.Head (Mentality)
Whether you're travelling by skateboard or otherwise, a large chunk of the battle is coping with the distances. It's your mind, not your body or your board, that will see you succeed. Ensure your reasons for the journey are true, do a small (and hard) warm-up if possible, visualise yourself reaching the end of your journey even before you start. And believe in yourself; you can do it.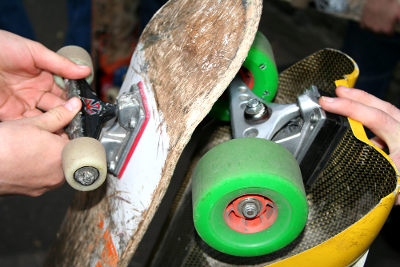 5.Skate Kit
Especially if you're travelling without a support vehicle, keeping kit down to a minimum is essential. Large wheels (at least 85mm) will help you deal with rough roads. Choose good ceramic bearings with double-seals to keep out dust and moisture and lengthen their life. Skate trucks will make a big difference to your journey; I rode on Holey Trucks and had to tighten them just once in 4500 miles of skating. Good solid bushings suited to your bodyweight and skating style shouldn't be overlooked. Don't forget a little skate tool, and if you have a long road ahead of you it's probably best to just carry one spare wheel and post others on in a care package (see No. 6)
6.Other Essentials
If you're skating solo map out your route and send care packages ahead to towns you'll be reaching in a few hundred miles. A few snacks and treats, new bearings, a clean t-shirt, always something to look forward to. If you can, get someone who cares for you to make these care packages, that way it's even more of a pleasant surprise (and reward) when you pick them up. If this is your first endurance journey, be prepared to smell! Carrying too many clothes doesn't benefit anybody; a small bottle of cleaning liquid is much lighter than seven extra t-shirts. If you're going to over-pack on anything, take spare socks – wear two pairs at a time and you'll save yourself some blisters. Here's my clothing list for carrying on the road at any given time, including the stuff you're wearing:
1 x shorts
1 x trousers (for after hours)
1 x hoodie
2/3 x t-shirts
1 x Buff (wear under your helmet – it'll save the helmet from smelling)
5 x pairs socks
1 x hi-res jacket/ vest
Shoes
7.Safety & Responsibility
Wear a helmet at all times. It may sound obvious, but I've seen photos from skate journeys with no lids in sight and while you're responsible for your own safety, it's also worth noting that anyone who has the balls to skate a few hundred/ thousand miles is an ambassador for the sport. Others will look up to you, you become a role model, and if you're not wearing a helmet while skating you're an idiot – not a message to share around.
Skating on roads isn't a safe game. Do what you can to minimise risk. Always wear hi-visibility clothing, try a helmet with bright colours too. If traffic is building up behind you on a narrow road then pull over, there's no point in frustrating or antagonising drivers – they're bigger than you. When it comes to safety and staying alive, there's no harm in overthinking things – get to the end of your journey safely, it'll be much more impressive.
8.Promotion
Most skate journeys are supporting a charity. Even if it's not your main goal – and you shouldn't be embarrassed to admit that freedom, self-fulfilment and fun are your main reasons for the skate – if you have even the smallest bit of attention on what you're doing you could raise funds for a worthwhile cause. On another hand, you may even inspire other people to go and chase their dreams, too, so it's worth spreading the passion about what you're doing.
Make a website, it's an easy, convenient information source about your journey and building it will also help you shape ideas about your project. Ideally, build it yourself using a free/cheap WYSIWYG site like Moonfruit.
Leaflets: On each one of my journeys I carry a leaflet/ business card so people I meet on the way can check in to my site, donate, find out how it's going and maybe help in other ways.
Make up some customised clothing featuring your website, journey name and sponsor logos (sponsors might even help you pay for these)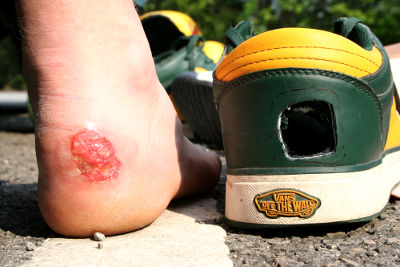 9.Health
Oh boy, you're going to get some blisters! A warm-up journey is a great way to learn how to look after yourself, and it'll invariably teach you that prevention is better than cure. I skated 900 miles from John O'Groats to Lands End and my feet/ body suffered big time – but it was that experience that got me across Australia.
Make sure you get some wear out of your skate shoes before you start your journey, and that includes any spare pairs you're taking with you. Going from old to new shoes is a sure-fire way of cooking up some hotspots. Wear two pairs of socks (a thin pair right next to your skin – try BAM athlete socks – www.bambooclothing.co.uk) at all times, they will rub against each other, rather than against your skin. You'll still get sore feet and blisters will come up, and when you start to feel a new blister get to work and cover it straight away. Some people use tape, others Compede plasters or a little keyhole bandage (raised foam with a hole cut out over the blistered area).
If your blister gets big and pussy, try to dry it out – Iodine works, but so does the sun. If you're going to make an effort to wash anything on your journey, concentrate on your socks. Wet socks aren't cool too wear, and neither are dirty, dry and crusty ones. Clean socks are your best friend when you're skating a long way.
Blisters aside, do at least a basic First Aid course before you set off. A bad fall will require some patching up.
10.You're only human, so be happy and humble
Whatever you're attempting, however far you're going, act like a grown-up. You're about to endure some tough, humbling times, but you'll also be flying on the seat of your pants and it's hard not to feel like the king of the world when you're flying down a virgin hill or pushing over the 1000-mile mark.
Whatever you achieve, the important thing is that you're doing it for the right reasons. Bragging rights don't count! There's always someone out there who has done something more remarkable than you, so if there's praise due for your accomplishments let it come from someone else.
Lastly, you're about to embark on one of the best experiences of your life. It may not feel like it sometimes, when the wind is tough in your face and the road is rocky and the hills ahead are laughing at you, but soak it all up. The hard stuff makes you smile more than anything once the journey is done, because it taught you lessons you never would have learned if you stayed at home. Good luck, skate hard, be safe, and go for it.
Dave Cornthwaite | www.davecornthwaite.com