Kay Emmerson won a Next Challenge Grant in 2022 to bike across Scotland and back. It was exactly the sort of low key, low cost adventure we love to support. This is her trip report.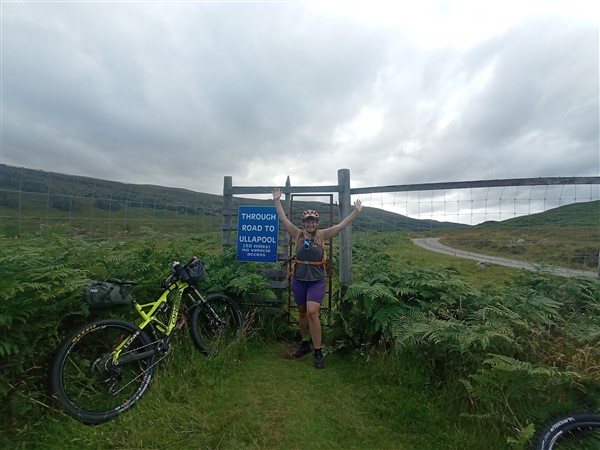 The Next Challenge Grant is a crowd-funded adventure grant which has supported over 70 adventures since it was founded in 2015. Applications for 2023 are now closed, but you can read about past winners and donate here.
---
Bikepacking Scotland coast to coast (and back again)
by Kay Emmerson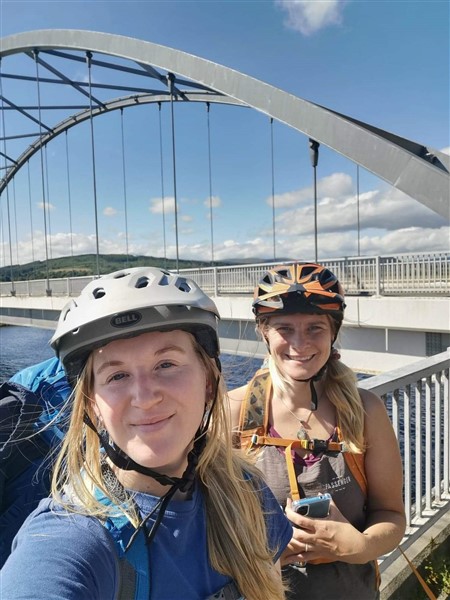 Adventure noun

An unusual and exciting or daring experience
Our trip may not have been as daring or exotic as others – but adventure can be found everywhere and can be had by anyone – hatch a plan and go for it!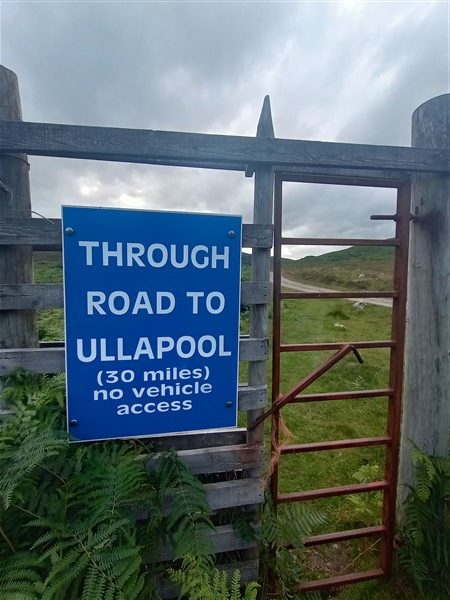 The inspiration:        A gate sign!       'Through Road to Ullapool (30 miles) no vehicle access'
During lockdown I spent hours trawling the internet aimlessly until I came across a random picture of a gate. I just knew I had to get there somehow and ride the track on the otherside… that was the moment I started planning!
The challenges:
To mountain bikepack Scotland Coast to Coast and back again with my epic friend, Katy, who hadn't done a full day ride before!
A looonnnng way from home in Devon! Fibromyalgia; recovery after long covid: not knowing if my health would hold up – not knowing a lot of things but we'd work that out on the way!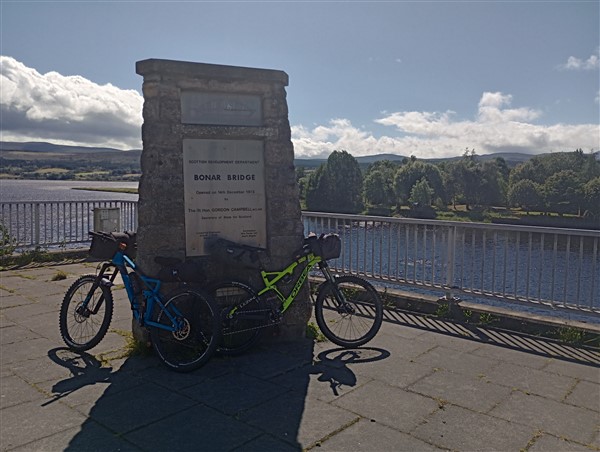 Day 1 – Bonar Bridge to the Schoolhouse Bothy
Its 3pm by the time we set off. Thankfully the country lane eases us in gradually, although the wind has other ideas, the going is easy and we make good progress, before long we reach Croik and the end of the road. To start with I don't spot the gateway, it must be here surely? Yes! I cant believe we're here – we've made it this far – The adventure begins!
The track is glorious, following the lay of the river its easy riding and gorgeous surroundings – huge deer herds and our first eagle. As we start to lose light we see the Schoolhouse Bothy coming into view – we couldn't believe our luck as we had the place to ourselves and it was absolutely perfect! Cosy, welcoming and heavenly!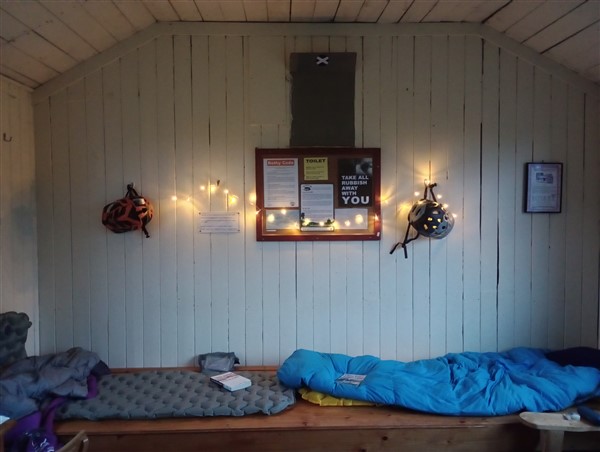 Day 2 – To Ullapool
Off we set, within a short time we were met by the most stunning rainbow engulfing the glen ahead, enchanting the landscape and mesmerising us. Something so vivid and fleeting. We carried on through the rain to Knockdamph Bothy, where we had initially intended sleeping, it was a welcome break from the midges but spooky and damp so we hurried on along our trail.
Legs turning and landscape changing, we start coming into signs of life – a house, farm, tarmacked road and the quarry – before we knew it we were in Ullapool – we actually made it!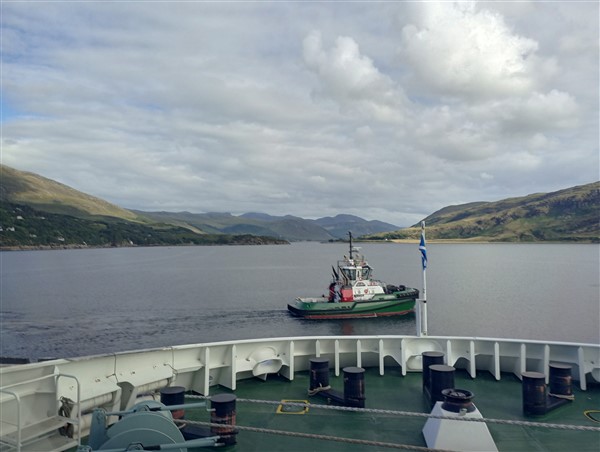 A quick resupply and a sudden decision to get on the ferry – no plan, no idea – just do it! Before we knew it we were surrounded by dolphins and on our way to Stornoway; we bought an OS map in the gift shop and had a look on Komoot – not so much of a plan, but a loose idea forms. Straight off the ferry and on our bikes, light fading, midges increasing and rain persisting we crack on along the Pentland Road feeling confident that well find a camp spot before dark. Oh. Long story short – we spent what can only be described as the worst nights sleep of my life, with the two of us in my single bikepacking tent in agony, with a million midges waiting to feast on us as soon as we move!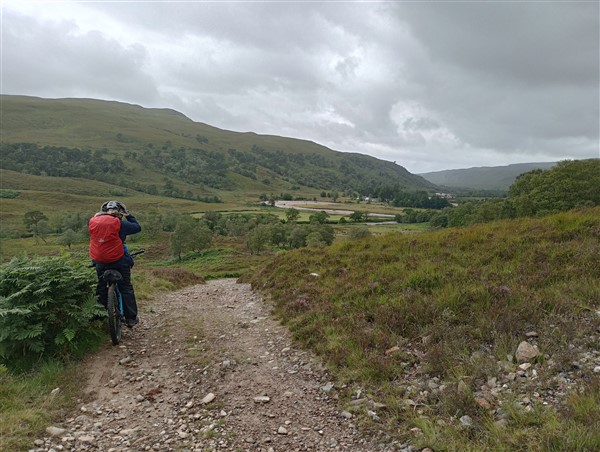 Day 3 – Stornoway
To lift our spirits, we decided that this was the low point and every trip has one…. little did we know! 300 yards into our day Katy had a major mechanical… her derailleur and drive chain was destroyed. So we work hard to sort a temporary fix, but sadly this didn't hold out. Thank heavens for BeSpoke Cycles at The Hub, who saved our bacon! One costly repair later and we were back on track. We had a gorgeous sea swim and cave explore to recover our sanity – a rest day really (if you exclude the trauma!)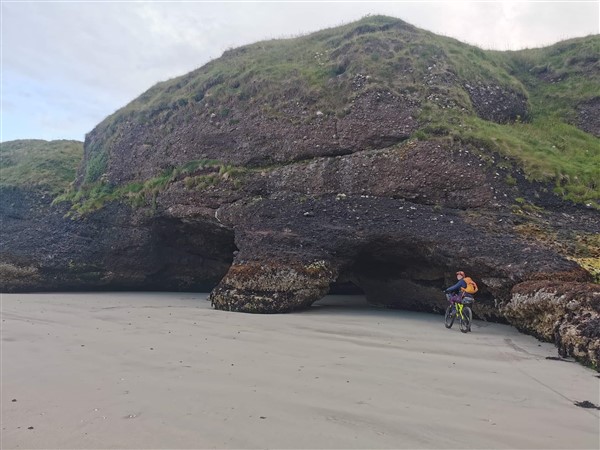 Day 4 – Isle of Lewis, Callanish Stones
Back on the Pentland Road, past the aforementioned spots and on for miles to the west coast – we called in at the historic Black Houses, tragically re purposed as posh holiday homes which ironically we didn't realise until we'd paid to see them. We continue on to the Callanish Stones – an amazing stone set, braced right on the coast. Impressive and impending; guarding and foreboding.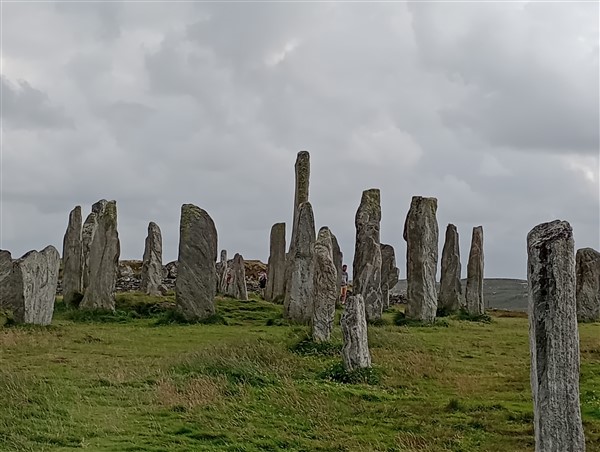 Early evening and we make a sudden plan to ride back to Stornoway, camp *somewhere* and catch the 6am ferry back to the mainland – no mean feat for two people who are usually late and laid back! Anyway, we make great progress and against the odds, end up in our tents before dark, absolutely exhausted. Hold on – we've just done the Hebrides C2C in a day!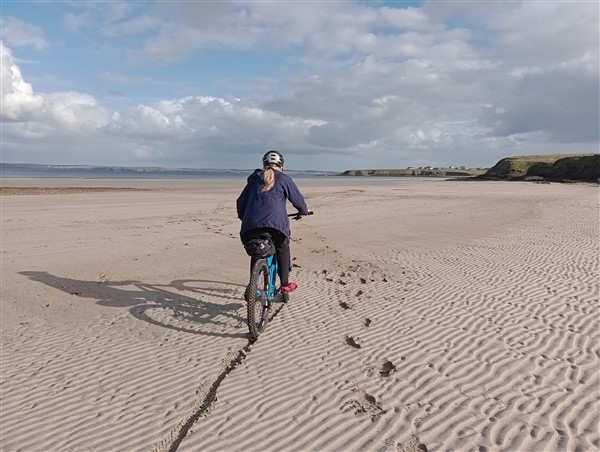 Day 5 – Ullapool to Bonar Bridge
On the 6am ferry – not really awake but amazed we had made it. On board cooked breakfast, chilled out and relaxed. A ride to Black Bridge when we head off road again, past Loch Vaich and through the wildly phenomenal Gleann Mor. A landscape that's ancient and unyielding yet tranquil and cocooning. Absolutely perfect track through the mind blowing glen.
This is where is gets surreal!
We were loosely aware that there was a badger hide along the route, we spotted a land rover and some people near what we presumed must be the hide – maybe some visitors out with guides or something, so we head down to see what they're looking at. Anyhow, before we know it we're reluctantly agreeing to be models for a photoshoot (desperately wishing we'd have had a shower in the 5 days we've been cycling!) . The estate is advertising its amazing gastro credentials and we were treated to (by total chance – ten minutes later and they'd have packed up!) the most delicious local produce in return for being models! Just the most amazing and unexpected thing to ever imagine happening on our adventure! Absolutely unforgettable!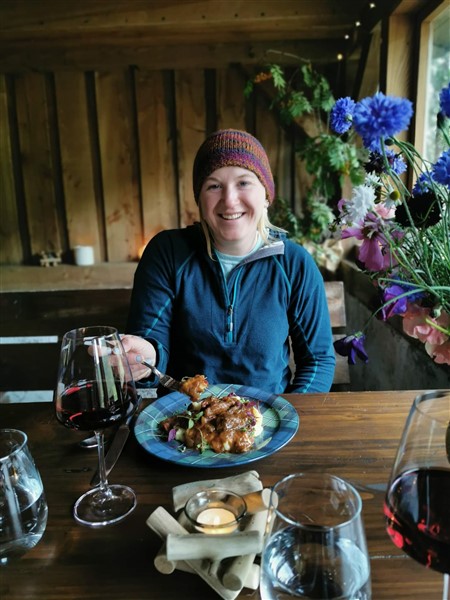 With very full tummies and slightly squiffy heads (we finished the wine!) we set back off and continued our journey. We took an alternative lane back when we reached Croik and it turns out we had enough left in our tanks to complete the route all the way back to Bonar Bridge in one go – honestly couldn't believe it!
We did it! – we achieved what we set out to do – adventure is for everyone, no matter what you need to overcome, just go for it!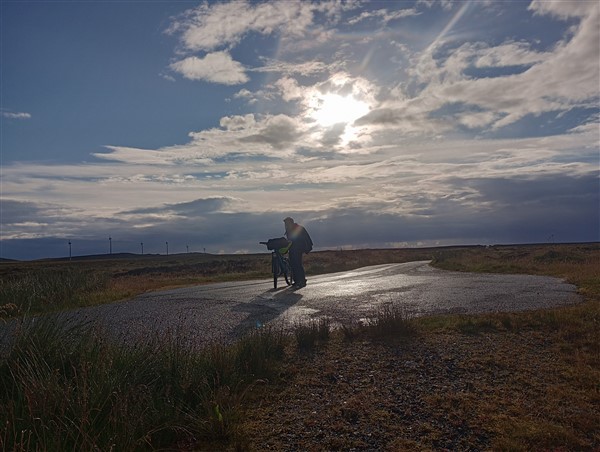 A huge thank you to Tim and The Next Challenge – your support meant we could go for it and also that we had to go for it – no excuses! which is worth its weight in gold! And to my fabulous friend Katy who shared the amazing adventure with me!