Colin Foord won a Next Challenge Grant in 2022 to walk the iconic Bob Graham Round. Aged 17, he completed the route over 3 days, covering over 100km with 8,200 metres of climbing.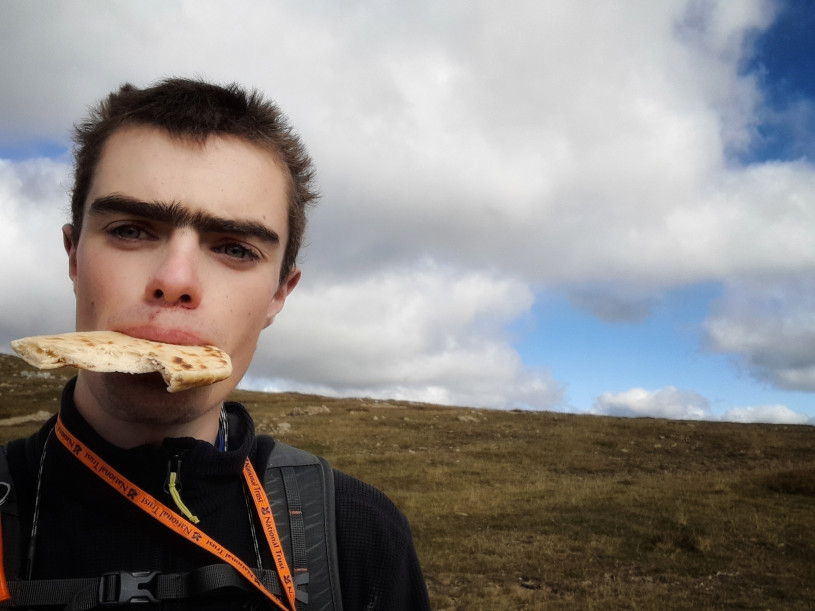 The Next Challenge Grant is a crowd-funded adventure grant which has supported over 70 adventures since it was founded in 2015. Applications for 2023 are now closed, but you can read about past winners and donate here.
---
Walking the Bob Graham Round
by Colin Foord
I wanted to do the Bob Graham Round in 3 days which was an optimistic goal but possible based on my cross-country fitness and camping experience. Consisting of 100km of walking with 8,200m of elevation this was a serious mountaineering challenge. Due to my extended stay in the mountains away from infrastructure I was forced to be completely unsupported while wild camping. Moving quickly over technical terrain is hard with a big rucksack so I got my kit into a 35L rucksack to enable me to move efficiently over the terrain required later. 
An early morning allowed me to get to Keswick at 8:00 where I was able to set off from the Moot Hall feeling fresh and excited. Wasting no time, it was ascent from the get-go up to Skiddaw. The terrain after Skiddaw became wilder so paths were less distinguished, and climbs were steeper costing energy. Popping up on the top of Blencathra there was a crowd which was surreal as I had hardly seen anyone for 5hrs. A quick summit bag and I had to descend Halls fell which was a little more technical than I thought but well within my capabilities. Dropping into Threlkeld I set off again up the Helvellyn ridge. Climbing up Clough Head forced me to keep resting due to exhaustion and all I could think was it will only get worse in the next few days. Bivvying on the ridge between clough head and great Dodd in an old fallen down building treated me to a lovely sunset over the Scafell range while eating my dehydrated meal.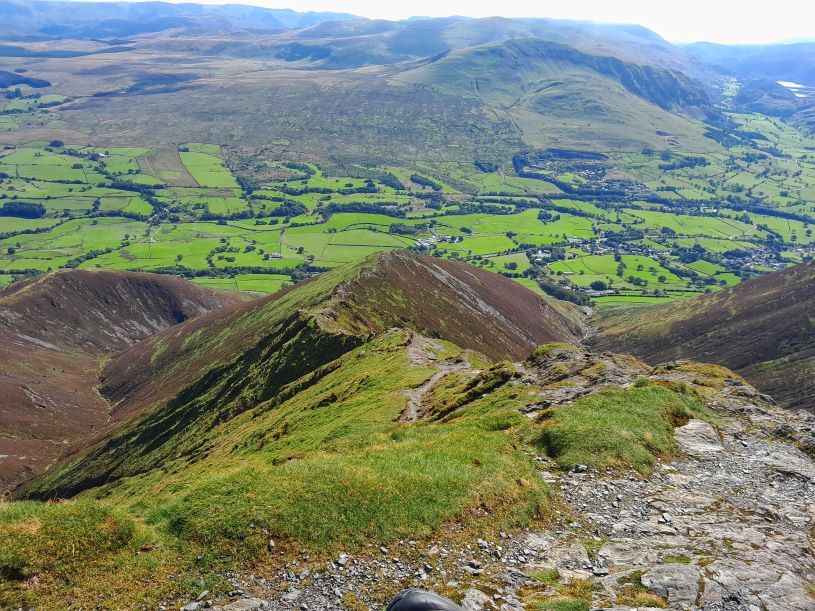 After a pleasant sleep where I saw clear stars in abundance, I came out of my sleeping bag like a caterpillar from its cocoon into the cloud kingdom. After quickly grabbing a cereal bar, I packed up and moved out shivering, this was just the start of what was to come. Finishing my breakfast on the ascent of the Great Dodd I finally made it to the top and started along the ridge still in the cloud with visibility down to 30m navigation was key. Slowly climbing towards Helvellyn the cloud started freezing to my clothes and rucksack. When I got up onto Helvellyn the sun came out and I was rewarded with beautiful views across the lakes in full colour which filled my heart with joy as I hadn't seen bright colours since last night. Dropping down to Grisedale tarn I climbed up to Fairfield ending up in a small stream that took me close to the top. Wraps with quorn and ham and cheese flavour squeezy cheese made up a very calorie dense and semi decent tasting lunch. After a very quick lunch I descended the scree path down towards Seat Sandal which was a killer descent into Dunmail Raise. Climbing out of Dunmail Raise up an incredibly steep path onto the Scafell massif sapped the energy out of my legs. Legs heavy with fatigue I gave one last push to get along the ridge at speed towards Bowfell where I slept at Angle tarn. As a reminder of where I was, just as I was getting in my sleeping bag to go to sleep a rescue helicopter came and rescued somebody less than a couple of hundred metres away.
Getting up before sunrise so I could be moving at first light to give me enough time to finish on day 3 I ended up having what I thought was going to be sausage and baked beans turned out to be a Mexican bean chilli which was both interesting and not appreciated for the rest of the day as I was getting up some of the climbs on fart power. A steep climb up to Bowfell made up most of the height gain in the early portion before traversing several rocky summits towards Scafell Pike. After a tiresome long descent and climb consisting of scree and a scramble, I was on Scafell looking at an exceedingly long descent with burning legs I had to keep stopping towards the bottom as my legs were giving way. Finding the route up to Yewbarrow was in fact on private land, I had to take a long slow tedious slog up to Yewbarrow summiting 5hrs after the previous summit of Scafell, making it highly probable I would spend the night out in the mountains, but once I was up there I flew along the Gable ridge towards Great Gable surviving on jelly babies. At the base of Great Gable, it was getting dark so I bivvied in the col for a frosty night and morning. Putting me in an exceptional position for a final sprint to Keswick. Morale had fallen a bit as my legs hurt from the constant walking and speed I was travelling, causing me to look forward to getting off the mountains.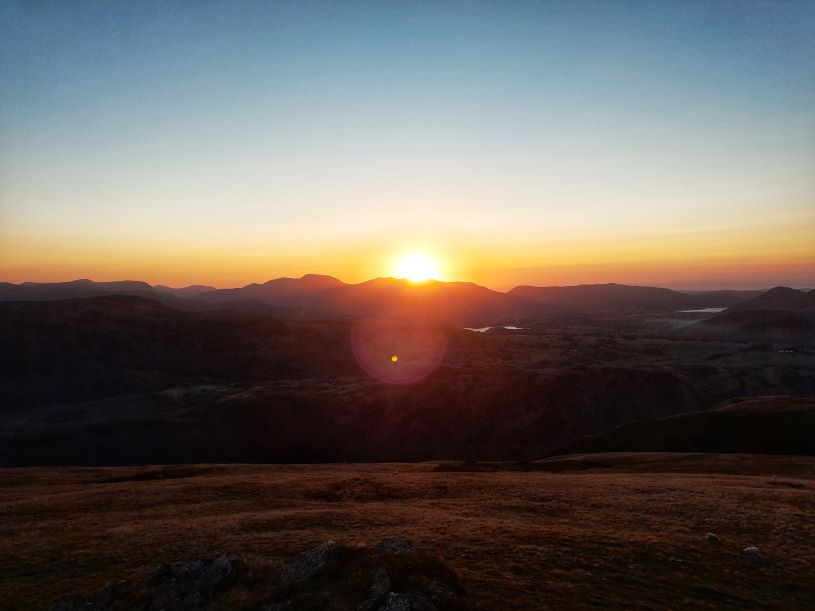 Waking up in the cold and trying to prepare porridge caused me to become uncomfortably chilly. Setting off up Great Gable warmed me up rapidly as I was forced to kick steps into the scree to gain enough purchase to stop myself from slipping backwards. Wind started to pick up as I climbed higher causing me to have to move during lulls to keep safe. Summiting Great Gable after a lot of effort and time I got wonderful views of all of most of the Lake District. Motivated to try and get back to Keswick as quickly as possible I set off for the home stretch. Rattling down the ridge to Honister pass before a long ascent up onto Dale Head where it was cold and hot at the same time, resulting in a hot cold trend I had been dealing with for the last 3 days. Determined to get back, I romped along the ridge and down before tramping back into Keswick along roads and bridleways. Out of food, water and fed up with walking I just wanted to get home, so I didn't have to constantly keep looking after myself in a hostile environment.
Throughout the trip I had beautiful views of the mountains, sunsets, and stars all while pushing my limits in navigation, walking, camping, and scrambling. I thoroughly enjoyed the experience and would do it again even though I was always exhausted, the wrong temperature or mentally fed up. I would not have been able to do it without support from my parents who have taken me walking since I was little and have taught me everything they know, as well as my dad who would come and see me to make sure I was okay on route and would give me clean water occasionally to limit my exposure to mountain water. DofE taught me about lightweight camping as I had only previously done base camping with scouts and family.
I want to thank Tim and his sponsors who gave me the encouragement to do it. I wouldn't have done it if I hadn't applied and said I would do it, so that is an immense help. This trip was beyond my comfort zone and I didn't feel ready, but I did it so just go for whatever scares you – but do it safely.