This is a brief guide to desert carts: wheeled trailers that you can fill with supplies and drag across a desert.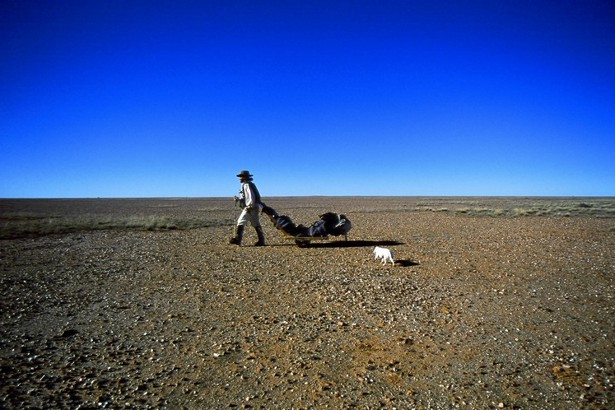 Cars, camels and carts
I like to think that there are three options for hauling large volumes of supplies across a deserts: cars, camels and carts.
Vehicles are used frequently in deserts and camels, of course, have been used for desert travel for hundreds of years. As such, there is a decent amount of information about each method easily avaliable online (see, for example, How to Buy a Camel).
There is a lot to be said for a good desert carts but they are fewer and farther between. This article aims to bring together all the different carts that have been used on desert expeditions.
A world of possibilities
When I walked across the tiny Wahiba Sands desert, I carried 10-litres of water in a rucksack. Along with food and camping kit, that made for a pretty heavy pack. I wouldn't have wanted to carry much more weight but I only had enough water for 2.5 days. You can't cross many deserts in two and a half days.
With a cart, howevever, you can carry several weeks worth of water. That opens up a world of possibilities.
Desert cart research
The vast majority of expedition carts have been custom- or home-made. With one exception (see below), you can't buy desert carts in the shops.
That means you have to make your own and it can be hard to know where to start. To make things easier, I've compiled a list of different cart designs that have been used to cross deserts with links to their author's websites so that you can read more about them.
There are some videos of them in use too.
Let me know if I've missed any.
This article was originally published in 2012, based on extracts from my ebook How To Cross A Desert. It has been updated in November 2017.
How To Cross A Desert EBOOK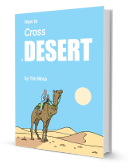 The only guide to desert expeditions in the modern day.
"The perfect resource" – Bear Grylls
"An excellent book" – Sir Ranulph Fiennes
Click here to download your copy now ➜
Desert Carts
Crossing the Simpson Desert in Australia, Lucas Trihey found his cart, the 'Paddy Wagon', would topple on steep descents and was only stopped by improvising some brakes. To stop punctures, he also ran a leather strap around the inside of each motorcycle tyre.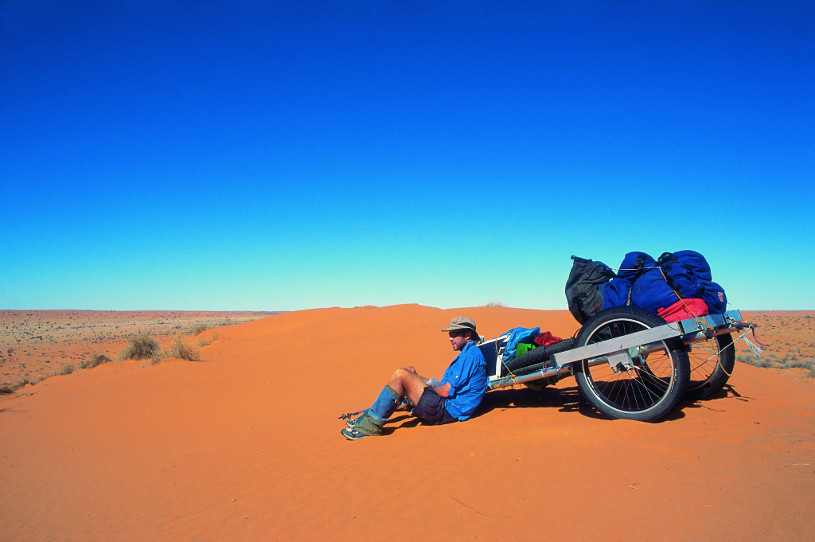 Ripley Davenport – a veteran of many desert crossings – aborted his first attempt at walking solo across the Gobi when the ball bearings in his cart 'Molly Brown' got worn down after just two days because dust was able to enter the chamber. The problem later resolved, Ripley towed the cart 1000 miles with an average weight of 220kg.
Molly was last seen being dragged across China by adventurers Rob Lilwall and Leon McCarron.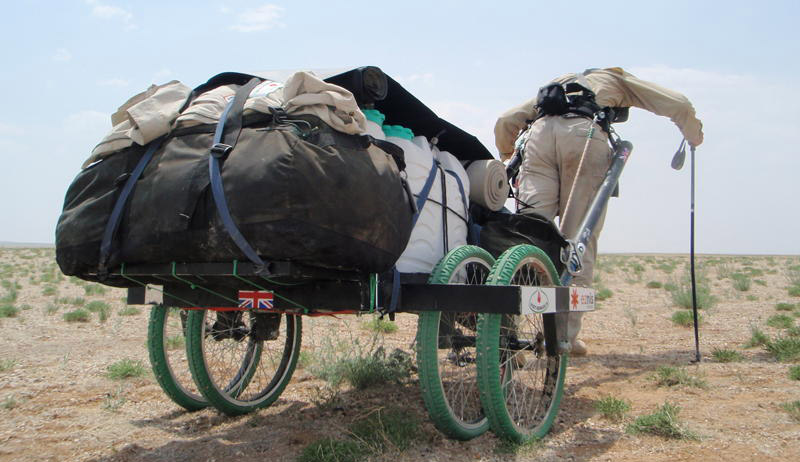 As with bikes, thinner tyres are faster but thicker tyres are better for difficult terrain. Belgian Louis-Philippe Loncke's 'Camel-on-Wheels' combined the best of both worlds. He used two pairs of thin bicycle wheels for speed on easier terrain but would wedge a strip of foam between them when going through deep sand to increase the surface area and stop it from sinking.
Singaporean mountaineer David Lim and his team spent six months designing carts only to have impounded by customs upon arrival in Bolivia. Against a deadline, they were forced to improvise carts with the old steel rag-and-bone men's trolleys they found in the local township. The resulting makeshift trolleys carried 100 litres of water and six days' food all the way across the Salar de Uyuni salt flats.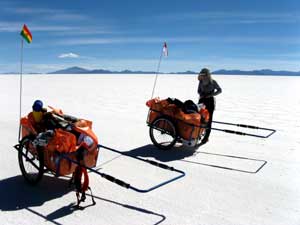 Jon Muir completed the first unassisted crossing of Australia, walking 2,500km coast-to-coast over 128 days, dragging a cart with all his food and water.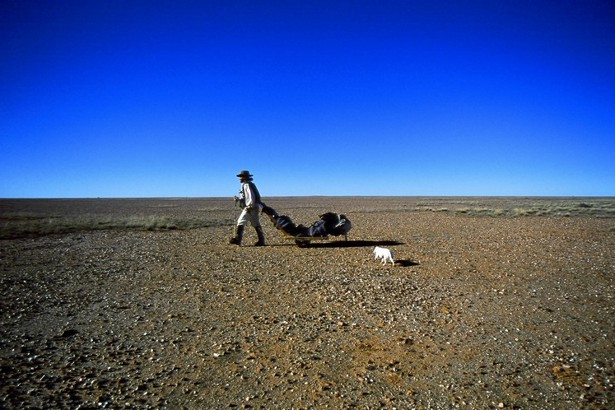 Todd Carmichael has made two attempts to cross America's Death Valley towing all of his supplies in the cart he affectionately terms 'The Pig'. The second design of the cart runs low to the ground and has four small wheels with fat, half-inflated tyres.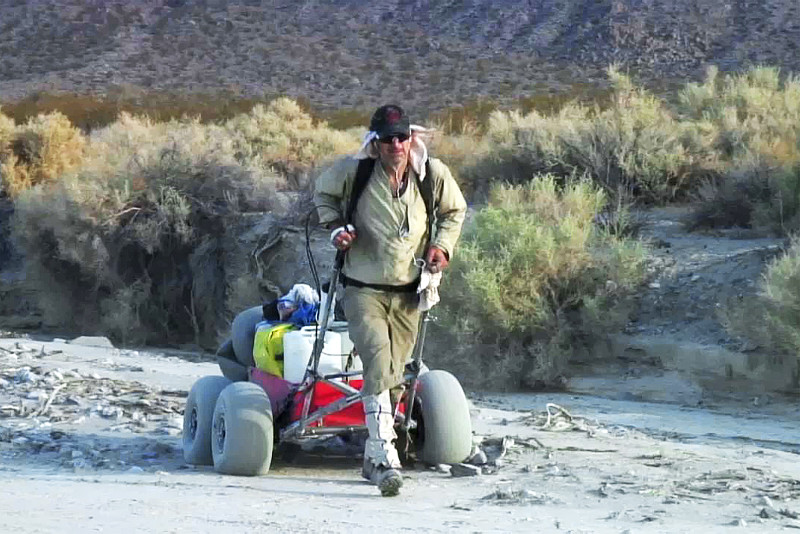 Chris Bray and Clark Carter added huge tractor inner tubes to two kayaks that they dragged across Victoria Island. In the Canadian Arctic they were up against mud, rocks and snow rather than sand. When not used for floating, they would let air out of the tyres – as you would with a jeep on sand – to give the wheels a greater surface area and not sink into mushy ground.
Alastair Humphreys and Leon McCarron built a giant, two-person desert cart for their crossing of the Empty Quarter desert. On smooth surfaces, they could take it in turns to do the pulling. Through deep sand and over dunes, they would both drag it together.
They had an issue with steering though so, if you're planning something similar, it's worth watching their film (clip below) to see their solution.
Timothy Luszczak
Tim Luszczak attempted to cross the Simpson Desert but his hand-pulled cart broke after a few days. He made this video:
Armadilling is an open source project on human-hauled carts. They have designs that can be used for towing on a bike, while swimming or – if you like – for crossing deserts.
You can download a free design or pay them to build one for you.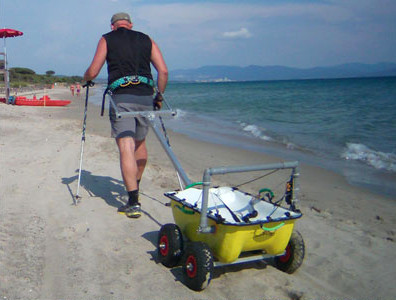 (Special thanks to Louis-Philippe Loncke – a contributor to my book – for his help with this topic).
DOWNLOAD THE COMPLETE EBOOK NOW
How to Cross a Desert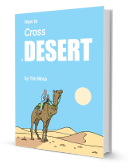 The only guide to desert expeditions in the modern day.
"The perfect resource" – Bear Grylls
"An excellent book" – Sir Ranulph Fiennes