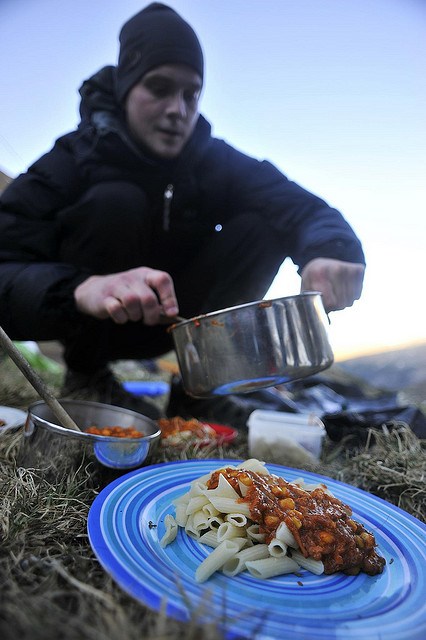 Cheap restaurants in London. Completely off-topic but finding London's best cheap eats has been a favourite game of mine for many years (and by cheap I mean ideally dinner for under £5, certainly under £10). London need not be an expensive place to live or eat. Here are a few cheap meal recommendations from a decade in the capital, in no particular order.
(Goodge Street)
The Italian Coffee Company offers big, bargainous, cheap pizzas, all freshly baked for under £5. Cheaper if you take away. Great buzz sitting inside and out on Goodge Street.
Recommended: Breakfast pizza with a fried egg on it
Closest Tube: Goodge Street (or Tottenham Court Road, Warren Street)
Address: 46 Goodge Street, W1T 4LU
(Brick Lane)
Tiny, tasty bagels served 24-hours a day and costing £2 with fillings or a matter of pence for bread alone. They get big queues but it's fast service and worth the wait.
Recommended: Salt beef
Closest Tube: Shoreditch High Street (or Liverpool Street, Whitechapel)
Address: 159 Brick Lane, E1 6SB
(Angel Islington)
The king of cheap eats in London. Top marks for quantity (it's all-you-can-eat) and style (it's bedecked in outrageous claims about the merits of vegetarianism and achievements of the world' vegans). £5 gives you access to vegetable curries, dal, baked goods and a salad bar. It's BYO too. Cheap eating doesn't get any better. (Possible website coming soon).
Recommended: The greasy little breads, there's always room for one more
Address: 92-93 Chapel Market, N1 9EX
Closest Tube: Angel (or Kings Cross)
(Soho / Piccadilly Circus)
50 years of serving up good, simple British grub at bargain bucket prices. Sausage and mash, steak and kidney pudding, shepherd's pie. Perhaps a little over £5 but always under £10. They have two restaurants, one in Soho and the other near Piccadilly Circus.
Recommended: Pudding. It's £3.50 and rude not to.
Address: 54 James Street, W1U 1EU / 38 Panton Street, SW1Y 4EA
Closest Tube: Leicester Square, Charing Cross or Piccadilly Circus
(Brixton / Kilburn)
Fairly standard Chinese/Thai noodle dishes but their cheap, voluminous and, as the name implies, served remarkably quickly. I've been to the Brixton and Kilburn High Road branches and there's another out in Barking.
Address: 506 Brixton Road SW9 8EN / 238 Kilburn High Road NW6 2BS / 403 Barking Road E6 2JT
Closest Tube: Brixton, Brondesbury/Kilburn, East Ham
(Covent Garden)
Perhaps less of a cheap eat than a nice one but it's very London. The food is super healthy but equally tasty and hearty food. The portions aren't huge but they are delicious. £5 for a main with salad, £8 if you throw in a dessert. They have different specials every day. It's small and the queue goes onto the street on weekends. Cash only.
Address: 31 Neal Street, WC2H 9PR
Closest Tube: Leicester Square, Holborn or Tottenham Court Road
(Kilburn / Farringdon)
All starters £2.65. All mains £5.95. That includes salmon, duck and lamb steaks. This place is embarrassingly cheap. They have branches in Kilburn and Farringdon (as well as Croydon and Brighton, and Belgrade!).
Recommended: Burberry Duck Breast
Address: 228 Belsize Road NBW6 4BT / 171 Farringdon Road  EC1R 3AL
Closest Tube: Kilburn High Road or Kilburn Park / Farringdon or Chancery Lane
(Kings Cross / Fulham / Shepherds Bush)
Just opposite Kings Cross, this place is as bargainous as its portions are voluminous. You'll get change from a fiver and leave fully sated (I've never been beaten by a bowl of noodles but this place came close). Branches in Fulham and Shepherd's Bush too.
Recommended: Singapore Laksa
Address: 3 Euston Road, London NW1 2SA; 53 Fulham Broadway SW6 1AE; 56 Uxbridge Road, W12 8LP
Closest Tube: Kings Cross / Fulham Broadway / Shepherd's Bush
(Warren Street)
Vegetarian and non-vegetarian canteen dining at its most basic. You should get plenty for your £5. It's open for breakfast, lunch and dinner but not in-between so check the website for opening times.
Address: 41 Fitzroy Square, W1T 6AQ
Closest Tube: Warren Street (Great Portland Street, Goodge Street, Euston Square)
(Blackfriars, Ealing, Bloomsbury, Kensington and Putney)
A slightly more upmarket version of Chop Chop offering Japanese sushi as well as big bowls of rice and noodles for a little over £5.
Address: 38-39 Haven Green, W5 2NX; 373 Kensington High Street, W14 8QZ; 90 New Bridge Street, London, EC4V 6JJ; 296-298 Upper Richmond Road,  SW15 6TH; 11-13 The Brunswick, WC1N 1AF
Closest Tube: Russel Square / St Paul's / Kensington / East Putney / Ealing Broadway
Honourable mention
Been to any of these places? Any London classics that I've missed? Add your comments below.
(Thanks to Holly and Dave for their expert input on this piece)