I usually say that The Next Challenge Grant is for small adventures but every year there are exceptions.
Last year, Lisa and Libby ran up every 3,000ft mountain in Scotland and, in 2015, Elise ran five thousand miles around the coast of Great Britain, to name just two such exceptions.
This year, Oli Warlow took the mantle. His plan was to climb every route in the iconic climber's guide book 'Classic Rock', and cycle between them.
From sunny sea cliffs in the West Country to a five-day expedition ticking off five remote climbs in the Cairngorms, Oli's trip took him the length and breadth of the country. He cycled almost 2,000 miles, tackled 82 different climbing routes, met 27 different climbing partners along the way (one of whom was a quadruple amputee), attended a friend's wedding and even had time to drop in at my house on the way.
Here is Oli's story…
---
The Next Challenge Grant
Oli's trip was supported by The Next Challenge Grant, an annual bursary for aspiring adventurers.
It's funded by me – Tim Moss – several other adventurers and crowdfunded public donations.
Since 2015 it has supported 50 different expeditions with awards from £50 to £800.
---
Classic Rock by Bike
by Oli Warlow
Published in 1978, Classic Rock is Ken Wilson's compilation of some of the best rock climbs in the UK.  With 82 routes, the vast majority climbed in the first half of the 20th century, it is a showcase of British climbing in its exploratory heyday.  In 1997, Jamie Fisher decided it would be a fine idea to climb all of these routes in a continuous round, making things even more challenging by shunning any motorised transport and linking them all together by bicycle.  Being a close family friend and my child-minder whilst he was at university in Edinburgh, Jamie took me for my first rock climbing experience at Blackford Hill quarry and was generally a larger than life character in my childhood.  Sadly, in 1999 Jamie was killed in a climbing accident in the Alps, an event which devastated so many people's lives and had a big effect on me at a young age.
Inspired by Jamie's original trip, I decided to repeat his round, setting myself the same rule of being entirely human powered (except for a few ferry crossings) and raising money for the John Muir Trust along the way.  I hoped to experience some of what Jamie did, exploring the wild reaches of the UK in a rather unique way.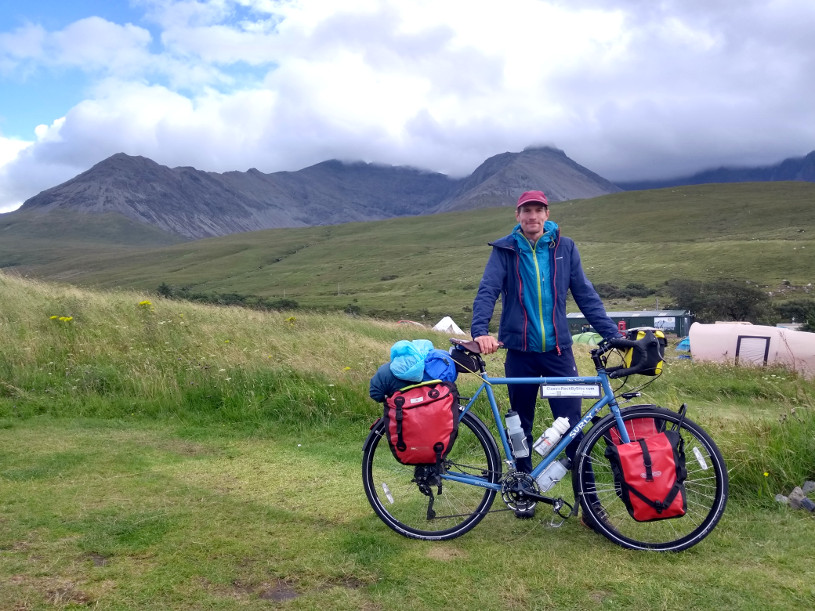 Back at the time of their first ascent, these climbs were at the cutting edge of British climbing.  With modern climbing shoes and equipment, their difficultly and the dangers of climbing them have been reduced.  Nevertheless these climbs all provide interest and challenge on the some of the finest mountains and cliffs in the UK stretching from the rugged coastline of Cornwall to the jagged summits of the Black Cuillin on Skye.  The height of the routes varies, from just 30 feet on the gritstone edges of the Peak District to over 1,500 feet on Ben Nevis.  Several are on remote and serious mountains, getting relatively few repeat ascents, making them a daunting prospect.  Although the technical difficulties of the individual climbs were all within my ability, linking them together in one continuous trip was going to be a challenge.  Not only would it be knackering, with lots of routes day after day and all the cycling in between, but I would also be at the mercy of the British weather.  I had to caveat all of my invites to potential climbing partners that we would be climbing whatever the weather, which could mean climbing in the rain or even snow that is not unheard of on Scottish mountains in the summer.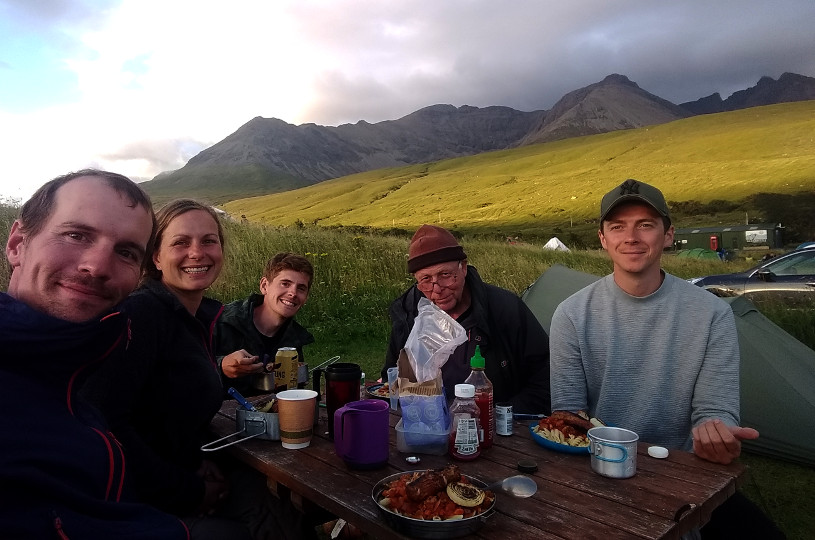 To be done safely, traditional style rock climbing requires at least two people.  One person leads up with a rope and the second follows, removing any climbing gear placed by the leader.  Like Jamie, I planned on using the trip as an excuse to cajole as many friends as possible from around the country into accompanying me on the climbs, the experience of meeting up with them of course turned out to be the best part of the trip.  This required several months of careful planning to convince various friends into sharing my adventure (some required less persuasion than others).  I prepared myself physically with lots of cycling, running and, of course, climbing to get fit for what was going to be quite an extreme test of endurance.  I was fortunate at this point to get support from The Next Challenge Grant, giving me £400 towards my trip expenses which was incredibly helpful.  I also received a set of lightweight waterproofs and a lightweight rucksack from Montane.
I set myself a fairly rigid schedule. After all, sensible jobs and other commitments mean "drop of a hat" climbing trips amongst my friends are now a rarity compared to our student days.  I also wanted to be able to make it to a wedding in Northumberland at the end of June.  This, combined with complex ferry arrangements for getting to Lundy Island, meant my start date was fixed for Saturday 19th of May (I would have to miss an important royal event on the telly, but 'sacrifices' must be made).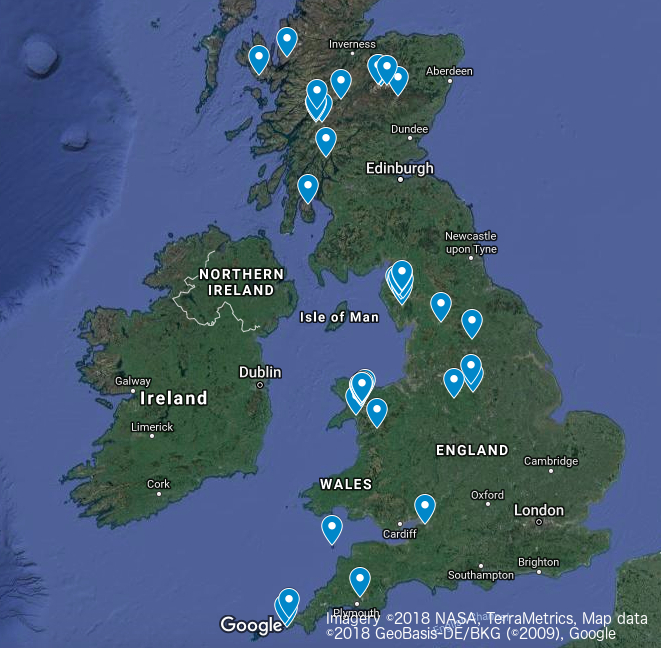 The morning of departure dawned in Bideford as a glorious early summer's day.  My brother Ben and sister Maggie joined me aboard the MS Oldenberg on a thankfully smooth boat trip out to Lundy.  Ben was to partner me on the first climb, and Maggie was coming for the ride and to take photos (she would accompany me later on the cycle trip from Bristol to North Wales).  The Devil's Slide is an incredible 300 foot slab of rock angled gently down into the sea.  On a rough day this sweep of granite would be fearsomely intimidating, but that day with gentle turquoise waters lapping at its base, it looked very accommodating, which was fortunate as we were both feeling quite nervous.  Ben, although an accomplished climber, was never a big fan of these more adventurous style climbs, and I was at the start of a ten week adventure I didn't know if I would succeed in accomplishing.  Nerves gradually dissipated as we climbed and the slightly tense look that had been on Ben's face for the previous few days finally broke into a big grin as he ascended the final section of the climb.  Glad to have finally begun my adventure, and so successfully, we celebrated with warm cans of Stella on the ferry back to the mainland.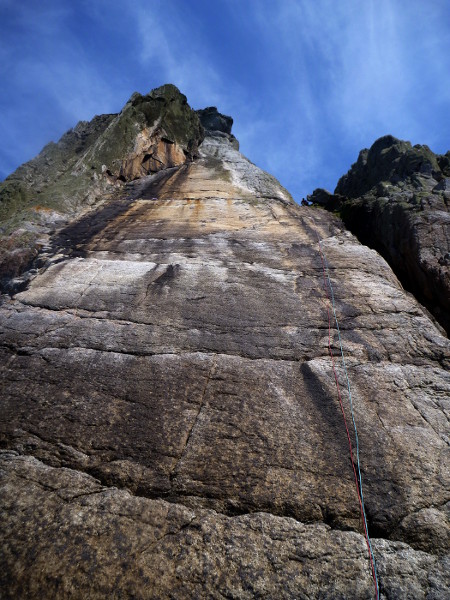 My cheeriness was to be short-lived.  The next day, alone on my fully laden bicycle, I had to tackle the notorious hills of Devon and Cornwall.  The demons were whispering tempting thoughts into my ear as I climbed yet another steep gradient on Bodmin Moor.  I desperately tried to work out what I could get rid from my panniers to save some weight, and was glad of the many training rides I had put in when it was so cold that the "beast from the east" froze the water bottles on my bike.
After the initial shock of the Cornish hills, the rest of the south west climbs went smoothly.  I did have to miss one on the Dewerstone near Plymouth however.  Two kestrels had made a ledge on the cliff the site for their nest and it would certainly not have been right to disturb them from their perch, especially considering I was raising money for The John Muir Trust, who strive to protect wild places.  When Jamie did this challenge back in 97 he had a similar issue with nesting Ring Ouzels in the Peak District; after initially cursing their inconsiderate nesting habits, he soon realised, like me, that completing every climb at all costs was not the point of this trip at all. Instead it was to have a great adventure travelling the UK, meeting up with as many friends as possible.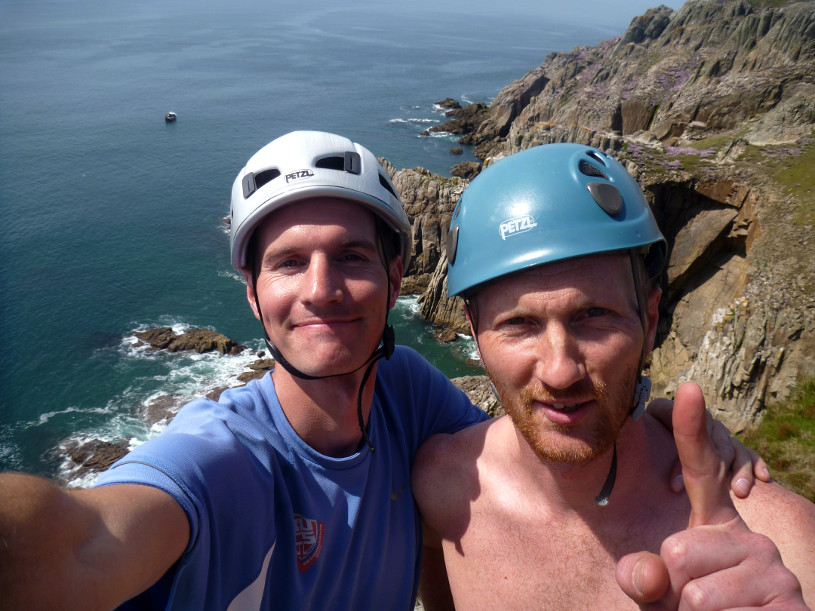 In Bristol I picked up my first non-climbing partners.  Maggie and Sara would join me on the longest cycle leg of the trip all the way up to North Wales.  Cycling along on a touring bike with a heavy load generally attracts interest (and confusion as people read the sign attached to my bike and wonder what classic rock music has to do with bicycles), and I shared numerous miles along the way with other cyclists keen for a chat.  It was great to have some proper company though, even though they did have to endure the first real rain of the trip, getting soaked and muddy is all part of the fun though right?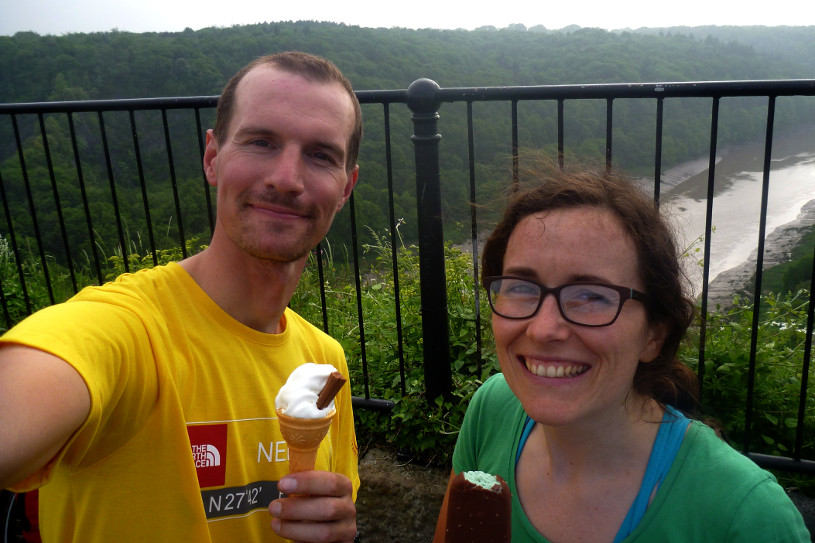 Making it to North Wales was a bit of a turning point in the momentum of my trip.  Up to that point it had taken me almost two weeks and 1,000 miles of cycling to do just seven climbs.  Over the next week I would climb twenty routes in the Welsh mountains and the focus changed from lots of cycling to lots of walking.  With Ian, I raced up route after route of classic climbs in the Lllanberis Pass, climbing in a day what I would have previously been happy doing in three.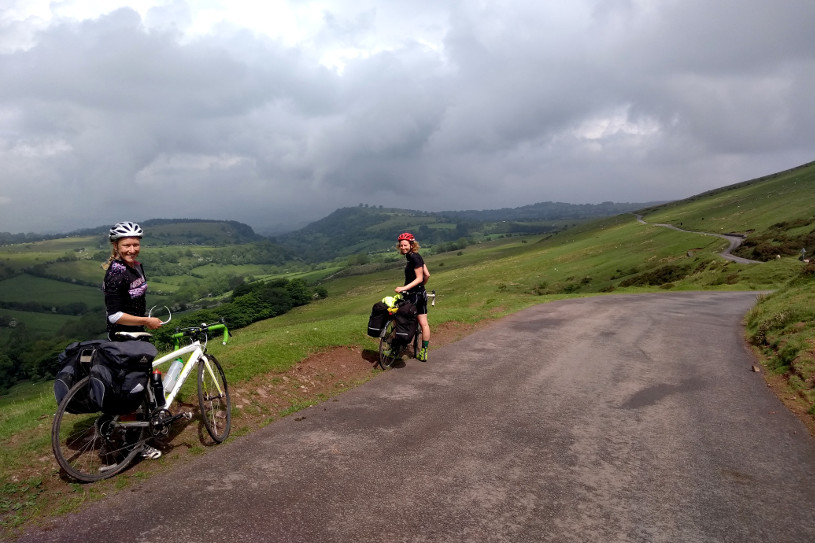 A few days later I found myself without a climbing partner, as my friend Tom's van required an emergency trip to the garage.  Just as we glumly sipped our tea pondering what to do, I received a text message:
"Are you in North Wales? I'm in Llanberis".
A chance trip to Wales had brought my elusive friend Polly's orbit close to my own.  We enthusiastically organised to meet in the Ogwen Valley the following day.  With some borrowed climbing gear, we had one of those memorable days in the mountains, brought to a fitting conclusion with a swim in Llyn Bochlwyd.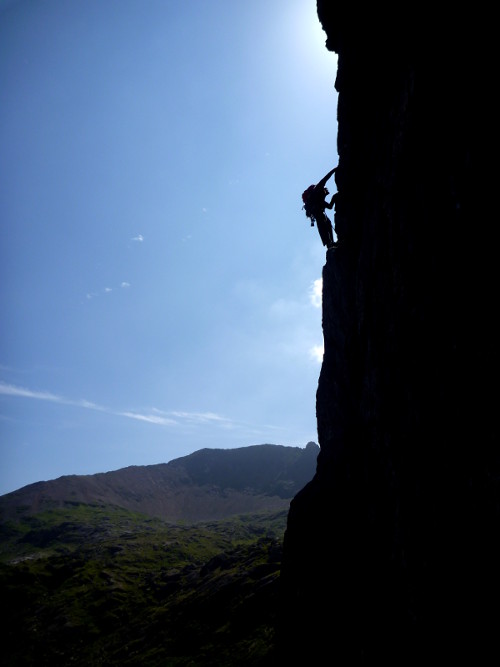 The Peak District and North Yorkshire contain the shortest climbs in the collection, but their gritstone outcrops are famous amongst climbers around the world for packing a lot of climbing into their short stature.
I enjoyed a wonderful blustery evening on Birchen and Stanage edges above Sheffield with my friend Libby, who is a previous Next Challenge Grant recipient.  Last year, with her friend Lisa, she completed a self-propelled (no motorised transport) round of all the Scottish mountains over 3000 feet, known as Munros, setting a new ladies record of 77 days at the same time!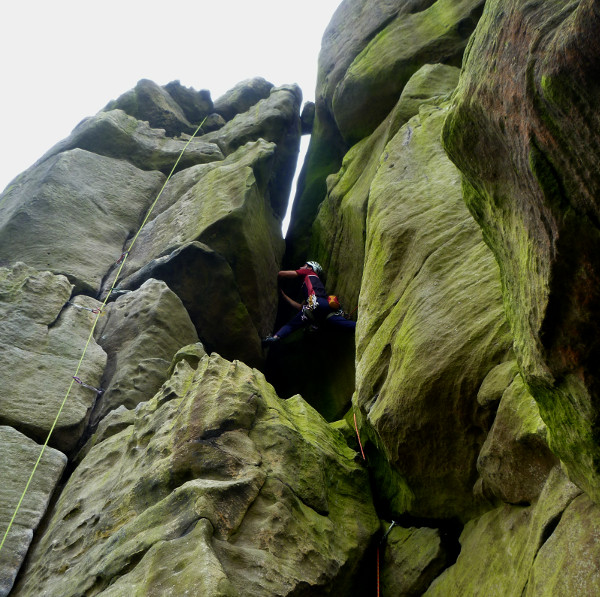 Between climbing at Almcliff and heading across to Pen y Ghent, I had the opportunity to drop in on Tim and Laura Moss, who as well as supporting me through The Next Challenge Grant also kindly offered to put me up for the night.  It was great to spend the evening sharing stories. They thought it was probably a first for a grant recipient to stop by while they were actually mid-challenge!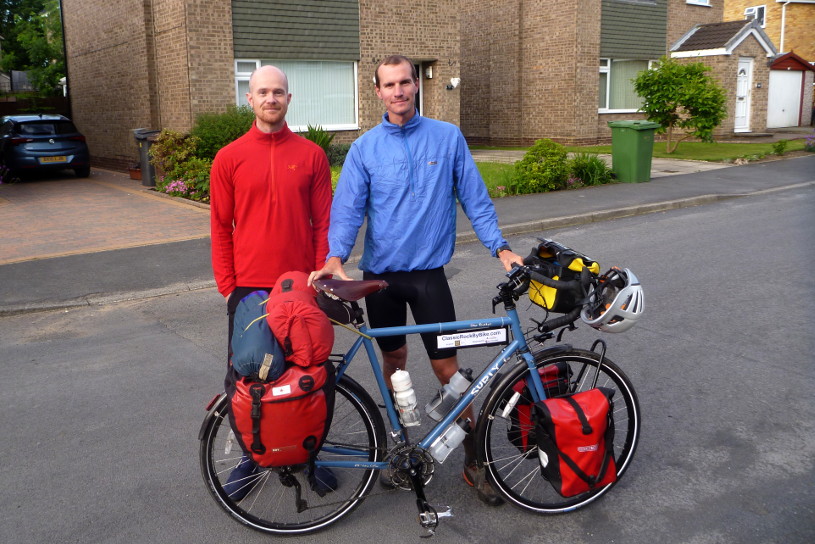 From Yorkshire I battled westerly winds to make it to the Lake District just in time for the start of the summer heatwave.  Being close to Newcastle where I lived for many years, I was not short of willing partners.  The most special, however, came from a bit further afield (well not that far really).  Driving down from Edinburgh, Jamie Andrew was a great friend of Jamie Fisher's, and back in 1997 he accompanied him on the Lake District leg of his classic rock challenge.   The two were climbing together in the Alps when Jamie Fisher died, and in the same accident Jamie Andrew lost both his hands and feet to frostbite. We stay in touch and when he found out I was repeating Jamie's trip he was very keen to get involved.  He is very fit and we got a few odd looks as we sped past walking parties on our way up to Sty Head, Jamie with specialist walking poles and high tech feet.  Of course a carbon walking blade is not going to last long on a rock climb, so instead of changing into climbing shoes, a change of feet was required.  I can't imagine what the approaching climbers thought, finding Jamie sat at the base of Napes Needle sorting through his climbing gear whilst Sam held onto his carbon fibre leg socket with me furiously trying to waggle a foot off the end!  A snug fit is important however, as Jamie pointed out later, having your leg fall off mid climb is, at best, quite inconvenient.  Napes Needle along with Needle Ridge on Great Gable are generally considered to be the first examples of technical rock climbing in the UK, first climbed back in 1886.  In 2018 we were pretty certain that Jamie was the first quadruple amputee to sit on top of the Needle!
After the Lake District the next climbs to do were on Arran. However, I was keen to make it to my friends' wedding in Northumberland, meaning a 100 mile diversion east.  This was right at the peak of the heat wave, and the melting road was literally getting stuck to the tyres of my bike as I pedalled into the hairdryer-like wind.  Definitely worth it for a party though, and if anyone were to repeat this challenge I would definitely stipulate that getting to at least one party should be a rule (Jamie Fisher attended a climbing club annual dinner in North Wales on his trip and climbed badly hung-over the next day).
After Arran and Arrochar I ended up in Glencoe.  Whilst the hot dry weather would continue for several more weeks in the rest of the UK, Glencoe will catch any rain going, which it certainly did for the five days I was there.  I was glad of the commitment from my friends Tom P and Tom A, who didn't utter any words of discontent when they met me in rain-drenched carparks with mountains barely visible though the swirling mists. Although it might not have been some of the most enjoyable climbing in the common sense of the term, we certainly had some days that are going to live long in the memory.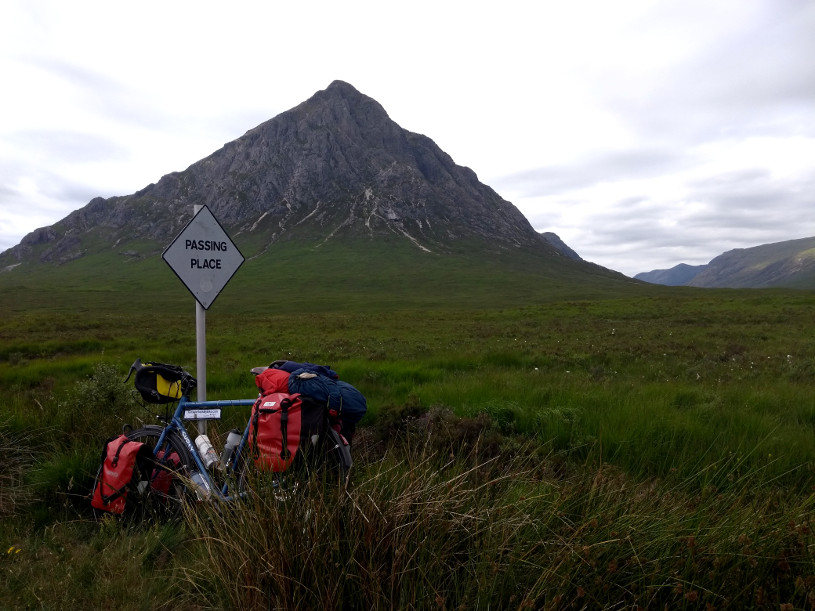 The Caingorms are one of the truly great wild places in the UK.  You can walk for miles and miles without crossing a path, and go for a whole day or even days without seeing another soul.  Right from the start Rob had been incredibly enthusiastic about joining me on the Caingorm leg of my challenge.  The bike would be left behind and we would set out for a journey of 60 miles on foot.  We'd be out for five days and take in six climbs, including two of the remotest in the country.  We were thankful for the summer of dry weather as we crossed the plateau, floating across a bog amongst a sea of cottongrass, which under normal Scottish summer conditions would have likely left us up to our necks in the mire.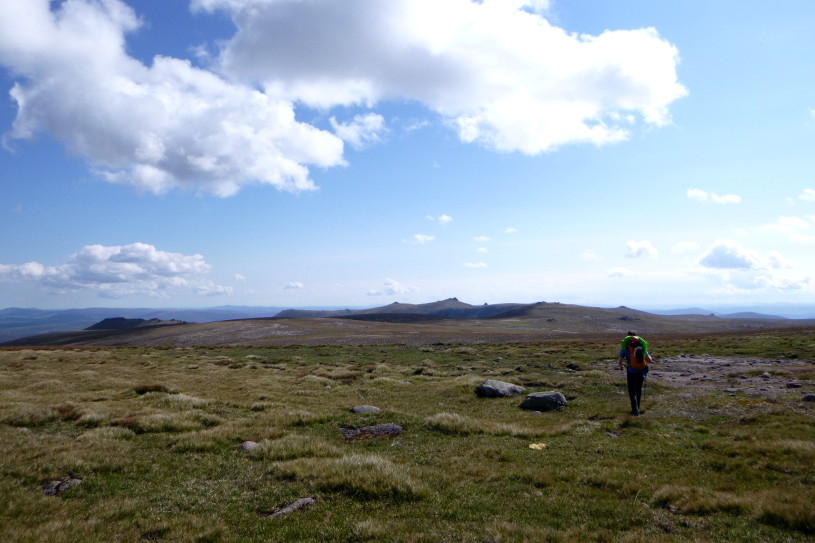 The following week as I approached Skye, the weather was certainly taking a turn for the worse.  I was buffeted and soaked as I cycled up the steep bridge, only just built at the time of Jamie's trip.  Skye is a special place for many reasons.  Glenbrittle, at the foot of the Black Cuillin is where Jamie Fisher's ashes are scattered, and it was while sitting with Jamie's dad Stu at Loch Coruisk ten years previously that I had originally been inspired to do this trip.  Stu was on his way up to Skye, hoping to meet me for a celebratory pint in the Sligachan hotel after I had completed a traverse of the Cuillin ridge, the 82nd and final climb of my challenge.
I had the weather to compete with however, and it looked like there was going to be no let up in the banks of rain sweeping in from the west.  An overnight gale flattened three tents in the Glenbrittle campsite and the ridge was cloaked in rushing clouds the following morning.  But the forecast indicated it might clear up in the afternoon so we decided to head up to Gars Bheinn, the first mountain at the southern end of the ridge.  We arrived at the summit cairn in a freezing gale, the wind chill taking the temperature below zero.  As we sheltered in a hollow, we decided that we were just going to freeze staying still, so we may as well do the first couple of miles. We figured that they were straightforward enough and that we were unlikely to be blown off the mountain at least.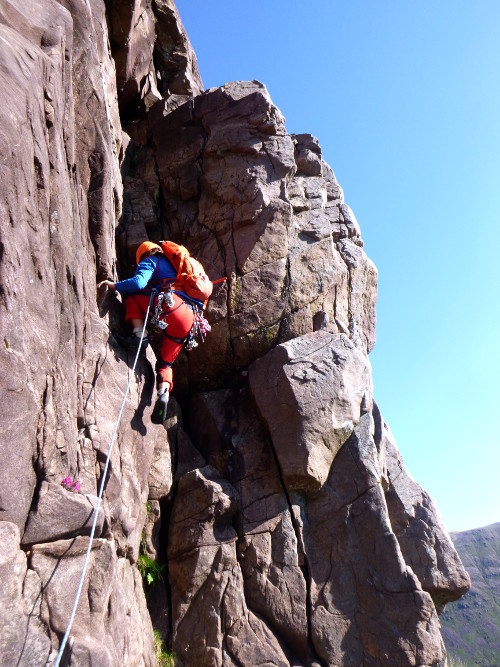 As we descended Sgurr nan Eag, the first of the 11 Munros on the ridge, the wind dropped and the clouds showed signs of lifting.  The most technically difficult part of the ridge is the damp and greasy climb out of a notch, known as the TD gap.  This was a psychological low point for my partner Josh, but our spirits were buoyed by the clearing clouds and the brilliant scrambling up the Inaccessible Pinnacle.  This is the only Munro that requires technical climbing to reach its summit. Having made it here by 4pm, about four hours after we'd started, we realised that we could probably not only manage the whole thing before dark, but could also make last orders in the pub.  The next few hours are all a bit of a blur with lots of scrambling up and down, but after every top, Sgurr nan Gillean (the final Munro) looked a little closer and the ridge began to stretch out behind us.
The final obstacle is the Basteir tooth, which guards the way to the summit of Am Basteir. It provides an imposing challenge, a huge black overhanging rock face blocking the way. A fine traverse however, leads to a climb up to its summit leaving a final dash and scramble to the table top summit of Gillean.
I lingered for a second, savouring the final moments before placing my hand on the summit cairn. Would I feel different after ten weeks of effort to reach this final small pile of stones?  I didn't have long to wonder becayse Josh embraced me in a bear hug as soon as I touched it.  No it isn't any different; just another great day in the hills, with another great friend.
Feeling chuffed with our day, we set off down, breaking into a run when we heard that Stu had already ordered our dinner in the Slig!
I'd like to thank everyone who supported me on this trip, be it coming climbing, cycling or just sending a message of encouragement.  I'd also like to thank The Next Challenge for the grant, Montane for their excellent equipment, and The John Muir Trust for keeping wild places wild.
Classic Rock Challenge Fact File
Climbs: 81 out of 82 (Climbers Club Ordinary had nesting Kestrels)
Time taken: 72 days
Vertical metres climbed: 8,989m (excluding the Cuillin traverse which is a bit of an outlier with over 3,000m of ascent!)
Climbing partners: 27
Crags visited: 55
Pitches: 288
Falls: 0
Shortest climb: Topsail – a couple of minutes
Longest: The Cuillin ridge – 8 hours 25 minutes
Distance cycled: 3,038km (1,888miles) + lots of walking!
Top speed: 47mph (Cairngorm mountain road)
Cycling buddies: 5
Punctures: 3!
Weddings: 1
Worst bit: West Country hills
Best bit: Every friend old and new that I met on this trip
Climbing Partners:
Lundy: Ben
West Penwith: James and Rob S
Bristol: Caz
North Wales: Ian, Polly, Tom A, Spencer & Chris H
Peak: Andy B & Libby
Yorkshire: Andy T, John & Alasdair
Lakes: Jim, Sam, Jamie, Mav, Lucy & Stephen
Arran: Jim
Arrochar: Chris M
Glencoe: Tom P & Tom A
Ben Nevis: Es
Binnean Shuas: Ailsa
Cairngorms: Rob A
Sgurr a'Chaorachain: Paul
Skye: Josh
Cycle buddies:
Bristol to North Wales: Maggie and Sara
Northumberland: Josh and Jezabel
Northumberland to Arran: Jim
The Climbs:
South West
May 19th: The Devil's Slide
May 22nd: Terrier's Tooth, Pendulum Chimney & Demo Route
May 23rd: Doorpost
May 25th: Central Grooves (alternative to Climbers Club Ordinary)
May 28th: Piton Route
North Wales
June 2nd: Will o the Wisp
June 3rd: Creagh Dhu Wall
June 4th: Avalanche/Red Wall/Longland's & Nea
June 5th: Flying Buttress, Spiral Stairs, Wrinkle, Crackstone Rib & The Cracks
June 6th: Main Wall & Milestone Direct Route
June 7th: Hope, Lazarus, The Arete, Grey Slab & Glyder Fach Direct Route
June 8th: Grooved Arete, Gashed Crag & First Pinnacle Rib
June 9th: Great Gully
Peak and Pennine
June 13th: Central Climb, K2, Modern, Black and Tans, Technical Slab & Via Dolorosa
June 15th: Topsail, Powder Monkey Parade, Sail Buttress, Hargreaves Original Route, April Crack & Flying Buttress
June 17th: Parson's Chimney
June 18th: Red Pencil Direct
Lake District
June 20th: Murray's Route
June 21st: Ash Tree Slabs, C Route, Bracket and Slab & Bowfell Buttress
June 22nd: Gillercomb Buttress
June 23rd: Tophet Wall, Napes Needle & Needle Ridge
June 24th: Jone's Route & Moss Ghyll Grooves
June 25th: New West Climb & Rib and Slab Climb
June 26th: Troutdale Pinnacle & Little Chamonix
Scotland
July 4th: Sou'wester Slabs & Labrynth
July 6th: Recess Route, Punster's Crack & Ardgartan Arete
July 8th: The Chasm
July 9th: North Face Route & Agag's Groove
July 10th: The Long Crack, Archer Ridge & Crypt Route
July 11th: Clachaig Gully
July 13th: The Long Climb & Tower Ridge
July 16th: Ardverikie Wall
July 18th: Savage Slit, The Clean Sweep & The Talisman
July 19th: The Cumming-Crofton Route & Squareface
July 21st: Eagle Ridge
July 26th: Cioch Nose
July 28th: Cioch Direct, Arrow Route & Integrity
July 29th: The Cuillin Ridge
More information about the trip and photos at www.classicrockbybike.com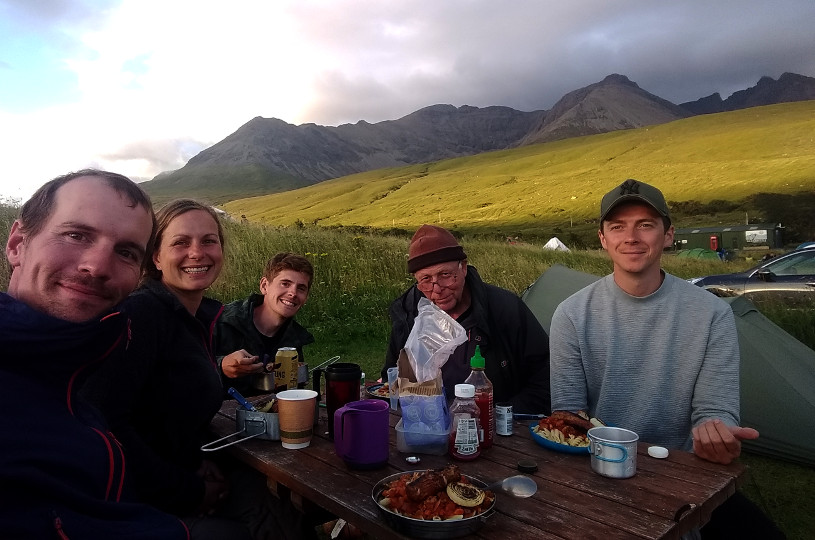 ---
The Next Challenge Grant
Oli received a £400 award from The Next Challenge Grant.
The money came from me, other adventurers and members of the public.
Do you have an adventure idea that you need help with?
---