I always enjoy reading applications for my grant but but I particularly enjoy applications from young people.
The application I received from teenagers Joe, William and Ollie to walk the Tour du Mont Blanc was excellent.
I was really impressed with how meticulously they had planned their trip (we're talking daily itinerary and budget to the pound), the effort they had put in to preparing for it (multiple training trips) and their commitment to raising the funds (saving birthday gifts, collecting pocket money and umpiring hocket matches).
I was delighted to be able to support them with a small grant and to set up Joe with a pair of sponsored 'Targhee' hiking boots from Keen, and their report does not disappoint.
---
The Next Challenge Grant
Ollie, William and Joe had their trip supported by The Next Challenge Grant, an annual bursary for aspiring adventurers.
It's funded by me – Tim Moss – several other adventurers and crowdfunded public donations.
Since 2015 it has supported 50 different expeditions with awards from £50 to £800.
---
168km, 3 teenagers, 1 mountain:
The Tour Du Mont Blanc
by William Berg, Joe McDermott and Ollie Marva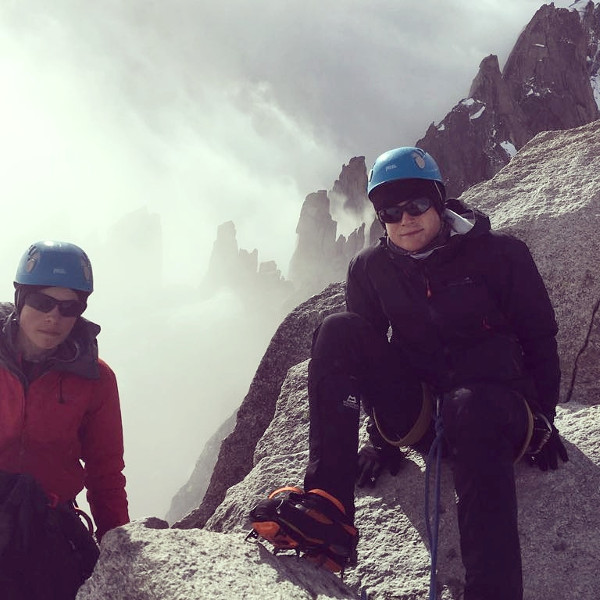 On July 25th 2018 three pairs of hiking boots paced up and down the aisles of Chamonix Super-U, stocking up on pasta, peperami and Milka. Nine days and 168km later the same boots, albeit smelling slightly 'cheesier', would leave their muddy marks along the same aisles – completing, for Joe, Will & Oli the Tour du Mont Blanc.
The Journey to the Start
Partly because we wanted to exit the Chamonix valley by the first night, but mainly because it was Ryanair's cheapest Geneva flight, Day 1 began with a 3am drive to Luton Airport – thanks Joe's Dad!
By 1pm local time we had managed to fly to Geneva, transfer to Chamonix and make it through the checkout of Super-U with a basket of (not quite enough) pasta, peperami, cereal bars, Haribo & Milka chocolate to last us the upcoming days. We then faced the Crystal Maze challenge that was using GCSE French to fill an MSR fuel bottle from a petrol station as we set off – only 168km left to go!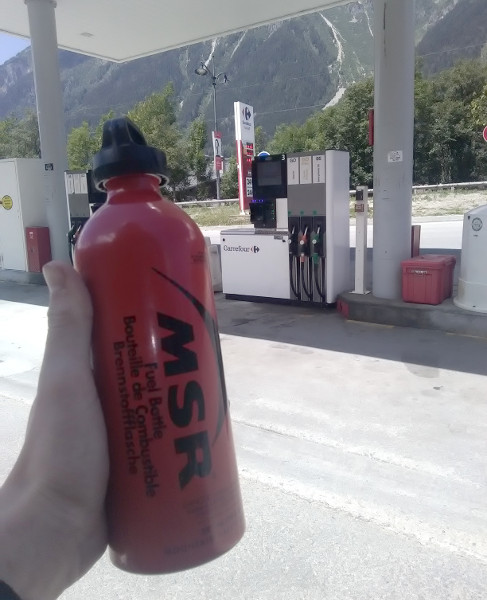 ---
The Route
By the end of Day 1, we had covered the 15 kilometres to our first camp at the Col De Voza. The following day we woke to fantastic views out of the tent, and the first of our proper walking days.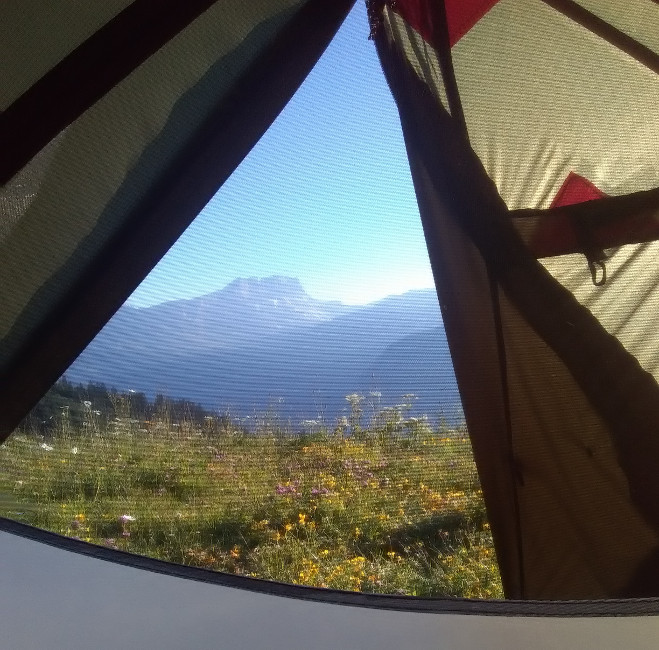 Over the next few days we walked an average of 20km with at least one big (2000m ish) col each day. Whilst the distances weren't too challenging, the topography certainly was! Despite our failure to read contour lines, getting high meant we encountered lots of great views, ridge-walks and snow.
After last winter's huge dump we expected that we might encounter snowfields on some of the higher cols and sure enough we did (at the Col du Bonhomme and Grand Col Ferret). To tackle these sections we carried crampons and walking axes; whilst these increased our loads by 10%, and seemed overkill compared to the micro-spikes other walkers wore, we would definitely carry them again as they would have prevented a slide from turning into a fatality (which actually happened two weeks before we arrived). It also cut the cost of kit hire (by €4!) for the last day, although our guide didn't rate Oli's "Crampons merde!" very highly.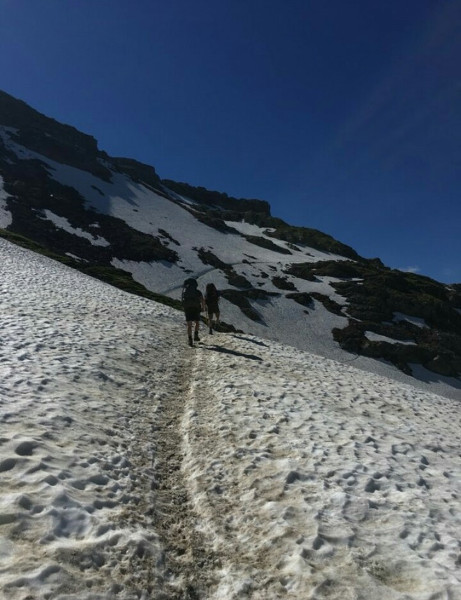 During the route we faced many other challenges, from exposed via-ferrata style ladders…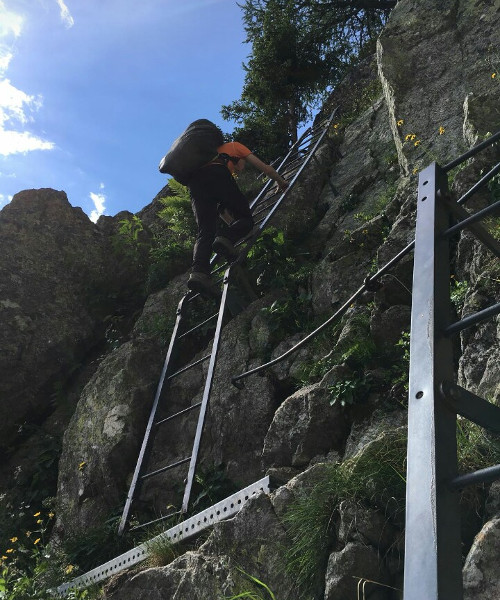 …and washing in rivers with 'liable to flash flooding' signs along the banks…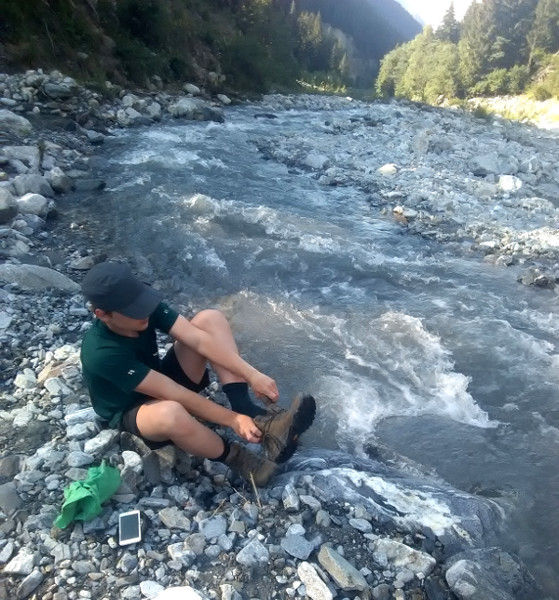 …to Swiss pricing, which reduced our menu from pasta and peperami to just pasta!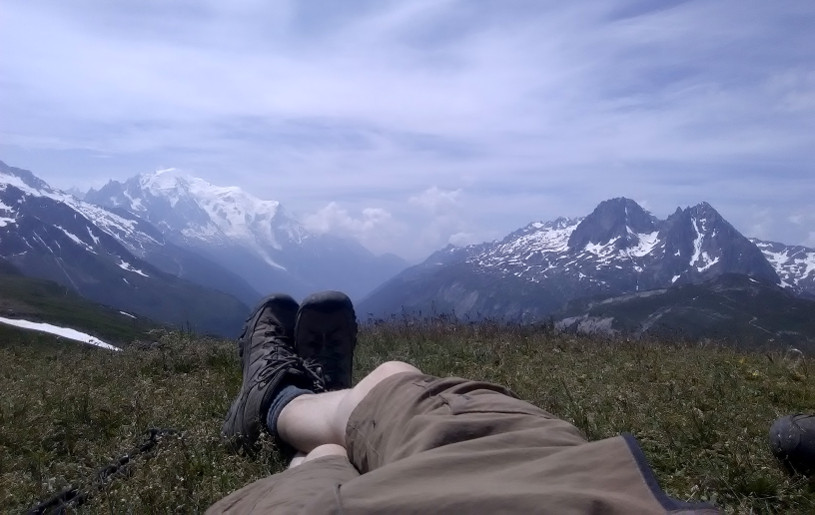 We continued onwards and, after nine days, we reached Chamonix centre leaving only the short walk to the supermarket to finish a full circle and complete the walk. Although we were only 200m from the Super-U where we started, we had taken a very long, challenging and scenic route to arrive there and we felt, for the first time ever, strangely excited to reach a supermarket!
Mountaineering
On our final day in Chamonix, Joe and Oli hired a guide to climb the Petite Aiguille Verte as an introduction to alpine mountaineering. This is a mixed snow, rock and ice route which passes over the Argentière Glacier from the Grand Montets lift and ascends the NW ridge to the summit at 3,512m. You can watch our video of the route:
This was an awesome experience that has sparked a keen interest in alpine mountaineering. Joe has since taken part in a mountaineering expedition to Switzerland with the Cadet Centre for Adventurous Training.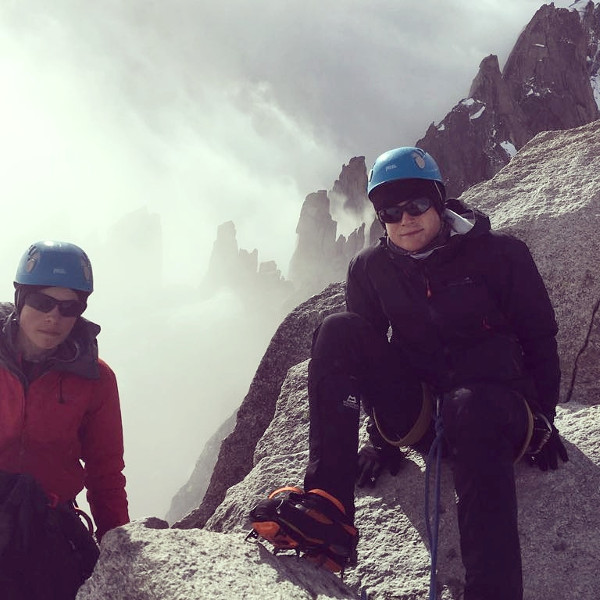 ---
Expedition Research
Throughout the expedition we conducted research into fitness and team cohesion, and the effects of leadership style and daily events on this. Although the study population of three was always unlikely to produce bombproof, statistically-significant results, it did provide food for thought. On a personal level, simply thinking about the factors that affect morale; situations to anticipate and avoid; and 'leader's tricks' to mitigate bad days has proved invaluable.
Fitness improved in general over the expedition. However, this varied: core strength (situps) continuously increased; leg strength (standing jump) decreased hugely; and upper-body strength (pressups) changed in cycles but overall increased.  The positive impact of rest was significant and noticed in all cases.
Team cohesion was closely linked to the effectiveness of the team, following Tuckman's Team and Group Development Model, with leadership style having a negligible impact on this. It did, however, effect individuals' perceptions of their contribution towards the team's success, with detailed command being the better style for this.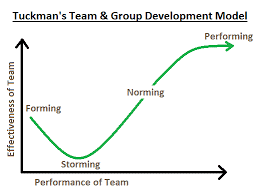 ---
THANK YOU!
This was an awesome expedition, which was both enjoyable and educational, and we are hoping to use this as a stepping stone to progress to more challenging expeditions in the future.
A massive thank you to Tim Moss and The Next Challenge Grant for giving the support that made this possible and to everyone who contributed. A special thanks to Keen for sponsoring a pair of fantastic boots which kept Joe's feet blister-free despite nine days' heavy use. The other two did not get off so lightly!

---
The Next Challenge Grant
Ollie, William and Joe received a £100 award from The Next Challenge Grant and a pair of Keen 'Targhee EXP' walking boots.
The money came from me, other adventurers and members of the public. The boots were donated by Keen.
Do you have an adventure idea that you need help with?
---