At the end of last year, two women achieved a remarkable feat: they ran up 282 mountains, back-to-back over 77 days, running more than 1,000 miles on the way.
Libby and Lisa were the biggest winners in last year's Next Challenge Grant, getting an award of £600.
Their challenge was to climb all of the Scottish 'Munros' under their own steam: cycling and kayaking between the base of each mountain then running up them. They are only the fourth and fifth women ever to do so and they smashed the previous record.
Their story is below.
---
The Next Challenge Grant
Lisa and Libby's trip was supported by The Next Challenge Grant, an annual bursary for aspiring adventurers.
It's funded by me – Tim Moss – several other adventurers and crowdfunded public donations.
Since 2015 it has supported 40 different expeditions with awards from £50 to £800.
---
Running the Munros
by Lisa Trolloppe and Libby Kerr
This summer Libby and I set out on the biggest adventure we have dreamed up to date. Born out of a need to escape from everyday life for a few months, a love of the outdoors and hearing some inspirational speakers at Hope Valley Film Festival, we planned our adventure: climbing all of the 282 Munros continuously over the course of just 80 days.

Mountains for miles – Scotland looking beautiful at sunset. Photo credit: Mike Watson
What are Munros and why did we decide on this challenge?
Munros are Scottish mountains over 3,000ft (or 914.4m), that also have to a 'distinct peak'. This ambiguous definition has caused much debate since Sir Hugh Munro first published his list in 1891. In the first version of the Munros tables, there were 283 mountains and a further 255 'tops' (peaks that are over 3,000ft high but deemed a subsidiary of a neighbouring Munro).
There have been various revisions of the list of Munros over the years but the current number stands at 282. In 2012, Beinn a'Chlaidheimh in 2012 was demoted after being re-measured and found to fall short by 44cm!
Climbing or 'bagging' Munros is a popular hobby amongst hill walkers. Most aim to do this over the course of several years, driving to the base of each mountain, walking up and driving home again. The Scottish Mountaineering Council (SMC) keeps a record of those who declare that they have climbed all of the Munros and the list is well into the 6,000s.
We, however, planned to join a much more exclusive club of the few who have completed all of the mountains in a single trip, entirely self-propelled. Not being able to use vehicles meant adding two kayaking legs and 1,000 miles of cycling between the hills, to the 1,000 miles plus of walking. All this added up to 149,000m of ascent (and descent) – or around 17x the height of Everest. Our knees might never forgive us!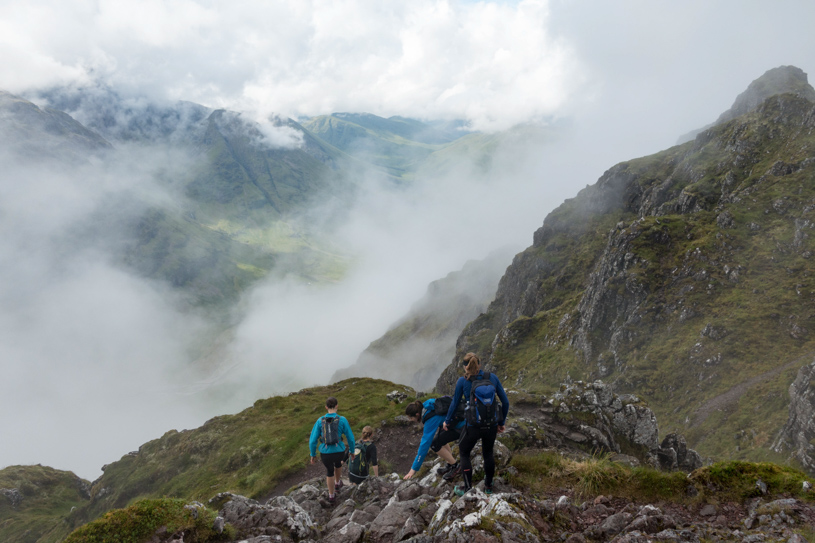 With friends on the Aonach Eagach ridge. Photo credit: Mike Watson
In the 1970s, Hamish Brown was the first person to complete a self-propelled Munro round. His book, 'Hamish's Mountain Walk', about his trip has inspired many to get out into the mountains.
The male record for completing such a feat has been hotly contested over the past few years with several runners aiming to break the 40-day barrier. We heard Stephen Pyke, the record holder who took just 39 days to complete his round, talk at Hope Valley Adventure Film Festival, which planted the idea in our heads.
Despite the incredible achievements of the likes of Jasmin Paris and Nicky Spinks showing that female fell runners are every bit as capable as the men in this sport, we were surprised to learn that only 3 women had ever completed a continuous Munro round – and that the female record was 113 days. Our competitive spirits tingled and we realised that this one was open for the taking!
Who are we and how did we go about planning this challenge?
Libby and I are not super-star fell runners. We met through climbing in Sheffield and slowly transitioned to fell running, taking part in our first mountain marathon together in 2012. We were pretty clueless: we had to scrabble to borrow all of the kit and learn to navigate in the weeks running up to the event. But, we loved it and managed to do well in the small field of female pairs.
We have been running together ever since, slowly increasing the distances we run, honing our navigational skills and building our kit collection. Once the idea of attempting the Munros had taken seed we began tentatively planning and, when we were both able to get time away from work, we realised that it might just work.
The enormity of the task was way beyond anything we had attempted before. With not much idea of how to train for something like this (and not much time between all the logistical planning) we tried to increase the distances and, more importantly, the ascent we were regularly running. We squeezed in some multi-day events but we had no idea how our bodies would cope with moving for 80 days in a row.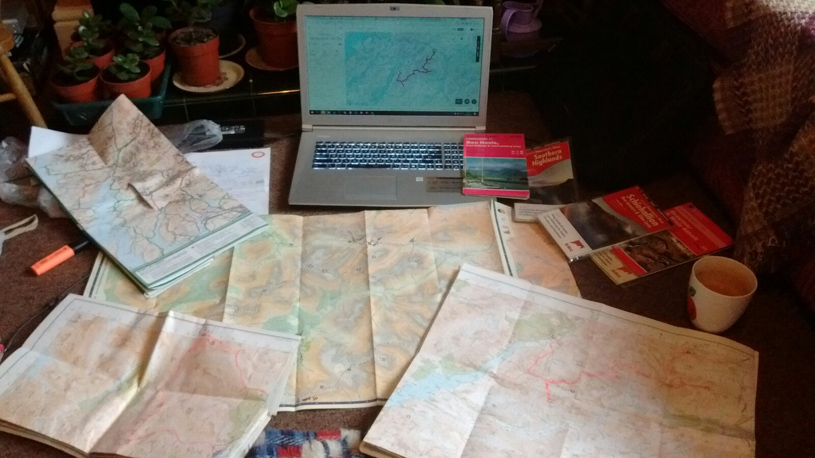 Maps everywhere!
The planning of this trip really was the making of it. Anyone who has seen the Munro map knows that there is no obvious route between all 282 mountains. Countless hours were spent perusing maps, reading guides and blogs about recommended routes, writing kit lists, emailing companies for sponsorships and purchasing and adapting our support vehicle (a rather snazzy red campervan!).
As novice adventurers we were amazed at the positive response we received from the companies we contacted. We were so lucky to receive kit, shoes, food and discounts from Alpkit, Inov-8, Mountain Fuel, Rocktape, Harvey Maps and SYHA. To top it off ,and to make the trip so much more achievable, we were thrilled and eternally grateful to receive a £600 grant from The Next Challenge. This helped us purchase a GPS tracking device, which gave us a piece of mind about safety in the hills. It also allowed our friends and family to track our movements, which they really appreciated! It also greatly helped with the cost of fuel for us and the van.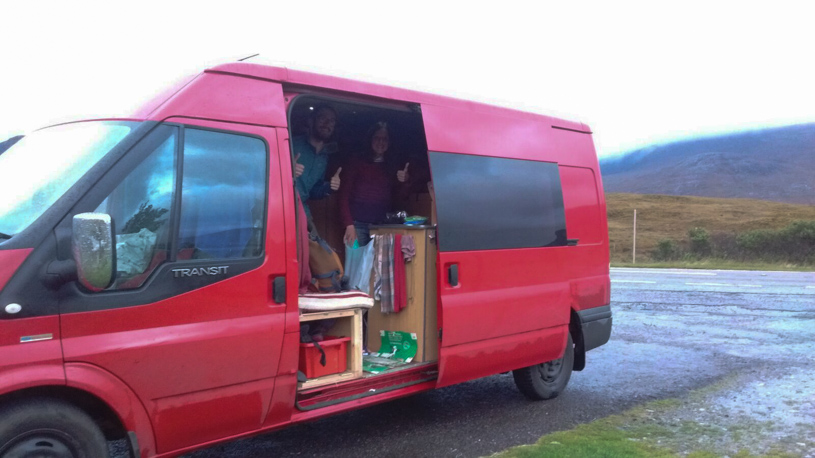 The Munro-mobile.
The adventure begins!
After months of planning we were really relieved to get going on the 3rd July. On the boat across to Mull on the Sunday evening, we could barely believe it was finally happening!
The first week was great. We took the first few days relatively easy, trying to ease our bodies in to walking and cycling everyday. We also had glorious weather to climb our first few Munros and complete the kayak leg across the sound of Mull. This was something Lisa was particularly nervous about as we have minimal kayaking experience, but we were expertly guided by Nick Ray who made us feel at ease.
Our first challenge came at the end of the first week when we spent two long days bagging the 18 munros on the Tranters round (Mamores, Grey Corries and Aonachs together with Carn Mor Dearg and Ben Nevis) and spent our first of many nights in a mountain bothy.
Towards the end of the first week we were feeling excited by our progress but we were becoming physically tired and both developed a cold. On our 7th day out, we experienced our first very wet day and we struggled physically and mentally tackling the steep, waterlogged grassy slopes of Beinn Sgulaird and Beinn Fhionnlaidh. After a difficult chat on top of Sgor nah Ulaidh, the 3rd Munro of the day, we decided to cut our route short and headed down to Glen Coe early. This was disappointing but it was a good decision. The warm cup of tea and homemade biscuits in a friend's van when we got down to the valley was something we won't forget!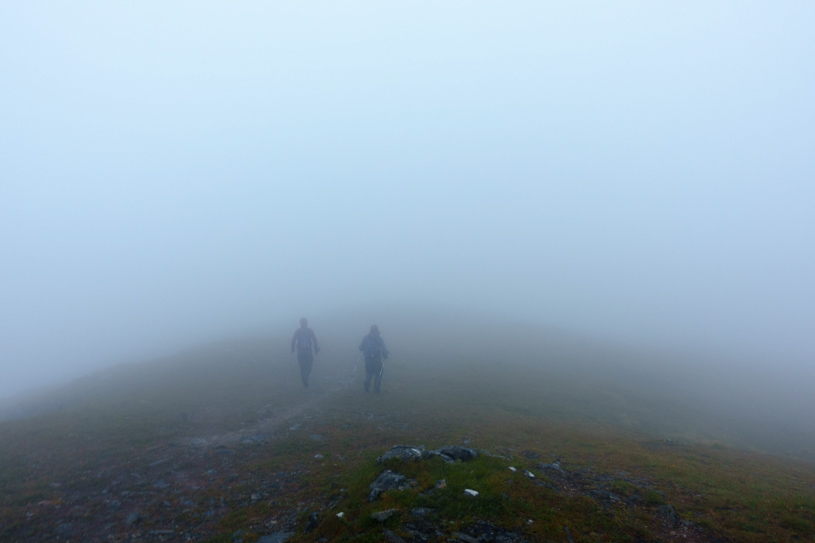 Libby and Lisa in the fog!
Over the next couple of weeks our bodies adapted to the continuous activity. We started taking a rest day every 6-10 days and our knees stopped being so painful in the evenings. Once we had a few more Munros under our belts, we felt like we could be more flexible with the schedule – cutting days short when we felt tired and picking up extra mountains when we felt strong. Despite grand ideas that we would have time to read, play cards, learn a musical instrument/a foreign language in the evenings – the reality was that drying kit, bag packing, sandwich making, route planning, eating and sleeping left no time for anything else.
Overall, we found that the physical side of this challenge ended up being the easy bit. It was the logistical planning and motivation to get out of the door in the morning being that was the hard bit. The idea of such a long trip was very daunting at times and it was really helpful to learn and practice techniques to stay in the moment and just focus on one mountain at a time. One thing we weren't expecting though, was how enjoyable the majority of the trip was. It rained (a lot – I've never been so appreciative of waterproof trousers) and it was often foggy, but the pang of excitement each time we reached a summit never faded. The views were stunning and we couldn't help but feel amazingly privileged to be waking up in the mountains everyday.
Enjoying stunning views and warm weather.
Reaching the half-way point
After a few weeks bagging the southern Munros, we arrived in the Cairngorms. Here we completed some of the longest days of the trip. This included an epic 16-hour day, which ended with a 14km midnight mountain bike ride after bagging one of the most remote Munros: Carn an Fidhler.
We were also rewarded here with high valleys (starting your day at 600m is such a treat!) and an awesome 3day trip staying in two mountain bothies. We really enjoyed our bothy and wild camping nights. Although they required much more organisation (and sandwich making) the night before, we ended up with a night off to enjoy the company of whoever we met. Reaching the half-way point on Lisa's birthday on Cairngorm was a definite highlight and we celebrated with cake, cake and more cake!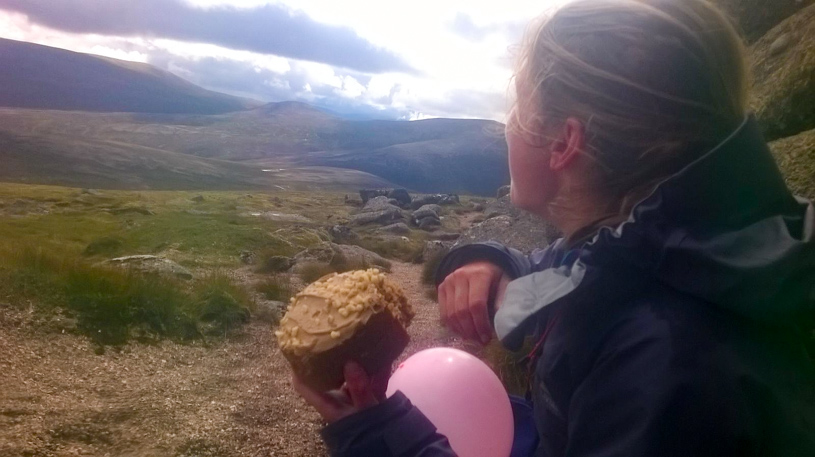 Cake, balloons and beautiful views on Lisa's birthday.
Passing the half-way point gave us so much more confidence, having completed a large number of 35km+/2,500m ascent days, we were happy with tackling longer days and knew we were able to cope in bad weather. The second half of the trip did throw us a fair amount of this and we encountered our first uncrossable river below Chno Dearg. We hadn't given much thought to unpassable rivers before this point – and luckily we didn't have to detour far – but ended up re-planning a few future routes to avoid larger streams.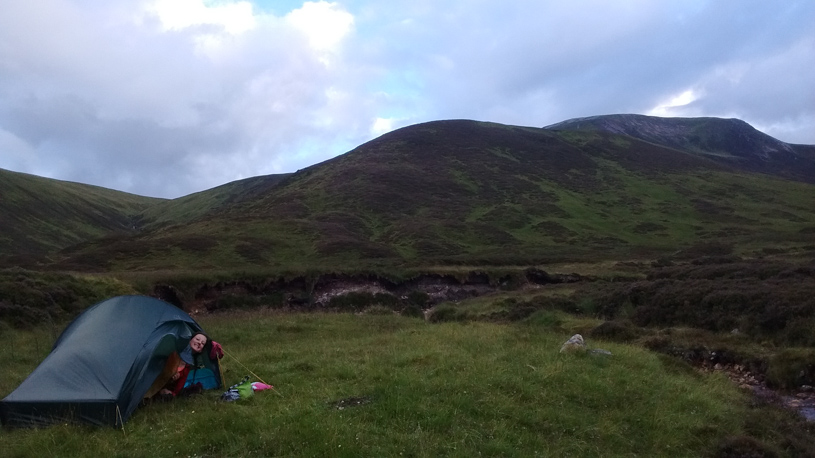 Enjoying a beautiful wild camp spot.
After long days out around Ben Alder and through Knoydart, the next great challenge was the Cuillin Ridge. Firstly, finding a weather window in which to give it a go, and then the feat itself. Although we both have climbing backgrounds and the climbing is technically easy, the sheer amount of concentration required to scramble along the ridge makes it exhausting. Our friend, Matt, came to accompany and guide us and we are amazingly grateful to him, and proud of ourselves, that we completed the whole ridge in one, very, very long day. We were both exhausted when we finally made it down to Sligachan after 20 hours on the hill.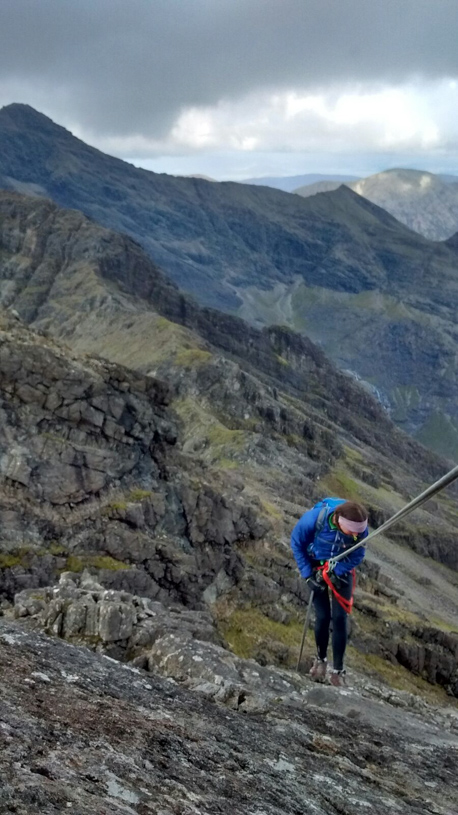 Libby abseiling on the Cuillin.
The summer seemed to abruptly end once we left Skye. Although the end was in sight and there were only 44 Munros left to climb, our motivation was hampered by relentless strong winds and heavy rain. Feeling conflicted by wanting to get on with the rest of the hills but put off by the atrocious forecast, we had to make difficult decisions about when to take a rest day, which days to cut short and which days to just wear lots of layers and get on with it.
After being soaked and pummelled by the wind for nearly two weeks straight, the almost unbelievable happened. For our last day, we had something we had been dreaming about for a while: it was still, sunny and amazingly clear. After our final bike ride, we had a leisurely walk up Ben Hope joined by friends. We had 360 degree views, and it was warm enough to sit and enjoy our final peak with a bottle of bubbly! A perfect end to an amazing adventure.
We finished on Sunday 17th September – 77 days after we started, setting a new female fastest known time for a continuous Munro round.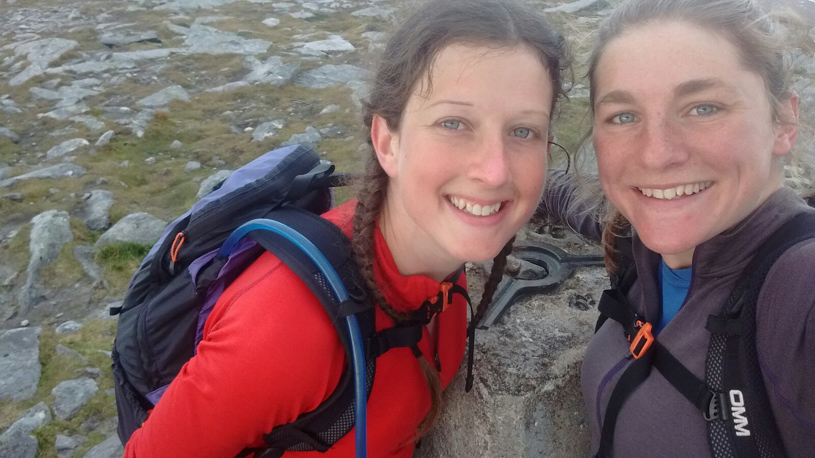 Celebrating on Ben Hope – our final Munro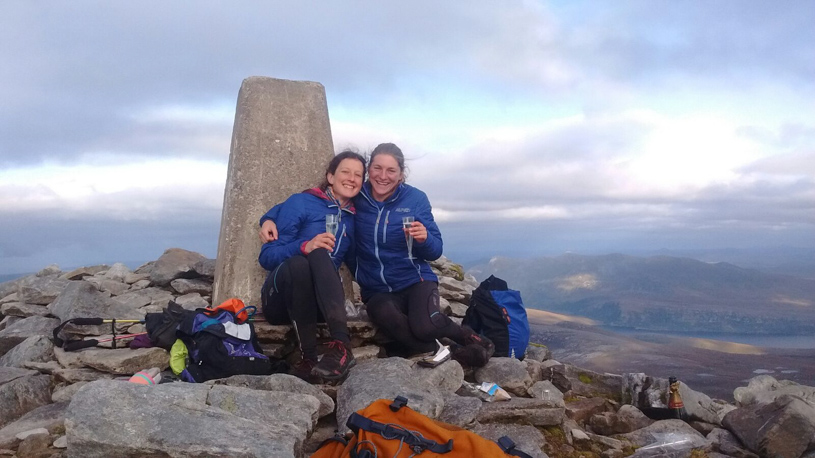 Huge thank you!
We want to say massive thanks to everyone who supported us in every way. This trip would have been impossible without our support team, who drove the van, moved our bikes and generally kept us very well looked after. We are incredibly grateful.
Thanks to all of the friends (and strangers!) who joined us for a Munro or two, sent us messages of support or sponsored us. All of it spurred us on. A massive thanks also to Alpkit, Inov-8, Rocktape, Mountain Fuel, SYHA hostelling Scotland, Harvey Maps for kit/fuel/discounts.
Finally, a huge thank you to the fantastic Next Challenge Expedition Grant and all its supporters, the funding and advice has been a massive help and we couldn't have done it without your support. We hope that this grant continues its great work of getting people out on their own adventures, big or small, for years to come.
---
Libby and Lisa are raising money for Lockerbrook Outdoor Centre, Parkinson's UK and WaterAid. Their Just Giving page is still open and you can sponsor them here.
If you want to read more about our Munro round, more information and their weekly blog posts are on their website: Beauties and the Bog.
You can also follow us on Twitter/Instagram @bogbeauties, @libbykerr4 and @Lisa_Trollope
---
The Next Challenge Grant
Lisa and Libby received a £600 award from The Next Challenge Grant.
The money came from me, other adventurers and members of the public.
Do you have an adventure idea that you need help with?