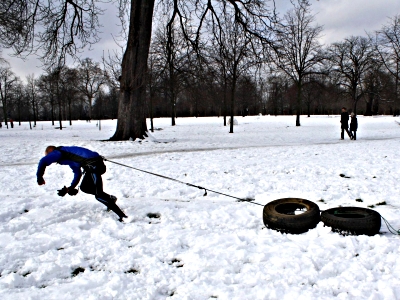 It would be fair to say that I like doing things that other people often consider weird. Taking cold showers, swimming outdoors and dragging tyres spring to mind, as do most of the things on this page.
I PULLED TYRES to train for a planned North Pole trip. It's the standard training method for that sort of thing because it replicates dragging a sledge. I loved it. Grunting my way through Hyde Park clad in lycra was my ideal way of spending a lunch break.
I STARTED TAKING COLD SHOWERS whilst training for my triathlon last year. It  helped me adjust to open water swimming and it's supposed to be good for muscles after training. Not to mention the fact that if I got out of the pool and had a hot shower before cycling to work, I'd be sweating buckets when I arrived.
BUT then I decided to pull out of the polar plan and no longer had a reason to drag man's greatest invention.
AND when I had completed the triathlon and no longer needed to train, I stopped taking cold showers.
No cold showers, no tyre dragging.
THEN, in a public library in Sweden, exahausted and elated after two month's on expedition, I read an article about improving your life that suggested making cold showers part of your daily routine.
I didn't need to hear another word. I cycled back to my campsite and, the very next morning, jumped with glee into the icy embrace of a cold jet stream. That was a couple of months ago now and I'm still going.
THEN, last week, my friend said he wanted to start pulling some tyres to get ready for a polar trip. "Let me know if you need a training partner!" I interjected without hesitation, despite there being no obvious reason for me to do it.
I needed an excuse.
These things are pretty weird at the best of the times and, although I enjoy them for their own sake, it doesn't mean it's not testing or awkward when people ask me: "Why?".
But, if I've got a handy excuse like "I read it on Al's website" (for the cold showers) or "I'm just helping out a mate" (for the tyres) then it makes it just that little bit easier.
So, consider this your excuse.
Go out and do something you've always wanted to try, used to do but no longer have a reason to, or secretly enjoy but are a bit embarrassed about. And, when somebody asks you why you're doing it, just tell them…
"Oh, I read this weird article on this website and it said I should give it a go"