Next month, Laura and I will be travelling to Siberia to walk across the frozen surface of Lake Baikal.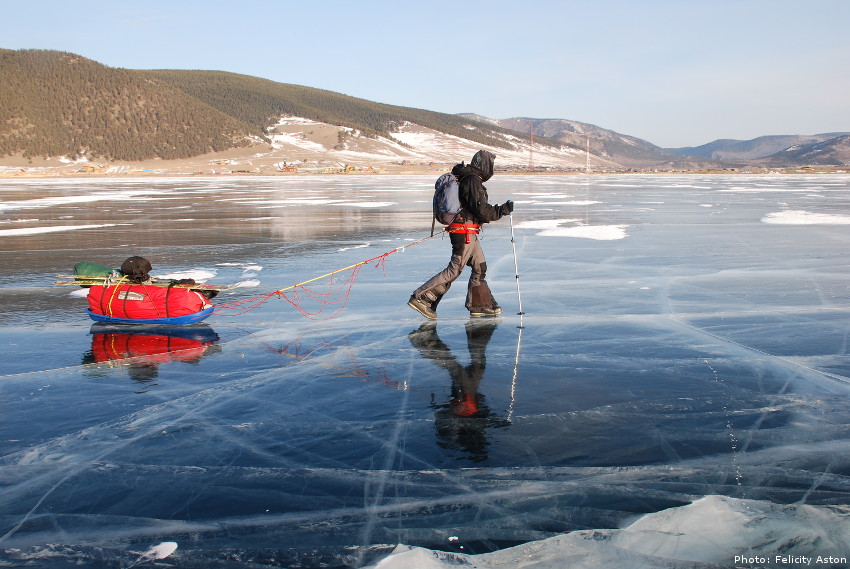 Friends, family and colleagues often ask us what our next trip's going to be. I don't always have an interesting response but recently my answer's been 'Siberia' and it has elicited a lot of intrigue.
When I go on to explain that we'll be crossing a frozen lake, it leads to a lot of questions. So I thought I'd take the opportunity to explain what we're planning.
What is the expedition?
Our plan is to cross Lake Baikal in Siberia when it's frozen.
Next month, on Friday 17th March, Laura and I will fly to Irkutsk in Russia. We'll then travel by bus to the edge of Lake Baikal where we'll walk onto its frozen surface. From there we'll spend a week crossing the lake and camping on the ice.
We'll be on our own, carrying all of our supplies in sleds, cooking food on a camping stove and melting ice for drinking water.
When we're done, we'll take the Trans-Siberian Railway back to Moscow.
What/where exactly is Siberia?
Siberia is just a region of Russia. It happens to be massive though: bigger than the entire United States of America and over 50 times the size of the UK.
I've actually been to Siberia several times before – on the Tran-Siberian railway whilst travelling around the world in 80 ways, to climb unclimbed mountains in the Altai region (pictured below), then twice to support Sarah Outen's kayak crossings in the Russian Far East. But none of these trips were in winter and I think the cold is what people associate most with Siberia so this is the first time I've touted the name.
Climbing in the Russian Altai (Siberia)
How big is Lake Baikal?
By volume, Lake Baikal is the largest in the world. It's 400 miles long and 50 miles wide.
We only have two weeks of annual leave so won't have time to travel the entire length. Instead, we'll be walking walking across the lake and back again.
How cold will it be?
Siberia stretches from Western Europe to Japan and thus experiences all seasons and types of weather. In summer, for example, some areas can get very hot (30C+). However, we'll be travelling to Irkutsk and Lake Baikal in March when it will be cold.
It will probably average around -5 to -10C during the day, dropping to perhaps -20C or below at night.
We cycled in similar temperatures in Turkey and Iran on our round-the-world bike trip and I've previously spent a little time in the Arctic so we have some experience of handling the cold. However, on our cycling trip we could usually warm up in a petrol station or cafes but there won't be any such luxuries out on the lake.
(Ski touring in Arctic Svalbard)
What will you wear to keep warm?
The key areas of concern in the cold will be our hands and feet. Thankfully, Outdoor Research are providing us with some of their super warm Alti Mitts, designed for the Arctic and Everest.
And on our feet we'll each have a pair of Sorel Caribou kindly sponsored by Blacks.
(Training in a Lake District white-out)
Is it safe to walk on a frozen lake?
Lake Baikal freezes every year, typically between November and April. The ice is apparently a metre thick in most places and cars regularly drive across it with an unofficial 'road' open for much of the time. As such, there should not be any real risk of us falling through the ice (although, of course, we'll be prepared for the eventuality).
Where will you sleep?
We will pitch a tent on the frozen surface of the lake. Tent pegs won't work in the ice so instead we'll use the 'ice screws' (below) that climbers use to attach themselves to glaciers and frozen waterfalls.
We'll use two camping mats underneath us (a combination of a Thermarest Ridgerest and Exped Synmat for those interested) and sleep inside two sleeping bags. The main bag will be a big, warm down sleeping bag but we'll cover it with a thin synthetic one over the top. That's because when it's that cold, the moisture from your body freezes on the outside of the sleeping bag so this avoids the delicate down getting wet.
What will you eat?
We'll be carrying all of our food with us and cooking it on a stove. I've still got some dehydrated rations from my recent review and we might take some home-made instant porridge sachets but the rest of the food we'll just buy in Irkutsk.
It might sound odd to start cooking on ice but it's not uncommon for locals to start open fires on the surface so our little camping stove will be fine.
Will you get water from the lake?
Yes but not by drilling a hole. Instead, we'll have to chip chunks of ice off the surface and melt them on our stove. If there's any fresh snow on the lake then we'll use that instead.
How will you carry your kit?
Putting all of our equipment and a week's worth of food into a rucksack would be very heavy. Instead, we'll use plastic sleds which should be much easier (and more fun).
On proper polar expeditions people tend to buy expensive 'pulks' (fancy word for sleds) made of fibreglass or even kevlar. Since our journey is only short and we won't need as many supplies as someone going to the North Pole, we'll be able to get away with cheap, plastic sledges like the ones you see in hardware shops.
We'll attach them to our waists with rope and drag them behind us. Most of the lake's surface should be reasonably flat but there will be areas filled with jumbled ice, the result of freezing during bad weather or the force of the lake crushing ice together.
(Jumbled ice on the surface of Lake Baikal)
Why do you keep uploading photos of yourself pulling tyres through housing estates in the middle of the night?
Although Laura and I do a decent amount of exercise, pulling a sled will use different muscles from the running and cycling that we normally do.
So, to train for the trip, we have been dragging tyres. We've taken to doing it under cover of darkness on winter evenings to avoid alarming our neighbours and answering lots of questions (e.g. "Wouldn't they be easier to drag on their side?" and "Tyred yet?")
Tyre dragging is the quintessential training method of choice for polar journeys. Ever since first trying it when training for an ill-fated North Pole trip in 2008, I've been dying for an excuse to do it again (I particularly enjoy needless hard physical activity).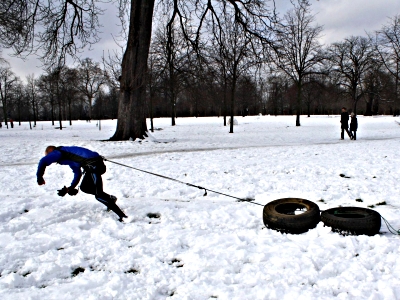 (Tyre dragging in 2009. The third tyre's been cropped…)
Why do you want to do this?
We got the idea many years ago after talking to Conrad Dickinson and Felicity Aston (pictured at the top of the article) who had both crossed Lake Baikal.
Since returning from cycling around the world, Laura and I have been on several smaller adventures – like crossing Ibiza, walking in Iceland and bikepacking across the Cairngorms – but have been itching to do a bigger, tougher trip.
We'd both love to do a polar expedition but they're prohibitively expensive. Hopefully this will be a tiny taste of polar travel for far less money (well under £1,000 each) and easily done with annual leave from work.
How is Alastair Humphreys paying for your expedition?
He doesn't know it yet but friend, adventurer and unwitting philanthropist Alastair Humphreys is actually going to pay for our expedition.
Specifically, he suggested setting up a standing order for £20 a week to go into a savings account. If you wait a year then you'll have a grand which is more than enough for an expedition to Siberia (or other far flung place of your choosing).
We each set up just such an account last summer and can now pay for the whole trip:

(Putting aside £20 a week for 9 months has funded our trip)
Thanks to the following people for providing sponsored equipment:
I'll post another update before we leave but you'll be able to follow our progress on Twitter (@nextchallenge and @lauralikeswater)