Ibiza is best known as the clubbing capital of the world. But it's also a beautiful island in its own right.
We reckoned it would be a great place for an adventure so booked some budget flights, packed our bags EasyJet Alpine style (expedition kit that's hand luggage only) and set off to cross the island on foot.
Here's how we got on…
Walking Across Ibiza
We'd heard that Ibiza was a beautiful place…
So we got a budget flight there, bought a map…
..and started walking straight from the airport.
Within minutes we were in wilderness with the hills to ourselves…

We topped out with views to three sides of the island…

…before descending through the woods in the evening sun…

…just in time for sunset on the beach.
We had a civilised dinner in town…
…walked past closing night at Cafe Mambo…
…then bivved on a headland with the soothing sound of dance music just audible in the distance.
It was one of the longest sleeps we'd had in months!
The island does have a number of walking routes which we occasionally followed over the next few days…
..but most of the time we just made our own way.
Out of the few towns and a couple of main roads, the island is mostly covered dirt tracks and deserted trails…
…although we did inadvertently crash a pool party after clambering over some rocks.
A favourite game was imagining which celebrities lived in the many beautiful villas hidden away in the hills.
Eventually we made our way back to Ibiza Town…
…surveyed the island that we'd crossed…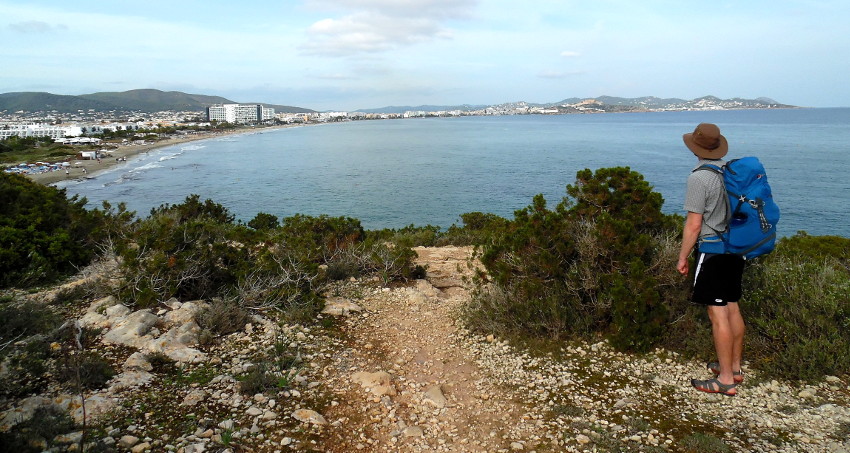 …and treated ourselves to one of those villas we'd be eyeing up.
And when it was all over and time to fly back, we walked home from the airport. No public transport.
Thanks to Toby Clarke for help with planning.
Tempted by a little adventure of your own? Apply for The Next Challenge Grant.