In March, Laura and I travelled to Lake Baikal in Siberia to walk across its frozen surface.
This blog post shares our photos. Click here to watch the video.
We started out from Olkhon Island, an area famous for Shamanism…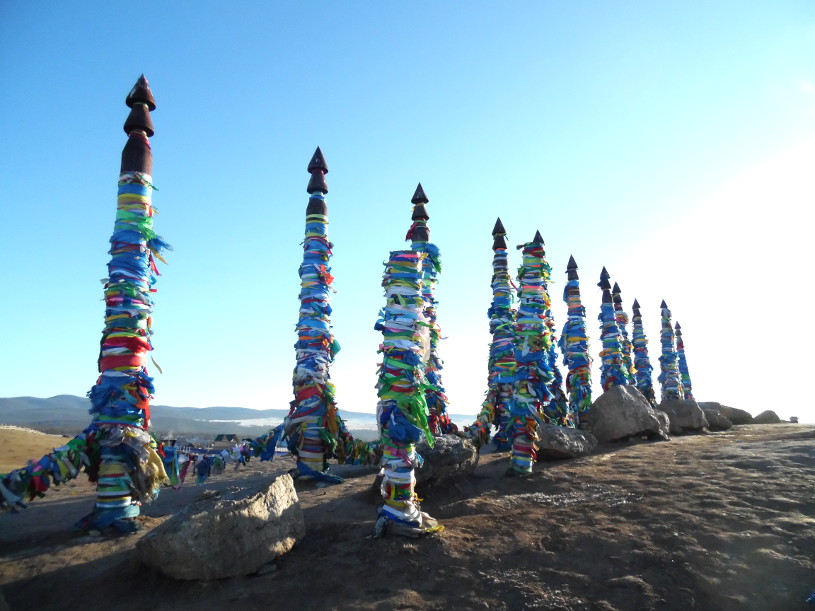 Before we left home, our main fear was that the ice on the lake would collapse beneath us. But our first encounter with the lake was in a convoy of mini-buses. Evidently, the ice was pretty strong…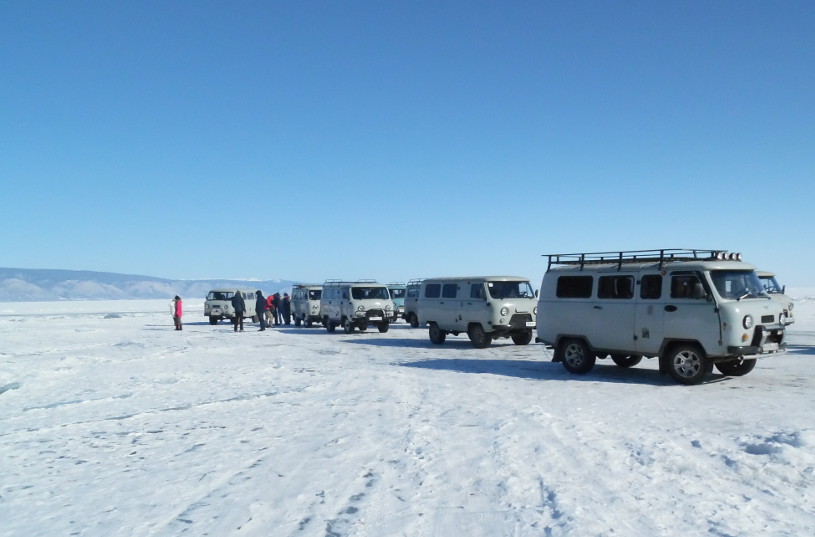 Our first time setting foot on the ice was a real novelty…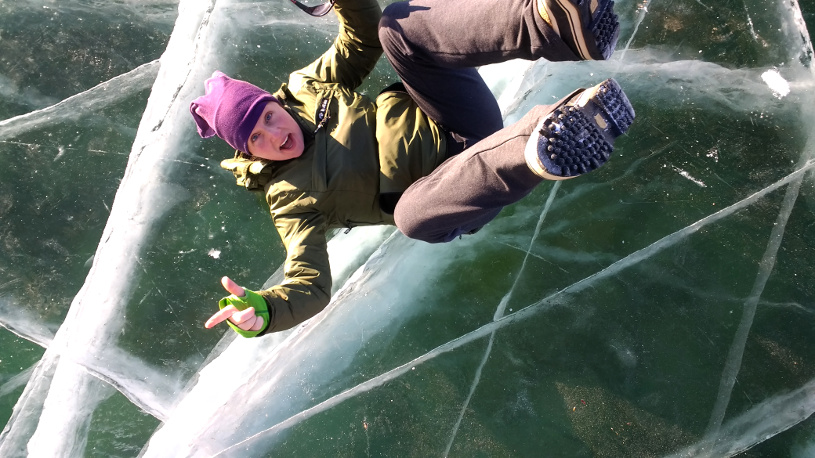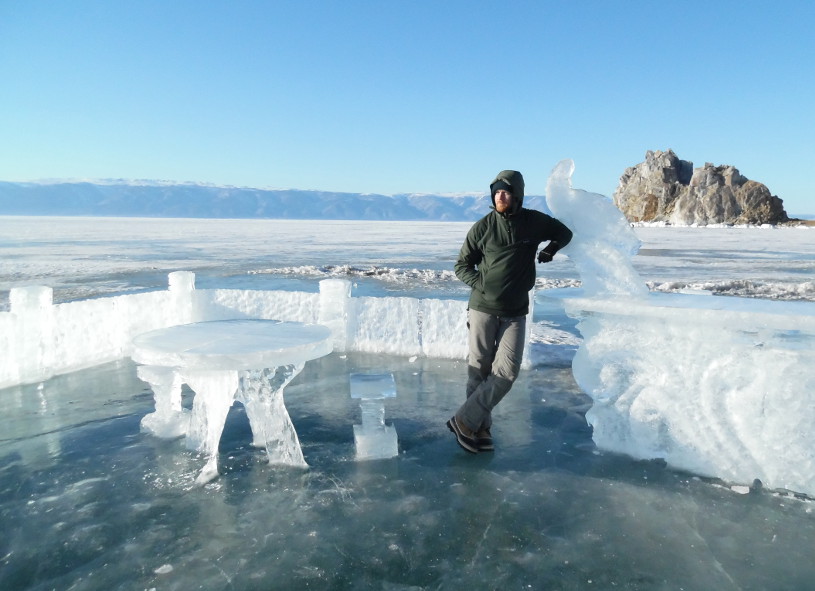 But once we were over the initial excitement, we got dropped at the end of a peninsula, ready to start our walk…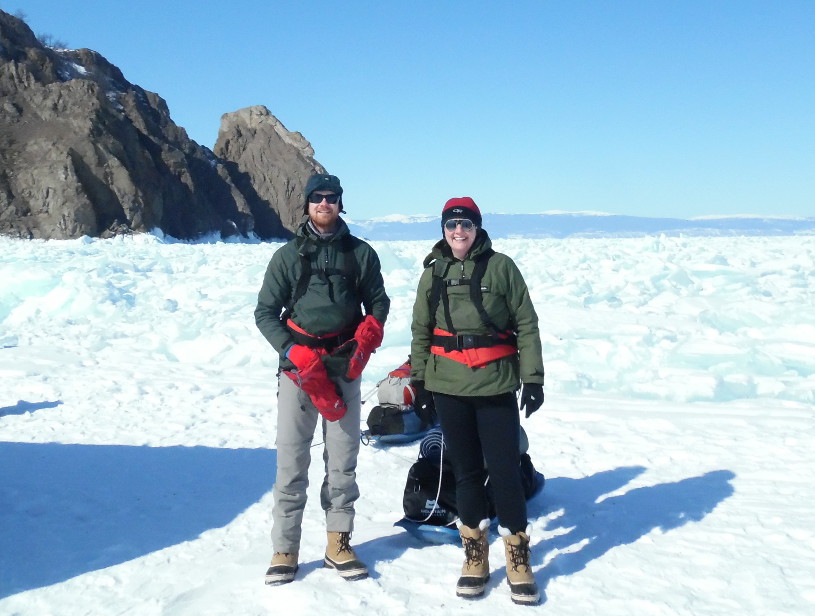 The lake freezes solid every year. At the start of the frozen season, the surface is clear, blue ice. You can see straight down to the water below and it's so smooth that you can skate on it…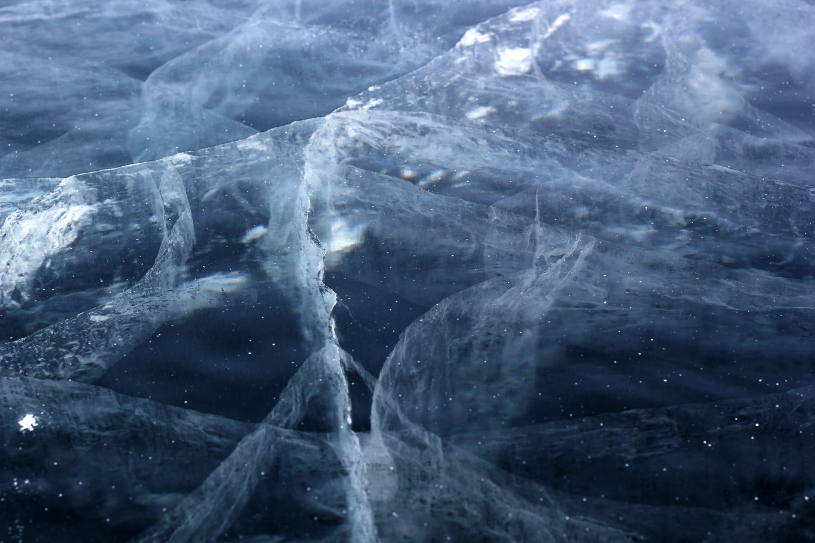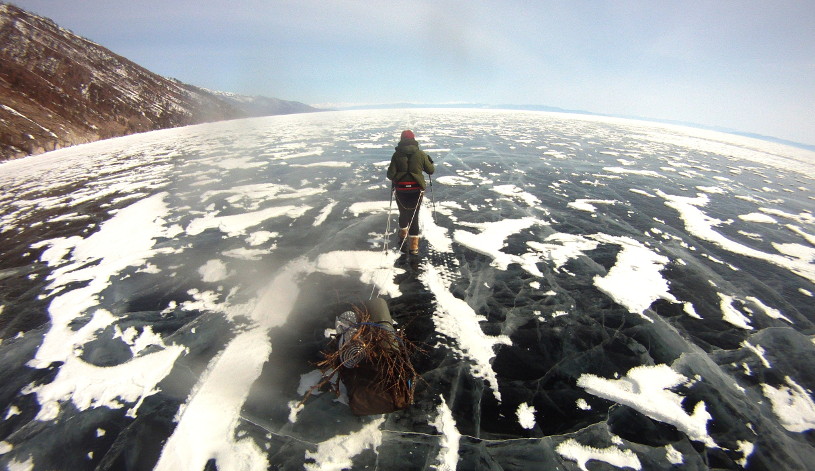 …but by the time we got there, most of it was covered in snow…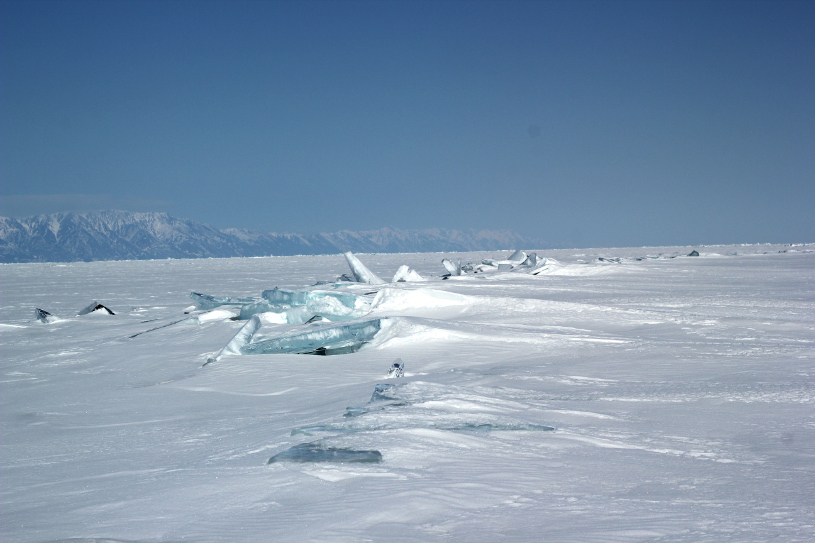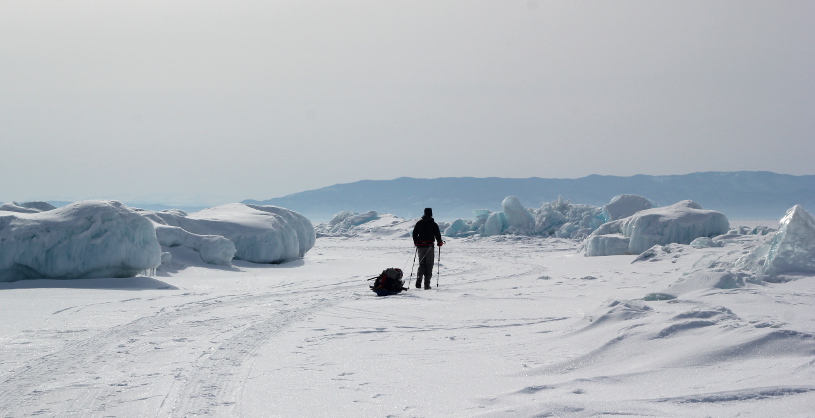 We carried all of our equipment and supplies in plastic sleds (which the pros call 'pulks')…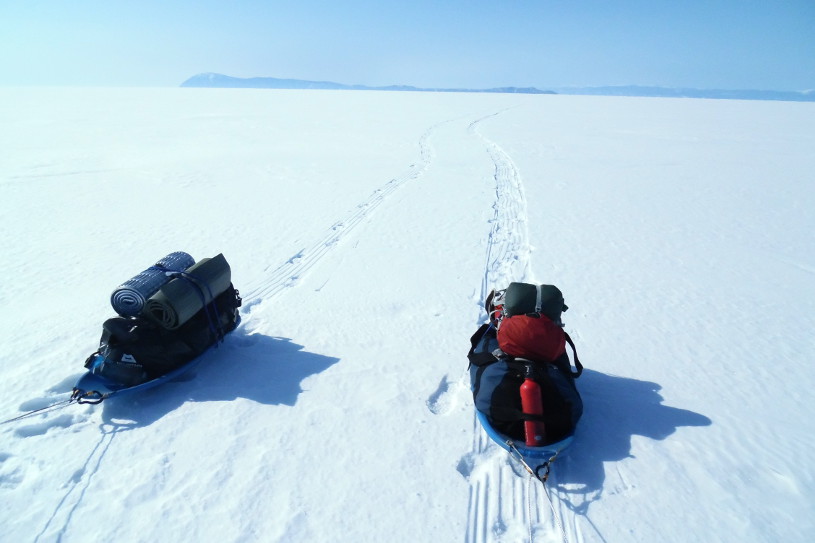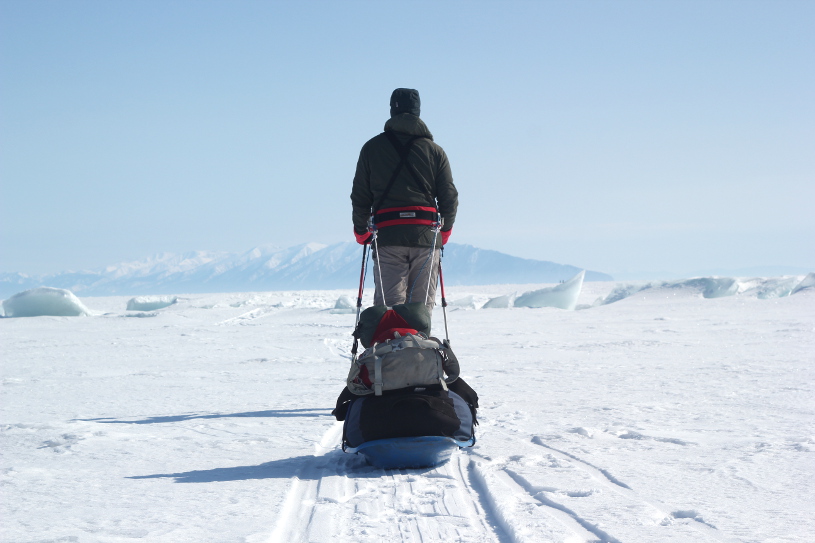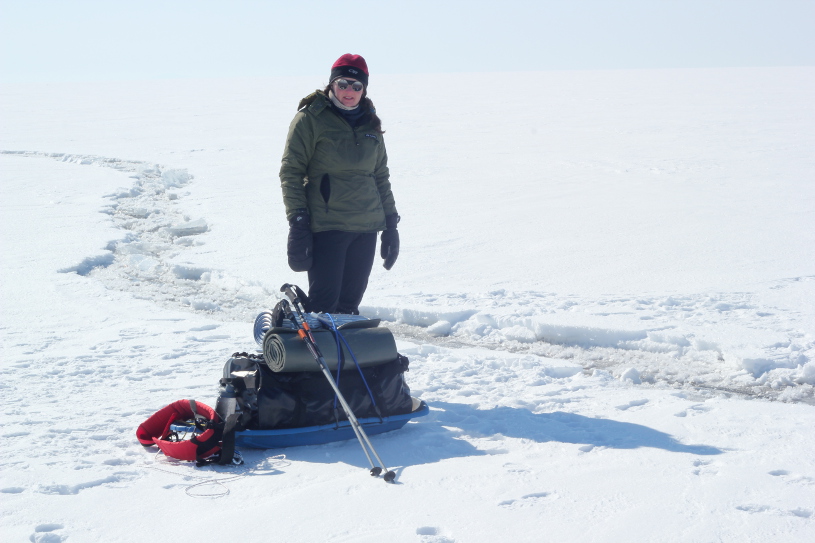 Most of the lake's surface is as flat as a pancake…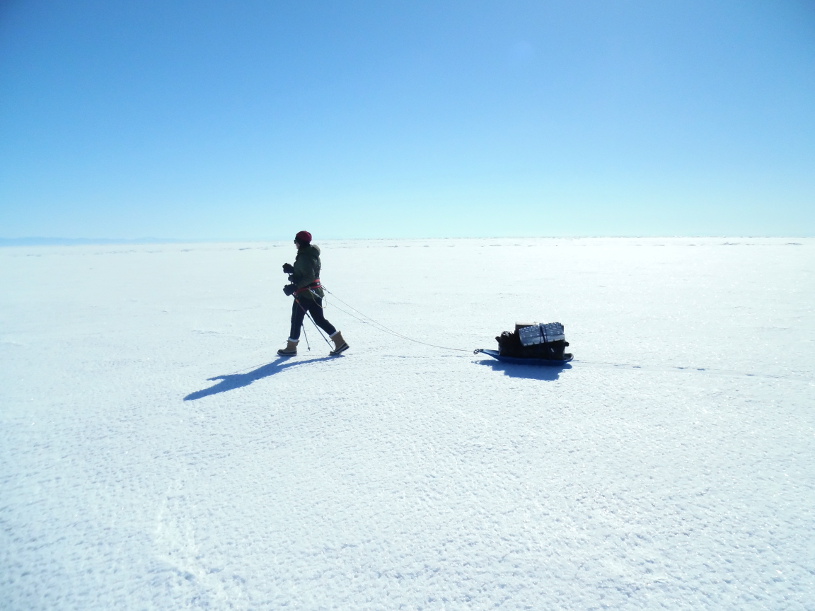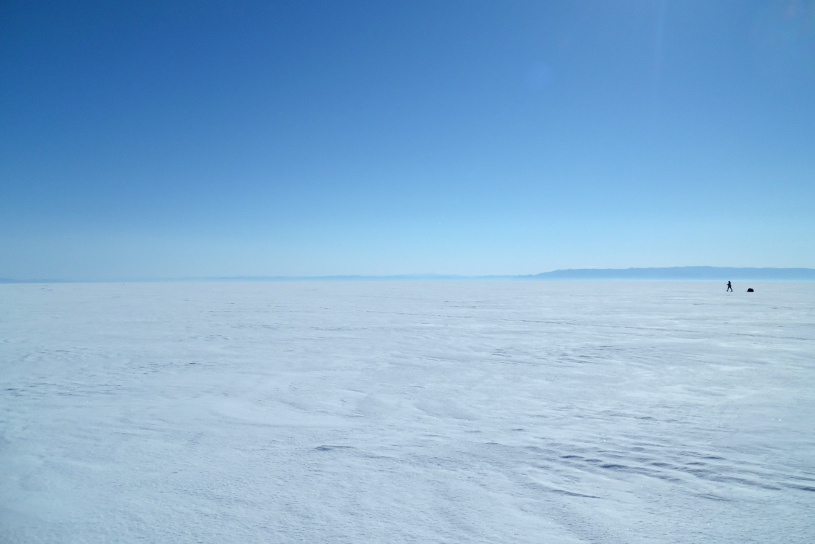 …but some sections were filled with jumbled ice as far as the eye could see (like the 'pressure ridges' or 'compression zones' that form in the Arctic Ocean / at the North Pole)…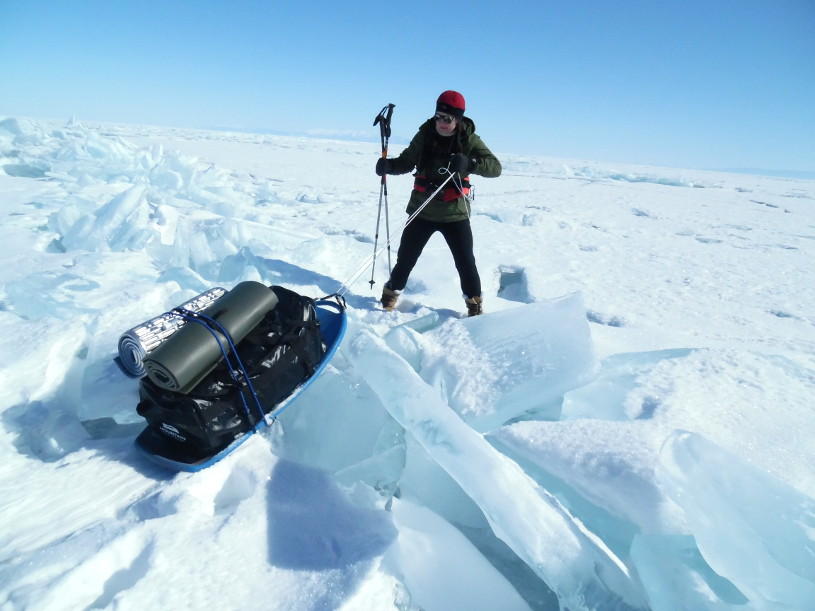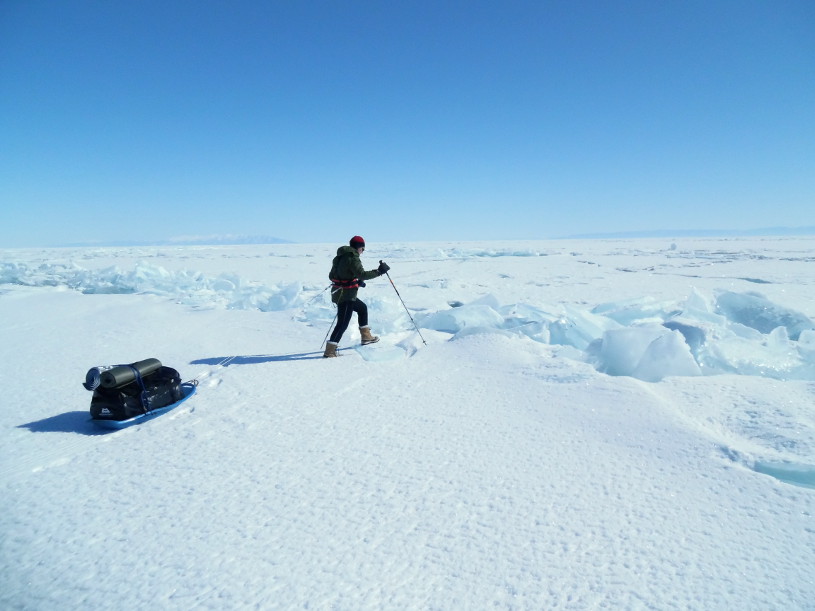 At night, we pitched our tent on the ice…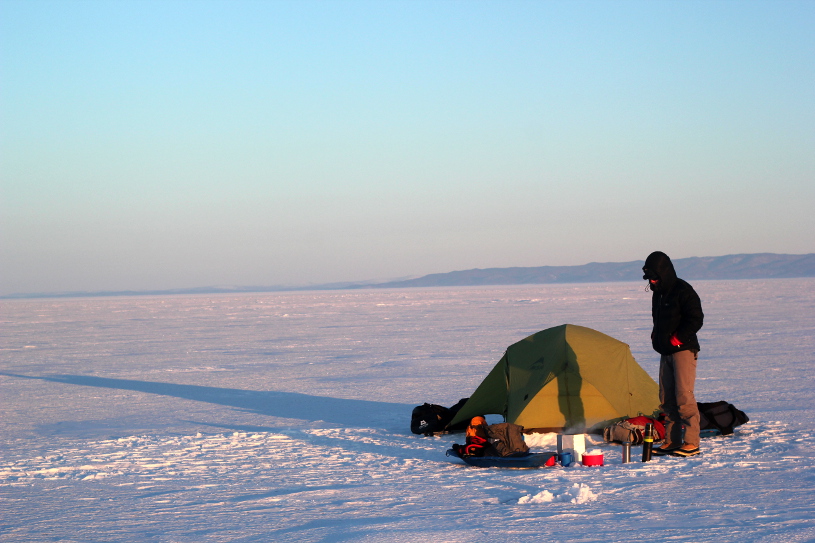 …instead of tent pegs, we had ice screws like those that climbers use for mountaineering…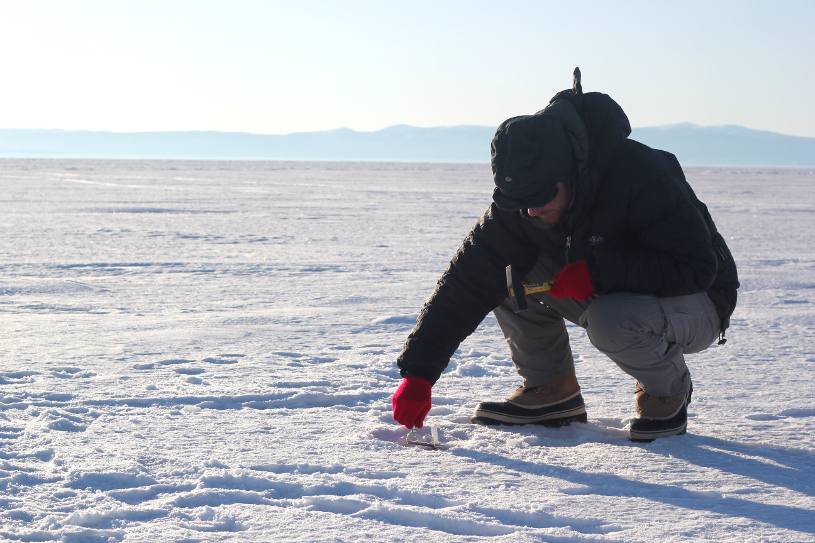 It routinely dropped below -20C at night and we kept warm with two camping mats and two sleeping bags each…
…and whenever we ventured outside in the morning, everything was covered in a fresh layer of ice…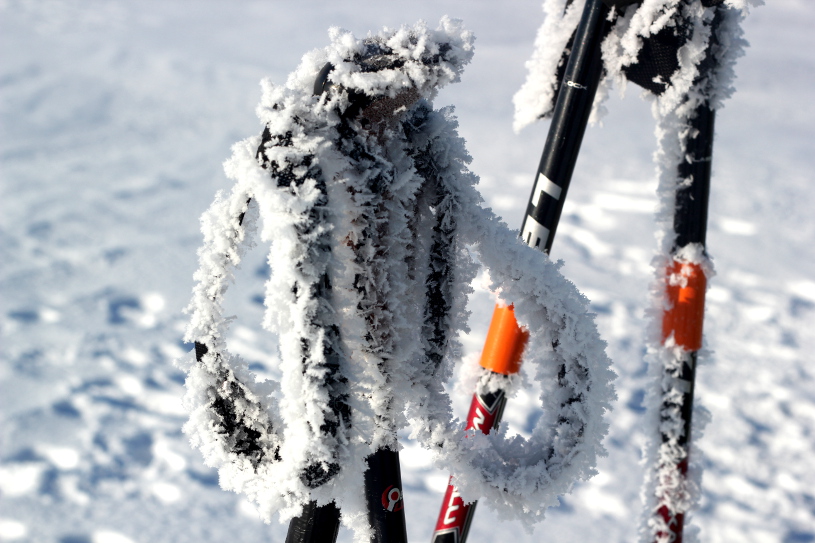 We carried all the food we needed for the trip: dehydrated meals for the evenings, chocolate and nuts as snacks, then bread, cheese and salami for lunches.
We had to cut the latter up into small pieces before we left so that we could defrost them in our pockets before eating them…
(Laura did 90% of the chopping but I snuck in for the photo)
…the defrosting didn't always work though so we had several lunches of frozen bread and frozen cheese….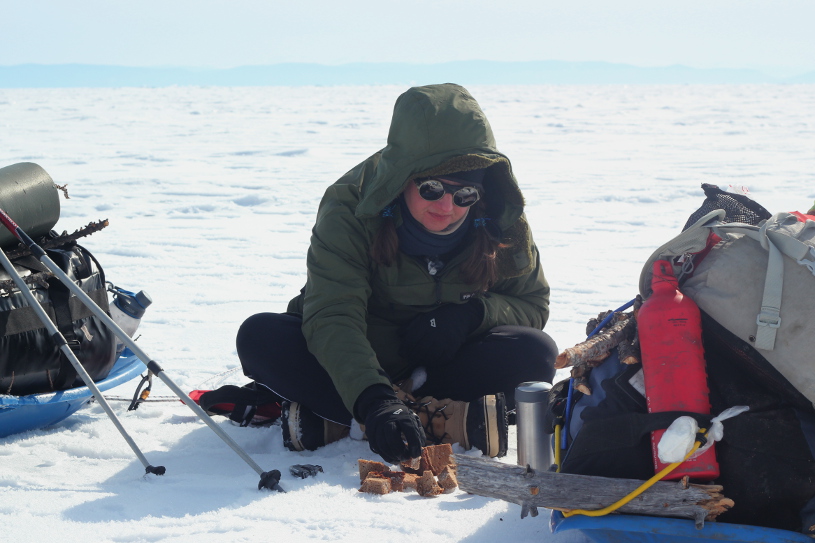 Given that it was so cold, the only way to get water was by melting snow with a camping stove. Unfortunately, ours broke…
(This photo shows kerosene bubbling out the top of the stove – not good!)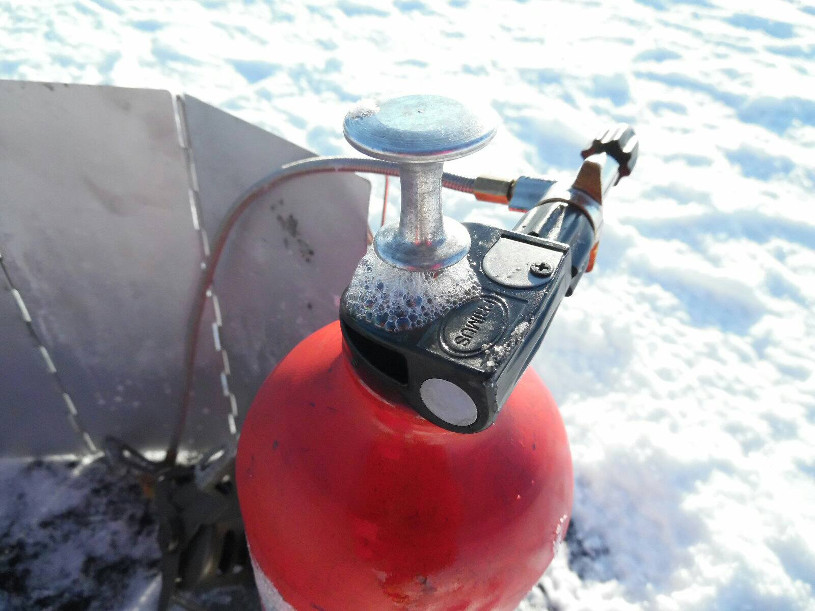 …I've fixed dozens of those stoves over the years and we had loads of spare parts but this time it was beyond repair….
…which left us alone*, in the middle of Siberia, with no stove and no water…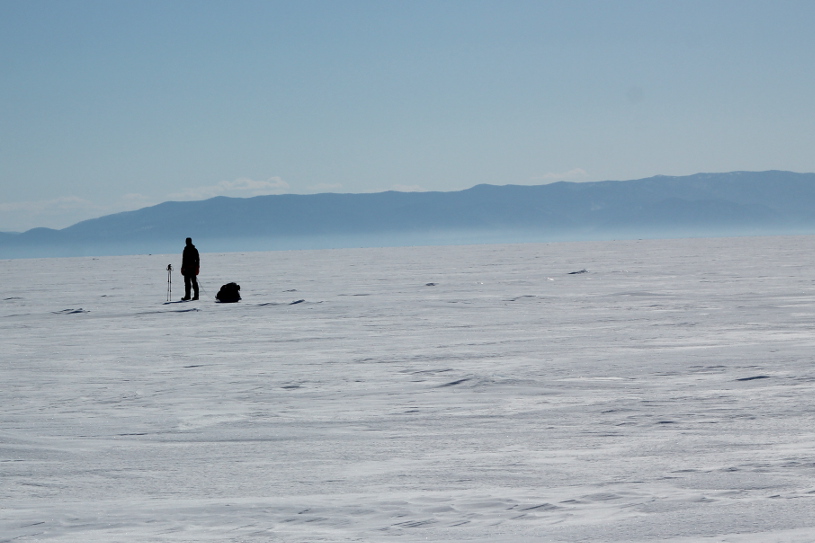 Thankfully, we found a large crack in the ice (not something I had imagined looking forward to)…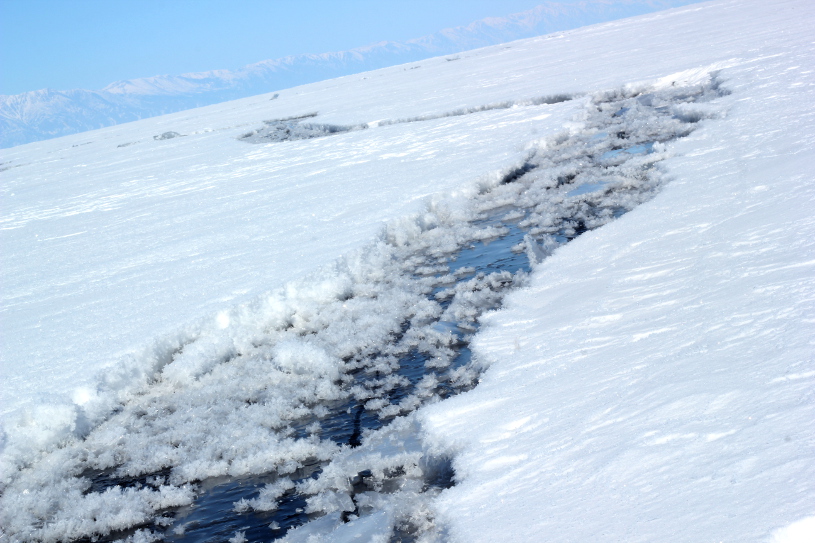 …so Laura smashed through the thin ice with a hammer…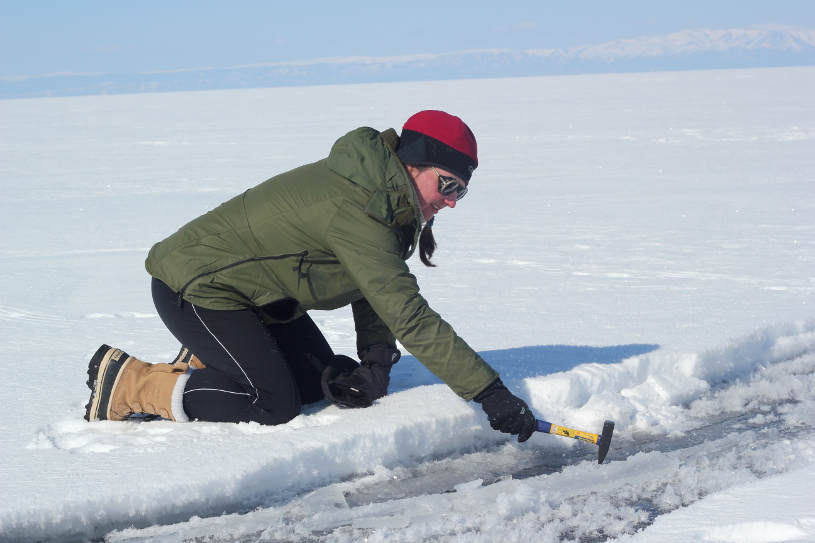 …and we were able to fill up our water bottles…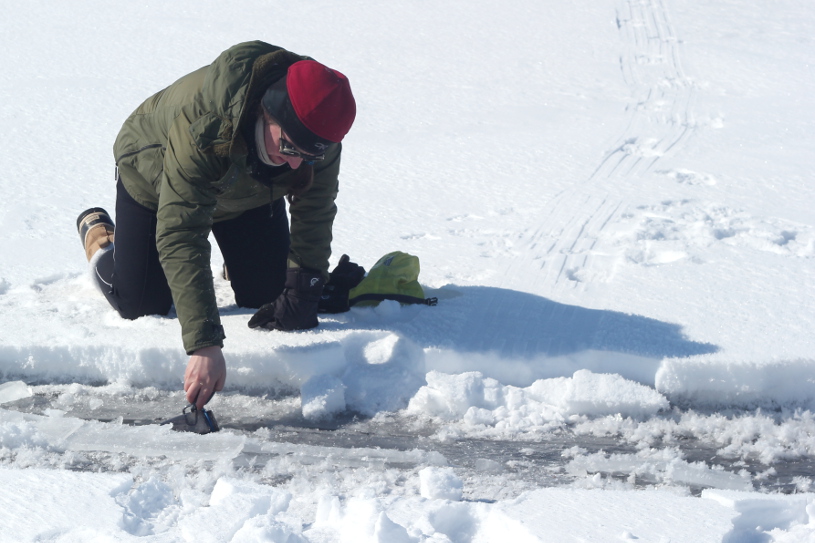 Then we joined forces with some Russians that were also out on the ice, walking a similar route to ours…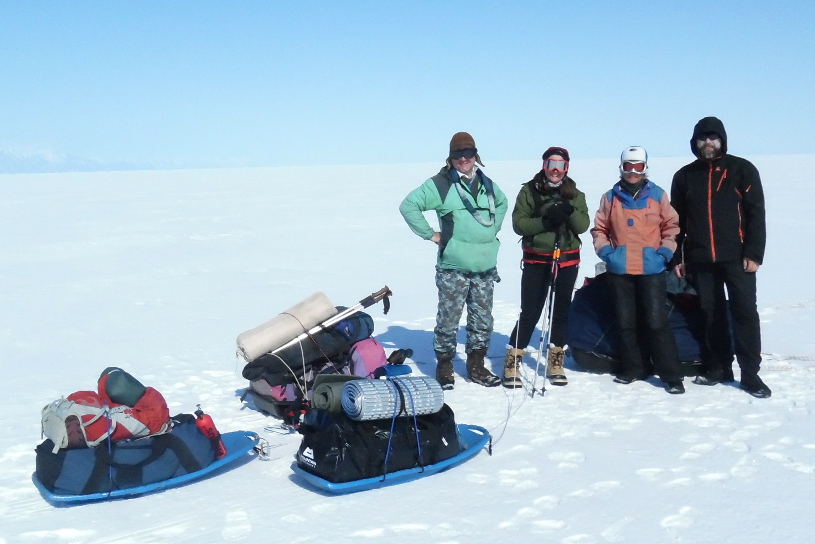 *they had actually started walking at the same time and place as us. They hadn't returned our smiles at first but relations slowly thawed and they turned out to be legends.
They kindly made us cups of tea to keep us hydrated and told us that they were aiming for a finger of land that stuck out into the lake. They reckoned we could make it that evening. We went with them and they cooked up a big stew for us…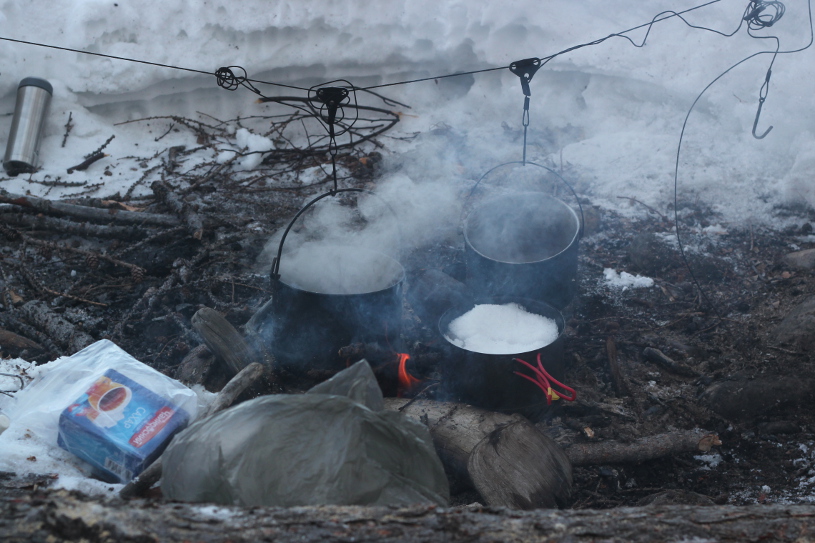 …we stayed up late drinking tea and cognac, discussing everything from Baikal to Brexit…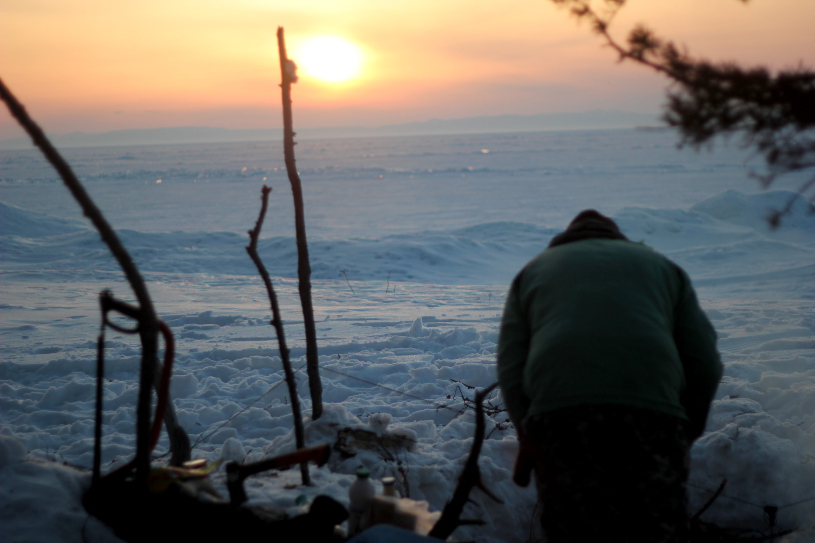 In the morning, we loaded up our sleds with as much firewood as possible. The Russians were heading north but, with no stove, we had to make civilisation as soon as possible so set off on our own again…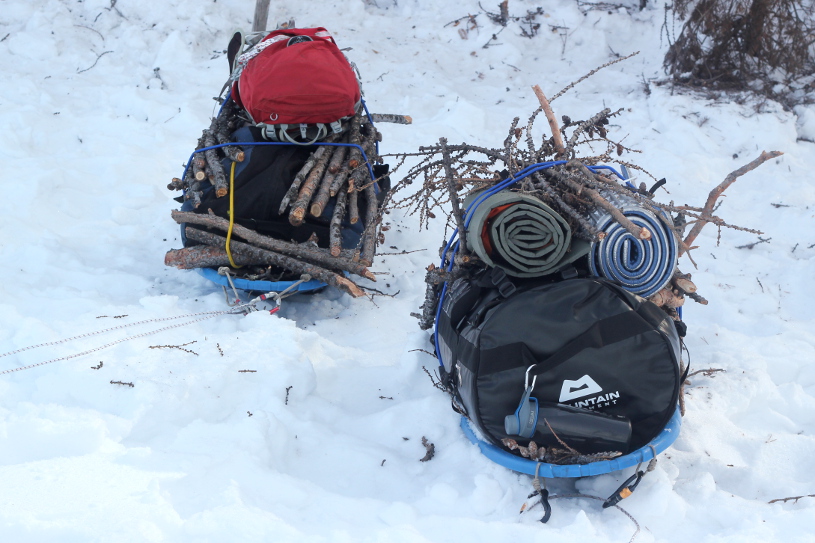 Just as we had never intended to smash through the ice with a hammer, we had also never planned to start a fire on the ice. But that's what we had to do to get water that night…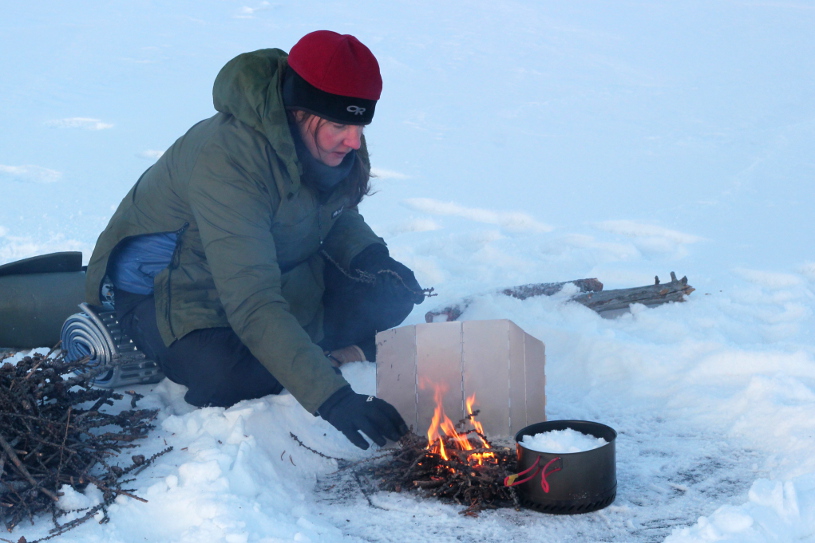 It wasn't easy. As the fire melted the ice beneath it, the wood became damp, putting the fire out. But Laura persevered and eventually managed to keep a fire going for long enough to melt snow and cook dinner. You can see me nervously keeping an eye on it…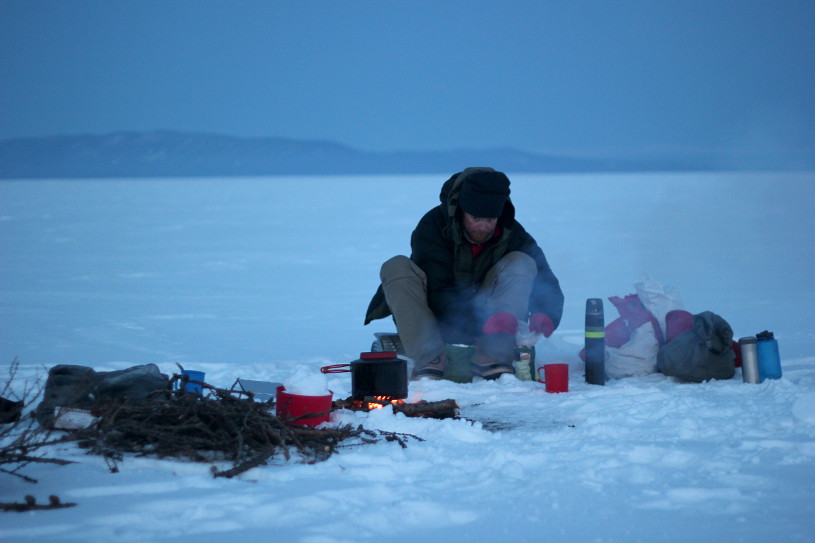 The following morning, with our water bottles repleneshed but our wood stock depleted, we got our heads down and marched towards the nearest village…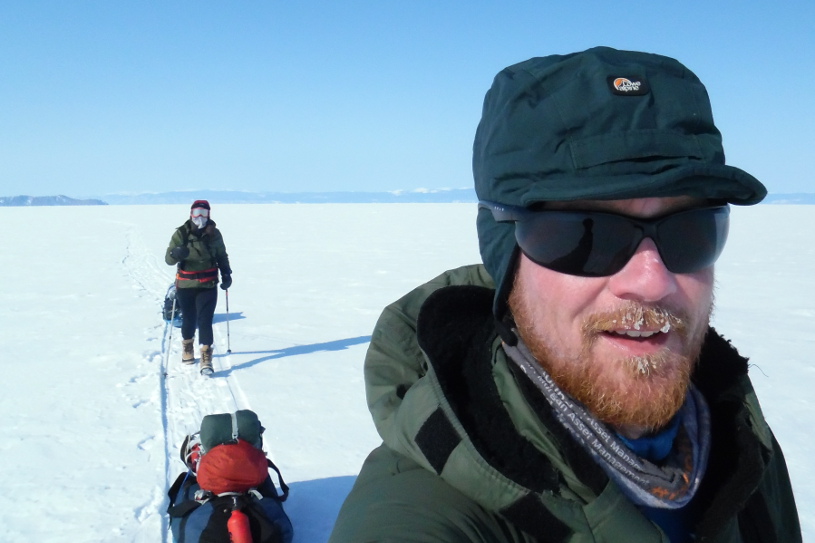 When we eventually made it to town, we got a lot of funny looks dragging our pulks along the high street…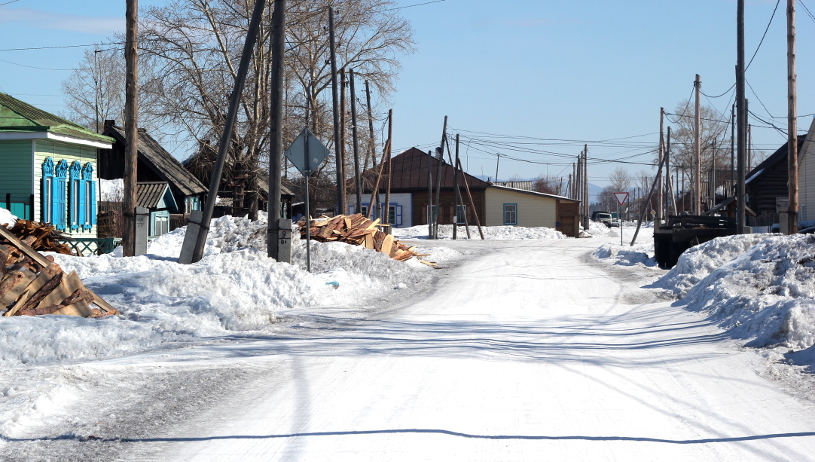 …but some locals helped us out, found us a place to play and set us up with a banya (Russian sauna). We had made it across Lake Baikal.
---
Our thanks go to the following people for making this expedition possible:
Blacks – for our toasty-warm, winter boots and accessories
Outdoor Research – for the excellent Alti Mitts
Antony Jinman – for lending as some proper harnesses
The Russian heroes – for the water, food, cognac and company
You can see more of our Baikal photos on Flickr and read more about our preparations for the trip here.
Come back next Monday for the film of our trip, produced by EpicMakers.