Grant winner Jenny Tough has recently returned from a remarkable trip: running the length of Kyrgyzstan.
My first ever expedition was to Kyrgyzstan so I've got a soft spot for the place but even without my rose tinted memories it would be hard to conclude that running across a Central Asian mountain range was anything other that impressive.
Here are a few of Jenny's favourite things…
The Ten Best Things About Running Across Kyrgyzstan
by Jenny Tough
After spending six weeks alone in the Tien Shan mountains, and daily pushing my body to its absolute limits, returning to civilisation was a bit of an awkward jolt. Spending my days indoors, remembering the English language, and letting my poor legs begin to repair while my brain needed time to process all of the amazing things it saw over an incredible adventure took a lot of energy out of me.
My run across Kyrgyzstan was a really extraordinary adventure and something that certainly challenged the very reaches of my physical and psychological limits. In 23 days of running, I crossed the entire country via the Tien Shan mountain range with 12kg of kit on my back. I slept wild most nights, and resupplied every 3-6 days in the small villages along the way. I found my route as I went, using unmapped ancient nomad paths, some astonishingly rough 4WD tracks, and occasionally quiet roads when I needed to access civilisation. The Tien Shan regularly had me climbing up to the lung-bursting elevation 4000m before shooting me back down to the sweltering desert valleys. This run truly had it all!
So, here are the ten best things about running across Kyrgyzstan, just in case you might want to give it a shot (do it!):
1. Being offered kymys from shepherds
One of the most incredible experiences in this region, and one of those travel experiences you just have to give up on your instincts and shout yes! to, is having kymys with the shepherds you meet along the way. Kymys is a sour-ish drink of fermented horse's milk (yup, horses can be milked!), and often comes out of a churned wooden barrel in the corner of a yurt – remember, there's no electricity in the nomadic lifestyle. It's an acquired taste at first, but the shepherds will promise you that a few cups of kymys will keep you well as you travel in the Tien Shan.
2. Pitching my tent anywhere
Kyrgyzstan is wild camping paradise! I rarely had a hard time finding a safe, isolated, and stunning place to make my tiny home for the night. From lakeshores to valleys to tucked away green patches between rocky peaks, I had some incredibly memorable camping sites.
3. Getting to use all of my kit, thanks to every weather condition
I experienced every type of weather in the late Kyrgyz summer: sun, sweltering heat, rain, hail, snow, frost, wind, and then back to sun, sometimes all in the same morning. In my tiny pack I needed to carry layers of wool, waterproof outerwear, and a puffy jacket in addition to the standard shorts/t-shirt that I wore every day. Sometimes I even swam in the alpine lakes to cool off, before huddling in my tent and hoping not to freeze over night.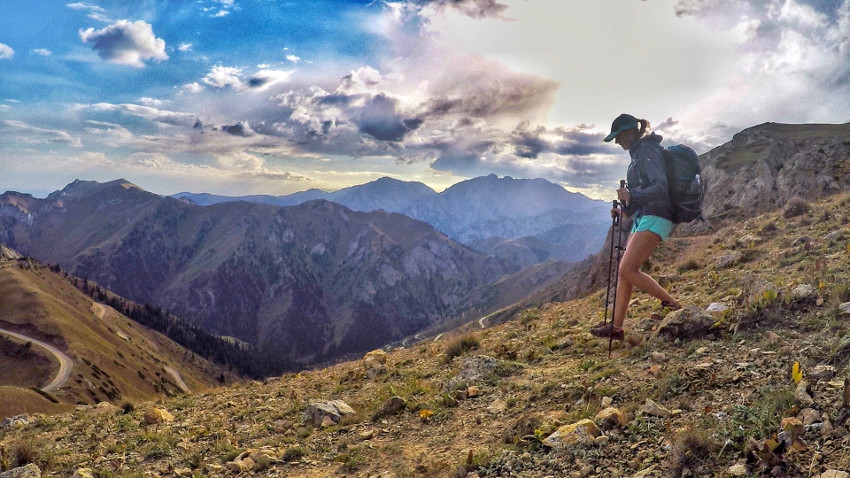 4. Eating bread
They make good bread in Kyrgyzstan, and that's really important to me. [I agree with both of these points – Tim]
5. Making new friends at every turn
The people of Kyrgyzstan are eager to meet visitors, and will go out of their way to get to know you, never letting language be a barrier. Sometimes it was hard to get back to running for all of the friendly strangers who wanted to hang out!
6. Beautiful lakes
The alpine lakes in the Tien Shan will take your breath away. Think Lake Louise, but with no tourists or paved road.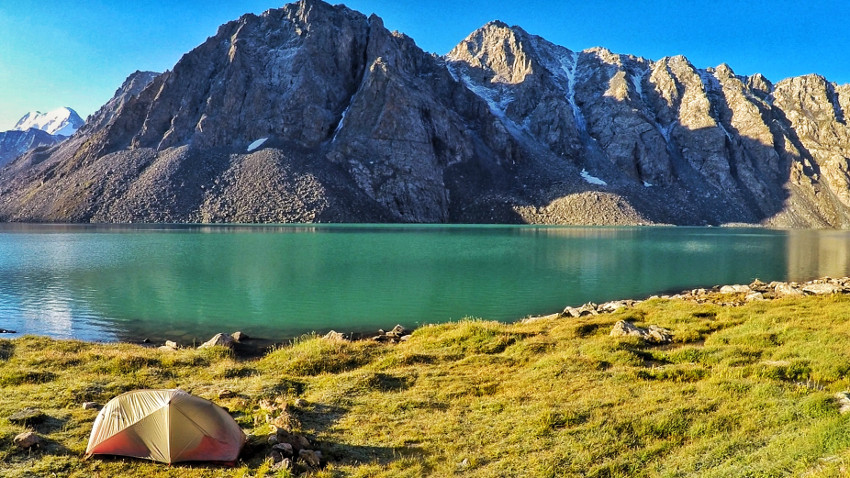 7. Beautiful peaks
The peaks of the Tien Shan are some of the most stunning in the world. I picked this country largely because of my love of mountains and a desire to experience a mountain range I'd never met before, and I was definitely not disappointed by the views of the Tien Shan. I certainly never got tired of it!
8. History
In the middle of the Silk Road and under the pathway of Genghis Khan, Kyrgyzstan has been through some very interesting history. More recently, of course, was Soviet rule, and now 25 years of independence. Throughout all of this and against the odds, the Kyrgyz culture and traditions have managed to survive, and Kyrgyz people will love to tell you the stories of their land's history.
9. Incredible, unmapped trails
It was really hard to plan my running route due to the chronic lack of mapping in Kyrgyzstan, so there was a lot of guess work and hope involved. More often than not, I found some fantastic and memorable trails carved out by the nomads' livestock. Sometimes they failed me – but most of the time I found some real killer trails. If you're a runner, hiker, or mountain biker, consider Kyrgyzstan to really feel like an explorer, and be rewarded with some amazing trails.
10. Sleeping in a yurt
I had the pleasure of being taken in by a nomad family on one particularly cold night. I helped the family cook, ate with them, and then slept in a row on the floor of the yurt with the big family. It was a night I'll never forget, and the kindness of that nomadic family will forever stay in my heart!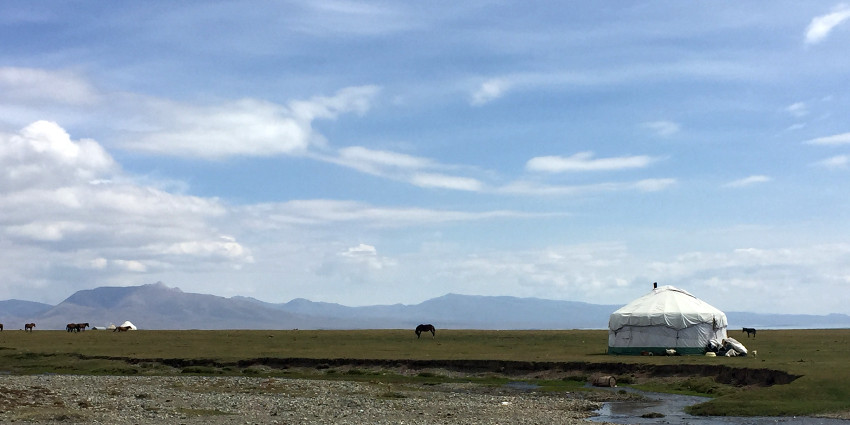 For now I'm working away at making a film about my experience in Kyrgyzstan, which I hope to release in early 2017, but for now you can see the sneak peak here:
For more images from the adventure, head here. A big, big thank you hug to Tim and for all of the wonderfully kind strangers who supported The Next Challenge Grant – your money went a long way in the poor, underdeveloped regions of Kyrgyzstan, and I am so appreciative of the support in making my adventure dream a reality.
You can read more about Jenny's expedition and her many other adventures at www.jennytough.com
The Next Challenge Grant offers small bursaries for adventure. Find out more, donate and apply here.