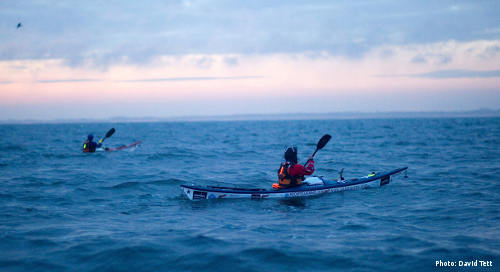 Rowing across the Pacific Ocean is problem the toughest part of Sarah Outen's expedition on most measures but there is another section which is far more complicated: kayaking to Japan.
I have spent the last year or so working on the logistics for this stretch of the trip and am currently in Russia to assist with it.
Travelling direct to Japan from Russia or China would be a couple of hundred miles. That's too far to cover in a day's kayaking and sleeping in a kayak is pretty tricky. Sarah could use her ocean rowing boat for this trip but that boat is big and expensive to move, difficult to launch without the right facilities and  is far better in open ocean than coastal areas and straits because it's not very maneuverable.
As such, we devised a plan for her to hop her way across to Japan via the Russian island of Sakhalin. If you've not come across Sakhalin before then find Japan on a map and look at the island just above it.
Sarah will cycle north through Russia until she reaches the narrowest gap between the mainland and Sakhalin then paddle across. While she does that, I'll try to get myself and her bike onto Sakhalin by conventional means ready for her to cycle to the south of the island.
Then it's the big one: La Perouse Straits from Sakhalin to Hokkaido, Japan.
Tip-to-tip it's about 25 miles. That's similar to the English Channel although the water sounds a bit choppier there, especially that late in the season. To complicate matters, however, there are no customs offices at the southernmost point of Sakhalin which means that Sarah may need to officially leave Russia some 70 miles north making the total crossing closer to 100 miles. We have several options to deal with this but it could still be a tricky trip.
After that, she has one further crossing to make between the Japanese islands of Hokkaido and Honshu. The currents on the Tsugaru Straits are pretty stiff but it's a shorter crossing and at least doesn't cross any international boundaries. Once that's done she has the comparatively simple task of cycling to Tokyo and I'll let out a huge sigh of relief.