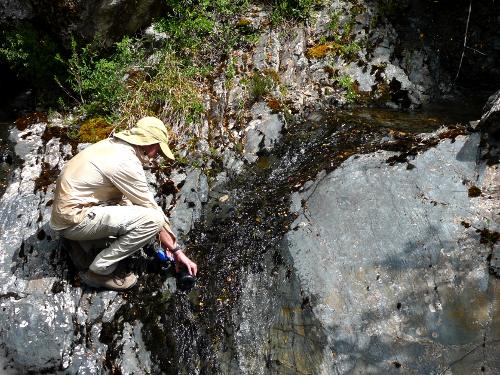 Below are Laura's and my own diary entries, respectively, after our first day of walking in Patagonia:
We wake around 7am and pack up the tent with few words. We walk, enjoying the morning peace and our rested legs.

Before an hour is up, I feel a flash of irritation – at the incessant flies, at Tim, at my pack or at the trip itself. The irritation grows until I'm nearly in tears. I look at Tim and realise he hasn't spoken for a while. When I ask him a question, the reply is distracted and vague.

We look at each and both know it's breakfast time.

No words as we unpack the stove, cook porridge and make tea. With the first few mouthfuls, we both sigh and the words flow again. That's better.

This pattern is repeated throughout the day with each snack and meal stop preceded by a blood sugar crash. We learn we need to eat more often but somehow we forget and the sugar swings remain.
Not the first time blood sugar issues have arisen on the blog! Here are my thoughts from the same day:
Two sentences struck me today:

Laura, as we started walking: "This is all we have to do for the next three weeks – walk!"
Me, towards the end of the day: "Only one more hour to go."

The first acknowledges with relish that we have an extended period of holiday; simplicity and freedom of a duration rarely afforded.

The second looks forward to it being over, at least for that day. Why the opposing views?

They don't reflect conflicting positions – we enthusiastically agreed with each other on both points – but they do hint at some subtle contradictions of expedition life:

A. Sometimes the immediate feelings can be discomfort, displeasure, even distress, but lead to a deeper satisfaction from rising to a challenge, elation from its completion and, simply, the pleasure of it being over.

B. Recognising the long-term pleasure gained through hardship – undoubtedly a key reason for undertaking such challenges – does not mean that a part of you doesn't want that discomfort to stop.

A marathon runner may delight in the feeling of pushing their body hard but still feel it screaming for them to stop and craving the moment when they do.