We surveyed 194 long distance cyclists to find out how popular internal (hub) gears are.
Between them, the cyclists have completed 137 bicycle tours of 10,000km (6,000 miles) or more. Here are the results…
Internal Hub Gears vs External Gears
46 out of the 137 journeys were completed using internal hub gears, 91 with traditional external gears. That's 34% hub, 66% external.
| | | |
| --- | --- | --- |
| Gears | % | No. |
| Internal (hub) | 34% | 46 |
| External | 66% | 91 |
That means a third of all the trips registered at Long Distance Cycle Journeys used internal hub gears which is higher than we'd expected. Of course, that still means there are twice as many people relying on traditional external gears.
What are internal (hub) gears?
Most bikes have gears and most of them look like this: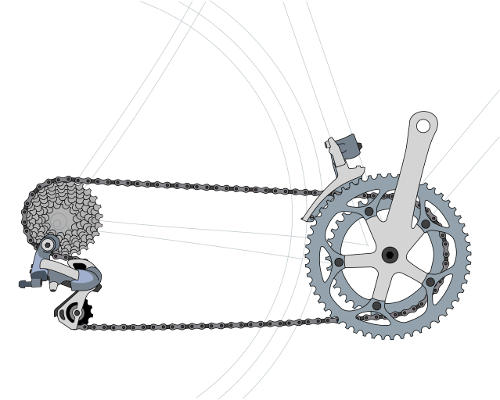 Two sets of cogs connected by a chain. These are known as "external" gears. Gear changes happen by the chain moving between the different sized cogs.
However, some bikes have all of their gears hidden away inside the back wheel like this: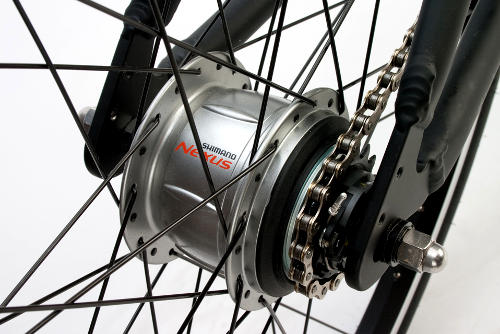 These are known as "internal" or "hub" gears (the hub is the big cylinder you can see in the middle of the wheel). In this design, the gear changes all happen inside the hub. The most common type of internal-gear hub for touring is the Rohloff Speedhub.
Why use internal hub gears?
Common reasons given for using internal/hub gears:
You can change gears while stationary (with external gears you need to be moving).
They are protected from dirt (so dont' get clogged up and there's no need to clean them).
They are very reliable (should do big distances without any servicing).
They are much simpler (you shouldn't need to touch anything).
So why doesn't everyone use internal hub gears?
However, hub gears may have many great advantages but there are downsides too:
They're expensive (around £1,000).
They're heavy (up to 2kg, 4.4lbs).
If they break, they are much harder to fix, particularly outside of developed countries.
In contrast, your regular external gears come as standard on almost every bike, are easily fixed either by the nearest bike shop or with a bit of fiddling by an enthusiastic amateur.
If you're choosing kit for a bike tour, including a debate about internal vs external gears, you might like Tom Allen's Essential Gear for Cycle Touring which I reviewed recently.
For more stats and figures about cycle touring, visit Long Distance Cycle Journeys >>