Last summer, Laura and I spent a month cycling up the Baltic coast towards the Aland Islands: Scandinavia's answer to the Hebrides.
Accompanying us for his first long tour was our son, nine months old at the time, towed behind me in a trailer.
We did the journey there and back by ferry and train (i.e. no flights). That was in large part to avoid the hassle of flying with bikes (and trailer and child) but it was nice to avoid the carbon emissions of planes.
We chose the Baltics (Lithuania, Latvia and Estonia) and the Aland Islands (which lie between Sweden and Finland) for two main reasons:
They are flat. Our trailer is great but makes for hard work uphill (with camping kit and child in tow).
The roads are quiet and there are lots of traffic-free cycle routes. That's nice at any time but felt especially important with a baby onboard.
Below is a summary of our trip with some photos, Tweets that we wrote at the time and a route map.
I will write a separate article with practical information about cycling with a baby. You might also like Laura's account of cycling across Denmark while pregnant.

---
Route map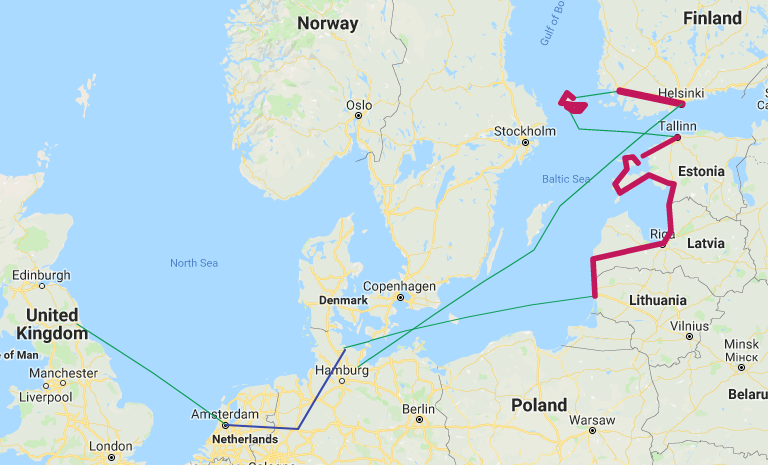 This is the rough route we planned before leaving home: green is ferry, blue is train, red is mostly cycling.
The main differences in what we actually did were taking a bus across a lot of Latvia (just so we could get to the quieter islands more quickly) and cycling across more of the Turku archipelago than is shown. Obviously, the lines just indicative rather than marking the exact routes we took.
---
Cycling through the Baltics and Scandinavia with a baby
We had cycled with our son before, near where we live and on an overnight trip along the Cinder Track between Scarborough and Whitby. But this was to be our first proper tour: four weeks, six countries and about 50 ferry rides.
To ensure our lives were never free of stress, we decided to give ourselves one day between the annual Cycle Touring Festival (which Laura organises) and leaving on our trip.
So whilst a great feature of travelling overland was that we set off from home on our bike (no taxi pick up or driving to an airport, just straight on bicycles from the front door)…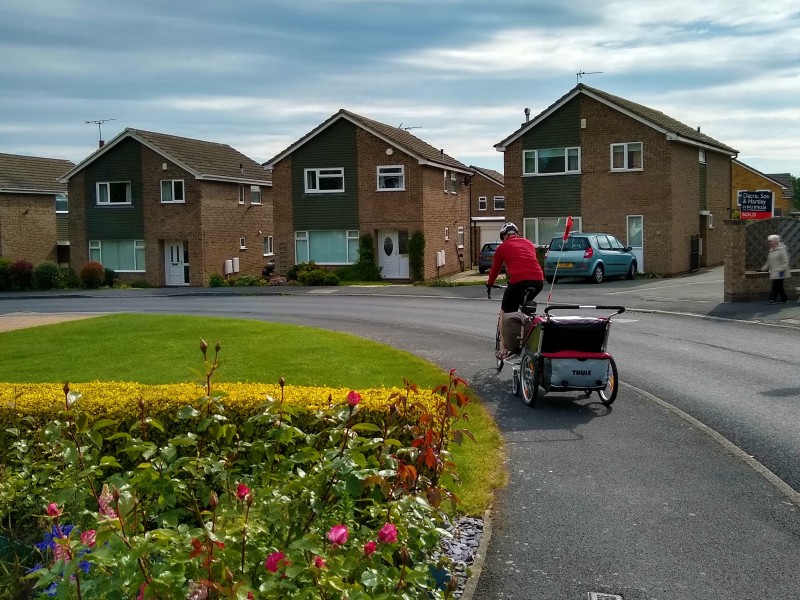 …the downside was that we left late and had to ride in a panic to catch our train.
Missing a train isn't the end of the world in itself, but that was the first in a long series of dominoes. To get to Lithuania would require around six different trains, two overnight ferries, several inter-city bikes ride and about three days. So we really didn't want to mess up the itinerary at the first hurdle.
Having made it to the station on time, the next hurdle was practicing how to get two fully loaded touring bikes, a trailer and a child onto a train before the doors closed. This was something at which we became quite experienced by the time we got back home again.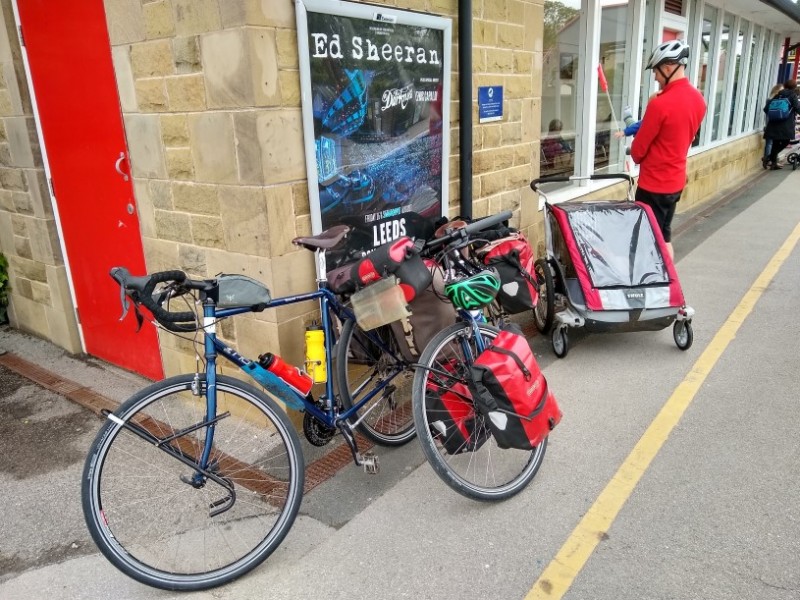 Although it would be several days before we actually reached the Baltics, our trains and ferries were frequently interspersed with stretches of cycling. As such, it all felt like part of the holiday rather than just transport to the start of it. Our first stint of cycling was from Newcastle town centre to the ferry terminal.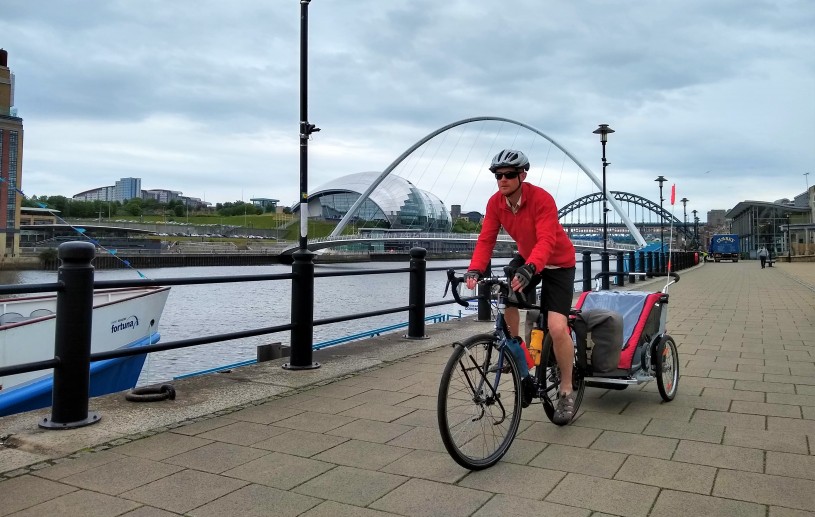 Arriving on bikes to a ferry terminal filled with lorries and cars has the same illicit thrill as wild swimming, like you are breaking some kind of unspoken rule….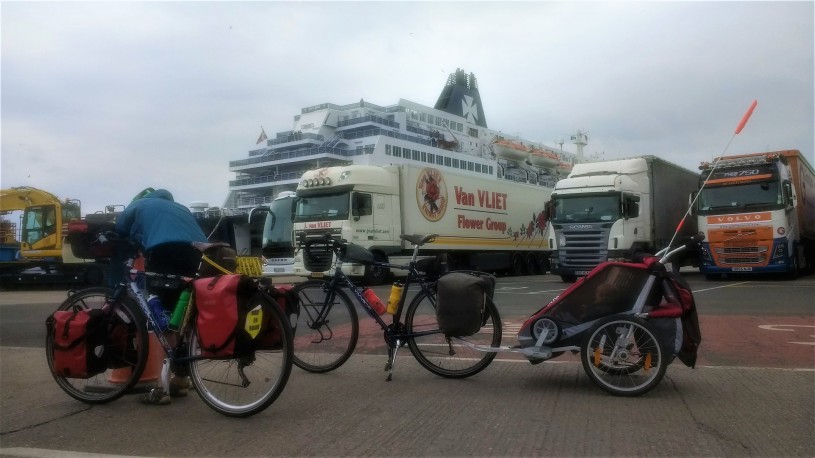 …and wheeling your bike into the bowels of a huge boat never gets old.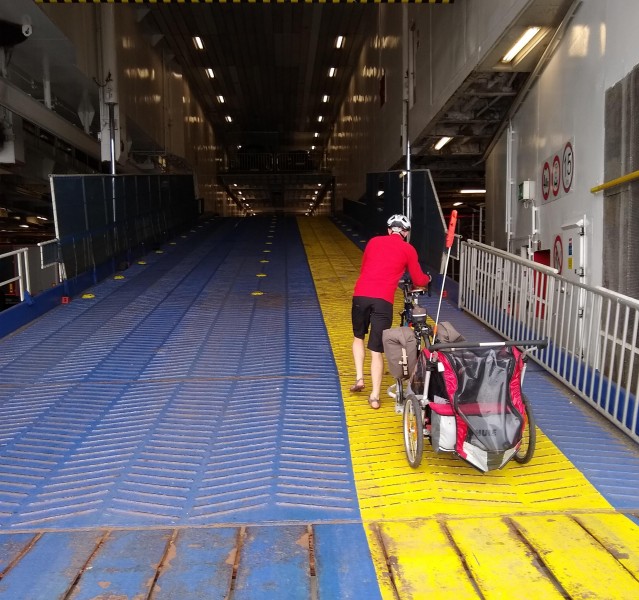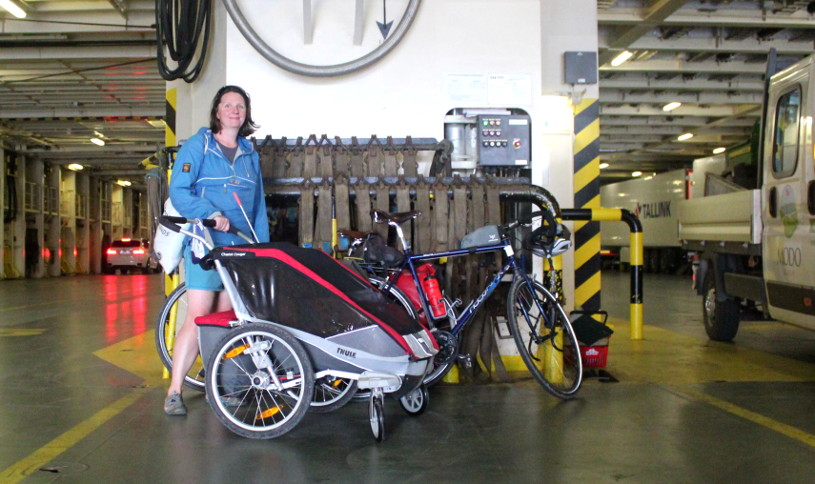 After our first overnight ferry, we stayed with friends near Ijmuiden on the Dutch coast then cycled to Amsterdam.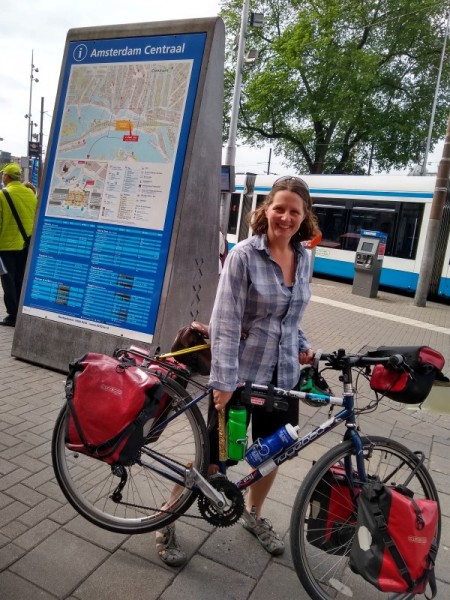 (As a quick aside, the Last time Laura cycled to Amsterdam, she did it on a single-speed bike with just a tiny bag strapped to her saddle as luggage).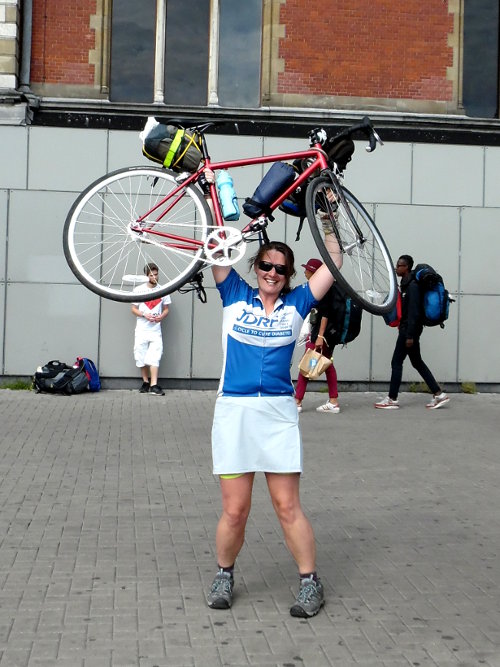 From Amsterdam we hopped on a series of trains to the north coast of Germany. The trains had loads of space for bikes, trailers and baby toys. But the narrow doors meant we had to take the wheels off our trailer every time we got on or off, adding an extra degree of stress-faff to each change.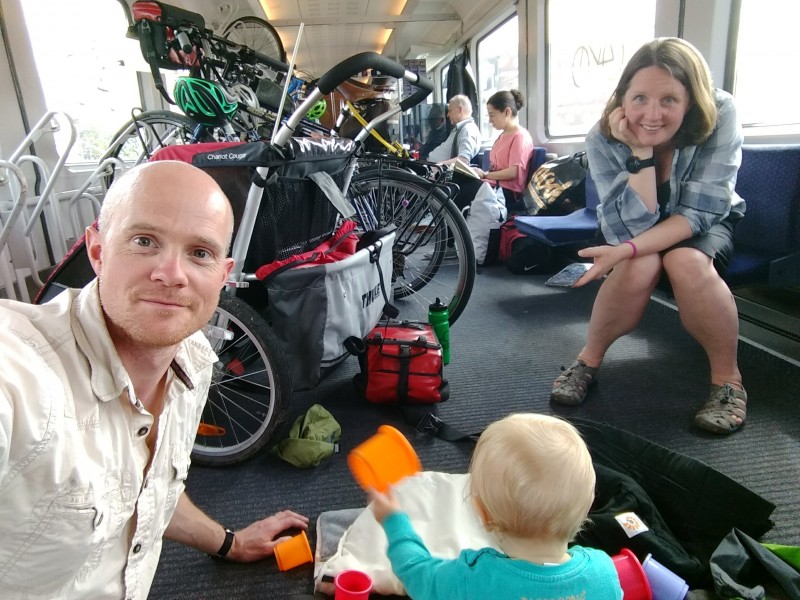 We then took another overnight boat from Kiel in Germany to Klaipeda in Lithuania, and set about finding somewhere to pitch our tent.
What the above tweet doesn't mention is that the light evening meant our son was still awake at 10:30pm. Lying between the two of us in our tent, he thought it was hilarious to repeatedly smack his parents in the face while giggling. He was the only family member that wasn't knackered.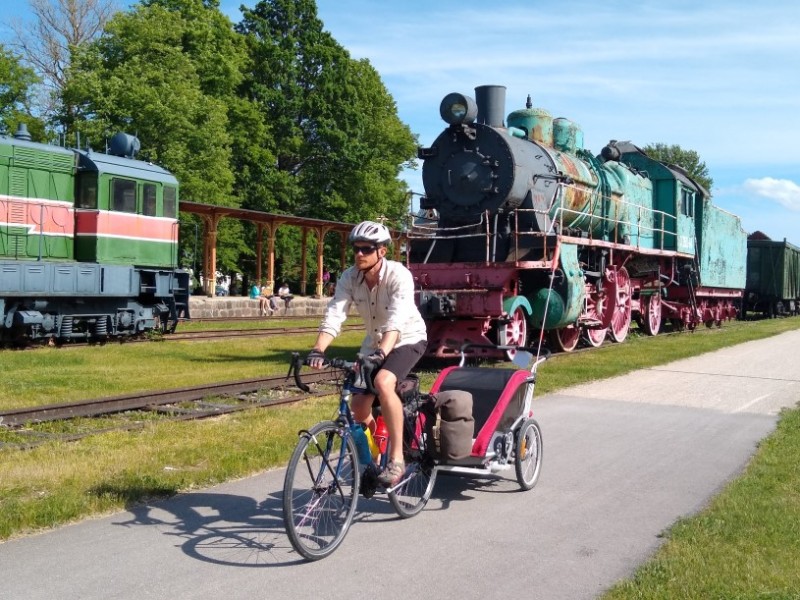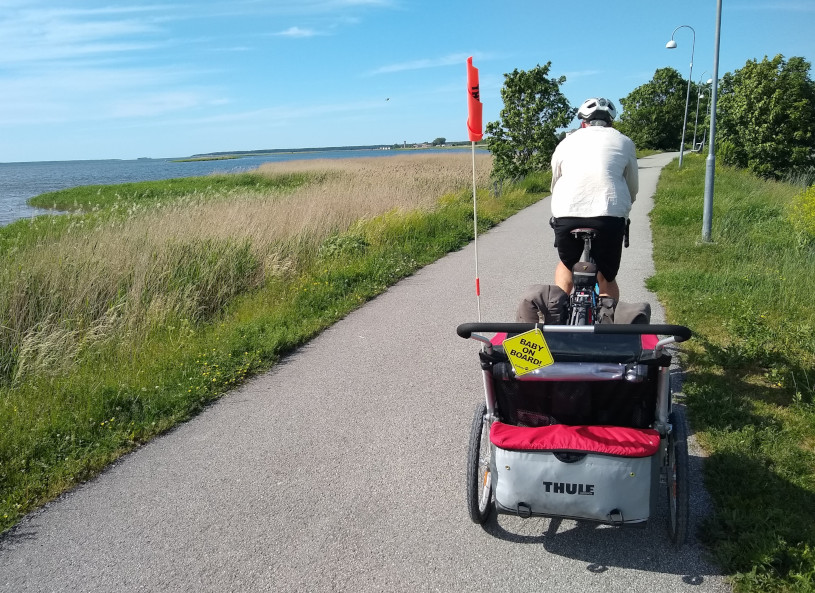 We soon found that the best way to arrange our days was to wait until our boy was tired before putting him in the trailer to sleep; riding until he woke up then stopping for lunch; and then doing another shift in the afternoon.
We also realised that he would sleep for quite long periods in his trailer but only if we never stopped. It was like the film Speed, where the "bomb" was a screaming child.
Usually, we would be able to time our stops for a ferry ride, cafe or supermarket but that didn't always work out. On one memorable occasion, we had to kill two hours at a bus stop in the middle of nowhere while our son had some lunch and took a break from the trailer.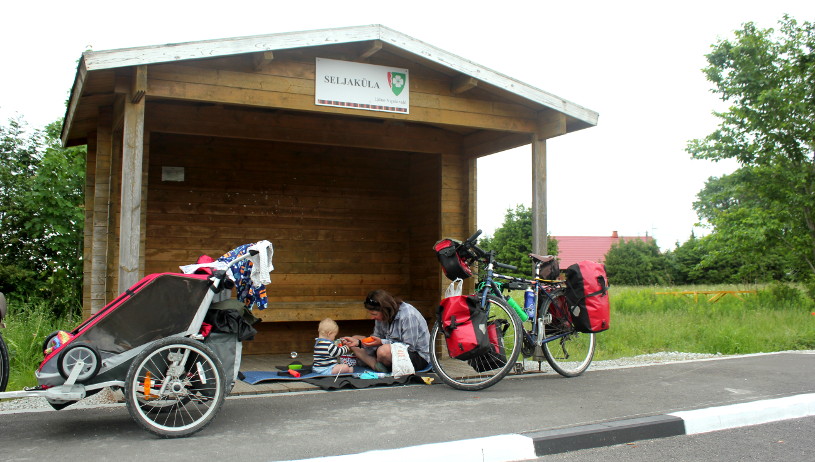 When we set off to cycle around the world, we'd imagined cycling every mile and never stepping on public transport. We soon realised that this was an arbitrary rule that gained us nothing, so ditched it shortly after leaving Europe.
As such, when we set off cycling with a baby, we set ourselves no such constraints. We made our way up the Latvian coast with a mixture of bikes and buses until reaching Estonia and the legendary island of Saaremaa.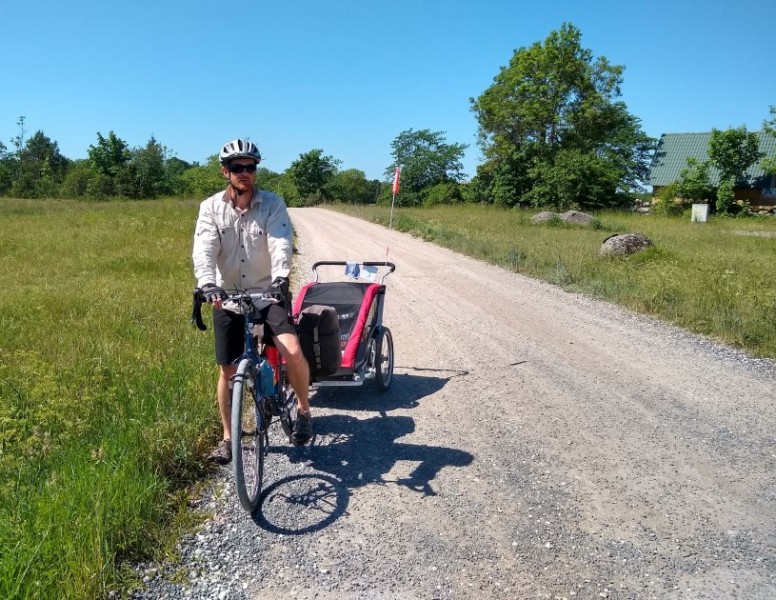 From Saaremaa onwards, most of our time was spent on islands, which meant we were never far from water. Which in turn meant we were never far away from our next wild swim…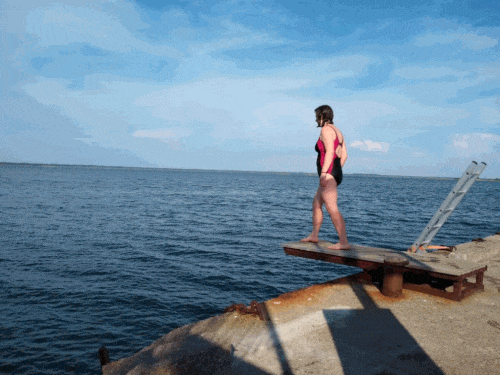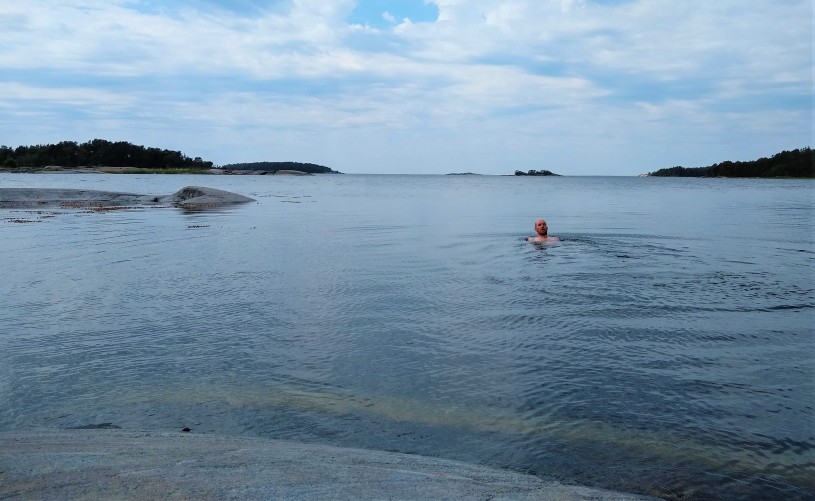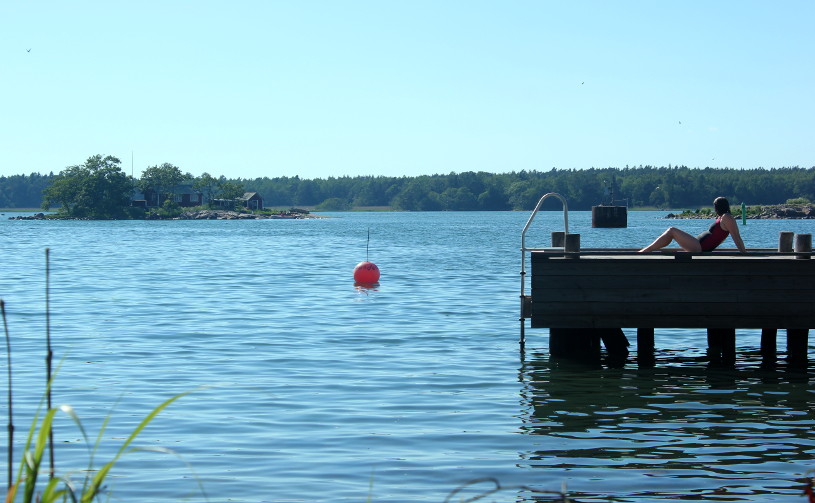 The reason we chose this part of the world for our first long tour with a child was because we had heard it was flat and we could either follow quiet roads or traffic-free cycle routes. Both of those things turned out to be true.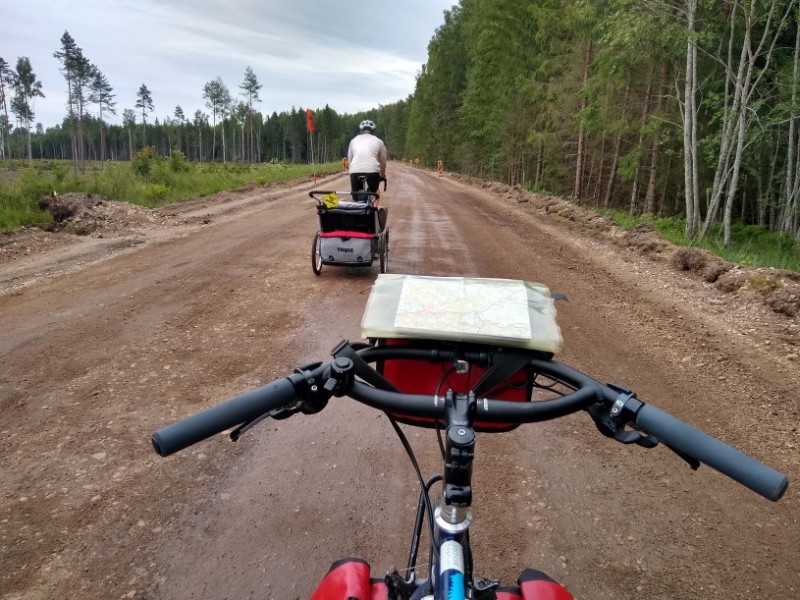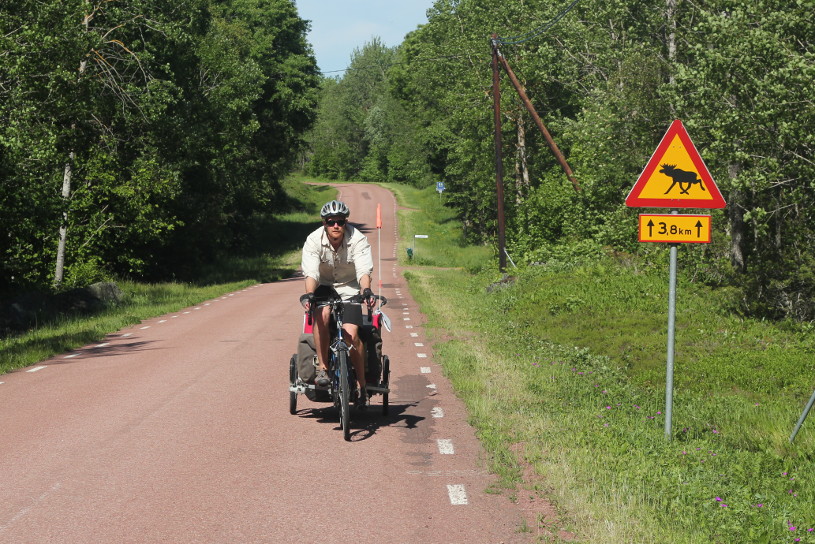 We camped most of the time, with the occasional cheap hostel/AirBnb thrown in when staying in big cities. The weather was perfect (wall-to-wall sunshine for a month) which made camping a pleasure, even with a baby in tow.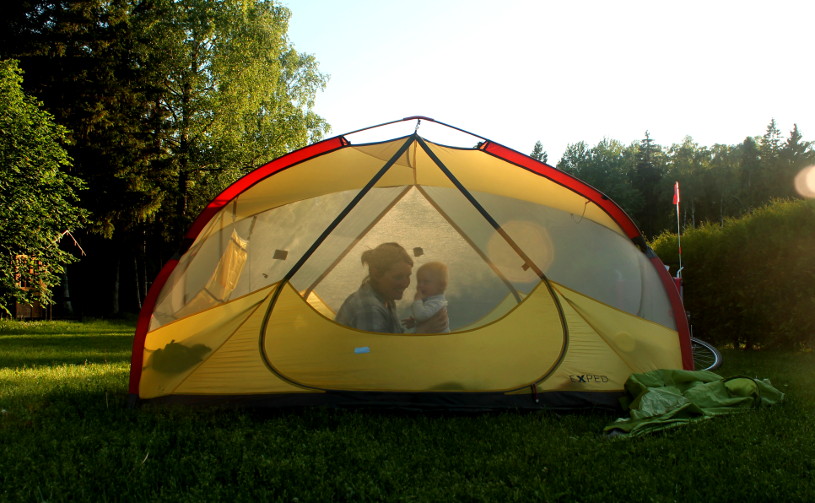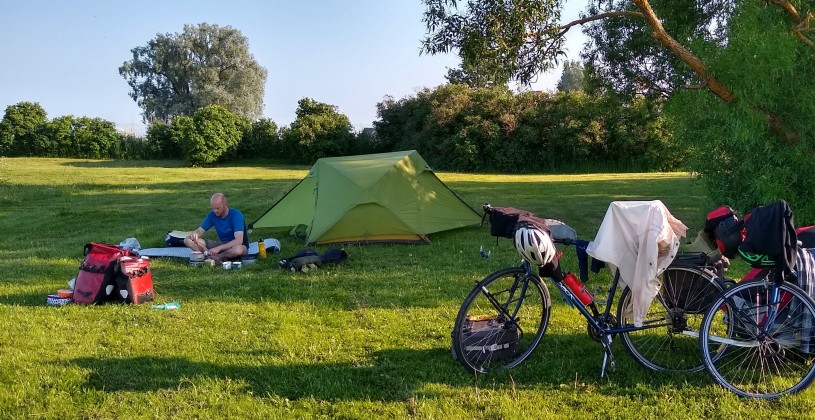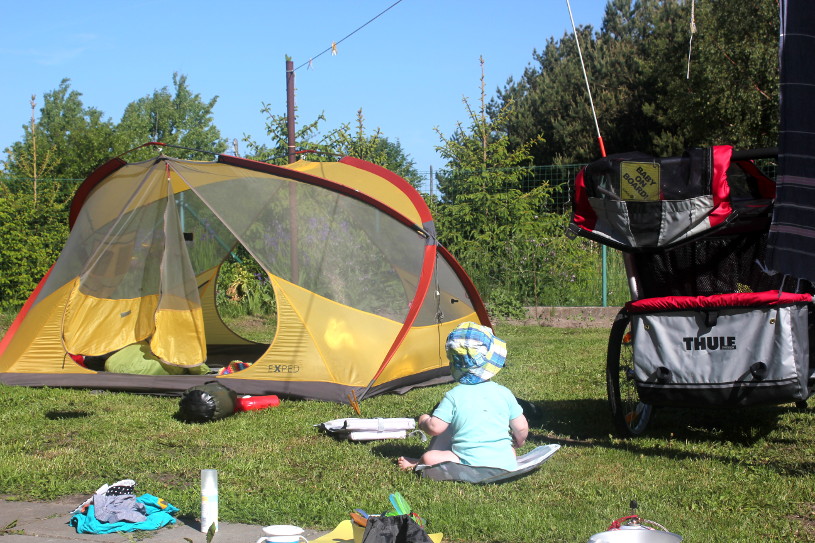 Although the whole journey was part of the experience, our ultimate destination was the Aland Islands, which we reached by overnight ferry from Tallinn.
The Aland Islands are an archipelago of several thousand small islands, and an autonomous region of Finland, where people speak Swedish. Above all though, they are a paradise for cycling, with deserted roads and beautiful scenery.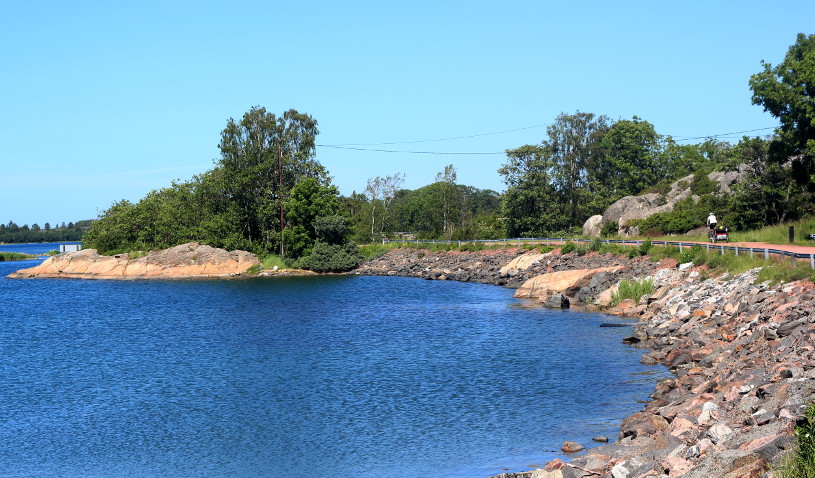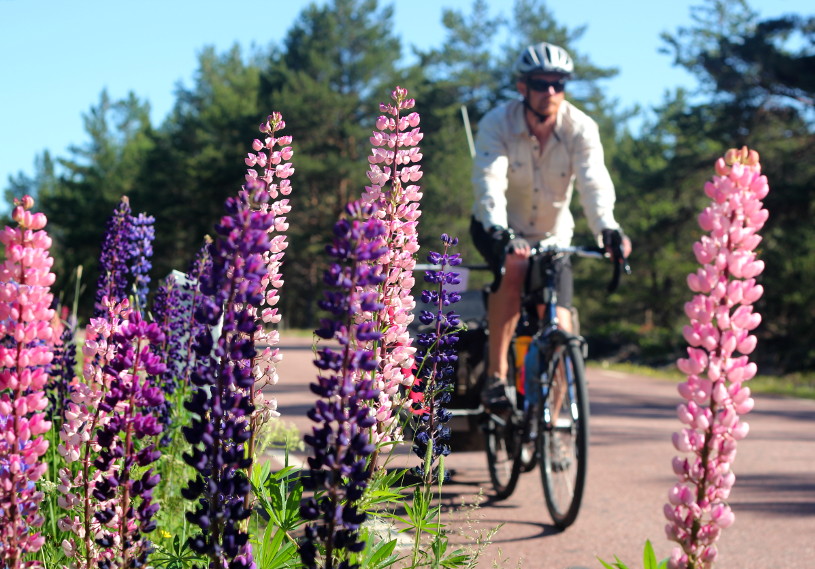 The main islands are connected by a vast network of ferries, for which we bought an inexpensive hop-on/hop-off ticket that covered us for as many boat journeys as we wanted.
Some ferries were big beasts with onboard restaurants and childrens' play areas, while others were small chain-ferries where you could see the boat waiting on the other side and had to call it over by ringing a bell.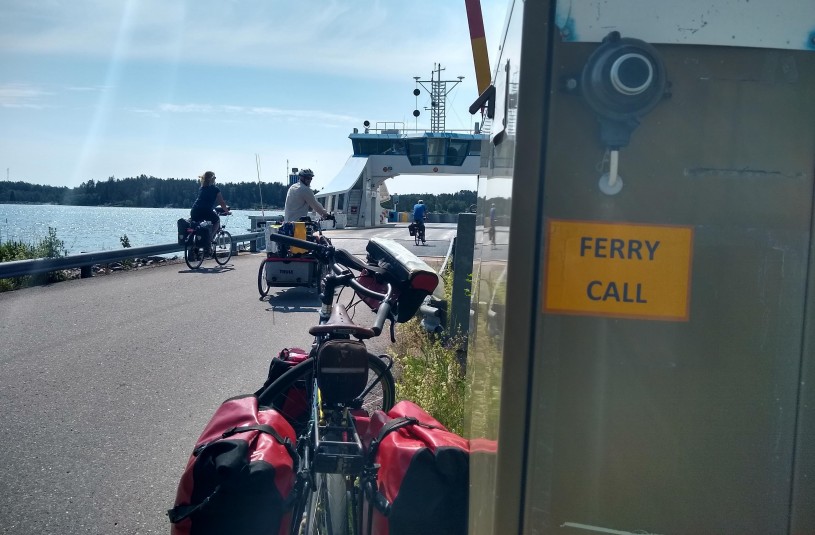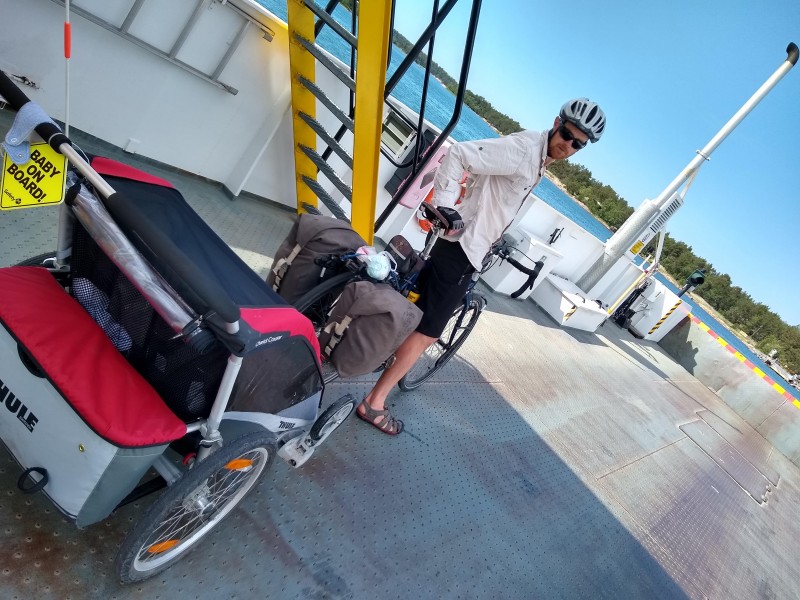 They were a real part of community life in the more remote parts. On one occasion, our delightful AirBnB host gave us a loaf of fresh bread to deliver to the driver of our departing ferry, knowing that he had to work on a national holiday…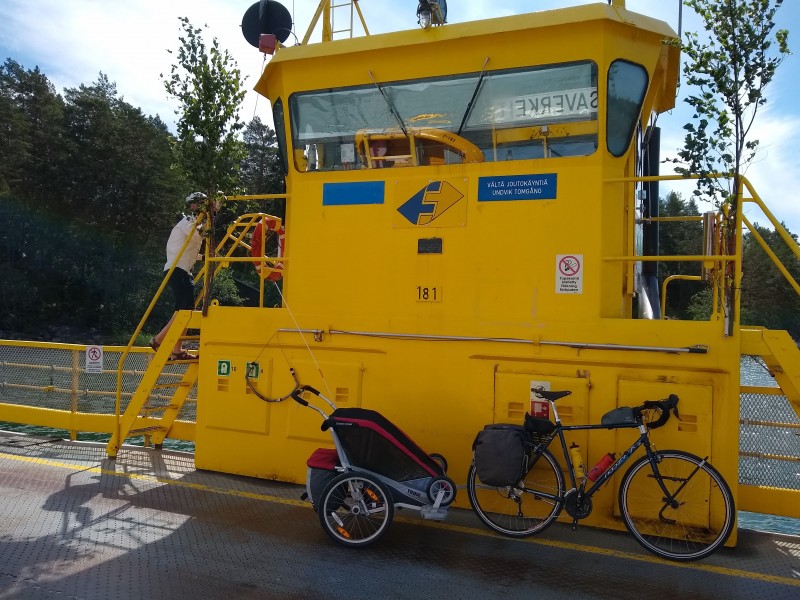 We hopped across the Aland Islands to Finland's Turku archipelago, before following the coast to Helsinki where we began our trip back to the UK.
In summary the Baltic coast, Aland Islands and Turku Trail are all excellent cycling destinations and perfect for cycling with a baby.